It was anything but a normal business pitch at TGI Fridays' corporate headquarters. The chief technology officer watched his mid-morning meeting stroll in sporting flip-flops, jeans, and a flannel shirt. He had dark, wavy, long hair and a scruffy mustache and beard. He broke all the norms of what was expected. And that is why he succeeded. "He just walks in like he's off the beach," remembers Sherif Mityas, TGI Fridays CTO. "I said, 'OK, this is going to be different' from moment one. And it was. He was so creative in an unassuming way."
It wasn't love at first sight, but it didn't take long for Dallas serial entrepreneur Ben Lamm to woo the skeptical room with the conversational bot technology developed by his company Conversable. "They were all looking at me like I had lost my head," Mityas says about his team's first impressions of Lamm. "But I was like, 'Let's just listen and hear this guy out. He comes with amazing credentials.' He won everyone over."
"I was once told there are lies, damn lies, and statistics. So I don't overly believe in statistics."

rnBen Lamm
For Austin-native Lamm, it's a familiar story. Since relocating from the Texas capital in 2016, he can be seen popping into corporate headquarters across North Texas and road tripping into Austin regularly. The 36-year-old is laid-back, both in style and demeanor. But make no mistake, Lamm has a solid track record of success. He's sold three companies—two to public giants Zynga and Accenture—and is currently leading two startups that have quickly gained traction. His record seems to beat all the odds of startup success. According to statistics from the Ewing Kauffman Foundation, fewer than half of all new companies survive past their fifth year of operation.
"I was once told there are lies, damn lies, and statistics," Lamm says. "So I don't overly believe in statistics."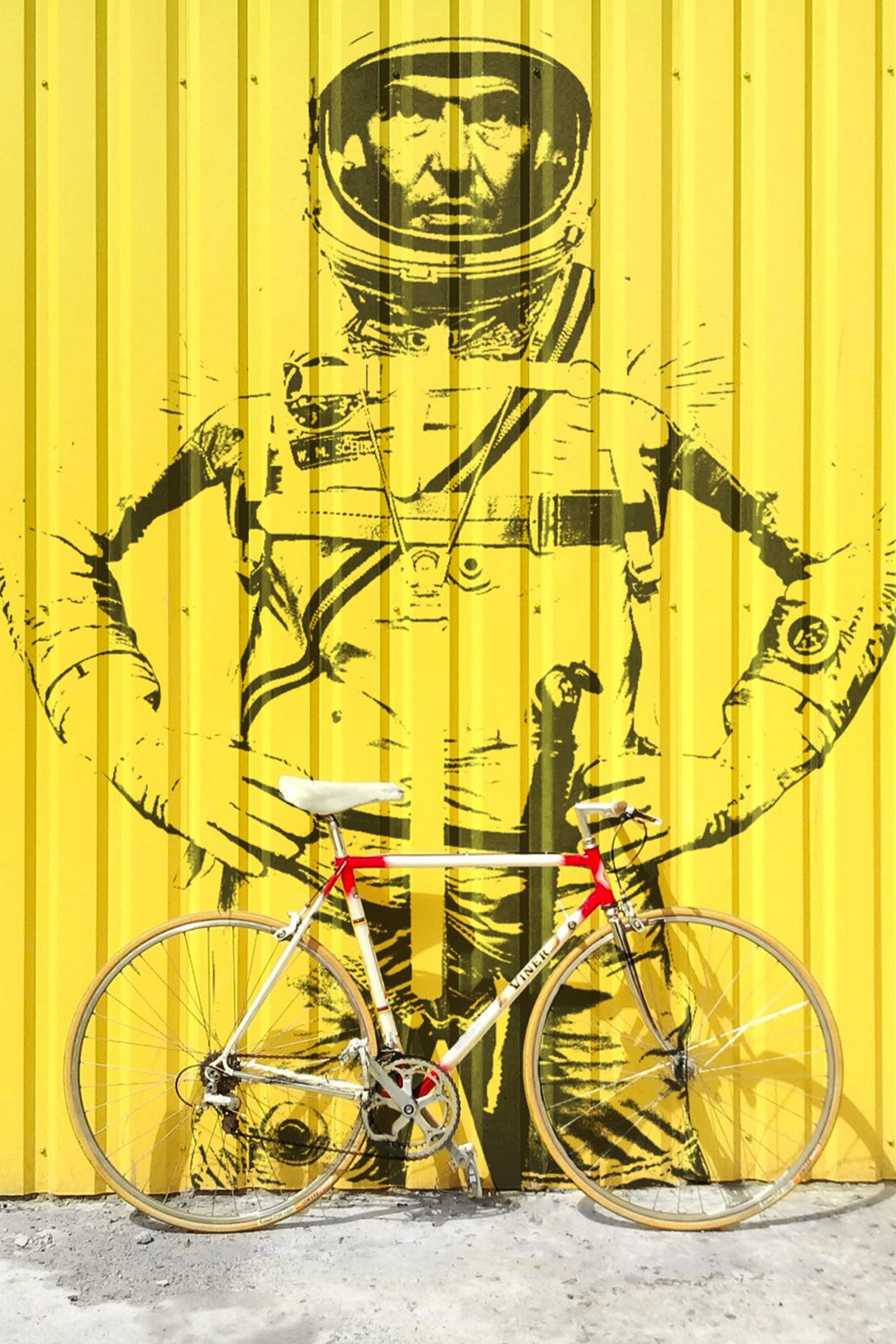 Lamm launched Dallas-based Conversable, where he still serves as CEO, in 2016. There, he has landed big corporate clients including Pizza Hut, Wingstop, and Whole Foods. He also leads a new company, Hypergiant, which has been operating in stealth mode since the fourth quarter of 2017. Hypergiant, which Lamm co-founded with John Fremont and Will Womble, is an artificial intelligence company that's broken down into four divisions: Space Age Solutions, which will develop custom AI solutions for clients; Applied Sciences, which aims to roll out AI products based on trending needs; Ventures, which will fund complementary companies; and a fourth division, which has not yet been announced. It already employs more than 20 people; serves 11 clients, including TGI Fridays; has several partnerships, including ones with General Electric and Adobe Systems; and has made early-stage investments in three startups. "Our tagline is 'tomorrowing today,'" Lamm says about Hypergiant. "We were promised hover boards. Where's my vacation to Venus? There's been all these wild promises. So our whole thesis is, why can't we build a company that can deliver on that promise?"
Not that Lamm is promising a vacation to Venus any time soon. But he is promising solutions like the one his company is developing for TGI Fridays. An AI system will create a custom drink from the bar based on a person's preferences, history, and mood. The drink will be available at the restaurant for anyone else to order the rest of the day, says Mityas, who worked with Lamm to concoct the new offering. It's creations like this—ones that have a clear return on investment and align with a brand's identity—that will give Hypergiant a leg up, Mityas says.
"Hypergiant is a massive vision," Lamm says. "Our bigger thesis is, how do we redefine the standard?"
The AI Revolution
Lamm not only has a history of developing successful startups but also of being at the forefront of emerging technologies. While attending Baylor University he developed his first company, Simply Interactive, an e-learning software business, when e-learning and Adobe Flash development were relatively young. He launched Austin-based mobile development company Chaotic Moon, which sources say generated $50 million in annual revenue before it sold to Accenture, when mobile apps were just becoming popular. Conversable debuted when the larger market was just starting to understand the benefit of conversational bot technology, now called chat bots. And now he's entered the larger world of artificial intelligence. "I think that's what makes him so good at what he does," says Fremont, Hypergiant chief strategy officer, who's worked with Lamm for nearly 10 years. "He sees multiple steps ahead … before anyone realizes those steps are even available."
"He's someone that I always go to for innovation," says Stacy Peterson, chief experience officer at Wingstop, whose team signed on with Conversable before it even had a name. "We typically have happy hour drinks just to keep in contact and talk about what crazy things he's spinning up."
Hypergiant, given its complex business model and multiple moving pieces, will likely keep Lamm busy for a long while, he says. And the opportunities appear to be endless. "Every CEO in America, if they're awake, and every board in America is aware of the AI revolution that's occurring," Lamm says, calling AI the "fourth industrial revolution." "Every business will be touched, transformed, or potentially destroyed by AI."
The market is backing the "revolution," with major players like Google, IBM, and Amazon getting into the game. But there's a clear increase in startup activity as well. From 2012 to the first quarter of 2017, more than 200 AI startups have been acquired, according to The State of Artificial Intelligence, a report released by CB Insights. In the first quarter alone, more than 30 M&A deals involving U.S. AI companies were completed, and 245 AI startups received more than $1.7 billion in disclosed funding—marking the highest number of AI deals and investment dollars in any single quarter. Nearly 48 percent of all the deals done in that quarter were seed or angel rounds, indicating the rise in startups entering the artificial intelligence space. From 2012 to 2016, investments increased 4.6 times from 150 deals to 689, the report says.
To make sure his company doesn't get lost in the noise, Lamm has brought along some of his most trusted business partners to aid with Hypergiant. Marc Boudria, the head of AI for Hypergiant, has worked with Lamm for about five years, having first linked up with him for Chaotic Moon. Boudria, a 44-year-old engineer with a long salt-and-pepper beard and a pony-tail, considers himself the "old man" in the young company. "Do you mind if I vape?" he says as he sits down and pulls his silver vaporizer out of his pocket. "My brain lives here." His statement complements the image on his T-shirt, which depicts Einstein's face with a multicolored smoke-like aura of stars floating out of his brain.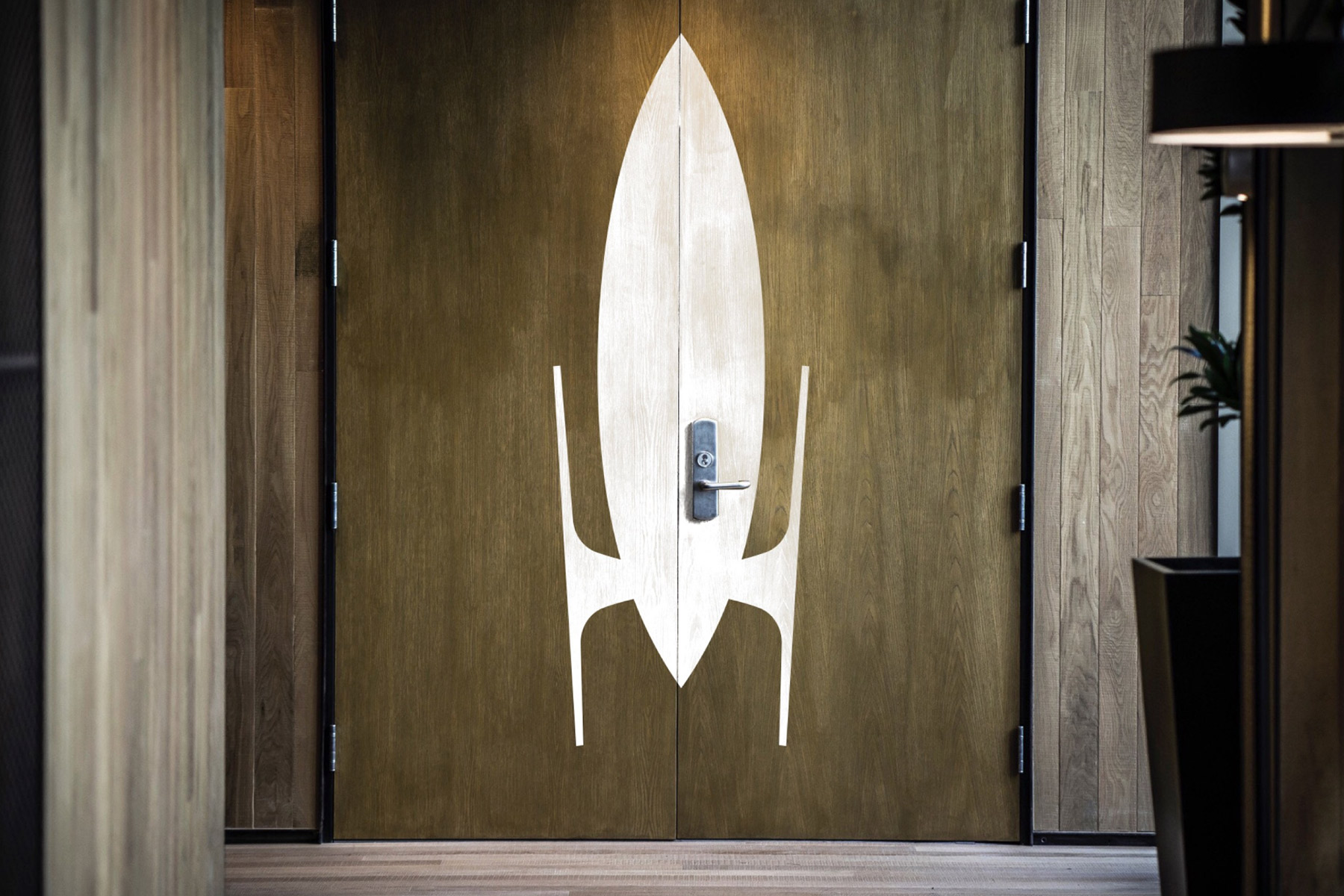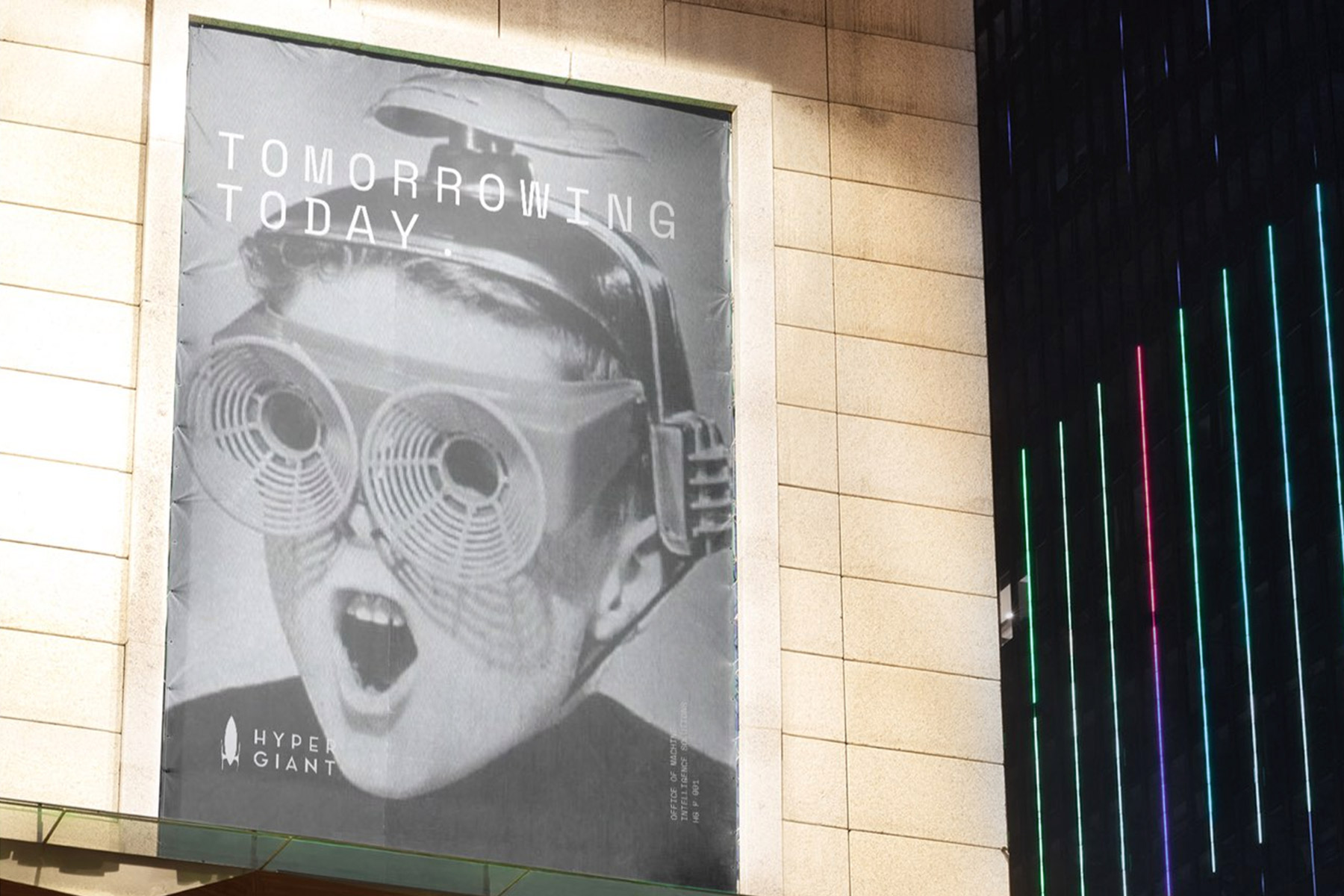 Hypergiant's motto is "tomorrowing today." Lamm says he actively plays a role in developing the marketing plans for his companies.
"The thing that's most exciting to me about all of this is the potential opportunity to make humans be better humans at the end of the day," Boudria says about AI. "Change is going to come, but isn't that the point of us evolving as a species?"
Boudria says the problem with offerings in AI today is that other companies have adopted what he calls a "black-box" approach. Meaning products often have capabilities, content, and processes that remain mysterious to the user, making it difficult to modify for a specific use. Hypergiant aims to change that. The company is technology agnostic, meaning it will find ways to build the best solution based on a company's constraints. If a company wants to continue using a specific brand of software, or a specific platform, but needs a solution that will interact with those existing technologies, Hypergiant will find a way to make it work. "What is the pain?" Boudria says Hypergiant asks. "I don't care how difficult it is. Let's begin to break that down into its quantifiable mechanics that I can represent algorithmically."
Hypergiant grew organically out of need, says Lamm. He was working with his customers at Conversable when he noticed a trend. Corporate clients wanted Conversable to help them with their artificial intelligence needs. Lamm had gained their trust, and now he had his foot in the door to address a much bigger market—one that was still young and in need of customization, Lamm says.
He was able to raise undisclosed funds from Toronto-based Beringer Capital, San Jose-based Mythic Ventures, and Align Capital Partners, based in Dallas and Cleveland, Ohio. And, as he did with Conversable, he also has invested his own money to get Hypergiant off the ground. But the investment wasn't too challenging to secure, which sped things right along. "I talked to four groups," Lamm says. "I didn't even fly out to California. I said, 'What do you think of this?' And they all said, 'We're in.' So I went with three of them. That doesn't always happen," he says, adding that his track record likely played a key role in the ease of the process.
He now has 22 people working in Space Age Solutions, and two employees in Applied Sciences, a division that will likely be operated out of Dallas once he finds the proper office space. Currently, all divisions are operating out of temporary space in downtown Austin. In the summer, the company plans to move into its own 12,000-square-foot space, which comes with the option of adding an additional 12,000 square feet, in downtown Austin, just across the street from where Chaotic Moon once was. Lamm says his plan is to have one office in Austin, one in Dallas, and one in Houston.
Leading Innovation
Lamm walks through the streets of downtown Austin on a sunny afternoon with his assistant Sarah Grant, whom he calls "the greatest assistant in the world." She's constantly keeping track of his travels, his business meetings, and his follow-ups—all of which tend to be all over the board, depending on the week. Today, he's arrived in Austin after a three-hour Vonlane bus trip from Dallas, where he spent a couple of days at home in Preston Hollow after a week at the Consumer Electronics Show in Las Vegas. He's booked back-to-back today, but he's set some time aside for a quick tour of his new office downtown.
On the way there, a pedestrian relaxing on a bench shouts out to him: "Hey man, what's that on your T-shirt?"
"I think it's a dying astronaut in space," Lamm tells the man.
"Hey, that's pretty cool," the man laughs.
Lamm's interest in space is woven into all of his recent brands. It's in the name "Chaotic Moon," in the astronaut imagery of Conversable, and in the spaceship logo of Hypergiant. It'll find its way into Hypergiant's marketing materials, too, which are focused on the retro images of what society expected the future to look like.
Though today appears to be a pretty smooth day, Lamm doesn't always have it so easy. But it's how he handles the "no's" that sometimes converts nothing into something.
"He usually takes it as a challenge," says Wingstop's Peterson, who's currently in talks with Lamm about opportunities with Hypergiant. "With Hypergiant, we want to make sure the cost model is right, so we had to push back. He took that as a challenge to brainstorm with his team … to reduce costs."
It also helps that Lamm is able to quickly win over the room, says Fremont, the co-founder. "I've been in big meetings where we've been handed … high expectations … [He has a] disarming nature. He can throw himself under a bus in such a human fashion that he's immediately connected to the people around him."
Lamm doesn't take himself too seriously, either, says Peterson. And he exudes passion. It's something everyone who has met him notices quickly. "Ben comes in and he just starts talking about 'what if,'" Mityas says. "His drive to just ask, 'What if we tried this or that?' leads to innovation. It's in his DNA to think and push his clients."
"He has an energy about him that is insatiable," adds Fremont. "It's palpable to anyone around him."
Lamm believes "entrepreneurs are born not made," and knew he never wanted to have a traditional job. That probably explains why he got fired from five different jobs he had in high school. "I was overly opinionated as a child, so I either had to figure stuff out or change who I was," he says.
And he's genuinely interested in the fields he serves. He's constantly reading, writing about, or researching emerging technologies. He's been a guest writer for Entrepreneur; has contributed content to Adweek, where he also serves on the technology board; and also serves on the Planetary Society's advisory council, which also boasts Apollo 11 astronaut Buzz Aldrin and astrophysicist Neil deGrasse Tyson. So Lamm's always brainstorming, always working, and always connected. Often, he calls Fremont in the middle of the night to talk through new ideas. All this while somehow maintaining some semblance of a home life with his wife, Sarah. "I think it's a sickness, and [family and friends are] just aware of it," Lamm laughs.
One of the reasons his team follows him from place to place—Fremont has been with Lamm since his first startup, Simply Interactive—is not only because of his drive for innovation, but also the amount of trust he places in his team. "He trusts that the people around him are going to perform at the top level," Boudria says. "We have the saying [at the office]: 'I got Lammed today.' It means you had something crazy dropped on you … that forced you to think differently about something—a project, an idea. And it can come out of nowhere. He will push you to the limits."
Though Lamm has had successful exits for almost every company he's started, he doesn't build to sell. Rather he builds to create companies in areas he's passionate about, and, as a result, buyers have sought him out, he says. "If you build something great, someone will either buy it or everyone will work for you," he says. "I try to focus on emerging market trends that I like."
Lamm says that over the past 10 years, his ultimate goal has evolved. Now it's simplified to one thing. "My dream is to do more," he says. "I just want more of everything."
Get the D CEO Newsletter
Stay up to speed on DFW's fast-moving business community with weekly news reports, interviews, and insights.