From D CEO June 2018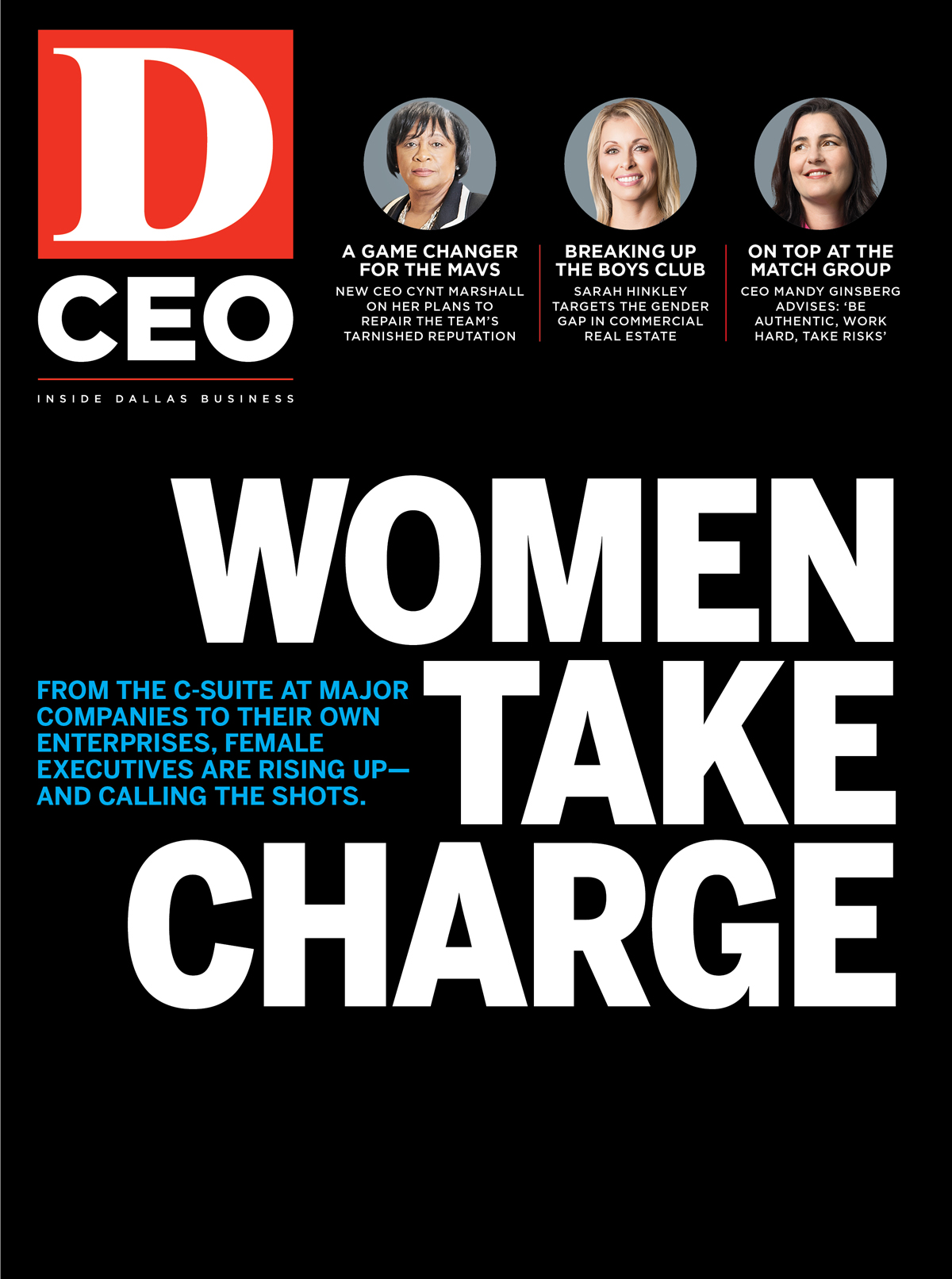 Subscribe
Inside Hattie's, the nonchalant Bishop Arts spot whose defining inner characteristic is its ghost-white tablecloths and defining outer characteristic is its lack of defining outer characteristic, Mary Stowe is shaking me down for insider knowledge on the recent romaine lettuce ordeal, both of us laughing at the what's next? ridiculousness of it. "Do you know the latest?" she asks, dangling reading glasses between her fingers.
I explain that I have no idea, but we exchange our shaky notes nonetheless—I heard this, my phone alert said that—and end up deciding it's better safe than sorry. Instead of a salad, Stowe, senior vice president and chief nursing officer at Dallas-based Children's Health, shoots for the special: grouper with roasted red pepper hummus, a sauté of shiitake mushrooms and scallions, and cilantro pesto. It comes out colorful, a blistered shishito pepper perched on top.
Stowe is a Texan and sounds like it. She grew up less than an hour from the Mexican border in the town of Raymondville, and then scooted north to Waco for her nursing degree at Baylor University, graduating in 1976. She started as a nurse at Children's Medical Center in Dallas, but administration was always the plan. After she earned a master's in nursing administration from Texas Woman's University's Houston campus, Stowe's career eventually took her back to Children's, then away again, and in 2006, back for her current 12-year stint as the CNO.
Being a CNO in 2018 means engrossing yourself in the nursing shortage—the combination of an aging workforce and a lack of new grads that has tightened margins for hospital systems nationwide. The latter is hardly a problem for Children's, however, which will have as many as 400 new career applicants at any given time. "I can't take all 400," says Stowe. "There's no way."
"Being able to have a trained workforce that can go from 60 percent occupancy to 105 percent—that's our challenge."
For Stowe, the challenge is finding the right mix of young talent and deeper expertise—she draws the distinction between that and mere experience—to fill out the roster. "The shortage can alter the amount of expertise you have in your organization as a whole," she says. "We have to watch that on a unit-by-unit basis; it's even more important in the intensive care unit or the operating room." Another staffing-related issue: The census at Children's swings drastically from summertime to winter, when kids become stumbling fixtures of snot and bacteria. "Being able to have a trained workforce that can go from 60 percent occupancy to 105 percent—that's our challenge," she says.
The answers often involve creativity. When Children's opened its Plano campus in 2008, Stowe took a certain number of top-notch Dallas nurses—plenty were willing—and then hired new grads to complement the veterans. When it comes to staffing up for the winter without over-staffing summer, Stowe deploys things like traveling or other out-of-network nurses and offers overtime to staffers who are able to pick up an extra shift here or there. Those measures have become more and more commonplace.
"We really do try to offer something that incentivizes our own people to work with us, but we recognize that fatigue is a big issue," Stowe says.
All in all, she says Children's has been able to weather the shortage as well as anyone, and points to the hospital's Magnet Recognition from the American Nurses Credentialing Center—which only 8 percent of hospitals earn—as proof. Among other things, nurses at Magnet facilities have higher job satisfaction, driving better retention rates and lower turnover.
As our lunch winds down, Stowe turns her attention toward the shishito pepper. In some weird trick by God or Mother Earth, about nine out of every 10 shishitos are mild; the oddball burns. I suggest that perhaps Hattie's has some system of weeding out the hot ones. "By doing what?" she says, laughing. She tries it and doesn't burst into flames: "That's good!" We both agree we're headed for after-lunch comas, although I'm calling her bluff. She has too much to do. 
Get the D CEO Healthcare Newsletter
Stay informed with a detailed weekly report on DFW's evolving healthcare industry.