From D CEO June 2018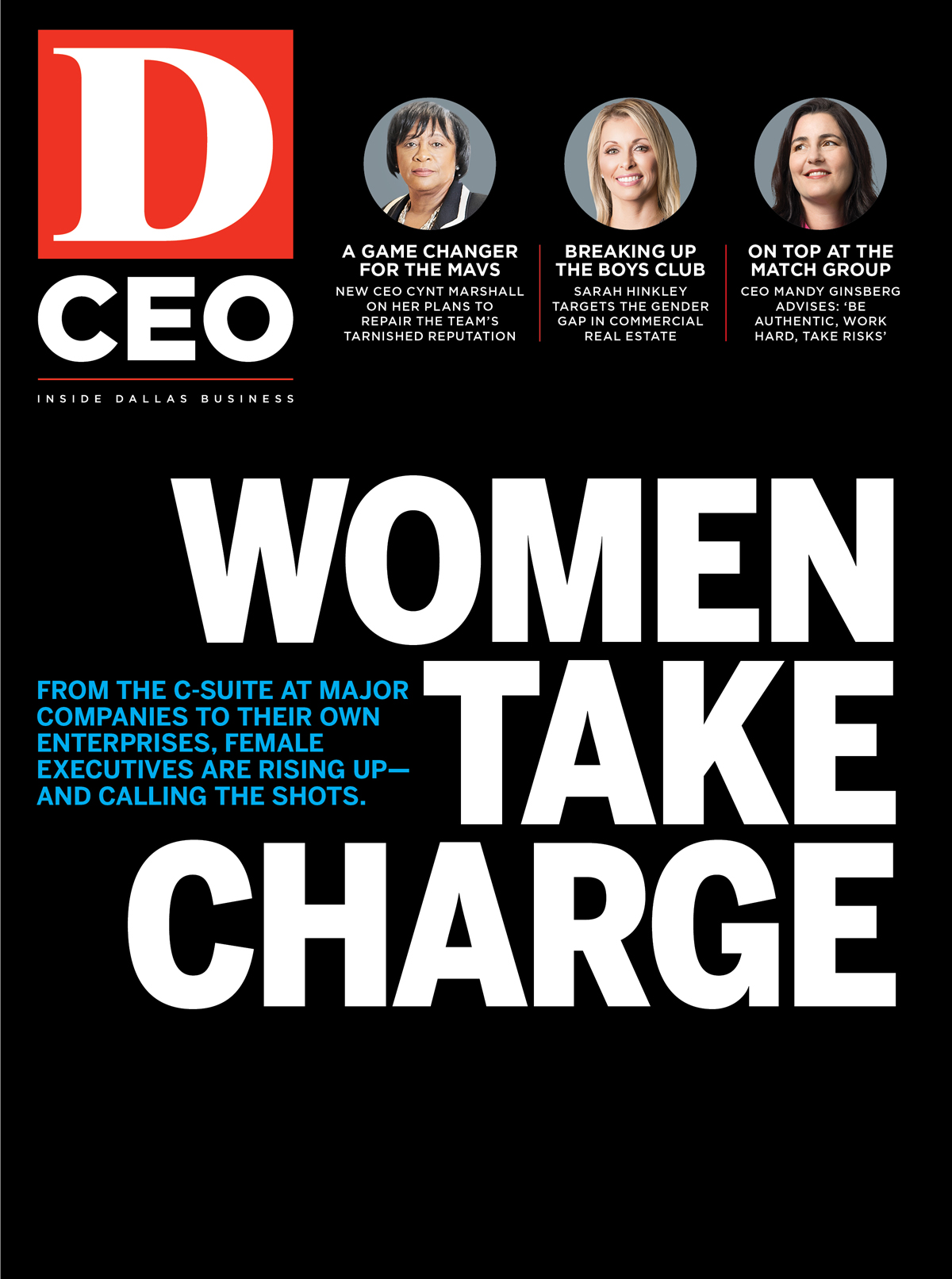 Subscribe
About three years ago, Haag Engineering celebrated its 90th year in business. It was starting to feel its age.
The forensic engineering shop, at the time based in Irving, had seen its chief financial officer leave. The company wanted to promote its vice president of finance to the job, but that would first require mentoring.
So Justin Kestner, the chief executive of the 125-employee business, did something that CEOs of previous generations might not have: He filled the position with the equivalent of a temp.
Tapping Capital CFO Partners, a North Texas supplier of interim and "fractional" executives, Kestner brought in Rick Bollar, who had run the finances of firms in industries ranging from logistics to technology.
Aside from grooming the next generation, Bollar landed banking relationships that gave Haag better terms for its financing needs, Kestner says.
"They made a lot of improvements that weren't on our radar," says Kestner, whose company has since moved its headquarters to Flower Mound. "They've been a nice value add."
Formed nine years ago, Capital CFO is a prominent member of an emerging class of area shops that essentially rent out executives. The firm's story, and success, reflects changes in the way companies use corner-office talent.
When private equity firms buy businesses, "they always want the Harvard graduate, but they want to pay the community college costs," says Kevin McAleer, managing partner at Capital CFO's Dallas headquarters. "We can give you the Harvard graduate."
Time-sharing People
The idea of fractional ownership, in which several parties split an asset to share cost and mitigate risk, arguably dates to 1963. That's when a Swiss firm began selling the rights to use resort properties, according to Inside the Gate, a website focused on the timeshare industry.
Robert Jordan, CEO of InterimExecs, an Illinois-based trade association for as-needed execs, says, "Interim management began in the Netherlands 40-plus years ago." But while the idea spread across western Europe, "the advent of interim in the United States was virtually unknown when I started 21 years ago," Jordan says.
During the technology boom of the late 1990s, rent-a-CFOs were novel enough in North Texas that the industry's 800-pound gorilla, Atlanta-based Tatum, ran its local business out of Dallas' Park City Club.
Dan Jones, Tatum's managing partner here at the time, was renowned for overseeing dozens of CFOs by using only a cell phone and whatever table was open in the club's dining or bar areas.
For years, the Dallas-Fort Worth operation was one of Tatum's most successful.
"Tatum moved into Lincoln Centre in Dallas in the mid-2000s and has maintained its presence there since," says Jim Schuchard, who in January 2010 was named practice leader for its DFW operations.
Following a couple of transactions, Tatum today is a unit of the Dutch employment giant Randstad and provides a range of services, including interim CFOs, chief information officers, and chief operating officers, according to Bill Glatch, client services partner for the Dallas market.
It is increasingly acceptable for companies to use interim CFOs, and more people with accounting and finance talent are doing interim work full-time, he says.
"Engaging interim solutions provides companies with more 'runway' to make their hiring decision," Glatch says.
Interim and fractional shops also help companies deal with an ongoing shortage of accounting and finance talent. And for veteran executives, interim and part-time work can give organizations an affordable avenue to their experience, according to Bill Leftwich, a managing partner at Dallas-based SeatonHill Partners.
"The older you are, the more cachet you lose as a job applicant," he says. "We give them access to our wisdom, but they don't have to pay us full-time."
CFOs, however, could be skeptical of work at public companies because of the Sarbanes-Oxley Act, a 2002 federal law that requires finance chiefs to personally certify the accuracy of their employers' annual and quarterly reports to shareholders.
At giant companies, that's a big ask, says Dennis McCuistion, a professor who runs the Institute for Excellence in Corporate Governance at the University of Texas at Dallas.
"At big companies, who the hell really knows?" he says.
Problems, Good and Bad
Capital CFO started nine years ago amid the Great Recession. McAleer, a veteran of what is now the big four accounting firm PwC, joined as an equity partner in 2012, when Capital CFO was still called Pillar.
McAleer took over three years ago, when the two other equity partners moved on to other ventures. In addition to changing the shop's name, he grappled with the biggest impediment to growth in his industry: Finding talent.
"All of our CFOs have had once-in-a-lifetime transactional experiences multiple times," says McAleer, whose résumé includes finance-chief jobs at local names such as VarTec Telecom, MobileStar Network, and CapRock Communications.
"Without a doubt we're more expensive than anybody else," he adds. "But there's a reason we built the firm this way."
The talent issue has two prongs for firms in the rent-a-CFO industry. For an interim or fractional arrangement to work for a client company, the executive they get must be a top-tier performer. Yet more and more executives are laying claim to the title.
On LinkedIn, use of the keyword "interim" has grown roughly 10-fold over 10 years, Jordan says. Use of the keyword "turnaround" has doubled.
According to Jordan, organizations that use interim and fractional executives usually have revenue of $50 million to $3 billion. Like most in its industry, Capital CFO works primarily with middle-market firms that have good problems, such as an unexpected growth surge, or bad problems, such as declining revenue.
At Dallas Lighthouse for the Blind, an 87-year-old nonprofit that provides jobs and assistance to the visually impaired, Capital CFO's Greg Bogard found places to save money in everything from technology to insurance, and oversaw the purchase of a North Dallas building for expansion.
Bogard did such a good job that Hugh McElroy, who took over as CEO in 2015, named Bogard the Lighthouse's permanent CFO in 2016. "Their knowledge base isn't just finance," McElroy says of Capital CFO. "They understand how things operate, how they should operate, and how to assess and make improvements."
Geographic Expansion
With 10 finance chiefs aboard, Capital CFO has grown partly by adding a Fort Worth office. It now has three people working out of Cowtown under Bollar's stewardship.
He also oversees a corporate affiliate of Capital CFO, Bollar LLC, which helps client companies find new equity or debt financing. (Capital CFO says on its website that it's not an investment bank.)
McAleer and company are also juggling the changes technology is bringing to the job of running corporate finances.
"You will begin to see many functions within the accounting department or back office of companies move to automated platforms," says Catherine Fox-Simpson, partner in Flower Mound-based the Corner Office, Ltd. "CFOs will rely more on these automated services, allowing them to do more and focus on strategic items."
Tracy Morris, also a Corner Office partner, adds that the Dallas-Fort Worth talent pool will impact the temporary-CFO field going forward.
"We will see the effects of the retirement of baby boomers, the volume of new students entering the market, and constraints caused by the influx of businesses relocating into this market," she says.
For McAleer, the ongoing question is finding people who carry both a track record of success and an enjoyment for networking and the consulting world.
"I don't see a lack of opportunities," he says. "We've tried hard to brand our company to get our name out. At the end of the day, reputation is key-—and doing a great job for every one of our clients."
Get the D CEO Newsletter
Stay up to speed on DFW's fast-moving business community with weekly news reports, interviews, and insights.