From D CEO July 2018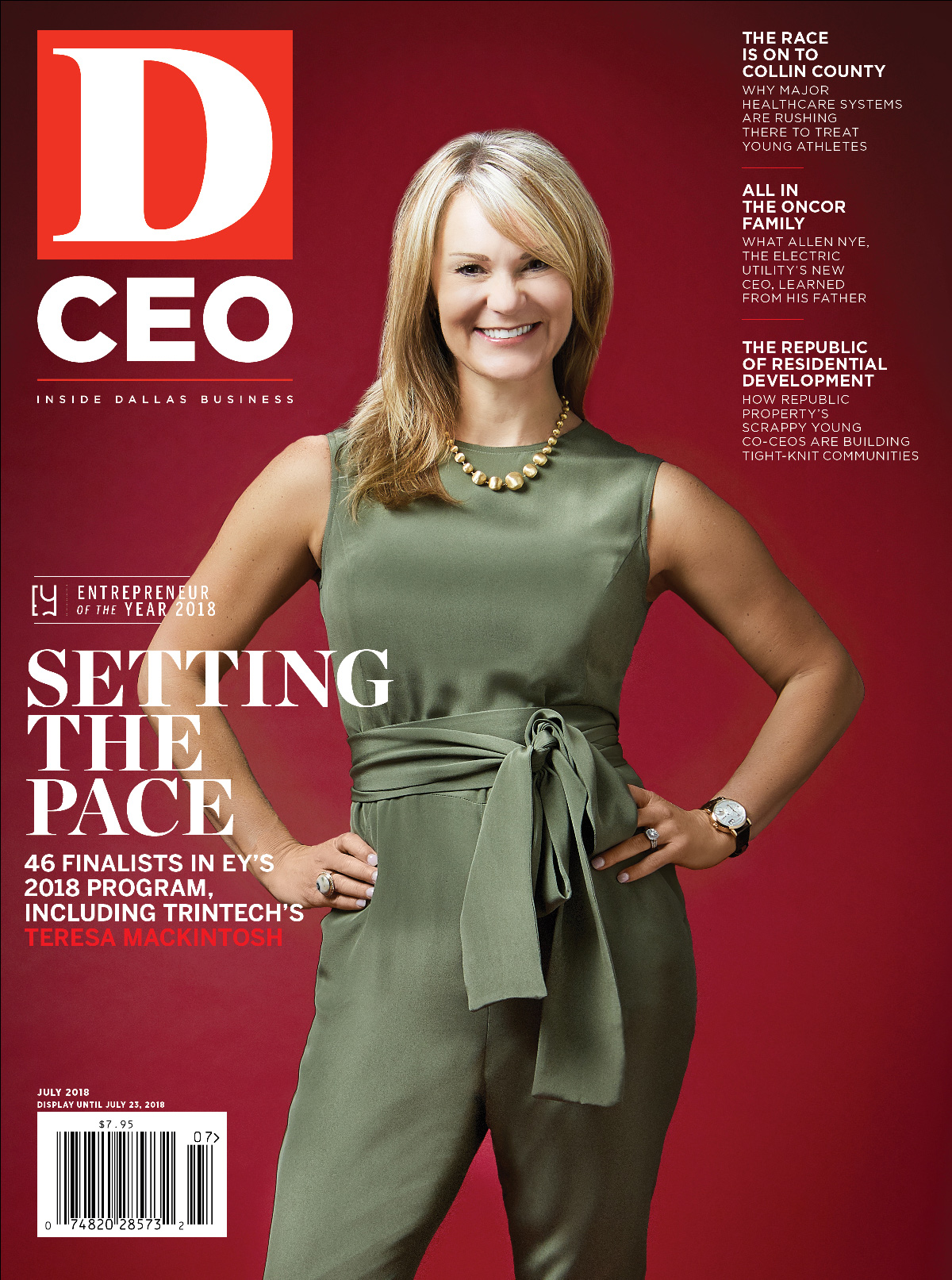 Subscribe
Clay Dover first fell in love with restaurants as a kid growing up in Southern California. He was the oldest of five, so money was tight. Going out to eat was reserved for special occasions, like when his grandfather came to visit.
"It was a magical experience where I could pick anything I wanted off the menu," Dover says. "I was always enamored with restaurants."
His first job was bussing tables at Bob's Big Boy restaurant, and he put himself through college at Brigham Young University by working as a server. After college, he managed a Chili's, switching to the corporate side of the business in 1998. A string of leadership roles at Houlihan's, APEX Restaurant Group, and Metromedia Restaurant Group followed. Dover joined chicken finger chain Raising Cane's as president and chief marketing officer in 2008 and helped grow the brand from 60 to 230 locations.
Dover was working as chief marketing officer for Pei Wei when he received a call from Randy DeWitt, CEO of Dallas-based restaurant management company Front Burner Restaurants. Trendy taqueria Velvet Taco, one of Front Burner's concepts, had recently received a growth investment from Connecticut-based private equity firm L Catterton. DeWitt wanted Dover to help shepherd the taco chain's expansion. Dover agreed, and became president of Velvet Taco in March of 2017.
Velvet Taco is a fast-casual concept known for its gourmet tacos and late-night atmosphere. The restaurant tries to keep ahead of food trends by offering limited-time tacos as a weekly feature. One week in April, Velvet Taco created a rotisserie chicken "Tokin' Tikka" taco; other weekly flavors have included fried bologna and egg, barbecue jalapeño sausage, and the taco version of a Reuben sandwich. Its first location, in Dallas, opened in 2011.
"Our concept is founded on the idea that tacos don't have to be Mexican," Dover says. "We have an eclectic and culinary spin on tacos that focuses on international flavors."
When Dover joined Velvet Taco, there were only four locations. By the end of 2018, the brand will have 10, with two restaurants slated to open in the Dallas area later this year. There are also Velvet Taco locations in Fort Worth, Austin, Houston, and Chicago—with Atlanta targeted as the next place for expansion.
"We're very particular about the locations we open," Dover says. "Our goal is to incorporate the neighborhoods and the communities. We want to take on the personality of the community and get involved."
Velvet Taco recently rolled out its mobile app, which facilitates delivery options, and is in the process of creating and testing a brunch menu. According to Dover, more than 500 people work for Velvet Taco, and the restaurants collectively serve more than 10,000 tacos a day. The brand has grown 50 percent annually, a rate that he plans to maintain in coming years.
For Dover, working in the restaurant industry helps connect him to his fond childhood memories, while allowing him to help facilitate similar moments for others by bringing people together.
"The ability to have people come in and spend time with friends and family is one of those experiences—it's always growing," Dover says. "Dining out is an experience that's part of everyone's lives. It's become part of who and what we are."
Get the D CEO Newsletter
Stay up to speed on DFW's fast-moving business community with weekly news reports, interviews, and insights.