From D CEO July 2018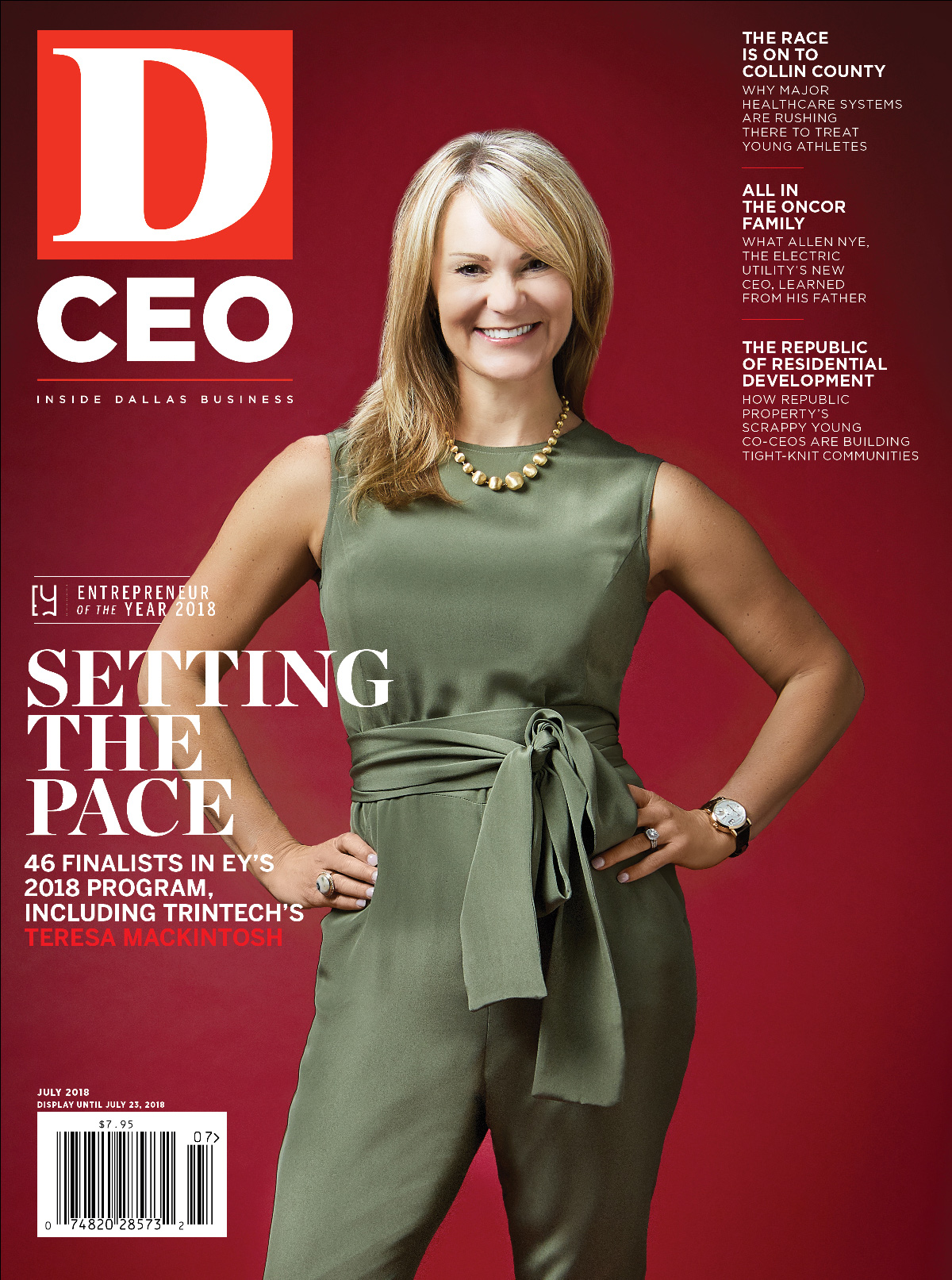 Subscribe
Near the end of the first set of a close volleyball match in January, Alexis James, a young, sought-after recruit from Frisco, called for a "three" set, meaning a quick set toward the inside portion of Alexis' position. What came instead looked more like a "hut," a set that shoots out toward the antenna located at the end of the net. Alexis made a quick adjustment but came down awkwardly on her left leg.
Raised by a football-coach father, she shook it off and kept playing. It wasn't until two weeks later—after insistence by her club-team coaches that she was fine, Alexis' mother said—that the 17-year-old athlete would heed the school trainer's recommendation to get X-ray'd, and then be told that her left tibia was, indeed, broken.
Although she was only a high school junior at the time of her injury, Alexis had already accepted a full-ride scholarship to play volleyball at the Division I United States Military Academy in West Point, New York. That made the decisions now facing the James family all the more critical. A prolonged impact from the injury could affect not only Alexis' volleyball career, but ultimately her education, as West Point enrollees must pass certain medical requirements to gain entry.
In youth-sports-crazed Collin County, Alexis had become the sort of patient that a number of North Texas health systems are racing to attract. As a field, sports medicine offers an entry point into longer-lasting, lucrative relationships with families. One-off surgeries and the resulting rehab are one thing; but it's the prospect of building a lasting association that so incentivizes healthcare leaders. One expert equates the patient "stickiness" to the world of labor and delivery: birth someone's child and you've started something. Similarly, get a young athlete back on the field after a torn ACL, and his or her family will remember you when it's just a sore shoulder or a cough or, for that matter, when mom has back pain.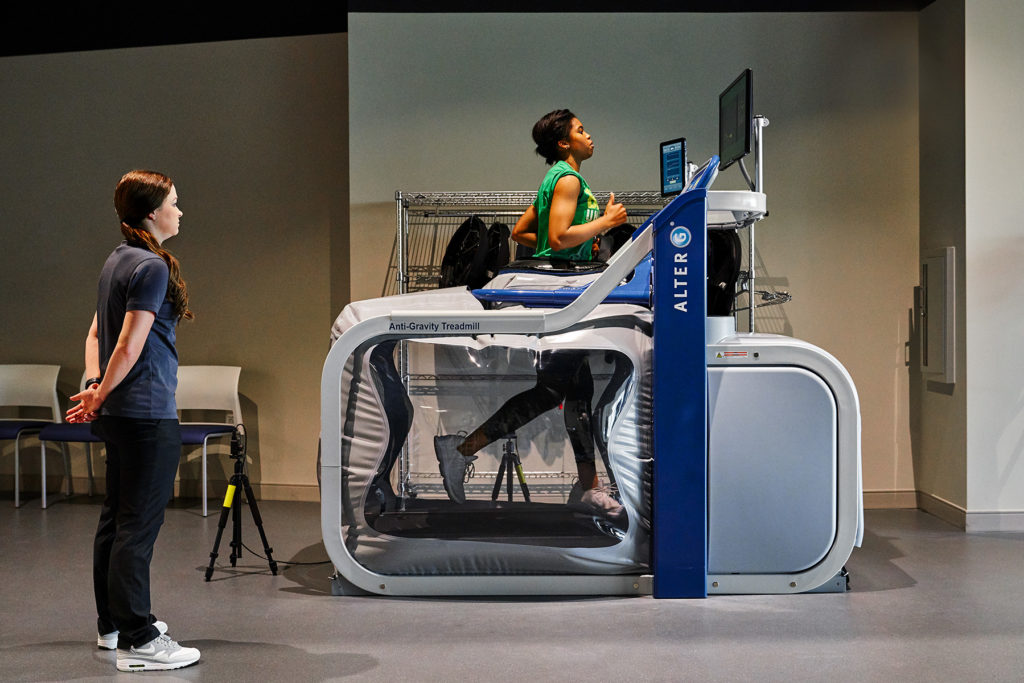 In 2011, Men's Journal called Frisco the best place in the country to raise a young athlete. Investment at the pro level—by the NFL's Dallas Cowboys and the NHL's Dallas Stars, for example—has had a spillover effect. The medical community has taken note. In May, Dallas-based Children's Health held a grand opening for its new Specialty Center 2 in Plano, a gleaming, four-story, 203,000-square-foot center that houses a clinic as well as areas for rehab, training, and surgery, including the Andrews Institute for Orthopaedics and Sports Medicine, named after the renowned orthopedic surgeon Dr. James Andrews. Children's Health CEO Chris Durovich has pointed to the country's 2.6 million children who suffer sports-related injuries annually as reasoning for the investment, which was reported at $50 million during the 2015 groundbreaking. "Our job is to make life better for children," he said at the ceremony then. "So this is a natural extension of what we do."
Meantime, Baylor Scott & White Sports Therapy & Research at The Star was set to open in June—a 300,000-square-foot collaboration with the Cowboys and Frisco ISD. Bill Robertson, team doctor with the Dallas Stars, has linked up with Medical City Frisco, and now the two sides are eyeing a sports medicine facility of their own. Texas Health Resources also has expressed interest in the area.
The interest extends beyond Texas. After running a Tallahassee, Florida-based concussion clinic and caring for athletes at Florida State University and elsewhere, Dr. Scott Burkhart jumped at the chance to set up shop at the Andrews Institute. "There are so many concussions going on in this area that we don't have to fight"  for business, he says. At the same time, Burkhart recognizes and welcomes the competition the area has attracted—a contrast to what he saw in Florida: "As word starts to develop and get out about who does a good job with certain injuries, that's where people rise to the top."
There's also the consideration of what a steady stream of relocations and growth has done for the communities of Frisco and Plano, now some of the most well-off in the region. The median household income in Frisco is $117,642 and the uninsured rate is just 7.7 percent. In Plano, where the population is nearly double, median household income is $88,398, with an uninsured rate of 13.6 percent. Those figures, courtesy of the latest Census data, handily beat the state figures of $56,565 and 18.6 percent, respectively. Frisco was the second-fastest growing city in the U.S. between 2015 and 2016, while Collin County grew seventh-fastest among all Texas counties from 2010 through 2017.
Burkhart points out that Andrews takes any sort of patient who walks through its doors, insured or ultra-insured or not. But he's also straightforward about the money that parents in the area are willing to plop down for the betterment of their kids' athletic goals, be that for the newest Titleist driver, top-of-the-line cleats, or, yes, for sports medicine.
"Look where we're at right now," says Burkhart, who sits across from me at The Shops at Legacy, in a coffeehouse where the beverage menu is 40 pages long. "There's not a McDonald's around for 5 miles. Kind of shows you the demographic."
---
"Look where we're at right now. There's not a McDonald's around for 5 miles. Kind of shows you the demographic."

Dr. Scott Burkhart
A couple of weeks before a grand opening event that would feature an appearance by the namesake himself, the larger-than-life Dr. Andrews, Dr. John Polousky poked around a corner at the Andrews Institute's hospital-clean, pea-green-accented lobby. It was the first day the rehab center would open, and Polousky, who heads up the entire operation as surgical director and chief of pediatric orthopedics, was excited to reach yet another milestone. Although the sports training side of the equation, called EXOS, opened in December, it had taken until this, the last day in April, to clear the paperwork on the rehab side.
A former college footballer who played the center position about 50 pounds ago, Polousky was one of the first physicians to be dual-trained in pediatric orthopedics and orthopedic sports medicine, a combination of specialties that remains rare today. He got interested in sports medicine in high school, when he took a class in sports injuries and happened to establish a relationship with his high school's trainer. Just a couple of months ago, he found himself speaking to a high school auditorium filled with 400 students interested in the field; the contrast was apparent. "That's how it's grown—from a few kids interested in what was going on in the training room," he says.
As we begin a tour at Andrews, Polousky tells me it's EXOS that will theoretically serve as the way into the space and the way out. The model is built so that a patient could seamlessly move from the physician-clinical side of the operation, or from a surgery, into rehab, and then into sports training. Physical therapy and EXOS each have their own facilities but are conjoined by a workspace, and it's the collaboration the set-up breeds that Polousky says is so unique. An insurer might only cover 12 physical-therapy visits, but Andrews can move a patient over to EXOS, where a month of training could cost about the same as a single rehab session, Polousky says.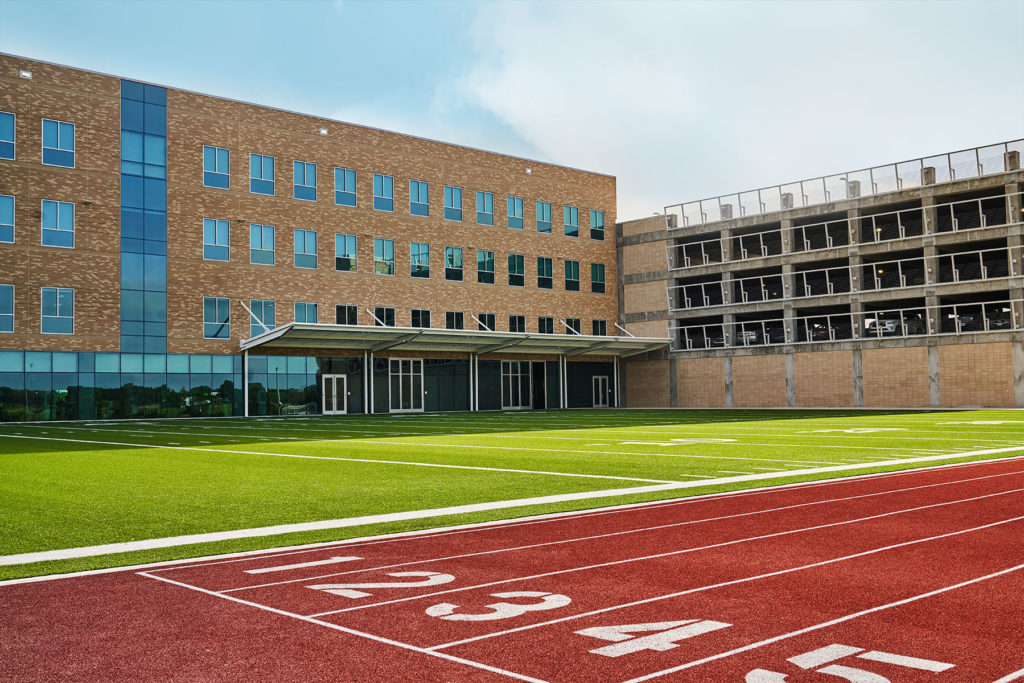 The hope is that Andrews will establish relationships with athletes via training that will spill over into other aspects. Stephen LaPlante, a physical therapist at the center, shuffles over and jumps into the conversation. At least at first, the more likely sequence of events is that patients will move from the physician-clinical side into PT and then to EXOS, rather than the other way around—"but the model is built so that it can go either way," he says. "It's pretty rare to have a system that can do all that stuff, which is what is cool about this." He excuses himself, grabs an exercise ball and runs it over to place under the calves of a high-school student.
Also here today is Alexis James, the volleyball player. After giving the fracture six non-weight-bearing—and unsuccessful—weeks to heal on its own, a decision made because of uncertainty as to how West Point would react to Alexis having metal in her leg, Alexis' family had received clearance from the school and sought out surgery. Alexis' father, Odell James, solicited the advice of a couple of well-placed sports medicine connections—one of whom, Dr. Walt Lowe, is the team doctor for the NFL's Houston Texans. That led back to Andrews and a young surgeon named Dr. Kathryn Bauer. "It's great to have that here in North Texas and not have to go to Florida," says Alexis' mom, Kai'Iah James. Andrews has a hub in the Sunshine State. "We would have—we'll take her to the best, that's for sure—but it's great to have it close." That goes for after surgery, as well: "Whatever they're doing in rehab, we had to have the best," she says.
That all led Alexis to this point, when her eyes get big as she becomes the first patient ever to step onto the center's new Alter G anti-gravity treadmill. It's the first time she's run since the injury. "It's amazing," LaPlante says, as we watch Alexis trot along at 80 percent of her body weight. "One of the coolest pieces of equipment we have." Other standout features of the new center include an under-water treadmill, a 60-yard turf field and sprint track, a sprung dance floor, and an eight-camera 3D simulator.
"To finally get to run again, it was like, freedom," Alexis says.
When a pediatric health system like Children's Health throws its money behind a state-of-the-art sports medicine facility, it's proof that youth sports is reaching a point at which the young athletes themselves warrant significant healthcare investment. But for the health systems that care for adults as well, there's extra incentive.
"It's really an entry point into the community," says Tom Caldwell, vice president of sports medicine for Arlington-based Texas Health Resources. "We work very closely with youth sports programs, school systems, and through those relationships, you're working with parents, grandparents. So, you really get to provide exposure not only to sports medicine programs, but it allows you to highlight the other offerings that folks might utilize in your system."
Since 2008, for instance, Texas Health has administered nearly 250,000 baseline concussion tests—the tests that players take before their seasons start, to establish their norms in case they need to check for abnormalities later on. That's almost 250,000 opportunities to form relationships.
Minus a 7,000-square-foot physical therapy center at Toyota Stadium in Frisco, however, Texas Health has yet to fully dive into the Collin County fray. That could soon change, although Caldwell is scant on details. He mentions a THR facility in Arlington that accommodates orthopedic sports medicine, primary care sports medicine, rehab, and sports training under a single roof, and says only: "I think it's fair to say that's a model we like moving forward and, as we investigate further the growth in Plano and Frisco, we'll leverage that model."
Others are further along. Dallas-based Baylor Scott & White announced its plans in mid-2016. The largest not-for-profit healthcare system in Texas, with more than $9 billion in revenue in 2017, is throwing its weight behind a massive sports therapy and research facility at The Star. The announcement declared it would focus on prevention and wellness—for athletes at all levels—and that it's "expected to become a nationally recognized model for the holistic treatment of physically active individuals." It was originally set to open early this year, but the date was pushed back to June, and a spokesperson for the system told me in May that a media push was being prepared for then (after this issue of D CEO went to press).
On tap at the center is a surgery center; imaging, urgent care, and rehab facilities; and a pharmacy. The imaging center, according to Baylor Scott & White, will be made in concert with GE, feature some of the world's most advanced MRI machines, and become part of the GE-NFL Head Health Initiative. In a statement last year, BSWH CEO Jim Hinton hailed the $100-million-plus facility as a "first of its kind collaboration between an NFL team, a health system like Baylor Scott & White, and a school district … that is focusing on preventing injuries and promoting wellness for athletes of all levels."
Then there's Irving-based Medical City Healthcare, investing via a partnership with the Texas Metroplex Institute (TMI) for Sports Medicine & Orthopedics. Dr. Bill Robertson, who's the team physician for the Dallas Stars, joined TMI about 18 months ago from UT Southwestern Medical Center, realizing that Collin County was quickly becoming the place to be for sports medicine in North Texas. TMI leases a spot near Medical City Frisco—formerly Forest Park Medical Center—but could soon be getting something brand new.
Medical City Frisco is building a five-story medical office building across the Dallas North Tollway, expecting to break ground during the fourth quarter of 2018 and complete the project next year. It will connect to the main Frisco campus via a skybridge. According to Robertson, it will include an ambulatory surgery center and, as the preliminary plan goes, a sports performance and rehabilitation center. The facility will have about 30,000 square feet per floor, but no decisions have yet been made about how much of it Robertson's operation would take on.
"One of the reasons why we're doing what we're doing now is, it gives us kind of a testing ground," he says. "And I will tell you, just from the two months we've been open, the business has been extremely busy."
---
For sports medicine providers, increased competition means the margin for error shrinks. It also puts a focus on convenience, and on getting patients in the door quickly. Burkhart's team at Andrews' concussion center sees all patients within 72 hours, and often the next day. "Think of it like a dinner reservation," he says. If the first restaurant doesn't answer, you move on to the next. "It's funny how quickly your interests change on account of your needs not getting met."
"I will tell you, just from the two months we've been open, the business has been extremely busy."

rnDr. Bill Robertson
But there's a reason you can never get a table at Town Hearth, and you'll wait three hours for Pecan Lodge on a Saturday. Over time, Burkhart envisions Andrews as a go-to for pediatric concussion care, pulling a "regional" referral base—he counts New Mexico and Arizona in the region—but garnering national attention. "If a kid up in Montana gets a concussion and he's the next Tom Brady, he's got options, and he's going to get on a plane," Burkhart says. "We want him coming here."
Burkhart's team is doing research that could shape how we think about concussions as well, adding to a growing body of evidence that suggests people are at greater risk to injure their legs, he says, in the months after concussions. Because of how the brain works, "the sooner we get you doing an activity that your brain recognizes and is familiar with, the sooner your brain realizes it's functioning back to normal." Burkhart is in the process of acquiring a massive data set to look deeper into the trend.
---
Dr. James Andrews is as famous and prolific as surgeons come. Within a span of two years in the mid-1980s, he operated on professional athletes Jack Nicklaus, Bo Jackson, and Roger Clemens. Clemens struck out 20 batters eight months later, a record, and business boomed. Andrews has seen too many stars to name since then, becoming the guy that the greatest athletes in the world see when they've torn an ACL or popped out a shoulder. One of his surgeries, coincidentally, was in 1996 to Odell James—Alexis' father, who at the time was playing football for the Baylor Bears.
Andrews looks like grandpa, but at the grand opening for the Andrews Institute, his presence looms; it might be due to a mixture of the circles of people surrounding him and the plum-sized 2018 National Championship ring on his finger. He's not shy about flashing it, either. When we tuck into an exam room to talk away from the noise, I ask about how many others he's earned from various team doctor affiliations. He's the team doc at rivals Auburn University and Alabama University, the latter earning him the ring he's wearing now.
"Oh, lord," Andrews says. "I bet you can't guess how many championship rings I've got."
I say 15. He laughs, the way someone might at the absurdities of a young child. "This is number 78." Auburn owes him a 79th.
"Winning is what's it's all about," Andrews says. "Winning isn't everything. It's the only thing."
We sink into the conversation, and Andrews tells me that it was Children's that approached him about building this facility with his help—not the other way around—but that the concept touches on trends he's seen develop over more than 15 years. "On Monday mornings when I'd see new patients, I'd go to all five examining rooms and I'd open the door and there was a young athlete sitting in there with his parents and maybe his grandparents," he says. "Every room was filled with kids." That was in 2000, and he says his team has tracked an increase of injuries involving youth sports of "nine- or 10-fold" since.
The reasons? Specialization—kids focusing on a single sport year-round—and professionalism, with young athletes training as if they're professionals. "Their bodies are not meant to take that workload and training," Andrews says. Specialization is something Polousky, who heads the Children's Health Andrews Institute, had also touched on during our tour. He'll see the same kids three times a year for the same overuse injuries. Polousky says the institute tries to be a voice of reason for kids—or parents—who have their eyes trained on the next athletic level. The facility stresses prevention, a key component of every new sports medicine investment in Collin County.
Why the race to Collin County? I asked Chad Gilliland, a senior director at the institute who joined our tour, whether he'd noticed a difference between the young athletes he dealt with in Pensacola, Florida, where he was previously stationed, and the ones here. The response came quickly, in his thick southern drawl: "There's a lot more of 'em" in North Texas.   
Get the D CEO Newsletter
Stay up to speed on DFW's fast-moving business community with weekly news reports, interviews, and insights.