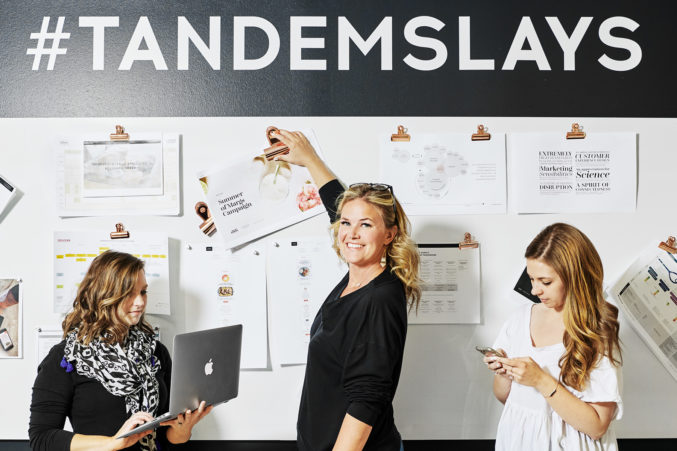 Why Michelle Hagen Is Called the 'Boss Lady'
Her Tandem Theory marketing firm garners big chain clients like The Container Store, At Home, and On the Border.
I don't notice until I am leaving that the glass door to the corner office is etched with the words "Boss Lady." When Michelle Hagen's staff points her out to someone new, they say, "That's our boss lady."
At 46, Hagen, founder and CEO of Tandem Theory, is the boss at work and at home. She has two kids and a husband, who works for her company. "It actually works really well," she says, referring to her spouse. "You need people you can really trust around you."
In five years, Hagen has grown her Dallas marketing company from startup to 40 employees and $10 million in annual billings.
The boss lady named her company Tandem Theory to suggest an alignment between her team and clients, working together in the same direction to demystify very complicated, data-driven, personalized marketing strategies to help clients deliver on their brands' promises. Her clients include At Home (formerly Garden Ridge), The Container Store, Sally Beauty Holdings, Smoothie King, On the Border, and Zoës Kitchen.
With a background in medical technology and a passion for data, Hagen learned her skills at places like Hotels.com and GameStop. She buys data and creates personalized marketing content to target potential customers.
"We buy a lot of Facebook data," she says, and then explains how data is available to buy from sources including Google, credit card companies, apps, and GPS-related searches.
"What we do better than anyone else is develop personalized content inspired by the data and use it to increase engagement," Hagen says. "We don't consider ourselves advertisers. We are content creators."
Michelle and her team use print, radio, TV, digital media, social media, email, websites, texting, direct messaging, influencer marketing, and customer relationship management systems.
"Winning brands and companies want to create empathetic and frictionless experiences for their customers," she says. "Data is at the heart of what is driving a more personalized experience. People want to feel the experience."
Hagen calls it contextual advertising. Her team may shoot 50 15- to 30-second spots personalized to satisfy customer preferences and call them to action. For instance, a vegan probably won't see a promo for a steakhouse.
Like it or not, our digital fingerprints and most of our preferences and general information are all over the internet. This includes things like gender, where we live, household information, and demographics. Look up something on Google, and the next thing you know, you're getting an email with a link to purchase that very thing, or seeing an ad on Facebook.
When it comes to her staff, men and women mostly in their mid-30s, Hagen hires people who are tech-savvy, agile, obsessed with personalization, fed and inspired by data, and have a cross-channel mindset.
"I love being in Dallas," Hagen says. "It's a great time for women. I love mining data for insights, which lead to creative expression. The people who can do that are going to rule the world."
Maybe that's why she's called Boss Lady.