From D CEO July 2018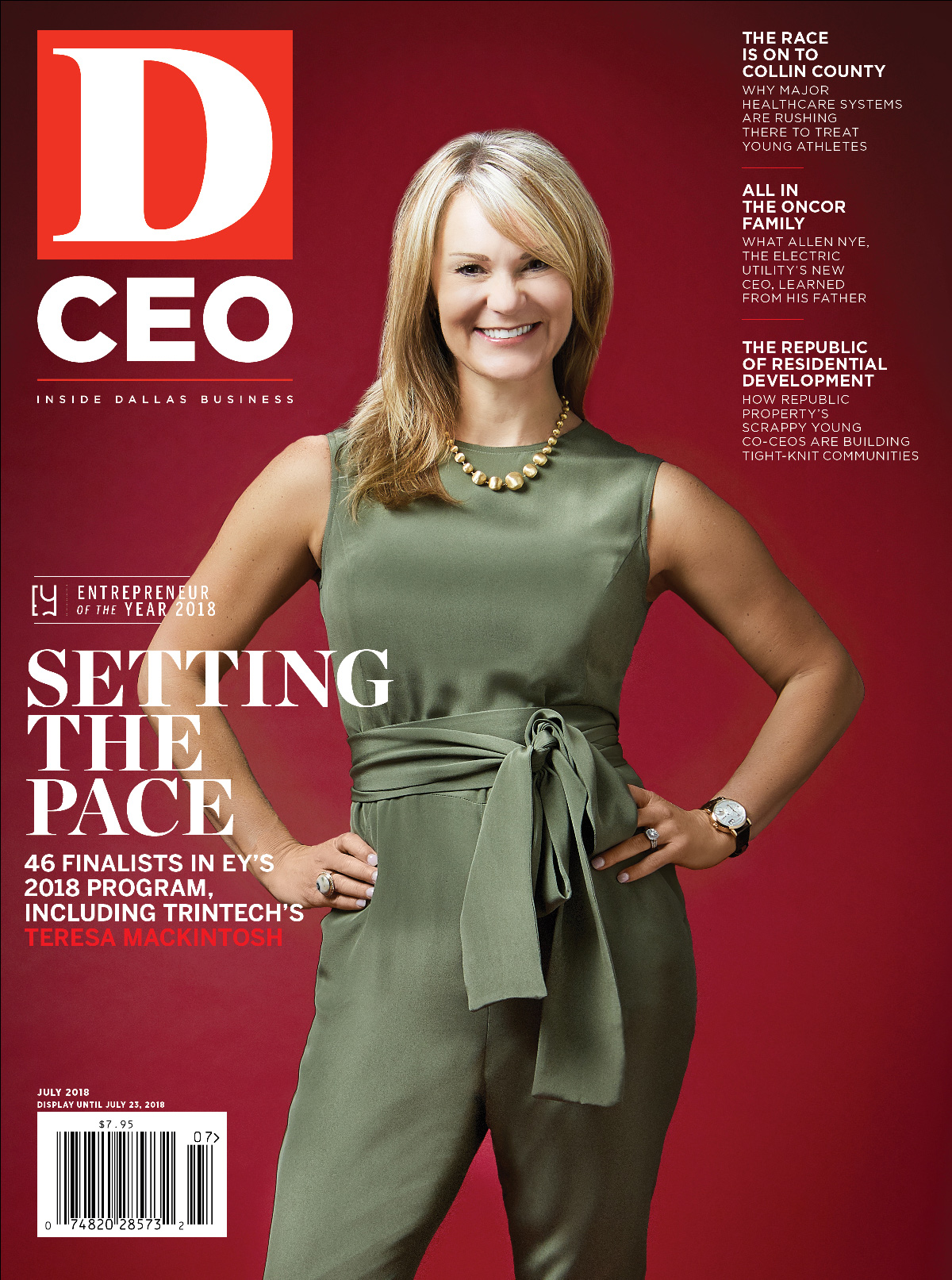 Subscribe
Carlos Riojas arrives early at one of his regular lunch spots, Union Bear Brewery in Plano, after a short stroll from his new semi-private office at Common Desk in Granite Park. Sporting a T-shirt emblazoned with his company's logo and a pair of jeans—garb commonly worn by startup employees—he's laid back and relaxed. But perhaps there's a bigger reason for his ease: He's living the dream.
"Being from Texas, I've always pushed for opening a Walmart office here and running it someday," he says. "Maybe for over a decade, I've been putting that in people's ears."
Late last year, Riojas got his wish and was charged with heading up Plano's Walmart Technology office, which serves as the company's internal innovation center. As senior director of the office, he oversees about 25 people, most of whom are software developers hired locally. That number is expected to double by the end of the year. The Plano team, brand new to the company, is focused on leveraging emerging technologies to improve Walmart's operations.
"… I've always pushed for opening a Walmart office here and running it someday."
Before he delves into his deep-rooted history with the $486 billion (annual sales) discount retailer, Riojas orders himself a glass of water and an avocado BLT that's bigger than his face. When it arrives, he cuts it in half, breaking the yolk of the sunny-side-up egg inside. He hardly touches his fries.
Riojas, 40, says he got the opportunity to start the Plano tech office due to his tenure and the autonomy provided by Walmart. After all, Walmart was his first employer after he graduated from Baylor University, and it's given him the chance to drive innovation as a software developer at the giant company, he says. The decision to move from Walmart's headquarters in Bentonville, Arkansas, to North Texas came after his wife, who was his college sweetheart, had the opportunity to advance her career at PepsiCo in Plano.
"It was risky to move. I was happy in my career," Riojas says. "That's why my initial thought was, can I stay with Walmart?"
In one way, it's serendipitous that Riojas is leading a Walmart office. When the retailer opened its first store in Waco during Riojas' college years, he worked at the photo center "back when that was cool." So when the company started recruiting at Baylor for corporate positions, Riojas already had a foot in the door. "I knew the brand," he says.
Now he's leading a team that's expected to add to the bottom line by developing systems that help lower costs related to things like energy usage. Walmart Technology feels a lot like a startup. The biggest differences: Technologies developed have a global impact as they roll out across the company's thousands of stores; and innovative projects are backed by a not-so-tiny investor—Walmart itself.
Riojas says he's happy with the local talent pool, and believes it's up to him to make the job attractive enough to lure the best developers. He bases his leadership around providing three core motivators: the chance to master something, autonomy, and purpose-driven work. He's also working with local professors for collaboration and recruitment. This fall the Plano office will launch its first full recruiting effort at local and nearby universities.
Meanwhile, Riojas has settled nicely into his home in Prosper with his wife, who's now a senior director at Frito-Lay, and his daughters, a 10-year-old and 6-year-old twins.
When the bill comes, we both reach for it. "I can't let you pay," he insists. Walmart employees are prohibited from accepting "gifts or gratuities," he explains. That's because Walmart operates under the idea that it can't be "bought," and that every discount it receives trickles straight down to the customer. That way the company can stand behind what it labels as its "everyday low prices."
It's an ethical concern, he says. I echo the sentiment. We smile in agreement and split the check. 
Get the D CEO Newsletter
Stay up to speed on DFW's fast-moving business community with weekly news reports, interviews, and insights.