From D CEO July 2018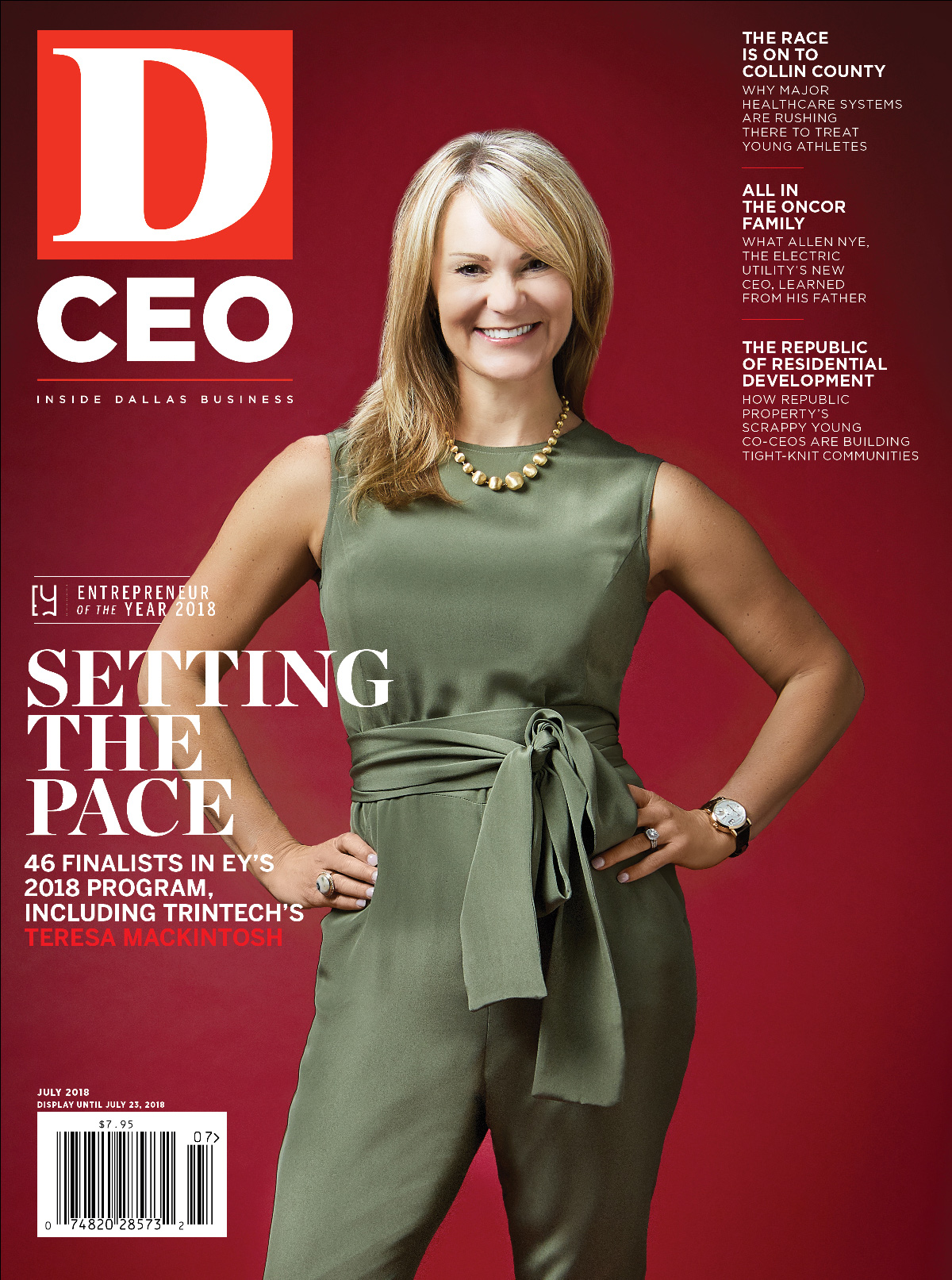 Subscribe
Two titans of online match-making—Dallas-based Tinder and Austin-based Bumble—filed dueling lawsuits recently in Texas courts accusing each other of being copycats, among many other things, the details of which allow a glimpse into a torrid corporate love-hate relationship, spawned in part by an even more venomous personal affair. Tinder claims the fight is just business. But for Whitney Wolfe-Herd, the founder and CEO of Bumble who got her start as a co-founder of Tinder, it's a story of deceit, betrayal, mad lust, and more generally the plight of women in business as victims of aggressive male domination. 
In 2012, at 22 and fresh out of Southern Methodist University, Wolfe-Herd, then just Wolfe, landed a dream job with Hatch Labs, the company incubator supported by IAC (InterActiveCorp), owner of Match.com, PlentyOfFish, OKCupid, and other media properties. In her 2014 court pleadings, she claims that she near-single-handedly convinced management to abandon a fledgling project and turn its attention to another employee's new online-dating concept, where a user was presented with a stack of virtual cards showing possible nearby matches and could "swipe right" for the good ones and "swipe left" for the rest. When two people swiped right on each other, it was a match. That concept became Tinder, the massively successful dating app. IAC later combined it with other properties under Match Group Inc., which had its own IPO in 2015.
Wolfe launched the Tinder app at SMU in September 2012, was officially named "co-founder" in November 2012, and received stock options six months later. Meanwhile, she started an on-off affair with Justin Mateen, Tinder's chief marketing officer and Wolfe's direct supervisor who was brought in by his good friend Sean Rad, Tinder's CEO. 
The pleadings describe a relationship that soured into vicious abuse, culminating in Mateen and Rad stripping Wolfe of her co-founder title because she was "a girl" and made the company "look like a joke."
"We swipe left on your attempted scare tactics, and on your assumption that a baseless lawsuit would intimidate us," Bumble said in a newspaper ad.
In a sexual harassment and discrimination lawsuit filed by Wolfe in California state court in June 2014, just two months after she walked away from Tinder, Mateen was quoted as saying: "Facebook and Snapchat don't have girl founders. It just makes it look like Tinder was some accident." The suit reportedly was settled less than three months later for seven figures.
Despite vowing to stay out of the match-making business, she later recounted to Forbes, Wolfe struck a deal with Russian billionaire Andrey Andreev—founder of Badoo, the largest dating site in the world, with 360 million users in 190 countries—to back her in building a new dating app that functioned much like Tinder but with one special tweak: Women have control. After a heterosexual match, only the woman could contact the man.  That new app was Bumble. It went live in December 2014, garnered over 100,000 downloads in its first month, and has been voraciously gobbling Tinder market share ever since.
The similarities are what Match Group and Tinder are complaining about in the patent and trademark infringement suit filed by Match Group in Waco federal court on March 16, 2018. Match Group has a 2014 registered trademark on the word "swipe" as used in "software for social introduction and dating services," as well as a utility patent for a "method for profile matching," and a design patent covering a flashcard-type graphical user interface for mobile devices. But with intellectual property, similarity is not always infringement. Lawyers for Bumble claim the lawsuit has nothing to do with patents or trademarks, but rather is an attempt to harm Bumble and retaliate against Whitney Wolfe-Herd (who was married last year) personally.
Match Group goes out of its way in its complaint to disclaim any personal animus. "This case is not about Bumble personnel's personal history with anyone previously at Tinder," it reads.  Some circumstances appear to support that claim. Three days after suing Bumble, Match Group filed an almost identical lawsuit in the same court before the same judge against Tantan Ltd., the so-called "Chinese Tinder," claiming similar infringements of the same patents and trademark.
But four days after Match Group sued Bumble, Bumble published a letter (full-page ads in The New York Times and The Dallas Morning News) that made the controversy sound very personal. It began:
"Dear Match Group, [w]e swipe left on you. We swipe left on your multiple attempts to buy us, copy us, and, now, to intimidate us. We'll never be yours. No matter the price tag, we'll never compromise our values. We swipe left on your attempted scare tactics, and on these endless games. We swipe left on your assumption that a baseless lawsuit would intimidate us."
Then, on March 28, 2018—only 12 days after Match Group filed its suit—Bumble filed a separate, state-court lawsuit against Match Group with allegations that again make the dispute sound personal, and paint a more sinister picture of Match Group and Tinder.
Bumble could have said its piece and asserted its claims in counterclaims in Match Group's federal court lawsuit, and it still had plenty of time to do so. But Bumble rushed to file its lawsuit, and chose to file a separate lawsuit in state court. Only Bumble and its attorneys could explain those procedural choices, but the allegations in Bumble's lawsuit and other circumstances suggest that Wolfe-Herd wanted Bumble's story told immediately, and wanted the appearance of asserting claims, not merely defending against Match Group's.
Bumble alleges that Match Group tried to buy Bumble for $450 million in June 2017, which Bumble rejected as "unappealing." When Wolfe-Herd graced the cover of Forbes' "30 Under 30" issue in December 2017, Forbes said Match Group had made another acquisition proposal that fall which valued Bumble at more than $1 billion—again rejected.
In its lawsuit, Bumble alleges that Match Group came back again in early 2018, asking Bumble to reveal its most valuable secrets so that Match Group could make another, higher, offer. Immediately after Bumble shared those secrets, Match Group filed its infringement lawsuit. Match Group had been preparing its lawsuit all along and wanted to extract Bumble's secrets before filing the suit, according to Bumble.
Bumble says the primary motive for Match Group's suit is to scare away other corporate suitors, which has a familiar ring. In Wolfe-Herd's 2014 harassment lawsuit, she alleged that Justin Mateen was so enraged by her breaking up with him that he began a campaign of public humiliation against her, both at the office and elsewhere. The pleadings allege that he threatened to fire her if she "hurt his pride" by seeing other men, and he instructed her not to see other men for at least six months after breaking up with him. 
Bumble's current pleading goes on to argue that Match Group is the real copycat: After Bumble launched its "Bumble Boost" feature in 2016, Tinder copied that with "Tinder Gold" in 2017. Then in February 2018, "Match announced that Tinder would be copying Bumble's keystone feature—letting Tinder's female users choose whether only they can initiate conversations with future matches," the pleading says. It goes on to allege that the announcement was timed by Match Group to "chill the investment market," part of a concerted effort to "poison and devalue Bumble."
Match Group's current CEO, Mandy Ginsberg, sent its employees an internal email after filing its patent infringement suit, explaining that "this is not about singling out any individual company. This is about protecting the integrity of your work." Apparently, there may be those inside Match Group who feel otherwise; rarely would you see a company defending a suit to its own employees.
At this writing, no answer or other responsive pleading has been filed in either case, and the outcomes are uncertain. Regardless, for Wolfe-Herd it's been a wild ride, maybe even enough for a movie. A Hollywood production company attended the dedication of Bumble's new north Austin headquarters in August 2017.
And profitable?
In text messages from around April 2014, when discussing her pending departure from Tinder, Sean Rad demanded, "Email me your resignation letter." Wolfe-Herd replied: "Well, I need to tell my parents first to make sure they will help support me . . . I might have to work one more month if my dad won't pay my rent." Four years later, based on Match Group's late-2017, billion-dollar valuation of Bumble and Wolfe-Herd's 19 percent stake, she's worth nine figures.
---
Steve Thomas is a business and technology litigator in Dallas.
Get the D CEO Newsletter
Stay up to speed on DFW's fast-moving business community with weekly news reports, interviews, and insights.