From D CEO July 2018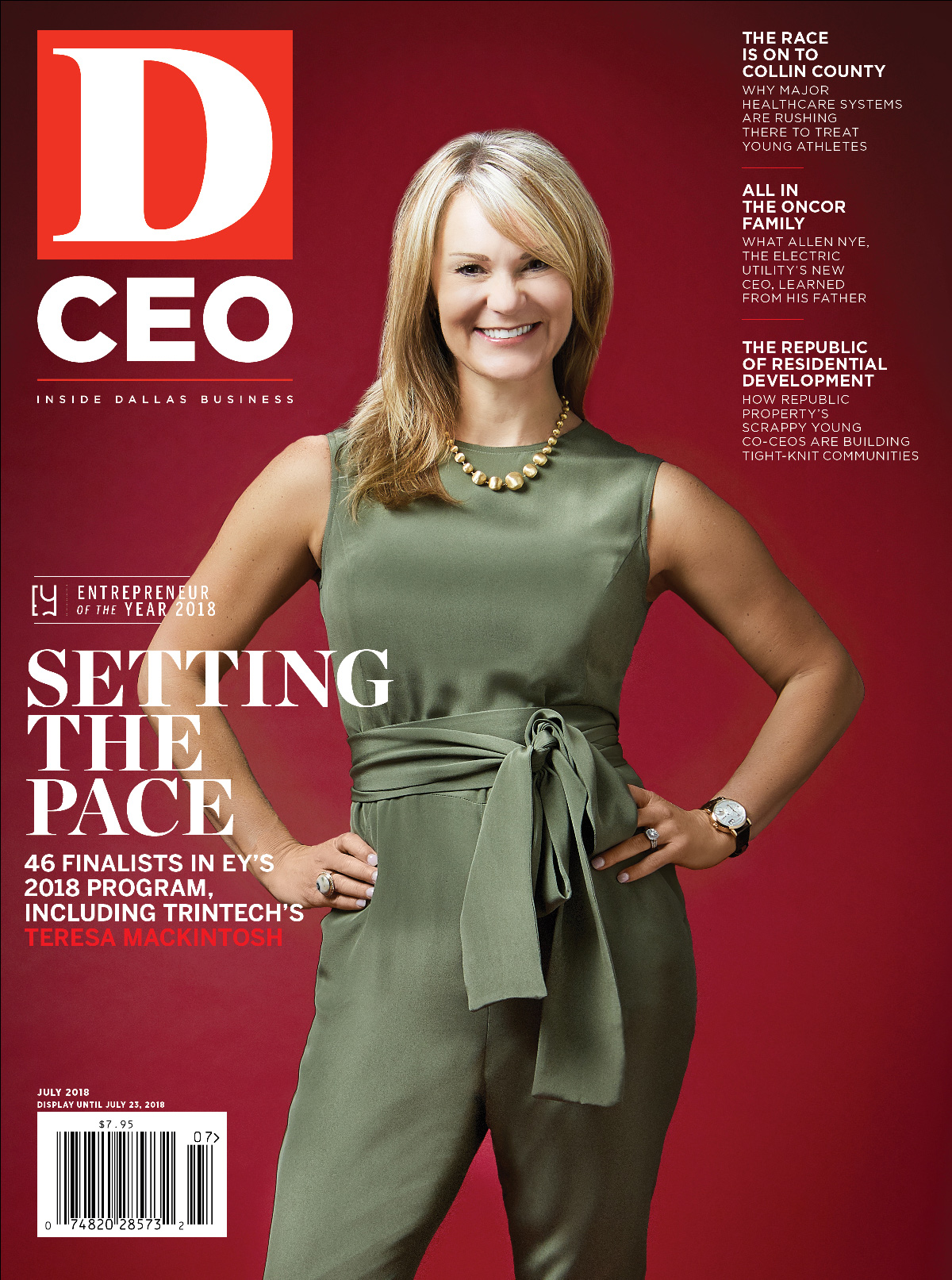 Subscribe
In recent years, advancements in the science of genetics have started to feel a lot more tangible. That's due in no small part to the millions of people testing their DNA to discover their genealogy, usually by submitting saliva samples. Ancestry.com says it has administered a whopping 7 million of the tests itself, 2 million of them during the last quarter of 2017 alone.
Beyond companies that specialize in simply presenting results, there's a layer of firms that want to make that information actionable—wine companies that will send you a bottle based on your DNA-specific palate, for instance. The lines have started to blur between what's scientifically possible and what's yet to be proven.
Still, optimism surrounding the field is sparking big investment. Just this March, UT Arlington and the UNT Health Science Center opened a new facility to do whole genome sequencing, a process that is, at this point, still very expensive and time-consuming. The NovaSeq6000 machines at the new North Texas Genome Center were credited with the fastest-ever full sequencing—a sequencing of 6 billion DNA molecules—in a Guinness World Record-setting 19 hours. The center is one of only a few in the central U.S. to have any NovaSeq6000s, a top-of-the-line model that comes with a price tag of nearly $1 million. The center has five. It's a significant boon for the local medical community.
And on the national stage, the U.S. is attempting to build a massive biobank, a pool of genetic data to spur research efforts. The goal of the National Institutes of Health is to get a million people. Congress has OK'd nearly $1.5 billion over 10 years to do it.
"For people to be marketing that we know, based on your genes, how best to tell you to eat is just not true," Bray says.
So, maybe all the buzz around the field is why new companies have popped up in North Texas to capitalize on the trend. That includes a new Dallas-based health and wellness company—one focusing on weight management and hormone therapy on a monthly subscription-based model—that named itself Genetix Health Institute. The name catches the eye. It did when they sent us a story pitch earlier this year. After a couple of weeks of back and forth, I sat catty-corner to Zach Luterman, Genetix CEO, in a circular booth at a Corner Bakery in Preston Center, coffees before us.
As Luterman's story goes, he was educationally interested in the sciences from a young age—pre-med at the University of Texas at Austin, in fact—but instead switched paths, married young, and fell into real estate, owning a homebuilding company, then land development companies, and then doing internet marketing related to real estate for builders. He did triathlons with his daughter during his late 30s—10 to 15 races a year—but realized in his early 40s that he didn't feel so good, including difficulty sleeping and irritability.
That was about four years ago. An internist blamed the extreme levels of exercise. A subsequent physician who specialized in preventative healthcare identified that Luterman was "out of balance," including low hormone levels, and he improved with appropriate treatment. The experience led him to want to start something of his own within preventative medicine, a market he feels is fragmented. He connected with a friend, Ted Groesbeck, a principal at Frisco-based Preferred Imaging, who became his business partner.
On its website, Genetix says that it offers a "holistic approach to comprehensive health optimization by utilizing each individual's genetic framework," including using "DNA precision to not just promote health, but enhance performance at the cellular level." Its logo is a helix. Yet it's me who brings up genetics for the first time, after we've talked for a bit and Luterman has started to explain how everyone who comes in for the purposes of weight management—weight optimization, as Genetix calls it—receives a standard blood test. Confused, I ask whether all the patients also receive DNA tests, figuring that is part of the deal.
"Some of them. It's individualized," he says. "Do you kind of want to segue into the genetics piece?" I say that I do. He explains that while the genetic information is extraordinarily important, it's merely a tool. "The reports that come out are very informative. They're easy to read for the average layperson," he says. "And then that's taken with our nutrition expert, who's using that as a basis to help create nutrition plans, exercise programs, all of that, and it really works as an outstanding motivational tool."
I ask what, specifically, they might find on a DNA test that could be applied toward an individualized weight management plan.
"You'll find out if they have a predisposition to metabolizing fats, carbohydrates, proteins, and certain micronutrients in a certain way," he says. "You'll find out how they may react to different types of exercise—do they respond better to cardiovascular training or do they respond better to resistance training?"
Luterman is extremely pleasant, even when I'm pushing him, and looks like the sort of clean-cut 40-something—sideburns sprinkled with salt—that might appear on the "Real Housewives" series. He's convincing, vaguely infomercial-esque. When I explain that I'm giving him an exhaustive chance to talk about this stuff because there is so much reputable writing out there doubting the ability of genetic testing at this scientific stage to provide us anything actionable, at least with regard to fitness, he frames himself as agreeing with the premise of the question while distancing himself from the direct-to-consumer testing on which the aforementioned writing he assumes is based. "That's where it takes somebody from a scientific background to be able to use this and really say, 'This is the way it makes sense for you,'" he says.
A few days later, when I call up Dr. Tim Church, the highly quoted (The New York Times, USA Today, and elsewhere) physician in exercise and obesity research that Luterman has nabbed as chief medical advisor, he's slightly less measured. "For the average person who's right down the middle of the fairway, genetically speaking, we're not going to tell you anything you don't already know," he says. It's the oddballs who would benefit—the 15 to 20 percent who should go low-fat rather than low-carb. "When someone gets a test that says, you know what, you're not different, and the standard formula is a pretty good formula for you, it kind of allows us to check that box and free ourselves from that thinking of, 'oh, maybe I'm different.' No, you're not different; just stick to the program."
I cut in a couple of seconds later and bring up the fact that he's not making the most compelling argument for people to seek out a place called Genetix Health Institute. "No, no, no, no," he says. "We're talking about a whole bunch of traits at once right now."
I need an expert. Several days later, I find myself pulling over near my apartment to take a call back from the elusive Molly Bray, a UT Austin geneticist at the intersection of genes and weight loss. She's skeptical before I've named the company. When I do, I hear her Googling its website on the other end.
First, she starts with a story about another company that measures just six places in the genome—six of six billion—and purports to be able to provide sound information. She was shown one woman's results: Eat a low-carb diet and exercise more. It cost $150, a price point that might look doable to someone who's desperate.
Bray pulls up the "Meet the Talent" page on Genetix's site and says the team Luterman has assembled is solid—a couple of nutritionists, a couple of psychologists. "They just don't know anything about genes," she says. "And the fact that they have a DNA helix on their logo and they're calling it Genetix, instead of just calling it Super Great Weight Management Company, makes me crazy."
None of these companies sequence the entire genome—all six billion molecules—either, because of the associated costs, she contends. (Genetix says it looks at 200 molecules.) And, she adds, there's not yet sound research that connects genetic variations to altering an approach to nutrition or exercise. "It's not that the idea of it is wrong—a lot of people are working on this," Bray says. "It's just that the science isn't there yet. For these people to be marketing that we know, based on your genes, how best to tell you to eat is just not true."
By saying that genetics can play a role—even a collaborative one—in shaping our nutrition and fitness plans, Genetix is overselling the present bounds of science. By portraying DNA's role in nutrition as so minor, impacting just a sliver of the population, it's possible they're also underselling what it could do for weight management in the future.
"Their team is really solid, and I think they're probably giving solid advice about weight loss," Bray tells me before we hang up. "Whatever they're doing in terms of genes—it's not founded in any science, and they're just using it because it sounds sexy and they know people dig it."
Get the D CEO Newsletter
Stay up to speed on DFW's fast-moving business community with weekly news reports, interviews, and insights.