My Passion: Pam Stoyanoff
The executive vice President and COO of Methodist Health System on her love of playing the flute.
By Alex Edwards
Published in D CEO August 2018
Photography by Jonathan Zizzo and Shutterstock
The light, poetic sound of Georg Philipp Telemann's "Sonata in F major" whistled throughout the hospital halls as Pam Stoyanoff played a sample on her flute one afternoon. Coworkers passing by stopped to listen, pleasantly surprised that the EVP and COO of Methodist Health System could play an instrument—and play it so well. "It's a side of me that most people don't know," Stoyanoff says. "Nobody here has even heard me play. I do have a passion for helping improve the lives of patients, but my true love, that I've had my entire life, is music."
Rather than an acquired skill, Stoyanoff describes her inclination for music as something that's lived inside of her since she was born. She fell in love with the flute at age 9 and recalls playing for nine hours a day throughout adolescence. By high school, despite attending a large, musically competitive school in Illinois, she easily made first chair in both band and orchestra. With a childhood dream to play for the Chicago Symphony, Stoyanoff had potential membership after making it into the program's training orchestra. Then, her senior year of high school, she was one of two people from her state to be chosen for a nationwide band sponsored by McDonald's.
"I played a solo with a harpsichordist from the training orchestra for the Chicago symphony, and that was pretty standout," she says. "And when I made the McDonald's thing, that was standout. At that time, we made records, and I'm the only one who has a solo on it. That's kind of cool, even though I can't really listen to it anymore. I don't have a record player."
"You have to constantly hone your skill set or it gets stale and dry," she says. "I think the flute taught me that."
Despite her musical accomplishments, Stoyanoff majored in accounting at Valparaiso University in Indiana to avoid becoming what her parents called a "starving artist." She minored in music, and continually played at weddings, church, plays, and in the university's band and orchestra. "I still kept music on the backburner," she says. "I kind of always thought I would go back and do a second degree [in music]. But I didn't."
Although Stoyanoff says a part of her wishes she would've pursued music professionally, playing the flute as a hobby still has significantly impacted her career. When learning an instrument, to maintain an edge over intense competition, practice becomes essential—second only to putting your heart into it.
"I read a lot for my job, I research a lot for my job, and I ask other people what they think," she says. "You have to constantly hone your skill set or it gets stale and dry. I think the flute taught me that. It's not something that, once I got good, I could just put it down."
Stoyanoff's experiences performing as a solo instrumentalist have also helped her excel in ways she couldn't in a band. "That's helped me in business because, as a woman in a man's world in the sense of finance, I had to have a lot of confidence or I would've never been heard," she says.
While she hasn't played much in the last 10 years, Stoyanoff has still found ways to keep up with her love of symphonic music. She recently became a board member of the Business Council for the Arts, and hopes to use that to connect healthcare and artistry. At Methodist, she plans to start looking at ways to test new arts programs to improve patient outcomes. Stoyanoff describes music as a way to calm the spirit, and she is still learning about the powerful effect it can have on the healing process.
"It's a way to bring both of my loves together and make me feel whole again," she says. "When I used to play more, I felt more well-rounded. I feel I live for work and raising kids, but I don't feel I live for me."
When asked why she wants to pick up music again after all these years, Stoyanoff laughs at the simplicity of her answer. "I'm good at it," she says. Now that her kids are in college, Stoyanoff has been thinking about joining a volunteer band or orchestra, or her church band in Southlake. She says most of her skill set is still living inside of her. Now, she just has to get herself back out there.
"It's funny because before this [article] came up I had started thinking 'Ok, where can I start playing again?' because that's what makes me happy," she says. "When people say go to their happy place, that's what I do."
---
Meet the

Flute Family

Several different variations of the woodwind instrument actually exist, but these three are considered the most common—and Stoyanoff can play all of them.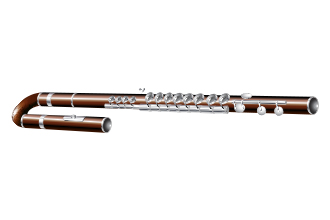 Piccolo
"The piccolo is harder to play," she says. "You have to get your breathing just right to get it through that little pipe. Marching bands often have piccolos because they're shriller, and the sound comes out more. We just call them the baby flutes."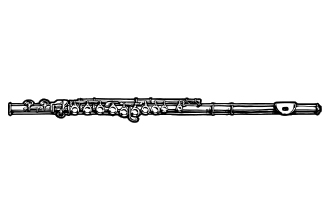 Concert Flute
"The one I have is the more traditional flute. When people say 'I play the flute,' they typically play the one I play. It's more orchestral because it's softer and more lyrical, with prettier sounds."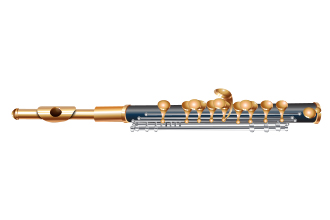 Alto Flute
"An alto flute is really big and really long, and you don't see them very often. Most people don't have the alto flute. I don't even own one, and I've only played it a couple of times."