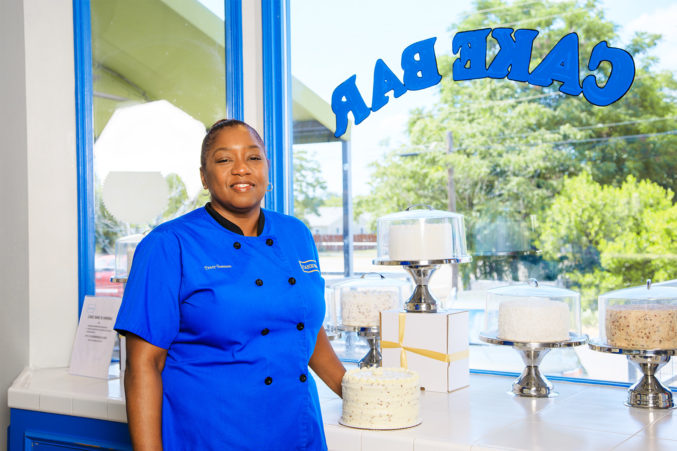 Cake Bar Brings in the Dough at Trinity Groves
The bakery makes more money per square foot than any other restaurant in Trinity Groves' incubator.
On a recent Sunday, several women stood in a long queue at Cake Bar bakery. "Are you in line?" one asked another. "No, I'm deciding what to get," the other replied, looking at images of cakes surrounding the cash register. "Get that one," said the first, pointing at the photo of the Old Fashion Chocolate, "Or any of them, really."
The scene is typical to Tracy German, who founded Cake Bar. The bakery is within Trinity Groves' acclaimed restaurant incubator in which restaurateur Phil Romano and his team own half of each concept in exchange for business advice, space, and resources. Since opening in September 2014, Cake Bar has become the highest grossing concept per square foot in the 13-shop incubator. And more growth is coming. German wants to expand in four markets. Bob Sambol of Trinity Groves Support Group, which helps manage operations, says Cake Bar is actively looking for storefronts in North Dallas and Southlake, and could sign a lease soon. After that, German is looking at locations in Fort Worth and near the DFW Airport. Assuming those stores succeed, she'll then head to Houston.
But that's certainly not what German had in mind in 2005 after she got laid off. She started baking cakes out of her home and selling slices in beauty shops and factories around Arlington. Her husband spent several years selling up to 300 slices of scratch-made cakes in nostalgic flavors on any given Saturday, and business grew as customers started calling her to order whole cakes. "A lot of times, I didn't answer the phone because I couldn't take any more orders," German says. Then a friend of hers, Mike Babb of Trinity Groves' Babb Brothers BBQ & Blues, told her about the Trinity Groves incubator program. "It took me about a year to get the deal," she says. "I was bringing Phil cakes he had never tasted before. I kept bringing him cake until I got the yes."
The product—now marketed as traditional, southern-style cakes "you grew up with"—may have gotten her in the incubator program, but German had a lot to learn about running a business. Sambol says the real challenges were teaching German to manage employees, handle money, and talk to suppliers. "There was no doubt her work ethic was fantastic, but she didn't know how to run a business," Sambol says. "But our doubt in the first few months quickly turned to, 'Wow, this may be something really good.'" German says Romano, Sambol, and the Trinity Groves team have particularly helped her network with suppliers, connect with relevant people, and improve her profit margins.
Meantime, sales across the bakery's 14 flavors (such as hummingbird, Italian cream, and—the shop's top seller—strawberry) are up 30 percent over last year, leading German and the Trinity Groves team to look towards its next storefront. "The second location is the hardest to find," Sambol says. "You want it to be far enough not to cannibalize your first location but close enough to still have some brand recognition."