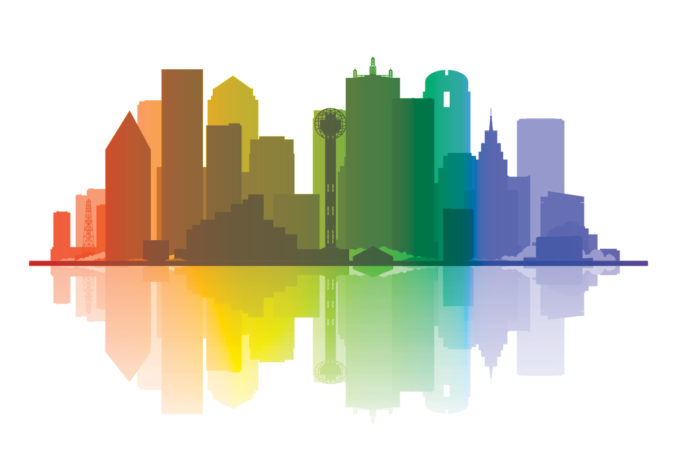 Why Big Business Supports Gay and Transgender Rights
Texas doesn't have a law banning discrimination based on sexual orientation or gender identity, but the largest employers in the area are policing themselves.
Small companies are frequently portrayed as the modern-day equivalent of Thomas Jefferson's virtuous yeoman farmers. They're close to their customers, brimming with fresh ideas, engines of job creation and so on.
In at least one area, though, in attitudes toward diversity and inclusiveness, it's the country's business giants that are on the cutting edge, and small companies that are behind.
You won't find the Fortune 500 taking cases to the U.S. Supreme Court arguing that it's their right to deny service to gay couples because of conflicts with their religious beliefs.
The case of cake baker Jack Phillips, owner of the Denver-area Masterpiece Cakeshop, is being decided by Supreme Court this term after Phillips claimed his First Amendment rights of free speech and religion exempt him from Colorado's anti-discrimination law. There have been similar cases—in Kentucky a company is refusing on religious grounds to print T-shirts for a gay-pride festival—although none have prevailed.
Big business, meanwhile, has moved over the past two-plus decades to add sexual orientation and, in most cases, gender identity to their internal anti-discrimination policies. According to an annual survey by the Human Rights Campaign, a gay rights organization, 91 percent of Fortune 500 companies have sexual orientation non-discrimination policies, and 83 percent protect the workplace rights of transgender individuals. The latter is up from just 3 percent in 2002.
Dallas' AT&T is typical of companies that have embraced this cultural change. At the top of a whole section of the company's website dedicated to the subject, CEO Randall Stephenson states: "A diverse workforce and inclusive culture are essential to AT&T." The idea includes customers and employees alike.
While a majority of small business owners surveyed say they believe businesses should not be able to deny goods or services to LGBT customers because of religious objections, more than one out of four—28 percent—say that discrimination should be permissible, according to a survey by the group Small Business Majority.
Michael Boucai, a University at Buffalo professor who has written on LGBT history and law, says big companies began with little fanfare to include sexual orientation in their anti-discrimination policies in the 1990s and the early 2000s. "There was just steady progress, so that in the last 10 years there's just overwhelming consensus," he says.
Because large companies do business all over the country, they often adopt what Boucai calls the "highest common denominator" as they seek conformity in their policies. "They may not be so concerned about Nebraska, but they know if the want to attract LGBT talent in New York, they need to have these sorts of protections," he says.
Texas is by far the largest U.S. state that does not have a law prohibiting discrimination based on sexual orientation and gender identity. Still, all 20 of North Texas' biggest companies—including AT&T, ExxonMobil, American Airlines, Tenet Healthcare, Southwest Airlines, Fluor, and Kimberly-Clark—have policies doing just that, according to the Human Rights Campaign's 2018 corporate equality report.
The Colorado baker and like-minded people such as Texas Attorney General Ken Paxton, who filed friend-of-the-court briefs aligning Texas with both the baker and the Kentucky T-shirt company, are fighting a rear-guard action in favor of discrimination. But with big business solidly behind gay and transgender rights, their view has become much more the norm. For them, that culture war is history. 
---
Thomas Korosec is an award-winning journalist who specializes in legal and business topics.