Entrepreneur Randy DeWitt has had his share of big hits over a 23-year career in the restaurant business. Among them: Rockfish, Whiskey Cake, Velvet Taco, Twin Peaks, and Sixty Vines. Today, though, the CEO of Addison-based Front Burner Restaurants LP is rolling the dice on his most ambitious venture yet: a 55,000-square-foot, European-style food hall in Plano's Legacy West development.
In addition to opening the massive complex, called Legacy Hall, DeWitt has set up a special Food Hall division of Front Burner, aiming to open as many as 10 similar projects around the country over the next five years. "We've spent three years and many millions of dollars" on the food hall venture, DeWitt says. "We've put in a lot of our own capital, and it's our most high-profile project. So, a lot is riding on this for Front Burner. It's a big bet."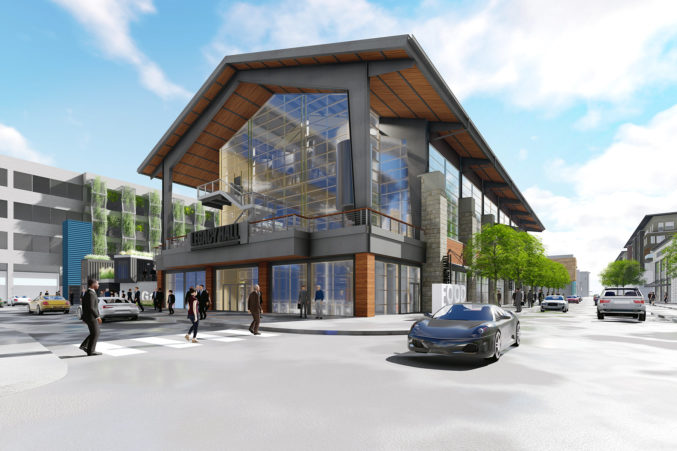 DeWitt's project at Legacy West is the biggest food hall in North Texas, by far. (The Market at the Dallas Farmers Market in downtown Dallas has less than half the space.) Legacy Hall, which will offer multiple bars and artisanal food stalls plus live entertainment in a new, three-story building with an industrial feel, is part and parcel of a hot national restaurant trend. Food halls, which originated in Europe, have been sweeping the United States for several years. Among the country's best-known food halls are Eataly, with multiple locations in the U.S.; Grand Central Market in Los Angeles, and Public Market in Milwaukee. In 2017 alone, new major food halls were scheduled to open in about a dozen U.S. cities, including Miami; Huntington Beach, Calif.; and Washington, D.C.
In contrast to food courts, which are clusters of mostly chain eateries inside shopping malls, food halls offer a variety of fresh, low-cost, regionally inspired foods prepared right in front of diners, as well as a noisy, communal ambience in something akin to a genuine-feeling public space. The concept for Legacy West's version originated about three years ago, when the project's master developer, Fehmi Karahan, asked DeWitt to "make a fun place" at 7800 Windrose Avenue in Plano, the Front Burner CEO recalls.
While he was initially at a loss for how to do that, DeWitt and his business partner, Front Burner President Jack Gibbons, soon found themselves traveling to Russia. During the trip they stayed over in Amsterdam, where they were told that they "had to go to the food hall" there, DeWitt recalls. Housed in a huge, converted electric-streetcar depot, the Dutch space, called Foodhallen, featured fare ranging from pulled-pork sandwiches to Mumbai street food. "I'd never seen anything like it," DeWitt says. "It was very exciting to eat and drink there. So, I started sketching out [the concept for Legacy Hall] on my way back" to the U.S.
DeWitt's concept includes 22 food stalls on the first and second floors, including the likes of Whisk & Eggs (gourmet breakfast crepes and sandwiches), Blist'r Naan Wraps (Indian-style wraps), and FreshFin Poké Co. (fresh Hawaiian poké and sushi). Some of the stalls will be operated by local celebrity chefs (John Tesar's Knife Burger, Tiffany Derry's Roots Chicken Shak). There also will be eight bars (Detour, Texas Ice House), including the brewery and taproom (Unlawful Assembly Brewing Co.) located on the third floor.
Tim Ziegler from the Granada Theater has been hired to program live entertainment on an outdoor stage. The entire place will be cashless, employing touch-screens rather than cashiers to accept credit and debit card payments from an expected 4,000 patrons per day. 
DeWitt, whose company is leasing the Windrose complex from Karahan, explains that vendors put up "small deposits"—a few thousand dollars—for their spaces, then hire their own restaurant designers. "Turnover will occur naturally," he adds. "The consumer will vote: which stalls get the most buzz? We want to make it easy for them to get in, and easy for them to fail. If they're not happy and profitable, they can leave."
Meanwhile, Front Burner Restaurants, which shoots for a 25 percent ROI and boasts annual revenue in the $350 million range, is moving its headquarters from Addison to an office in Legacy West, next door to Legacy Hall. And the company's Food Hall subsidiary already is plotting to take the new concept to such cities as Houston, Nashville, Atlanta, and Boston. Says DeWitt: "There's hardly a major city that hasn't approached us."
With Legacy Hall scheduled at presstime to open in October, we'll start knowing soon whether Front Burner's big bet pays off. 
Get the D CEO Newsletter
Stay up to speed on DFW's fast-moving business community with weekly news reports, interviews, and insights.