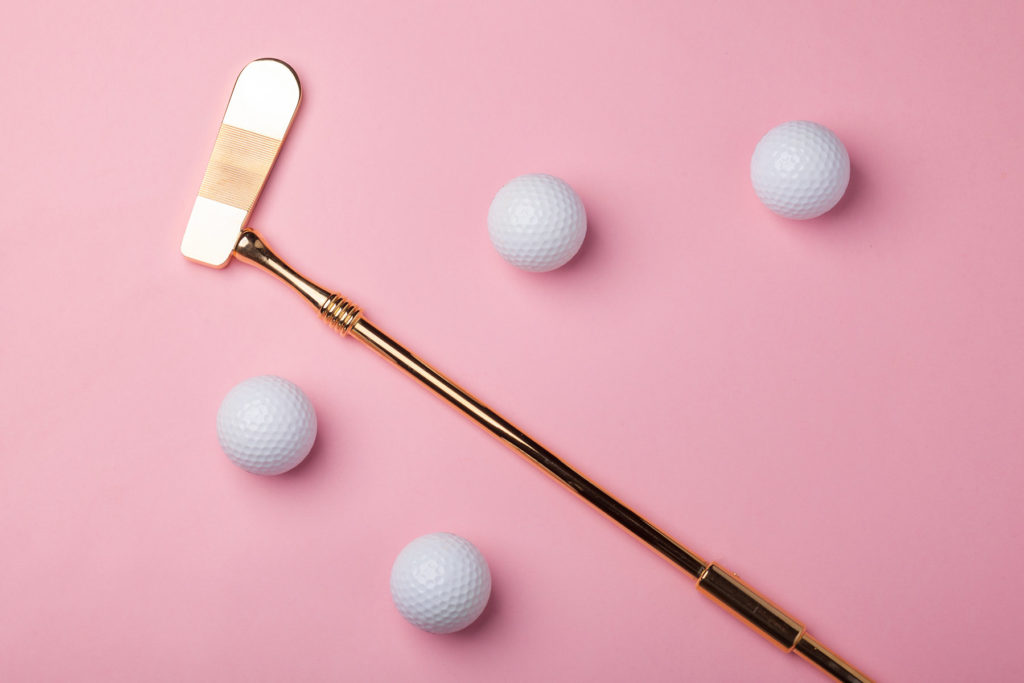 A New Course in Dallas Golf
Bucking conventional wisdom about the ancient game's sagging fortunes, Arcis Golf has become an industry leader by adapting a nontraditional approach to the sport.
It's hardly surprising that a management team led by a CEO roundly praised for his smarts and industry savvy would be behind one of Dallas' fastest-growing entrepreneurial companies. What's more difficult to fathom is that they're making a go of it in golf, an industry that's seen course closings, flat growth in the number of people playing the game, and a marked lack of interest by the millennial generation.
Blake Walker, chief executive of Dallas-based Arcis Golf, says he knows all those stories, but counts himself as a contrarian. He's seeing once-in-a-career values in an industry that is hardly as troubled as some headlines would suggest.
"As an investor and a CEO, you really have to tune out the industry chatter and focus on the fundamentals," says Walker, who contends there have been more opportunities in his business in the past several years than at any time since he began in the early 1990s. "We absolutely believe there's growth."
Since its founding four years ago, privately held Arcis Golf has acquired approximately 54 golf courses and manages another 18, making it the second-largest fee-simple owner and operator of golf courses in the country. The biggest owner/operator is Dallas-based ClubCorp, where Walker gathered some of his past experience.
With annual revenue that's grown to roughly $200 million, and approximately 3,500 year-round employees, Arcis placed second on SMU Cox School of Business' 2016 list of the 100 fastest-growing entrepreneurial companies in Dallas.
Arcis' approach has been to aquire collections of courses ranging from middle-market daily-fee properties to high-end private clubs, and then spinning off those that don't fit its business plan. This approach, Walker says, favors courses in large, growing cities such as Dallas or Phoenix and courses that fit in with existing clusters in Arcis' portfolio.
The company's biggest purchase came in late 2014, when Arcis acquired 46 courses from CNL Lifestyle Properties, a troubled real estate investment trust, for $306 million. Arcis' financial strength and the ability of Walker's team to evaluate the properties in just over a month allowed them to make a quick purchase and avoid a bidding war and—Walker says—pay just over half of book value.
Among six North Texas courses in the purchase were Grapevine's Cowboys Golf Club, where top-shelf service, dining, and course conditions come at $200 a round, and Dallas' Bear Creek Golf Club, a more modest property that has been getting far better user reviews since Arcis took control.
Records detailing ownership of the former CNL properties show that Arcis is backed by Fortress Investment Group, a New York-based private equity firm that oversees $70 billion. The Cowboys course, for instance, is owned by an entity called CF Cowboys Arcis LLC, a limited liability company with Fortress executives listed in Texas corporate filings as its officers and directors. Walker declined to discuss Arcis' relationship with Fortress except to describe the firm as his equity partner.
'A Lifestyle Play'
Industry experts and trade publications describe the current golf course landscape as one where this type of financial strength is a big asset. Many of the lenders behind highly leveraged course development of the 1990s and early 2000s dropped away or pared back with the Great Recession, leaving better capitalized companies to—as Golf Business magazine put it—"gobble up great deals much the way the largest banks swallowed all the guppies in the pond after the 2008 financial crisis."
Speaking in the conference room of Arcis' work-a-day headquarters in an '80s-era office tower near the Galleria, Walker says further investment in the properties and a sharp focus on customer experience—meaning things such as excellent food, family-friendly activities and more engaging events and programs—have Arcis seeing organic revenue growth.
The addition of amenities including wine caves or wine-tasting programs in several country clubs has been particularly successful, he says. "The golf's got to be really good, but that's just the ante in the game. We need to excel in other areas. It's more of a lifestyle play," the 52-year-old CEO explains. One country club Arcis bought in California has seen revenue grow from less than $8 million a year to approximately $13 million after Arcis invested a couple of million dollars in experiential amenities. 
"As a CEO, you really have to tune out the industry chatter and focus on the fundamentals."

Blake Walker, Arcis
At the Cowboys course in Grapevine, much of a $2.5 million facelift was directed at a team-themed gastro-pub and patio addition: the Ring of Honor Kitchen & Bar, where a chef-driven menu has people stopping in for the dining alone. "How many times have you heard that about food at a golf course?" Walker asks.
Nationwide, the golf story has not been so upbeat. Participation in the game has been flat for the last five years, and the total number of golfers has fallen over 10 years, from 30 million in 2005 to 24 million in 2015, according to figures compiled by the National Golf Foundation. Millennials (18-to 34-year-olds) contributed a lot to the drop-off. In the mid-1990s, there were roughly 9 million golfers in that age group. Today there are just over 6 million.
Aware of this, Walker and his management team are serving up a list of nontraditional things to attract people to their clubs and courses. The approach varies depending on the facility, but Arcis is adding amenities like lighted putting greens, cocktail bars, and patio areas. They're also adding interactive "gamification," Bocce courts, and a version of golf called Footgolf. Arcis converted nine holes at one of its 27-hole courses to not only include the nine holes of golf, but also 18 holes of two other games designed to be played on a traditional golf course: Footgolf and Disc golf. "It's inconsistent with the traditional golf model," Walker says, "but based on our experience we think it's going to be quite successful."
No doubt the success of driving range/entertainment facilities such as Dallas-based Topgolf is inspiring the move toward what Walker calls gamification. Around the country, these types of off-course golf-related activities drew 20 million participants in 2015, more than 8 million of whom had never played on an actual golf course, according to the latest Golf Foundation survey.
To pull in more people who already play the game, Arcis is using data-driven marketing techniques, holding instructional clinics with touring pros, and selling monthly memberships to players at daily fee courses, says Chris Crocker, the company's chief marketing officer. Benefits include free golf in the afternoon or play days at Arcis' private clubs.
"What is really unique about Arcis is, instead of staying in the golf community, they've reached out and hired people from different industries—from tech, hospitality, the legal industry," says Steven Ekovich, a Tampa, Fla.-based golf course broker. "They have people with fresh concepts that aren't wedded to what happened in the past.
"At your grandfather's golf club, you can't wear jeans, you can't have a phone, you can't wear a hat backwards. You can't, you can't," Ekovich says. "Arcis has done a really good job of being more flexible at their clubs, and that's attracting millennials."
As for the health of the golf course business, Ekovich says the net loss of about 10 percent of golf courses over the past decade followed overbuilding in the 1990s and early 2000s. "Golf is no longer in a freefall. In fact, it's on its way back up," says Elkovich, noting that the median price of golf courses sold hit bottom in 2012 and has been increasing year-over-year ever since.
Taking The Leap
Walker, who played on the golf team at Dallas' Hillcrest High School and comes out of the world of Dallas' private clubs, had plans to work at a large company for a few years following his graduation from Southern Methodist University in 1988, then go back to business school for an MBA.
Instead, after working in telecom for a few years, he found his way in 1993 to an affiliate of the Wall Street buyout powerhouse Kohlberg Kravis Roberts that was involved in resorts, golf, and other leisure businesses. "We looked at everything from baseball teams to airlines to destination resorts. The first acquisition I was involved in was the Doral Resort and Spa," he recalls, referring to the well-known Florida property now owned by the Trump organization.
He gravitated to the golf business—which was taking off with a major boom—and served as director of acquisitions for KSL Fairways Golf Corp. In 1999, he returned to Dallas to work as senior vice president of acquisitions—and later a C-level executive—for ClubCorp. "It was great working with a visionary like Robert Dedman," Walker says, referring to the company's founder.
In 2003 Walker left ClubCorp to co-found Pegasus Golf Partners LLC, which acquired 14 primarily middle-market courses in conjunction with The Carlyle Group, another private equity giant. In 2009, his former employer, KSL, bought ClubCorp, and he returned as chief acquisitions and development officer, only to leave again in 2013 to start his own company.
"He took the jump when he had such a great position with ClubCorp," says Chuck Anderson, CEO of Bandera Ventures, a Dallas commercial real estate company. "He goes out and buys 70 courses when common wisdom says that business is going south." Anderson, who met Walker through YPO (the Young Presidents' Organization), a business leadership group, calls him "very bright" and "an incredibly hard worker."
Andy Love, another YPO friend, says Walker "is good at assessing the landscape and very good at processing a lot of stuff, having a lot of threads running at the same time. He's also very action-oriented.  He gets a lot of things done per unit of time." Love, founder and managing partner of Aspect Investors, a Dallas private investment firm, says Walker "is trying to build a best-in-class player and not some Frankenstein monster built out of parts. It takes an insane amount of work."
Geoff Brenner, CEO of Dallas-based TPC Healthcare, says Walker has been good at building a management team and a culture at Arcis, and that Walker's personality has been helpful. "He's devoid of ego. He lets other people take the credit," says Brenner, whose company purchases supplies for rural hospitals. "And it isn't a false humility. It's truly genuine, and it is rare."
Brenner, who plays golf and has spent time at Arcis courses, says he sees how the company's managers and employees interact with Walker, and "they genuinely like working for him. They want to perform."
Proving Brenner's point, in giving an interview for this story, Walker insisted that four members of his management team sit in to talk about their roles at Arcis, and he set up an interview with a fifth manager later.
At home in North Dallas, Walker and his wife Karen are raising four children, ages 9 to 17. "I try to spend as much time with them. I carve out one trip each with them," he says, describing how he's beginning to explore colleges with his oldest.
That doesn't leave Walker a lot of time to play any of those Arcis courses, he says—despite his love of the game. "I'm on the road the majority of the time," he says. "The last thing I'm doing at home is playing golf."
Fortunately for Arcis, he's proving there are plenty of others who are.