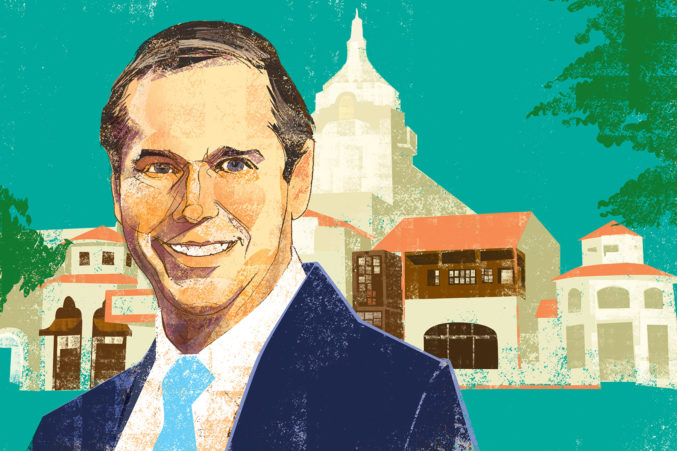 Ray Washburne on the Master Plan for Highland Park Village
Memorable comments culled from CEO Spotlight with David Johnson, on 1080 KRLD-AM.
By Ray Washburne
Published in D CEO October 2017
illustration by John Jay Cabuay | Headshots courtesy of companies
"Bill Noble … [is] going to have just a spectacular William Noble jewelry store. Cartier has moved from NorthPark to the Village, so we're going to have Harry Winston, Cartier, and William Noble. In today's retail environment, the basket's kind of been turned upside down on a lot of retailers, so it's a constant regeneration of your tenant mix. Right now, fortunately, everyone is doing very well. Part of our vision for the Village was having multiple small tenants. For example, Tom Thumb went from one store to seven tenants—from Bird Bakery to Dior to Valentino. It's created a much more interesting shopping experience. We have two new restaurants coming in this fall. Nick Badovinus, who is [responsible for] Neighborhood Services, is coming in with a restaurant called Perfect Union Pizza, and it's going to be right next to the movie theater. Julian Barsotti, who has got Nonna, Carbone's, and Sprezza, is going on the second floor with a more traditional Italian restaurant. We opened Honor Bar, which is a Hillstone concept, late last year. It's done spectacular. Then we have our old favorites, like Café Pacific, Deno's, and Village Barber Shop. We're keeping it traditional but also adapting to today's retail model." — Ray Washburne, president and managing director of Highland Park Village (and now president and CEO of the Overseas Private Investment Corp.), on the master plan for Highland Park Village.
---
Eric Affeldt, CEO of ClubCorp, discusses Apollo's acquisition of ClubCorp. "They're excited and trying to figure out what else we can offer to our members."
Jeff Smith, general manager of Omni Frisco Hotel, expects much of the hotel's traffic to come from corporate groups. "With … all of the business that's been booming there, the individual business traveler and the mid-week business dynamic is extremely high."
Matthew Myers, new dean of Cox School of Business at Southern Methodist University, discloses his expectations for the school. "We could have a big impact not only in the Dallas-Fort Worth area but also with the Texas business community and the international business community."