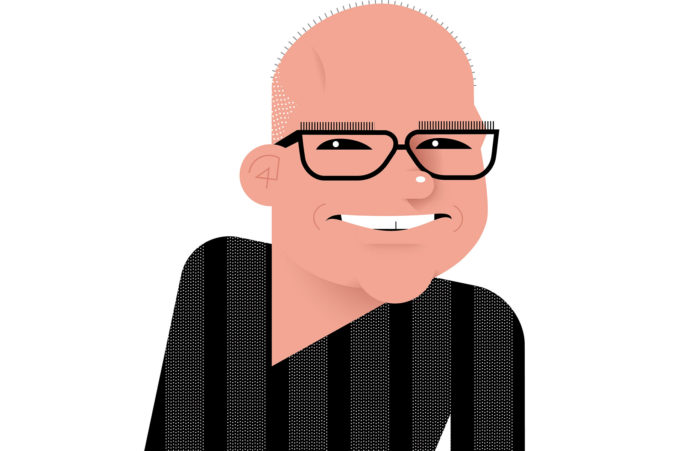 Lunch With D CEO: Dan Doggendorf
The Jack of all trades talks hockey and his multiple roles with the Dallas Stars.
On his first day with the Dallas Stars, Dan Doggendorf walked into the team's Frisco headquarters and discovered just how badly a chief information officer was needed. It was April 23, 2012, and the Stars had spent the last couple of months emerging from bankruptcy under new Canadian owner Tom Gagliardi. Leadership was building a new team and cleaning up some of the mess from the organization's rocky past. So it's no surprise that upon Doggendorf's arrival, there was much to be done. "My office was right next to the server room," the CIO and vice president of business operations says. "You just hear this beep, beep, beep … We go in there, and there are three [servers] going out … That was my first 10 minutes at the Stars."
The Stars have come a long way since that day, St. Louis-native Doggendorf says over lunch at Moxie's Grill & Bar at The Crescent in Uptown. The franchise restaurant is owned by Gagliardi so, during the NHL season, Stars folks drop by for a quick meal. Today, he's ordered the chipotle mango chicken and an iced tea as he settles into a bar booth—the place was so packed, our reservation was pushed out of the main dining room. The top hits of the late '90s and early 2000s are blasting on the overhead speakers.
Doggendorf didn't think he'd ever end up at the Stars. But as a lifetime sports enthusiast and recently retired recreational hockey player, he jumped when the position was offered. "It was pretty clear I was not going to win a Stanley cup on my own merit," he laughs. "So I'm like, 'Hey this would be kind of cool if we win a Stanley cup, and I'm in the front office.'"
Doggendorf spruced things up—everything from upgrading phone systems … to championing mobility to fixing email outtages.
Doggendorf's past is an eclectic array of skillsets that make him something of a Jack of all trades. He dropped out of college in 1984 with no direction. So he painted houses, worked as a landscaper and an apartment maintenance man, and helped his father with his catering business. Then a friend got him to enroll in a travel agent training program, where he had to learn the agency's computer system. "That was the first time I ever touched a computer," he says. "I said, 'This is awesome! This is what I want to do.'"
While working as a travel agent, Doggendorf enrolled at the University of Missouri-St. Louis to get a management information systems degree, focusing on the business side of IT. Following graduation, he went to work in technical roles for Missouri-based Emerson Electric, the Kansas City, Mo., offices of the National Association of Insurance Commissioners, pharmaceutical company Hoechst Marion Roussel, and accounting firm Arthur Andersen, before coming to Dallas to serve as as executive director of IT for Belo Corp. There, he began to dabble in cybersecurity, a topic in which he's particularly interested. After that, he served as the director of information security for Penson Financial Services before becoming information security officer for GameStop, a company he never thought he'd leave. That is, until he learned about the Stars opportunity.
At the Dallas NHL team, Doggendorf has managed to spruce things up—everything from upgrading the phone systems to include sales tracking to championing mobility to fixing email outages and repairing an unfortunate systems migration. His next focus: cybersecurity. But, technology hasn't been his only function. The Stars trusted him with merchandising, facilities and warehouse management, office services, and Dr Pepper StarCenter youth programming. "Finally, they got the idea that 'OK, we're killing him,'" Doggendorf says. Now he's simply charged with office services, facilities and warehouse management, and IT.
He has enough tech skills to call out an engineer on any funny business, and enough expertise beyond that to keep him busy in other areas, preventing him from driving his engineers insane. "They'd probably say something like, 'Go build a roof or something,'" he laughs. The funny thing is, he probably could.