Let's strip housing prices down to economic basics—supply and demand. The more buyers relative to sellers, the greater the likely price increases, particularly if land isn't available to build new homes. Places where the supply of homes can increase will likely see slower gains in prices, even if population and incomes are on the upswing.
In our December 2016 D CEO column, "Not Just a Roof Overhead," we reported on a sudden surge of Dallas-Fort Worth area housing prices, resulting from rising demand and tight supplies. At the time, DFW housing prices had increased nearly 18 percent since mid-2014—faster than all but four of the 25 biggest U.S. metropolitan areas. Overall, DFW homes remained relatively affordable, but the data showed DFW joining Denver, Portland, Seattle, and San Francisco as the nation's hottest big-city housing markets.
Since 2000, average housing prices have increased 81 percent in the DFW area. The metro-wide average, of course, disguises the large gaps—from city to city and from one part of a city to another. To identify patterns of home prices increasing, we looked at Federal Housing Finance Agency data on changes in average home prices from 2000 to 2016, a period in which the local economy had its ups and downs.
For Dallas itself, we find the greatest housing appreciation in the city's northeast quadrant—east of Interstate 35 and north of Interstate 30. Since 2000, average home prices have risen 115.4 percent in the 75209 ZIP code, which includes the Bluffview area between Love Field and Northwest Highway. Right behind 75209, there's 75225—the parts of University Park and Dallas between Central Expressway and the Toll Road, north of Lovers Lane but south of Walnut Hill. Six other Dallas ZIP codes saw a doubling of housing values since 2000—all of them to the north and east of downtown (see map).
Dallas' housing market has been healthy for decades, with price slumps few and far between. Over the past 16 years, all 32 of the city's ZIP codes had average home price increases of at least 39 percent. Only four ZIP codes were below 50 percent—75232, 75249, and 75232 in the city's southwest, and 75227, just below Interstate 30, east of Fair Park.
Three adjacent Fort Worth ZIP codes had the 13-county North Texas region's largest home-price gains, all of them southwest of downtown around Texas Christian University. Aside from that enclave, Dallas home prices rose above the rest of the DFW area, including Frisco and fast-growing suburbs in Collin County.
Seventeen of the region's 25 ZIP codes with the largest home-price increases since 2000 are in Dallas proper. The city doesn't have much undeveloped land for expanding the housing stock, particularly in the northeast sector that homebuyers value most. Thus, the interplay of supply and demand has been pushing up prices. In the suburbs, new supply can mitigate upward pressure from an influx of new residents.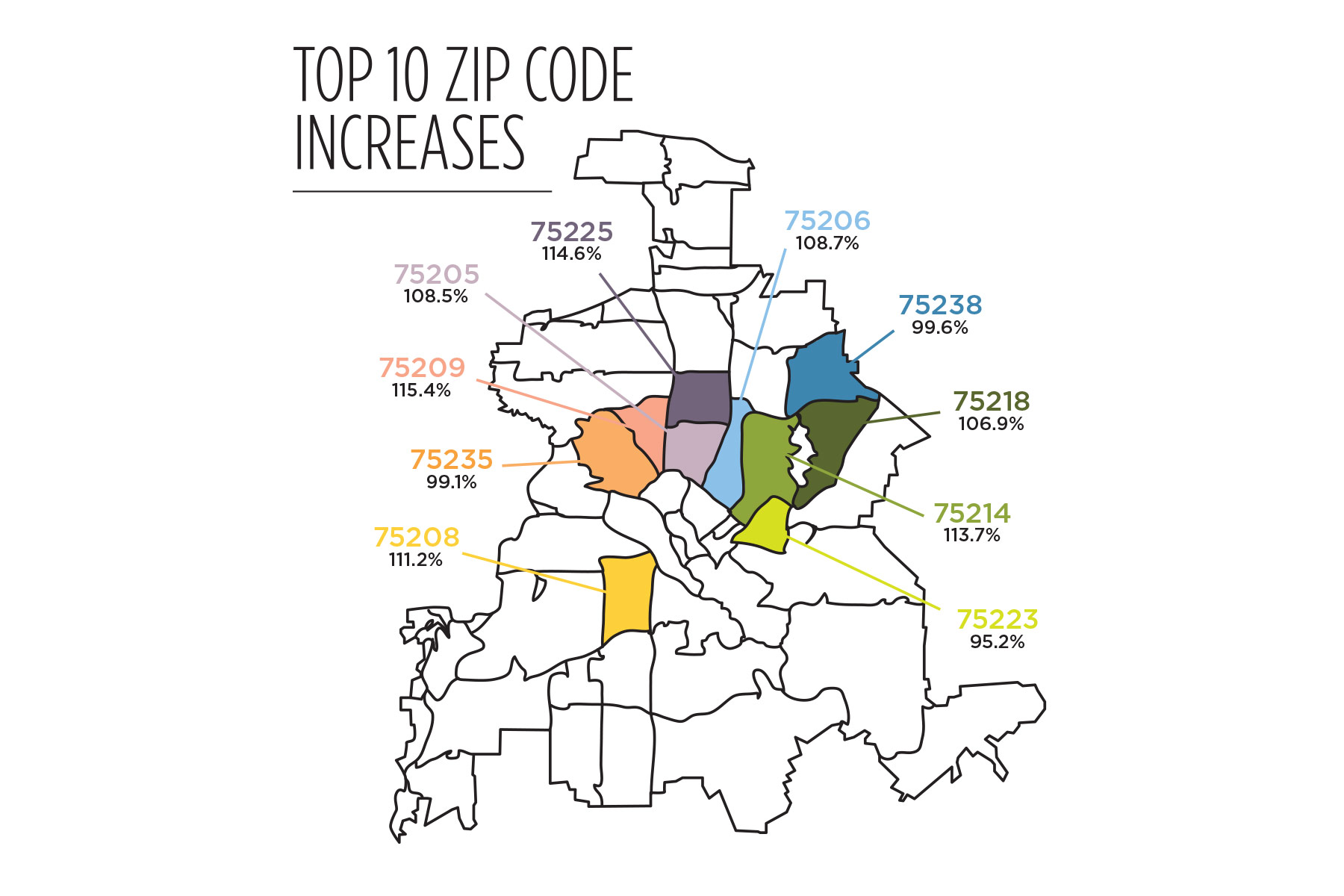 Most of Texas' hottest home markets are outside the DFW area, suggesting the imbalances of supply and demand are more acute elsewhere. The Bluffview ZIP code (75209)—the city's fastest increasing—ranks only 48th in Texas. The state's top 25 includes eight Austin ZIP codes, led by the state's No. 1 neighborhood for home-price appreciation—78702 on the west flank of Interstate 35, just south of the University of Texas campus. Houston also had eight of the Top 25, and Midland had five.
Bigger and fancier houses, most built decades ago, account for the high prices north and east of downtown. The rapid escalation of housing prices in this area tells us plenty of potential buyers with above-average incomes place a high value on living close in—or they'd simply buy in the suburbs and get more house  for their money.
What's so attractive about the ZIP codes where housing prices are rising most rapidly? Put another way, what do these buyers see that's worth paying extra for? The highway and road network makes it relatively easy to get to jobs in the downtown area or in the northern suburbs. A number of amenities are close at hand—the arts district, the Arboretum, the restaurants, the shopping, the urban buzz.
Research points to a likely connection between schools and home values. Buyers bid up the prices of houses in the best school districts so their children can receive better education. Supposedly, that's one of the big allures of suburbs. The ZIP code data suggest that buyers are finding ways around their concerns about Dallas public schools, either by living in places with good public schools like Highland Park, or by sending their children to private schools.
It's much the same with crime, another key factor in housing decisions. Buyers are bidding up prices in the relatively safer parts of Dallas.
We shouldn't forget the supply side. In east Dallas and other areas, older homes are being bulldozed and replaced by newer and bigger ones that cost a lot more. However, the overall supply of housing in desirable ZIP codes remains fixed, suggesting the patterns of home-price increases aren't likely to shift much in the near future. Houses to the north and east of downtown will get more expensive at a faster rate than most of the rest of DFW.   
---
W. Michael Cox is founding director of the William J. O'Neil Center for Global Markets and Freedom at Southern Methodist University. Richard Alm is writer-in-residence at the center.
Get the D CEO Newsletter
Stay up to speed on DFW's fast-moving business community with weekly news reports, interviews, and insights.