From D CEO May 2017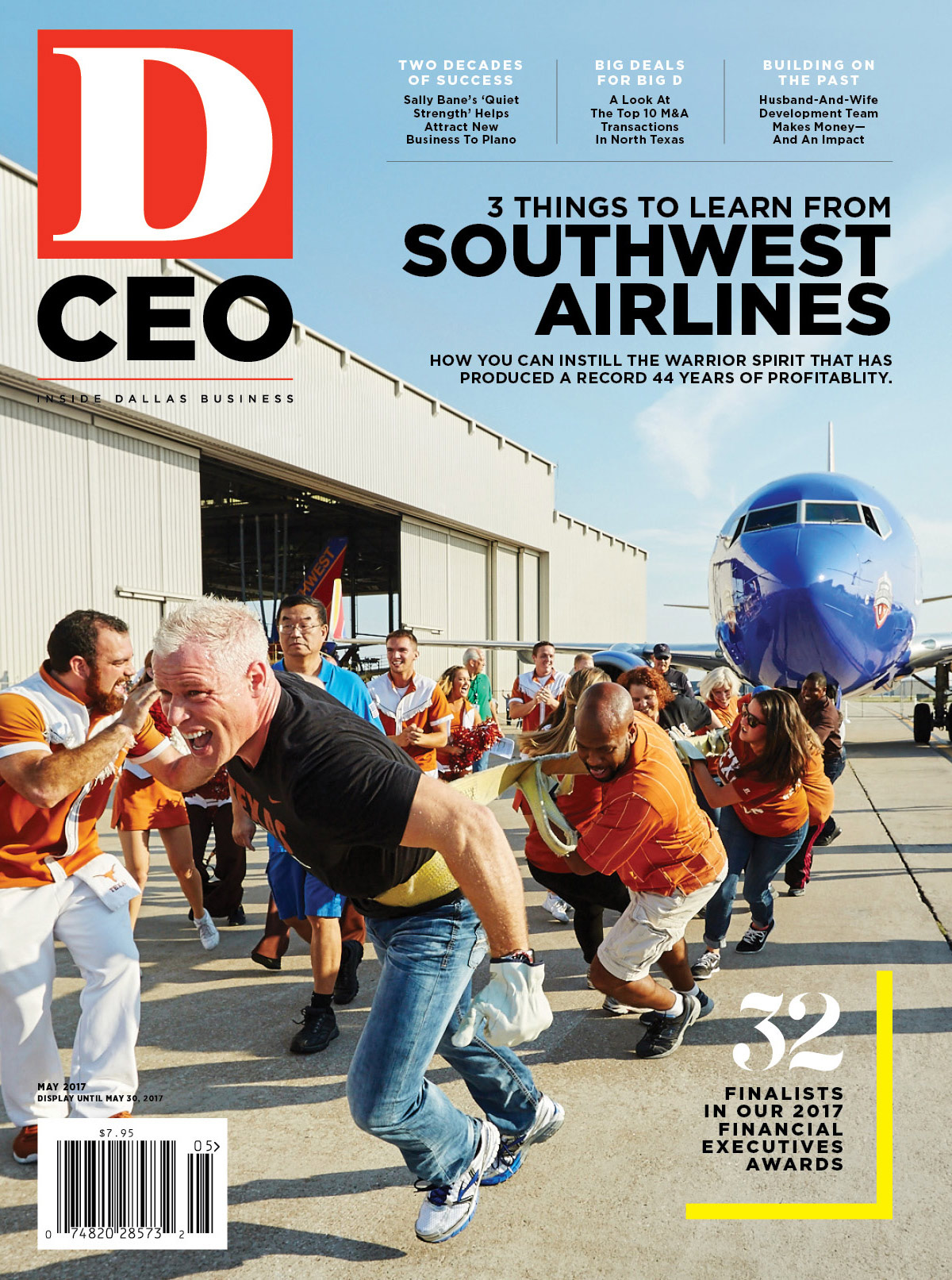 Subscribe
Why You Need to Know Her
Because she's leading the rapid growth of Plano's booming business community, landing some of the region's largest relocations and expansions that in turn create economic benefit for the entire region.
Sally Bane, economic development director for the city of Plano, has been described as a rainmaker, a quiet strength, and an encyclopedia of information. She's rarely the loudest voice in the room, but often one of the most influential. The growth of Plano's vibrant business community, which Bane has aided over the last 21 years, didn't come without decades of strategic planning and vision, she says. "We didn't expect to land some of the nation's largest relocation projects, but we always expected this community to develop a very robust business community," Bane says. "That was my goal, and it's a long game."
She spurs economic development … which leads to lower taxes and better city services.

Harry LaRosiliere, Mayor of Plano
She started her journey with the city in December 1996, when Plano's largest headquarters were Frito-Lay, J.C. Penney, and Hewlett Packard Enterprise. Since then, the city has attracted regional offices and North American and global headquarters. Its laundry list of successes includes landing PepsiCo, Capital One Finance, Raytheon, Ericsson, Pizza Hut, and Cinemark. More recently, the city gained national attention for landing the 2.1 million-square-foot relocation of Toyota Motor North America, JPMorgan's 1.4 million-square-foot regional office, and Liberty Mutual's 1-million-square-foot regional office. In 2015, Plano added 8,308 jobs to its workforce. Last year, it added 8,274 more, bringing the total to 209,239. Plano's workforce represented about 30 percent of Collin County jobs in October.
"She spurs economic development to prosperity in the community, which leads to lower taxes and better city services," Plano Mayor Harry LaRosiliere says, calling Bane a "rainmaker." "It's a domino effect."
But, the job isn't easy. Bane has had to go head-to-head with other flourishing areas like Dallas and Irving—and increasingly competitive Allen and Frisco, which can offer whopping economic incentives since they don't pay membership fees into the Dallas Area Rapid Transit system. It's tough but, with Bane's help, Plano has kept its name in the bidding game. "We're never going to have the largest checkbook," she says, adding that a deal rarely gets done without some kind of economic incentive. "This community has so many other attributes that are really important that fulfill long-term needs."
No one explains those attributes better than Bane, says LaRosiliere. She comes to the table with confidence, details that will be tailored to a company's specific needs, and, of course, a well-developed strategy. "She'd be a pretty good poker player," he says. "She knows what she has in her hand, and she'll be cautious and prudent about how she brings information to light about our city."
Though Plano has benefited from a strong couple of years of national relocation activity, that pipeline is likely to slow, causing Bane to focus less on new business and more on retaining and expanding existing businesses. "As we now have a very robust, large business sector, it's going to be our objective that they are successful in our community," she says. "We're at the tipping point of that shift."
But if Bane's track record is any indication of what's to come, Plano will have plenty of news down the road. In 2016, five companies expanded their footprints in the city.
The department is also gearing up to outline a new strategic vision for the next 10 years. Bane expects redevelopment to be a major part of those plans, turning aging retail corners into opportunities to attract new business. "We are running out of land for new development, so in order to continue growth we're going to have to have redevelopment," LaRosiliere says, adding that redevelopment is usually more costly. "Her challenge will be again to articulate our value proposition."
When Bane lays out the proposition to prospective targets, they'll likely listen, says Carol Schauer, vice president of development at Dallas-based Children's Medical Center Foundation, who's known Bane for 15 years. "Everyone knows she's done her homework," Schauer says. "So when she shares her thoughts, it's very well-articulated. She's a quiet strength."
Bane, a native of Omaha, Neb., has worked in economic development for 32 years. After graduating from the University of Nebraska-Lincoln and working for a Houston energy company, she became McKinney's economic development coordinator. Later she served as director of Metropolitan Business Development for the Dallas Regional Chamber of Commerce, where she worked for nine years before joining the city of Plano.
Through it all, Bane has shied away from taking credit for Plano's business development. Her humble attitude for public service can be traced back to the virtues instilled in her by her late live-in grandfather, who was a state legislator, county judge, and entrepreneur in Nebraska. "He set into motion an example of what you did to be a community builder," Bane says tearfully. "He died when I was young, but it was his legacy and influence [that] was so foundational in our family."
Bane hopes her legacy will be that she "made a difference" for the city. But if you ask anyone around her, they're likely to say she's far exceeded that. 
Get the D CEO Newsletter
Stay up to speed on DFW's fast-moving business community with weekly news reports, interviews, and insights.