From D CEO May 2017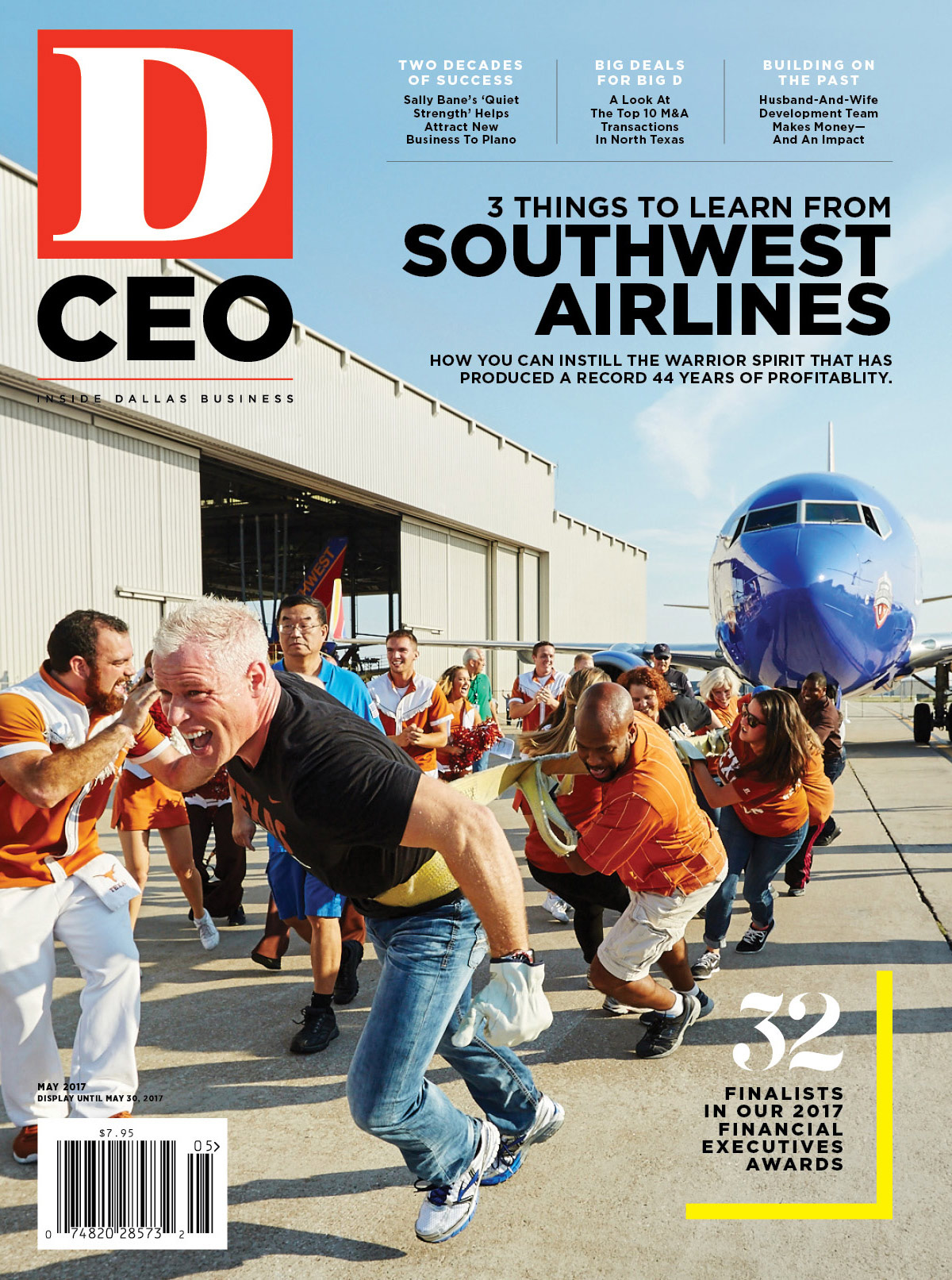 Subscribe
Steve Lieberman, CEO of The Retail Connection, loves connecting with people, being outdoors, and exercising. So it only made sense that his newfound passion would combine all three.
"It's an elliptical trainer on wheels – a hybrid of running and biking," Lieberman says of ElliptiGOing. "You're basically running without the negative impact of pounding your legs into the ground, which makes it easier to have conversations when you're doing it with other people."
Lieberman discovered the quirky contraption while on vacation with his family in Aspen nearly six years ago. He immediately tracked one down and bought it. Before long, he had two at his home in Dallas, and two more at his vacation home in Colorado, Lieberman's favorite ElliptiGO destination. Lieberman's passion grew from there and, one year later, he became the first ElliptiGOer to successfully complete the ride from Independence Pass in Aspen to the Continental Divide in the Rocky Mountains. The roundtrip excursion, which was 42 miles long and included a 4,200-foot climb, scored Lieberman a featured spot on the landing page of the ElliptiGO Olympics' website.
ElliptiGOing has also offered Lieberman some memorable run-ins. He once was approached by renowned major league baseball player Barry Bonds, who was biking alongside him, in Aspen. "This guy pulls up next to me, and he was a real athletic guy, dressed all in black, asking me a million questions about the ElliptiGO," Lieberman recalls. "I talked to him for about 10 minutes as we rode up the hill. I had absolutely no idea who he was. The next day in the Aspen paper, there was a picture of Barry Bonds, who had just done the ride. And I was like, 'Oh that's him!'"
Barry Bonds isn't the only celebrity intrigued by Lieberman's pastime.  "President George W. Bush saw me doing it in the neighborhood one time and said 'I wanna do it,' so he got on it and rode through the neighborhood," remembers Lieberman. "He went through a person's circular driveway riding it, and I swear, he did everything but yell, 'Whee!'"
The hobby is just as fun for Lieberman. "Everyone always tells me, 'Oh you work out so much,'" he says. "My response is, 'This ain't working, this is playing!"
Having a playful nature is at the heart of Lieberman's life. In fact, Lieberman says the key to a happy and successful life is "making everything play and not work. If you're doing the same thing as the person next to you, and they're working and you're playing, who's going to be more successful?" he asks.
For him, the answer is obvious. So obvious that he's carried this motto into his professional life. As the head of The Retail Connection, which he started in 2003, Lieberman is charged with the private real estate brokerage of 108 employees across offices in Dallas-Fort Worth, Austin, San Antonio, and Houston. The Retail Connection links the retail and real estate industries, providing clients like Bed Bath & Beyond, Nordstrom Rack, and Topgolf brokerage, advisory, and investment and management services.
"I've always enjoyed working in real estate, but I realized that I would much rather represent the tenants instead of the landlord," Lieberman explains. "I really was a pioneer of tenant representation. I decided that I was going to find retailers and represent them."
Lieberman even found a way to conduct business while on the ElliptiGO. For example, he hosts meetings and conferences with his business partners, who join him on ElliptiGOs. And keeping his clients active both physically and in business transactions helps foster his relationships.
"Good health is good business," insists Lieberman. "I held a daily basketball game for nearly 25 years for real estate people in the area. I play tennis with three or four guys every week, and now I ElliptiGO with our president and manager and clients of mine."
The best part about it? The valuable one-on-one time that lends itself to great brainstorming sessions. The ElliptiGO's relationship benefits go beyond his business relationships and into his personal life.
"My absolute favorite thing about ElliptiGO is riding with my sons," Lieberman says. "There's no question that it's the ultimate father-son experience, and it's a good healthy, fun challenge. Just getting to spend time with them is the best."
D CEO Newsletter
Stay up to speed on DFW's fast-moving business community with weekly news reports, interviews, and insights.