From D CEO May 2017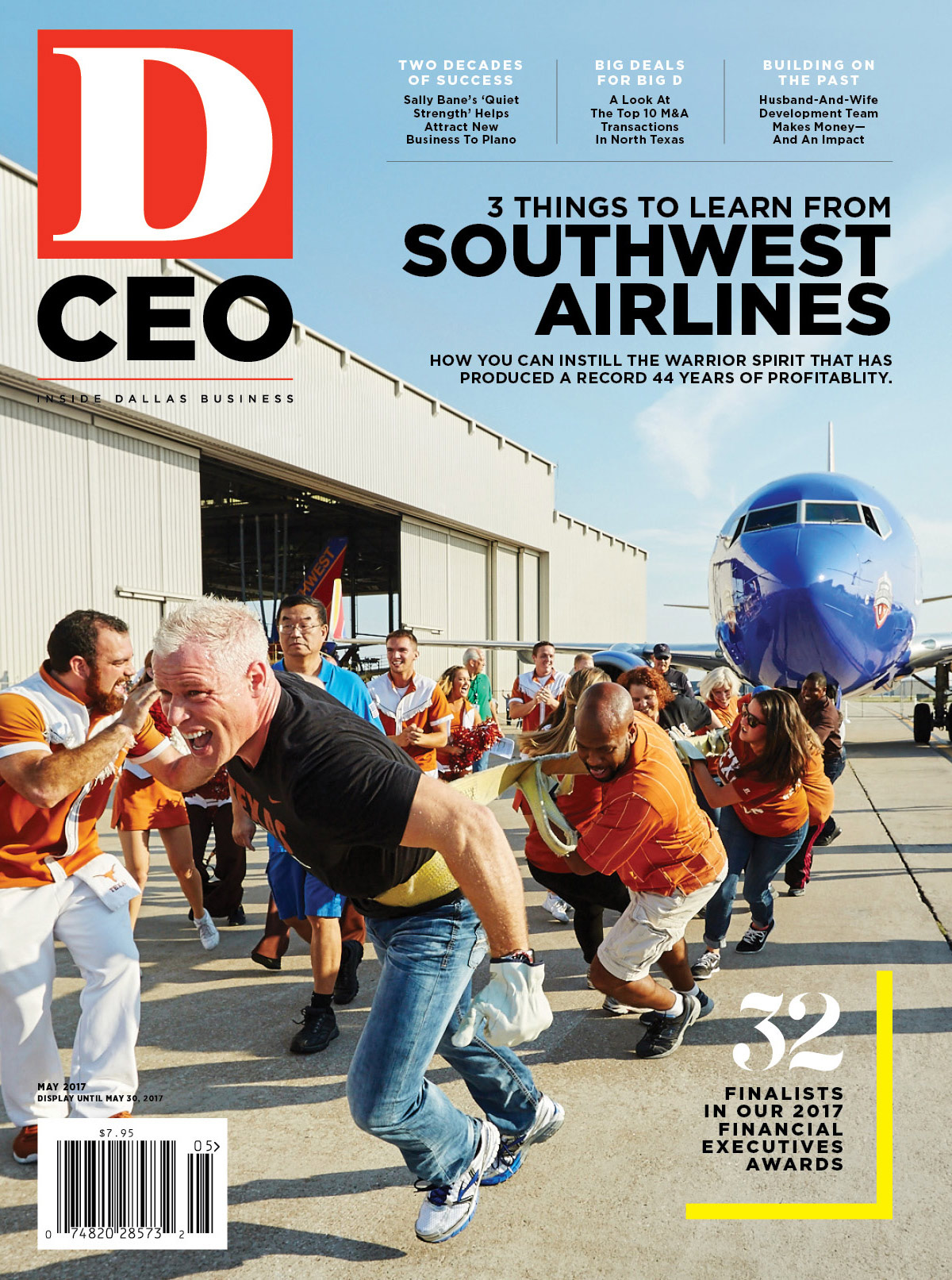 Subscribe
There was no party. No speeches were made. No dances danced. No cakes cut. Wild Turkey was not swilled. March 15, 2017, just came and went at Southwest Airlines, even though it was, legally speaking, the Dallas-based airline's 50th birthday. On March 15, 1967, Herbert David Kelleher, who'd celebrated his 36th birthday just three days earlier, walked into a courtroom in San Antonio and filed the incorporation papers for Air Southwest Co. The company had no employees. No revenues. No planes. It was a paper airline. An idea. Businessman Rollin King and Kelleher, King's attorney, had a notion to start an airline that would fly only between Dallas, Houston, and San Antonio. So Kelleher went out and made it legal.
Problem was, established airlines of the era—Braniff and American Airlines among them—didn't think Air Southwest, later renamed Southwest Airlines, should be legal. They fought a fierce battle to keep the new competitor grounded. For the four years, three months, and three days that followed the filing of Southwest's incorporation papers, the competitors were winning that battle.
But on June 18, 1971, a 737 painted in Desert Gold and emblazoned with the name "Southwest" took off with paying passengers and flight attendants clad in hot pants. This was the inaugural flight for an airline that would go on to revolutionize its industry with cheap flights, friendly service, and a freewheeling corporate culture that is being studied at this very moment in business schools around the world.
Of course, you'd know about most of this if you worked at Southwest Airlines today. This is the corporate lore: A scrappy startup became a corporate maverick by cutting costs and having fun. This is the origin tale: In the beginning, the airline industry was formless and empty, and Herb said, "Let there be Southwest Airlines," and there was Southwest, and it was good.
A lot of people have heard that story in the past few years while sitting in shiny new conference rooms at Southwest's recently expanded Love Field headquarters. In the past three years alone, Southwest has hired 22,000 employees—8,000 of them from the merger with AirTran that was fully completed in 2014—and 14,000 more, total, in 2015 and 2016.
All of those new people have been brought into a rapidly expanding and changing airline. The once-tiny Texas carrier now serves more than 100 destinations, including locations in the Caribbean, Mexico, and Latin America. Southwest Airlines even flies to Cuba now, something that would have been inconceivable in 1967, when Fidel Castro was 41 and Kelleher was five years younger. Today, Southwest is investing in bigger planes, plotting out longer flights, altering its route map to allow more connections to more places, and even whispering about assigned seating—something Southwest has never offered.
Said in fewer words: At 50 (or 46, depending on whether you go with incorporation or with the date of the first flight, which Southwest prefers), Southwest Airlines is no longer just a scrappy, wacky industry outlier. It's a leader, a trendsetter, a dominant force, a polished and professional corporation. At Southwest, Desert Gold has been replaced by Bold Blue and Summit Silver. Hot pants have been swapped for sleek Mod dresses. Kelleher is retired, and thousands of new employees will join the ranks this year alone. All of which is why Southwest is working harder than ever to pass along its unique corporate culture—an esprit de corps rooted in the company's earliest years fighting for the right to fly, and in its later evolution as an industry disruptor. "Southwest Airlines has been going through so much change lately that it's even more important than ever that we focus on our values and roots," says Cheryl Hughey, the airline's managing director for culture. "It's also more important than ever that we continue to emphasize to our employees that the culture is theirs to own. Culture is more than the pizza parties and big events. It's about how we treat each other, each and every day."
So how does Southwest Airlines plan to keep its legendary culture thriving each and every day, even as it makes significant strategic changes? A lot of ways, including these three.
ONE: Protecting the Past
Herb Kelleher had it easy, at least where corporate culture was concerned. Getting the airline from legal concept to functioning corporation was the hard work. But the culture, initially, just happened.
"I'd love to tell you that we were just brilliant leaders and we knew everything we had to do back then," says Colleen Barrett, president emeritus of Southwest Airlines and Kelleher's executive assistant when he was the airline's attorney in its earliest incarnation. "It didn't happen that way. It wasn't like we sat down one day and said, 'Ah-ha! Look at this great culture we have.' The culture just evolved."
Indeed, Southwest was what it was back in the day because that's what it had to be. Employees worked hard because the alternative was to go out of business. They had fun because fun—go-go boots, hot pants, whiskey give-aways, jokes told over the aircraft PA systems—made them different from their more buttoned-up industry competitors. Southwest employees also took care of their customers and each other in the early days because, well, because that's what Kelleher did.
Kelleher, now 86 and living in Dallas, formally left his remaining executive duties with Southwest in 2008. But his influence is still deeply felt at the airline. The same is true of Barrett, who was the executive who first recognized Southwest's culture was an asset that needed to be cultivated. Indeed, she reigned over the company's main Culture Committee—a body responsible for ensuring employees were properly indoctrinated into that culture—for decades.
"We wanted to be the best at delivering customer service. So we hired people who enjoyed being around other people. They were like cheerleaders."

Colleen Barrett, Southwest Airlines
If Kelleher was Southwest's savior in getting the undersized carrier into the air and keeping it flying in spite of the constant flak from rival airlines, Barrett and her Culture Committee were the airline's Matthew, Mark, Luke, and John. Funny thing about the Gospel according to Colleen: It might never have been written if not for the Wright Amendment, that thorn-in-the-side, pain-in-the-butt federal law that severely restricted Southwest's route network into and out of Love Field for three decades, starting in 1980.
"You may laugh," Barrett says from the office she still maintains at the company's headquarters. "But the reason we started the first culture committee was that we were really starting to spread out in our system and, because of the Wright amendment, we could not get the employees, say, from California, into Dallas unless they had three days off. I had always been able to have people see and feel and touch the culture that existed in our headquarters, but now we couldn't. That's why I started the culture committee, because if we couldn't bring employees to the culture, we needed some kind of group that could bring the culture to them."
Today, with the Wright Amendment having disappeared in 2014, Southwest can fly new hires from all over the country into the headquarters, where they're schooled in the coporate lore and the foundations of Southwest's culture before they ever lift a bag, sell a ticket, give a safety demonstration, or fly a plane. "It's very important to know your heritage and how the foundation of the company was formed," Hughey says. "We teach our people about where we came from and what we stand for, because that's what families do. Families share their history with each other."
All Southwest's new family members go through an orientation session in Dallas called "FLY," which stands for "Freedom, LUV, and You." It's a hokey term, sure. But Southwest, which calls itself the "LUV Airline"—LUV is its stock-ticker symbol and also a nod to its home airport—has long been unashamed of hokeyness. (It paints a heart on the belly of each of its planes, after all.) You can credit Barrett directly for the attitude. "I'm a sentimental slob at heart," she says.
The core gospel story that new hires learn in their FLY sessions is called "Living the Southwest Way." That's something Barrett first codified a couple of decades ago. It's a quick and simple reference for employees—a three-point plan that, if employees stick to it, should make their jobs better and better enable them to deliver what the company calls "positively outrageous customer service." The Southwest Way calls for maintaining a "warrior spirit," having a "fun-loving attitude," and "leading from a servant's heart."
Fun-loving? Credit that to Kelleher. "Herb doesn't know any other way to work than being fun-loving," says Barrett about her Wild Turkey drinking, joke-cracking founding counterpart.
Hughey says that the airline today looks for workers with fun-loving attitudes for the same reason Southwest did decades ago: "If our people are having fun, they're going to be happier in their work, and our customers are going to enjoy their experience," she says.
Warrior spirit? "I credit our competitors with giving us the warrior spirit," Barrett says. "Because they fought us so hard in the beginning, we went into a survival mode and that attitude carried over. We just always felt that we had to fight to keep this the kind of place that we wanted it to be."
And a servant's heart? "We wanted to be the best at delivering customer service," Barrett says. "That was our No. 1 goal. So we hired people who enjoyed being around other people. They were like cheerleaders. Actually, I think there were four Dallas Cowboys cheerleaders in our inaugural flight-attendant class. That was important because how can you say you want to be in the customer-service business and not hire people who like other people and want to serve them and make them happy? We really are in the customer-service business. We just happen to fly airplanes."
Southwest does more than that. It also collects memorabilia. Obsessively. When the company embarked on a $100 million renovation to its Love Field headquarters in 2012 that has now added 500,000 square feet of new space to the facility, it had to figure out what to do with 10,000 different framed and other unique items from its history. The framed items included pictures of employees, their families, their pets, and so on.
Instead of creating a single, massive gallery, Southwest executives decided to split up the collection, curating it into 32 different themes that now decorate "culture centers" around the headquarters campus. One of these culture centers—small areas with their own meeting rooms—is dedicated to displays from past Halloween parties, for example. Another shows off military memorabilia from employees' service. Still another is dedicated to the pets of Southwest employees. "When new employees are going through training, they can immerse themselves in these centers," Hughey says. "It's a great way to share the Southwest story."
TWO: Shoring Up the Four Pillars
Southwest's culture doesn't just happen today. It isn't introduced at orientation and then left at that. That's because, with more than  53,000 employees working in nearly 100 different locations, the culture that aims to inspire employees to be fun-loving but hard-working and always cost-conscious must be actively managed. That task falls first to Hughey, then to the 32 people who work for her on the company's Culture Services Team. Their job is to safeguard the four pillars of Southwest's corporate culture: recognition, celebration, appreciation, and preservation.
There are a lot of technical tasks involved in protecting the first three of those. Let's say a customer sends in a compliment to a specific employee. Southwest has created a system to ensure that praise reaches not only that employee but the employee's manager and that manager's manager. Every single compliment, every single time, needs to be recognized. Few corporations go to such lengths to pass along those kinds of messages.
Then there are the celebrations, which are constant. Ten years with the airline? Come to Dallas with 500 other people and let's have a party. It's your 10th wedding anniversary? Here's a card from your station manager. And so on, sometimes in informal ways but often in elaborately planned out events—overseen by Hughey and her teams—that are intended to show appreciation for the people who are part of the Southwest "family."
It all adds up to giving Southwest a significant strategic benefit. Says Hughey: "If someone is performing well and providing great hospitality and we commend them for it and let them know it is appreciated, that's going to get them to repeat that same kind of performance. It really helps to have a company that believes in you."
The importance of this kind of recognition is preached from CEO Gary Kelly to Hughey to the Culture Services Team to every leader in the company. It's further reinforced by culture committees like that first one Barrett started. Today the committees are informal, volunteer groups focused on the four pillars in most of Southwest's cities.
Still, some of the gestures of recognition and celebration do border on the cultish—or at least on the Mary Kay-ish. For the past several years, for instance, Kelly and other senior executives have held an annual event called Rally. Southwest's Rally takes place in four locations across the system. (Phoenix, Orlando, Nashville, and Dallas were tapped this past February.) In those cities, thousands of employees gather for one-day pep-rally-esque events. Some attendees bring their spouses, others their parents, as Kelly and others trumpet the company's successes from the past year and recognize dozens of individual "heroes" who made the good times roll. After the cheer session, employees can step up to a microphone and ask Kelly anything they like. "All of that creates strong ambassadors for who we are out of many of our employees," Hughey says.
Southwest isn't the only company in the country that cheerleads for its employees. But it might be the most sentimentally sloppy, as Barrett might put it, about that task. "Southwest banks on love as a concept," says Michael Pirson, associate professor of management systems at Fordham University in New York. "That's a different perspective on human nature. It's not a Gordon Gekko, greedy-bastards style that we sometimes see on Wall Street. It's more about treating people at work as caring human beings who flourish when they have good relationships and a purpose in life. Too many companies don't share that view. It's often hard for companies to make the case for the long-term value of culture, given the short-term pressures from the market. Often, they'd rather spend money on something else."
Hughey says Southwest fights budget battles over culture, too. But, she adds, culture usually wins: "Culture takes budgeting, resources, and time all year long. Culture is not something that's seasonal. It is not something you can ever stop."
THREE: Reaping the Rewards
Afew years ago, this reporter queried Kelleher about what sets the airline apart from other competitors and, indeed, from other companies that have not posted 44 consecutive years of profits while also never undergoing a single layoff. Kelleher said the answer was simple: "Our people." When told that sounded like the kind of platitude all CEOs say, Kelleher added that Southwest's people and its culture are a key competitive difference. "Our competitors can get all the hardware," he said. "I mean, Boeing will sell them the planes. But it's the software, so to speak—the people—that's hard to imitate."
As if to prove the point that all CEOs say something like that, last year, speaking to a huge gathering of employees, Gary Kelly, who has been Southwest's CEO since 2004, said the following to a crowd at the annual Rally event: "They can match our airplanes. They can match our destinations. But they cannot match our people."
Maybe he really means that. After all, Kelly isn't changing the culture, but he is shaking up some of the elements of Southwest's strategy that have defined the airline for decades. 
The $250 million reservation system launching this year will let Southwest more easily schedule red-eye flights as well as change its flight offerings during the week. (The current technology used by the airline means it must offer basically the same flight schedule every day of the work week.) The system will also allow Southwest to better offer connecting flights—at different pricing levels—to passengers throughout its system. The airline could also offer assigned seats, for a price, with the new system. (But, Kelly has said he has no current plans to do that.)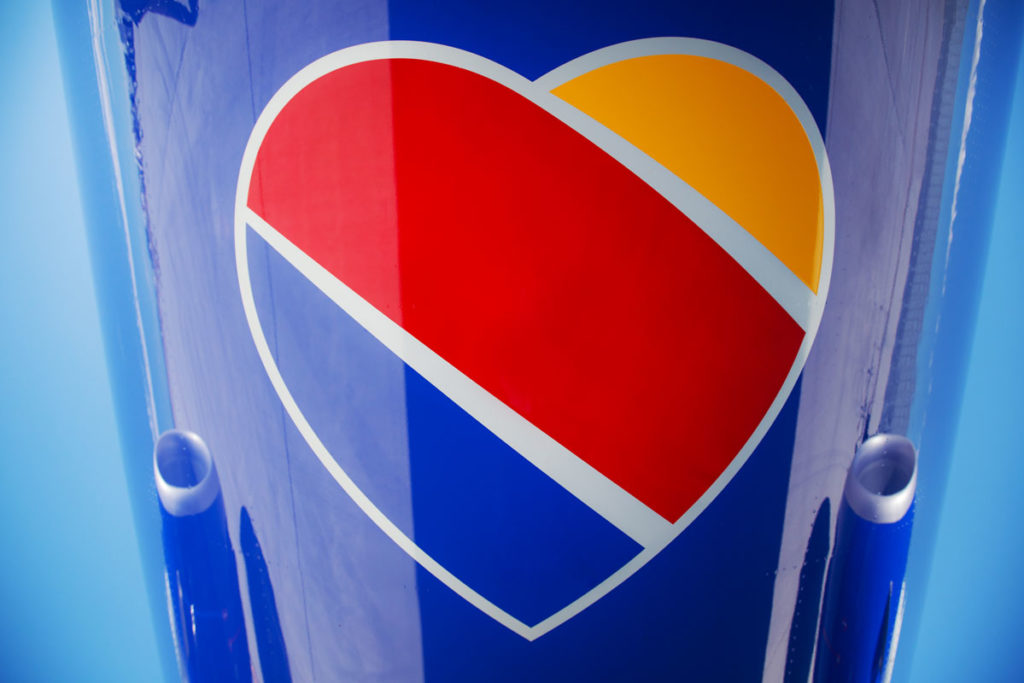 Meanwhile, Southwest is also looking at longer flights on larger planes. The company in 2015 dropped an entire order of 31 new Boeing 737-700s in favor of an order of 31 Boeing 737-800s—a longer-haul jet that can carry 32 more passengers. And it's now eyeing using those jets to serve destinations in Hawaii, Canada, and throughout Latin America. In all those markets, partner companies—not Southwest—handle check-ins and baggage and everything else besides operating the planes.
All of that, to some, makes Southwest sound a little bit like crosstown rival American Airlines, which makes bigger profits on longer-haul flights than it does on short flights like the ones Southwest has long specialized in. That means Southwest's culture, which has long differentiated it from other airlines, even low-cost competitors who borrowed Southwest's model, may be more important now than ever.
"Southwest Airlines' main competitive advantage is its culture," Pirson says. "People love working for that company, and that makes a difference to its customers."
Southwest once touted its rapid turnarounds, stellar on-time performance, and top customer rankings. But the airline has recently descended to the middle ranks in most surveys of airline performance. And in The Wall Street Journal's Middle Seat rankings for 2016, Southwest was fourth in overall performance out of nine carriers rated. Southwest ranked near the bottom for mishandled baggage and was last for "involuntary bumping." And yet, Southwest still ranked second best to Alaska Airlines in fewest customer complaints. Is that because of a culture that asks employees to treat customers—including those who've lost bags—as they'd like to be treated? The answer, arguably, is yes. 
Unquestionably, Southwest employees are doing something more than their competitors. According to an industry analysis conducted by MIT, Southwest employs only about 70 employees per aircraft in its fleet. Alaska has almost 90. And American and Delta have about 100 or more. Put another way: Southwest can, and does, pay its workers above industry standards because its workers do more, often a lot more, than those at other airlines. 
That's how culture can be a hugely profitable competitive advantage. And it's also why Hughey doesn't worry about the suggestion that Southwest will soon become one of the stodgy old airlines it used to battle against. "I remember hearing people say that [back] when we reached our 10th anniversary and our 20th and our 30th. But I think our founders are the kind of leaders who have created something that will last," says Hughey, who's been with the company since 1980, when she was hired at age 19 as a reservation sales agent. "And I think now, with Gary Kelly, we have truly a man of heart. And he's building on the culture that already existed. It's just so strong that we're going to just keep passing it on. We're ever-evolving. But we're going to make sure this is always going to be a place where people enjoy coming to work. That's who we have been and who we always want to be." 
Get the D CEO Newsletter
Stay up to speed on DFW's fast-moving business community with weekly news reports, interviews, and insights.