From D CEO May 2017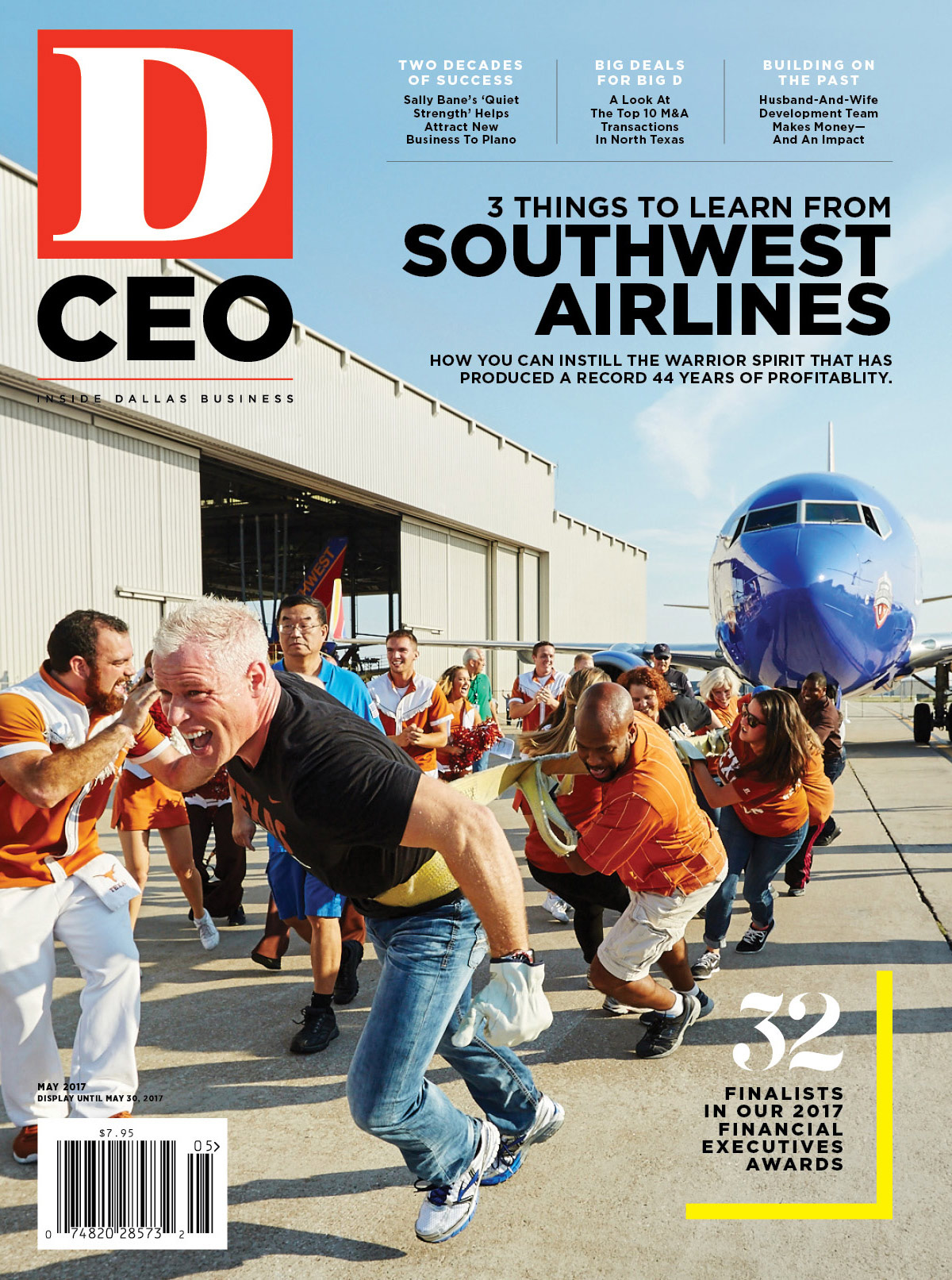 Subscribe
Eighteen. That's the number of cities Ray Sedey of McCarthy Building Cos. has lived in throughout his 39 years, including his present home in North Texas. Moving became a familiar occurrence–his dad's work building power plants moved the family around the country. In fact, he's lived in all four corners of the United States—from Southern California to Florida and Massachusetts to Alaska.
Sedey speaks fondly of each place he has lived, noting Dallas is at the top of his list. He's learned to acclimate fast. After all, he's had plenty of practice. "As you've gone through the moves, you've had to always readapt yourself," he says. "It's been really helpful."
At 6-feet-6-inches tall, Sedey sits confidently and orders an ahi tuna salad, the same thing he orders every time at Woodlands American Grill in North Dallas. He's just come from a hotel down the street where all of McCarthy's project engineers in Texas have gathered for training, a room full of people whose shoes he was once in.
Not long after Sedey joined the company in 2000, Bo Calbert, McCarthy Building Cos.' former southwest office president and mentor to Sedey, asked him, "What do you want to do?" Sedey's answer was simple: "I want to sit on that side of the table." With the bar set, Sedey began at the construction company as a project engineer before becoming a project superintendent. "I had no business being a project superintendent," he says. To educate himself, Sedey fetched his crew food and packed their tools while asking questions to better understand what they did. "Taking those opportunities and really asking the questions along the way and, quite honestly, somebody believing in you and giving you a chance," are all factors that led him to where he is today, Sedey says.   
The company had its best year in 2016, and Sedey expects 2017 to top last year's revenue.
It's been a year and a half since Sedey's promotion to president of McCarthy's Texas region. When he assumed the role, it was important to him that the company ensure each team member was in the "right seat on the bus." This move paid off, as the company had its best year in terms of revenue in 2016. And he expects 2017 to top last year's figure, projecting a little more than 20 percent growth year over year. With a number of projects in the pipeline, it seems McCarthy is on target. 
However, Sedey is aware something needs to be done about a big problem his industry is facing—the shortage of skilled labor. That's why he is heading a McCarthy program to recruit and train people for a career in construction.
"You can't just say, 'Okay, you're going to be a carpenter, now go be a carpenter,' and so we're going to go through an entire process," he says. This process includes recruiting at high schools, trade schools, and community colleges. The company now has the ball rolling, hiring both a recruiter and trainer. While Sedey says it will take a couple of years to see progress, he's convinced this is a step in the right direction.
As McCarthy looks forward, he knows the importance of acknowledging the past. Sedey recalls the last major slump in the construction industry: He was living in Las Vegas, Nevada, in 2008 and remembers construction coming to an abrupt halt. To this day, he says, there are large commercial projects sitting unfinished—unchanged from the way they were left when 4,000 workers were sent home. He keeps this in the back of his mind, reminding him to stay diverse and be prepared for a change in the industry.
While Sedey is enjoying the current fast pace of construction, he knows it can't be kept up forever. And when that time comes, just as before, he'll be ready to adapt—and so will McCarthy Building Cos.   
D CEO Newsletter
Stay up to speed on DFW's fast-moving business community with weekly news reports, interviews, and insights.