From D CEO May 2017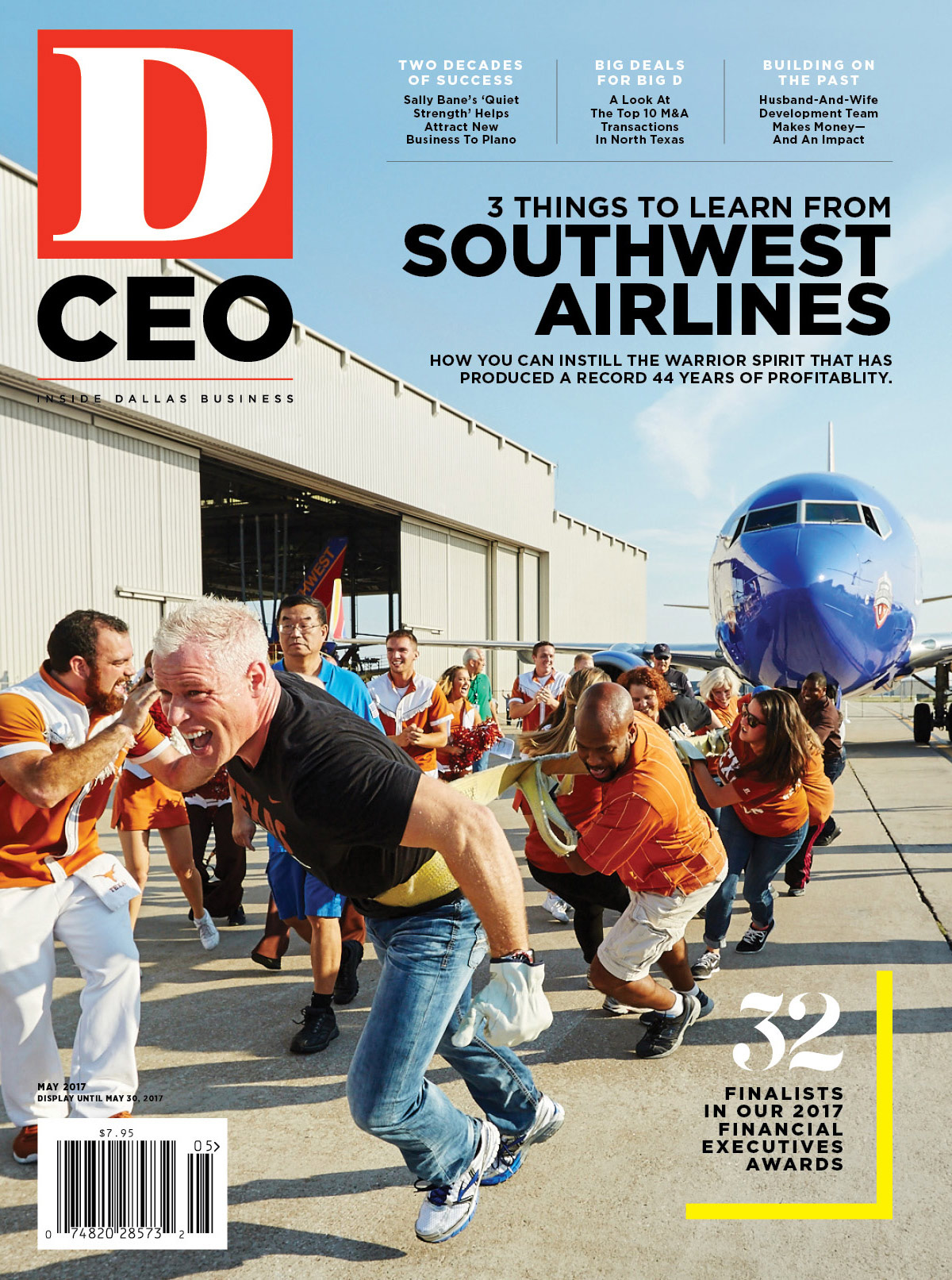 Subscribe
We don't have mountains in North Texas, and we don't have an ocean. But we've always had plenty of land and cheap housing to lure newcomers to our vibrant job scene.
Now that seems to be changing.
DFW housing costs have shot up over the past five years, driving home prices about 50 percent higher. Meanwhile, area builders have been unable to keep up with demand from a fast-growing population, leaving a record low supply of homes on the market. Home prices could rise another 10 percent this year, according to Jim Gaines, chief economist at the Texas A&M Real Estate Center. Between 2011 and 2016, the median home price in DFW's metro area jumped from $149,900 to $232,000, according to A&M data. While the region's housing market is still less expensive than major cities on the coasts, some say our comparative advantage is slipping.
"There's nothing really inexpensive about the housing market in DFW anymore," says Ted Wilson, principal at Residential Strategies in Dallas.
Wilson says several factors changed the residential landscape since the housing crisis.Institutional investors showed up and bought foreclosed homes, turning them into rentals and quickly diminishing the for-sale inventory.
The tougher financial regulations, including the Dodd-Frank reform bill, discouraged banks from making development loans and restricted borrowers with damaged credit from refinancing.
And a portion of DFW's home construction industry disappeared. Many construction workers left the business and never came back, creating a shortage of carpenters, brick masons, and other skilled trade workers. A home that used to take four months to complete now takes six or seven.
Wilson says it's because few workers who shifted to the oilfields have come back to construction jobs after drilling activity declined. And many immigrant workers who returned to Mexico are staying south of the border because of a stronger Mexican economy and enhanced U.S. efforts to secure the border.
"I've been doing this for 23 years, and it's without question the worst labor shortage I've ever experienced," says Nelson Mitchell, CEO at HistoryMaker Homes of Grapevine.
Mitchell also says the immigration crackdown "could make it even more difficult and costly for the industry."
Kevin Egan, president of American Legend Homes, which builds in communities in Frisco, Allen, McKinney, and Prosper, says in certain communities his company limits sales to not get ahead of themselves. "The worst thing we can do is sell more than we can build," he says.
Skeptics doubt the increase in home prices is sustainable. In February, Fitch Ratings characterized the Dallas market as "over-heated," estimating homes are 10 to 15 percent overvalued and "increasingly vulnerable to a slowdown or price correction."
But there are believers. Count industry icon Donald Ray Horton among them.
His namesake company is the nation's largest homebuilder. D.R. Horton closed more than 40,000 homes in 26 states last year. After four strong years, the company is almost back to the volumes reached in 2006 before the bust, operating with a quarter fewer workers.
The 67-year-old has lived through several housing cycles since building his first home in Fort Worth in 1978, and remains upbeat.
Horton says DFW, the company's No. 1 market, remains "very affordable" compared to most other big cities. And he's committed to keeping it that way. In 2014, Horton introduced a new Express brand of homes for entry-level buyers, which accounted for 26 percent of sales with an average price tag around $204,600 last year.
This strategy should pay dividends with the Fed poised to raise interest rates several times this year. But Horton's not worried about mortgage costs. He's counting on steady job growth and increased buying from millennials to drive home sales.
"We wouldn't have this number of units on the ground if we weren't optimistic about the future," he says.
D CEO Newsletter
Stay up to speed on DFW's fast-moving business community with weekly news reports, interviews, and insights.