From D CEO May 2017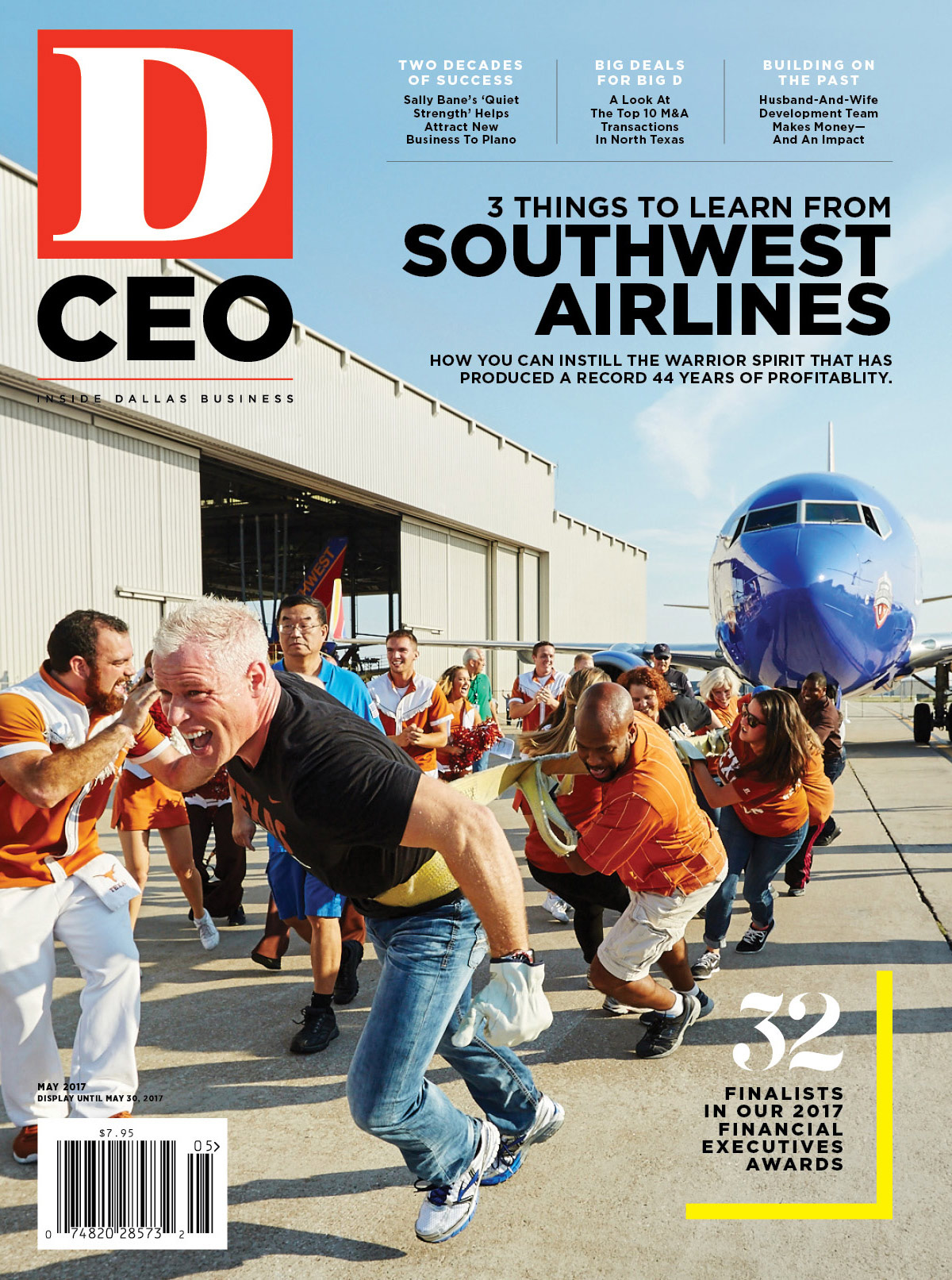 Subscribe
Twenty-one months after the new East Dallas shopping center was announced, its site at the northwest corner of Northwest Highway and Abrams Road remains a rough-looking expanse of weeds, broken glass, cracked asphalt, and uneven concrete slabs. For some reason, a couple of 18-wheelers were parked the other day at the 13-plus-acre site, which was distinguished mainly for its forest of tall, skinny light poles stretching almost as far as the eye could see.
Two wooden real estate signs had also been erected on the property, touting a new shopping center that would be called High Point Crossing. The signs said that 275,000 square feet of space was for lease, and suggested that interested parties call a couple of brokers, Jeff Kittleson and Robert Aycock, with CBRE. The signs also proclaimed that the center was a project of The Ainbinder Co., in consultation with one Brian Glaser.
Since my wife and I have lived for 18 years across Abrams Road from the property, in the Merriman Park/University Manor residential development, I decided to phone everyone listed on the sign, because this looked like a great story that was right in my own backyard. "Urban in-fill" projects like High Point Crossing are all the rage in real estate these days, after all. But, that's when I discovered that when commercial property execs don't want to talk about something, they can clam up tighter than the people who guard KFC's chicken recipe. None returned my calls.
"We're excited to see the activity there. It can be a little scary at night now, so we think it's going to be a positive."

Robyn Flatt, co-founder of the Dallas Children's Theater
A major retail center at the corner of Abrams and Northwest Highway would be a big deal for our neighborhood, which has been gradually evolving over time. It wasn't that long ago, for example, that there was a low-rent strip club called the Doll's House near the intersection's northeast corner. (Today it's a pawn shop.) About half a mile north on Abrams, past the Sable Ridge and Willow Pond apartment complexes, there used to be a number of check-cashing joints and discount liquor stores. Some are still there, at or near the corner of Abrams and Skillman Street, but the neighborhood in general has been trending upscale.
For instance, a new, state-of-the-art Alamo Drafthouse theater-restaurant-bar—the third to open in North Texas—is going into the former Tom Thumb space at the old Skillman Abrams Shopping Center, which is being renamed Creekside. There's also a popular Topgolf location just across the street from Creekside on Park Lane. It's not too far from a SuperTarget, a Home Depot, and the Timber Creek Crossing shopping center. The nearly 500,000-square-foot Timber Creek center, off Northwest Highway and Skillman, is anchored by a Wal-Mart, a Sam's Club, and a J.C. Penney.
The High Point Crossing property, meantime, backs up to the aforementioned Willow Pond apartments to the north, and to the Dallas Children's Theater—formerly Don Carter's All Star Lanes bowling alley—to the west. High Point also sits just across Northwest Highway from the 55-year-old, 319,000-square-foot Medallion Shopping Center, which is anchored by Kohl's and yet another Target store. There, on the southwest corner of Northwest and Abrams, Medallion is adding a new CVS Pharmacy where an old oil-changing place used to be, says Cherise Fleming, an associate broker with Venture Commercial Real Estate. The CVS should be open around year's end.
High Point Crossing itself is located on property that, until 2008, was the flagship store for the Steakley Chevrolet auto dealership. Before John Steakley came along to open the location in the early 1960s, though, the site had a far different use. My wife, who grew up in Dallas' Turtle Creek area, remembers the Steakley land as the place her parents used to take her for "pony rides"—a dusty, racetrack-like setup where you could climb aboard one of maybe a dozen little horses. John Steakley's daughter, Anne Steakley Reeder, recalls the Northwest Highway property like this: "When we moved to Dallas, my dad said, 'Here's where the dealership will be.' It was open 24 hours a day, seven days a week. When Neiman Marcus opened their store at NorthPark, their ads said, 'Just down the street from Steakley Chevrolet.'"
The Steakley site was sold two years ago by an East Coast investor to Ainbinder, a Houston-based real estate developer that, according to a 2015 Dallas Morning News story, has redeveloped similar auto dealerships in the Bayou City. The News account added that Glaser, of Dallas-based Glaser Retail Partners, had brought the deal to Ainbinder and had been approaching potential tenants for High Point Crossing.
On its website, Ainbinder as recently as mid-March was describing High Point Crossing as a "vertical urban power center" with retail stores on two levels, plus a multi-level parking structure. However, in a December 2016 "master site plan" drawn up by the Boucher Design Group of Bellaire, Texas, and obtained by D CEO, parking for 831 cars did not seem to include any parking structure. And, the "building area" was just 170,000-some square feet. The December plan also indicated a 62,943-square-foot lease labeled "Academy," a 15,000-square-foot lease labeled "Party City," a 20,000-square-foot lease labeled "Marshalls," and a 20,000-square-foot lease labeled "Ross."
The site plan also showed a proposed new traffic signal on Northwest Highway for drivers entering and exiting High Point Crossing, well west of the corner with Abrams. That's important, because Abrams' intersection with Northwest Highway can already be a backed-up nightmare at rush hour. Indeed, traffic counts show more than 56,000 vehicles per day going east and west through the intersection. That's about 4,700 more vehicles than roll through the super-busy Preston/Northwest Highway corner, near the Dallas North Tollway.
City Councilman Mark Clayton, whose District 9 includes High Point Crossing, says that he's "always concerned about traffic." He says the proposed new traffic light will help, though, adding, "You're never going to eliminate traffic on Northwest Highway. But a traffic plan is in place."
Robyn Flatt, co-founder of the Dallas Children's Theater, has a different concern about the new development. That's because it would eliminate a connecting road, called Quality Lane, that currently allows patrons to access her facility from Northwest Highway via Theater Way. "We're very concerned about our staff and patrons having access to [the theater], especially when the weather's not good," Flatt says. "So, we're working with [Ainbinder and the city] to maintain a 'back door,' so we'll be able to get in and out. Safety is our biggest concern."
As a show of good will, perhaps, the developer has already agreed to pay for two big DCT signs that will go up on Flatt's theater building—one sign facing west, the other looking south. "They want to be good neighbors, and we're excited to see the activity there," Flatt says. "It can be a little scary at night now, so we think it's going to be a positive."
That's the same way many residents of our neighborhood seem to be viewing the in-fill project. When I asked for comments about High Point Crossing—as well as the new Creekside center—on the Nextdoor website, the response was overwhelmingly bullish. The vacant Steakley site has been "an eyesore for a long time," one resident wrote. Added another: "These two developments follow a long, stagnant period for our area, during which we all worried about our safety and property values. These positive improvements will be supported by the demographics, which improve each year. … While some are concerned about traffic congestion, that's the price we'll all pay, along with higher property taxes."
As for High Point's expected retail tenants, there's been only a little grumbling. Damon Dattalo, a Realtor with Keller Williams Urban Dallas, wrote on his blog that "many residents are disappointed this site did not find a more creative use." He explained further when I phoned him. "East Dallas is not a big fan of suburban sprawl," Dattalo said. High Point Crossing "looks like it will be nice, but there's a strip center across the street, and a strip center across Skillman. So it's going to be more of the same."
For many in our neighborhood, more of the same will be good enough. 
D CEO Newsletter
Stay up to speed on DFW's fast-moving business community with weekly news reports, interviews, and insights.