From D CEO May 2017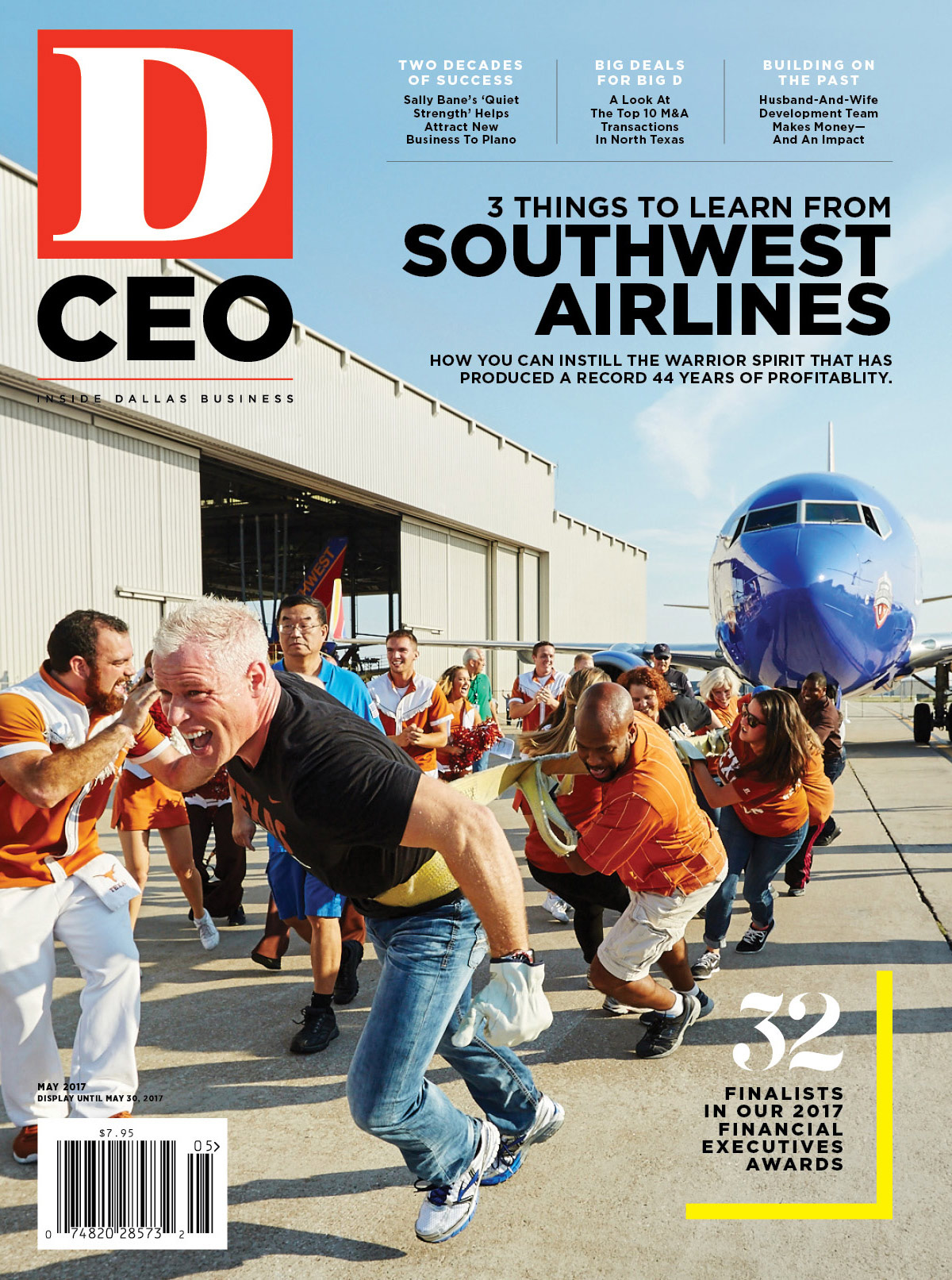 Subscribe
During the first two to three years of a child's life, parents often track developmental milestones and compare them to a standardized model to ensure their child is progressing "normally." If a child falls behind these milestones by 25 percent in cognition, communication, gross or fine motor, social-emotional, or self-help skills, parents might seek developmental  help from healthcare providers.
In-home therapy providers support children who have fallen behind "catch up" through government-funded early childhood intervention services, known as ECI programs. These services aid approximately 50,000 children in Texas each year.
While ECI programs aim to help children advance learning and development, the state made budget cuts in 2011 jeopardizing the programs. More recently, lawmakers passed legislation in 2015 to reduce the reimbursement rate to therapists working in ECI programs and cut $350 million more in ECI funding. This law went into effect last October.
Most North Texas ECI programs are 33 to 40 percent funded by the state. The other costs are covered by billing Medicaid and private insurance providers, according to Selena Milles, program director at Dallas-based Metrocare Services.
Metrocare Services is the largest provider of mental health services in Dallas County, serving more than 50,000 children and adults annually. While Milles says Metrocare has managed to stay ahead of the budget cuts, "we always have to plan as if we'll be underfunded and cut," she says.
In addition to cutting ECI funding, the state also restricted Medicaid reimbursement, making it harder for families to pay for services, essentially "cutting funding twice," forcing the closure of programs, Milles says. In North Texas, four providers have closed since 2014. And over the past year, two providers have shut down in the wake of the additional budget cuts.
ECI programs operate under the Texas Health and Human Services agency. They help families with children, from birth to age three, with disabilities and developmental delays. The programs provide hands-on services to promote development and learning, coordinate specialized services, and decrease the need for costly private programs. Therapists who provide ECI services to families assess children who fall behind age-specific benchmarks.
For example, four milestones occur within the first two years of a child's life. By the end of their first month, most babies should recognize their parents' voices, prefer human faces over other shapes, and be able to make short, sporadic movements with their arms. By the end of their seventh month, most babies should respond to their own names, enjoy playing peek-a-boo, and be able to roll over from stomach to back and back to stomach. By their first birthday, most babies should respond to simple verbal requests, crawl, and sit without assistance. And by their second birthday, most children should show growing independence, walk alone, and recognize names of familiar people, objects, and body parts. After tracking the child's learning rate and collecting data, therapists will create a specialized regimen to expedite a patient's cognitive or motor development.
In North Texas, four providers have closed since 2015. And over the past year, two more have shut down in the wake of additional budget cuts.
Texas' ECI programs follow seven principles. The guidelines include constructing programs that integrate everyday experiences and interactions with familiar people in familiar contexts to maximize learning; help family members be hands-on in treatment; and individualize programs to reflect the family's preferences, learning styles, and cultural beliefs.
There are currently 200 providers in Dallas County offering treatment. Some of their methods include physical therapy, teaching children motor skills or how to adapt to disabilities; occupational therapy, working on fine-tuning motor skills and completing tasks correctly; and speech and language therapy, working with oral skills like eating and swallowing as well as improving speaking abilities.
But families are still facing increased difficulty accessing these services. Those like the state-funded ECI Family Cost Share program, in which rates are determined based on family size and income, have been affected due to budget cuts and tighter Medicaid restrictions, Milles says. She says cost-share programming doesn't cover as many expenses due to recent changes, "driving away families since they are unable to pay for service fees."
In Collin County, LifePath Systems is feeling constraints from the budget cuts, too. Randy Routon, CEO of LifePath, says that over the past six years, up to 20 percent of ECI providers in Texas have dropped out. "ECI is a very expensive program to operate," Routon says. "While it pays off, the cuts in funding and stricter [Medicaid reimbursement] requirements make it difficult, since 95 percent of ECI services are done in-home."
Routon explains one complication with ECI services involves the expenses associated with therapists and specialists commuting to see patients. "Speech, physical, and occupational therapists can drive up to 45 minutes or longer just to get to the patient," Routon says. "Then, after providing a 45-minute or 60-minute service, they have to drive back. But, they only get paid for the service, while we cover the rest [of the transportation expenses]. It's costly."
Some providers in Texas question the financial viability of ECI programs in the future. Routon says up to 12 ECI program providers are concerned about whether they'll be able to sign a contract for the next year. And a few are concerned about whether they'll be able to develop ECI programs in the coming years.
While providers do their best to care for as many children as possible, Milles understands that in order to "keep doors open, you may have to alter your program."
LifePath Systems has 400 employees who serve around 9,000 patients in their ECI, behavioral health and developmental disabilities, and other programs. To Routon, ECI is one of the most important, as taxpayers have higher costs when children show up at school with disabilities. "Our dollars are best spent for intervening as early as possible," he says. "We work with families when they're most stressed out. They're new parents and worried their child isn't developing normally. We want to create a bond with the family and the provider to help with their child's diagnosis, learn how to deal with it, and manage the illness as best as possible."
Milles agrees that providing treatment early is more beneficial for parents, versus finding out when the child already is enrolled in school. "With ECI we provide parent training. We're working with that family system and educating and empowering them to work with their child to provide the proper nutrition and therapy," Milles says. "We're bridging the gap between parent and child."
As the state's 85th legislative session evaluates budgeting for ECI and other behavioral health services, providers will continue advocating and spreading awareness about the need for these early intervention services. Routon believes it's imperative to make ECI funding a priority, since "children are the most vulnerable of all our Texas citizens.
"Our services help children who experience learning delays," he says. "Their lives improve when we provide these services. It's the best investment we can do with our state dollars to ensure the younger generation can be as productive as possible and contributing to society."
Charlene Stark, vice president of marketing for Metrocare Services, says providing specialized care and working with families in-home helps ensure children are getting the correct treatment and services, reducing the need for aid from a specialist.
"The reason we give specialized care and have multiple mental health and behavioral programs is to demonstrate our commitment to resolve early behavioral issues with children," Stark says.
Ultimately, the providers' shared mission to help children and families empowers them to navigate expanded restrictions and funding cuts to continue providing services, Routon says. "It's always one of my best days when I see someone in the community say, 'My child was in the ECI' or 'I was an ECI kid,' and now they're doing well," he says. "Too often, the stress of a child with a disability impacts families, and to have these successes in our programs really proves it's the best investment." 
D CEO Newsletter
Stay up to speed on DFW's fast-moving business community with weekly news reports, interviews, and insights.