From D CEO May 2017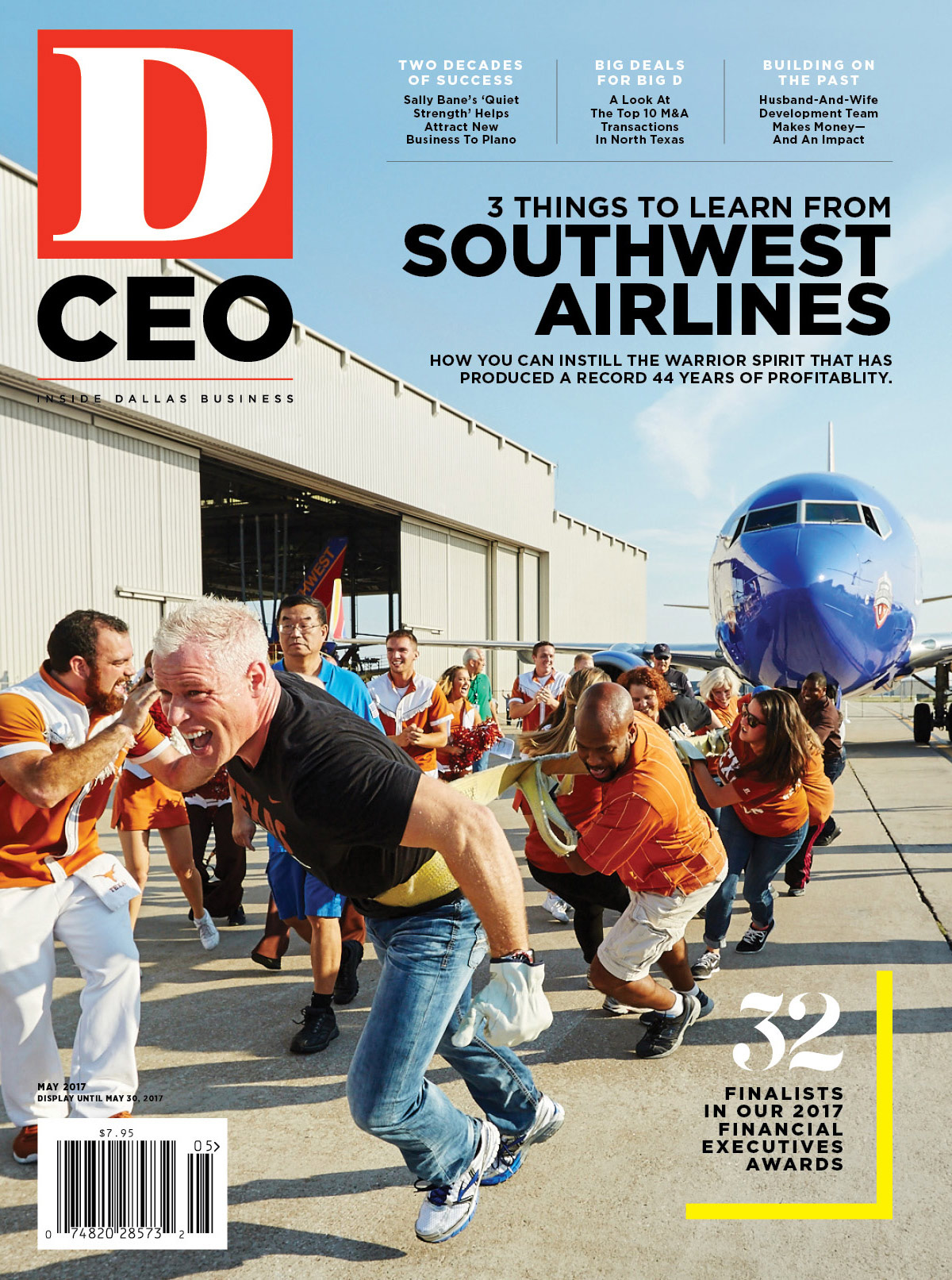 Subscribe
After an oil price downturn that saw prices plummet from $100-plus per barrel to half that, the U.S. oil and gas industry is consolidating and retooling. And in the midstream sector, which includes transporting and storing oil and natural gas, Dallas is leading the way. Dallas-based Energy Transfer Partners, the jewel in Kelcy Warren's Energy Transfer family crown, will soon finalize a merger with sibling Sunoco Logistics Partners, which is based in Pennsylvania. Currently, general partner Energy Transfer Equity controls both pipeline firms.
The combined company will be a $75 billion behemoth with full-service offerings to producers spanning virtually every oil and gas basin in the country. Consolidation in the midstream sector, as illustrated by the merger, is driven by the need to reduce capital costs, says Matt Ramsey, ETP's president. A strengthened balance sheet from the ETP/Sunoco combination offers a solid financial foundation to further grow Energy Transfer, which will be the country's second-largest master limited partnership after the roughly $20 billion deal. Last year, ETE abandoned a $20 billion-plus deal to take over Oklahoma-based pipeline firm Williams Cos. following lawsuits and other hassles.
As a fully-integrated, midstream hydrocarbon dynamo, Energy Transfer will have more to offer its oil- and gas-producing customers. The deal is "all about the assets," Ramsey adds. "We will continue to acquire strategic, bolt-on assets where we have synergies."
And in the amped-up Permian Basin, consisting of the Delaware and Midland Basins in West Texas and New Mexico, he adds, "we have a world-class group of assets."  The oil boom happening in the Delaware Basin is "in an infancy state, from an infrastructure point of view," Ramsey says.
The new Energy Transfer Partners will touch more hydrocarbon molecules than ever as America aims to become a net energy exporter. Even now the company is constructing a Lake Charles, La., liquefied natural-gas facility, which is expected to export LNG starting around 2020. In addition to natural-gas exports, all manner of rich liquids, crude oil, and more will have to be moved. The combined assets of the new firm—including liquids processing and gathering facilities, pipelines, and export terminals—align perfectly with the hottest producing and transporting areas such as the Permian Basin and Gulf Coast in the South and Southwest, and the Marcellus/Utica plays in the Northeast.
This larger, more robust Energy Transfer Partners will be able to financially weather a challenging regulatory environment over the long haul, the theory goes.
In late January, President Trump okayed allowing completion of the controversial, $3.8 billion Dakota Access Pipeline, which is majority-owned by Energy Transfer. The merger will bring the "ability to stand stronger through this long-term process of getting through regulatory events like the Bakken-Dakota Access project and the Mariner East liquids complex in the Northeast, especially for greenfield projects," Ramsey says.
Down the road, he adds, the company's "non-hierarchical, collaborative management style" bodes well for the next generation at Energy Transfer. One suspects, however, that, in the end, it will be Warren—ETE's chairman—who will make the final calls. 
Get the D CEO Newsletter
Stay up to speed on DFW's fast-moving business community with weekly news reports, interviews, and insights.