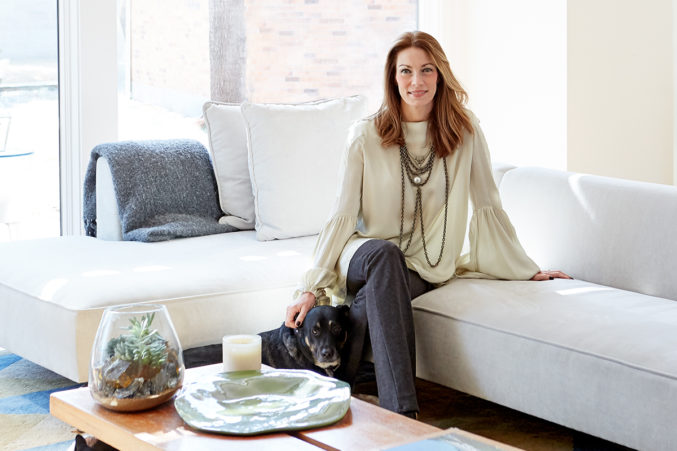 My Style: Susan O'Brien
The founder of Hail Merry Snacks shares her must-have accessory and how her work influences her wardrobe.
What I do…
"I am the Founder of Hail Merry Snacks and also serve as our vice president of marketing. I work with a stellar team to grow sales and awareness of our brand. We make decadent treats crafted from fresh, clean, and consciously sourced ingredients."
Who is your style icon?
"Kate Moss with a splash of Florence Welch."
How does your work influence what you wear?
"I work in the natural foods industry, which allows for a ton of freedom to express your individuality. That freedom to be different is one of the big reasons why I was drawn to the space."
What inspires your style choices?
"Rock 'n roll music, hippy beachside surf culture, and yogini art from India. My father also influences my style. His essence always keeps me grounded and reminds me to not take myself too seriously when it comes to fashion, or anything for that matter. The way you look someone in the eye is much more important than what you are wearing."
How would you describe your style?
"Hippy-chic, relaxed with a hint of rebel. In other words, Kate Moss when she is off the clock."
How would you say your style has evolved over the years?
"I used to live in my yoga clothes when our kids were younger and I worked from home. Now that those days are over, going to the office means taking the extra time to look a lot more put together and actually wear makeup! I like this me better for sure."
What do you never leave home without?
"A great pair of sunglasses. I like how they can put the final touch on your style attitude for the day."
Do you have a go-to look?
"I'm a chameleon and like to change it up like Florence Welch. But if there was one look it would be jeans, biker boots, plain T-shirt or blouse, my leather jacket, a good accessory like an unusual cuff or necklace, and usually a scarf. Always simple earrings."
Favorite store?
"Cabana owned by my bestie Merry Vose. She is genius! I also have the most generous and amazing friends who share their closet with me. It keeps things fun and interesting. I love sharing my love of fashion with my sweet friends, who actually are way more stylish than I am."