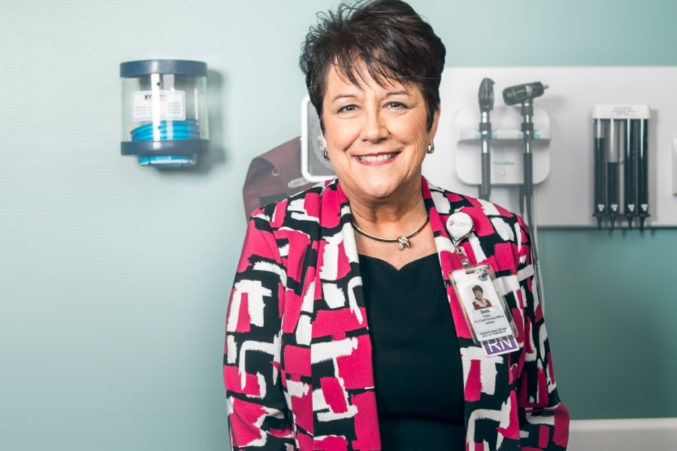 Why You Need to Know Debi Pasley
The systems vice president and chief nursing officer of Christus Health is improving the way healthcare works.
Why you need to know her:
Because she is unifying nearly 600 domestic and international care facilities for Irving-based Christus Health, a Catholic health ministry, and strengthening the system's nurse residency program. She also is implementing a new program designed to provide care before, during, and after hospital treatment for the more than 3 million patients the system aids annually.
As systems vice president and chief nursing officer, Debi Pasley coordinates with other Christus facilities, advocates for regional hospital needs, and develops new solutions to help employees overcome barriers and challenges they face.
"I'm here to provide the structure [employees] need to do their best work and hopefully feel fulfilled."

Debi Pasley, Christus health
"My goal is to feed necessary resources to employees who are on the frontlines taking care of patients," Pasley says. "I'm here to provide the structure they need to do their best work and hopefully feel fulfilled by the work they do."
One of the ways Pasley intends to support the system is by implementing a patient-experience program. Pasley says its goal is to improve patient and family experiences while reducing the potential for harm. In unifying domestic and international Christus sites, Pasley says she's trying to "create an apples-to-apples comparison" to determine the best practices. "There's a difference in how care is provided in regions," she says. "I'm trying to see what everyone is doing and pinpoint what represents our gold standard."
Christus Health's almost 600 facilities include more than 60 hospitals and long-term care facilities, 350 clinics and outpatient centers, and dozens of other health ministries and ventures. The system serves more than 60 cities in Texas, Arkansas, Iowa, Louisiana, New Mexico, and Georgia. It also has international operations in Mexico, Chile, and Colombia, and employs approximately 45,000 associates and 15,000 physicians.
Compared to other hospital systems, Christus is still relatively young. The system was formed in 1999 after the Sisters of Charity Health Care System in Houston combined with San Antonio's Incarnate Word Health System. In 2015, the Sisters of the Holy Family of Nazareth joined Christus.
Given her nursing background, Pasley is especially invested in the nurse residency program, aiming to recruit more nurses and retain top talent. "We recognize there are hiring challenges since every hospital is different," she says, "but we're trying to utilize support roles as best as we can to find able nurses where there aren't enough."
To ensure her new projects are being executed correctly, Pasley travels to each hospital to gain a deeper knowledge of its demographic, better understand its needs, and interact with hospital leaders she emails or calls daily. "Today I'm in Dallas; tomorrow I'm in San Antonio; Friday I'm in Corpus Christi," Pasley says. "Next week I'm in Chile, immediately drive to Tyler when I'm back, then cap off the weekend in Southwest Louisiana."
What gives Pasley the endurance and energy to do it all? Knowing her job is important to the thousands of nurses Christus employs. "It's a challenge, but I need to be able to see the hospital and meet the people," she says. "I want to let them know I'm here advocating for them."
In college, Pasley wanted to be a lawyer. But the executive is grateful her life went in a different direction. "I initially wanted to study political science, then go to law school," Pasley recalls. "However, my father had some kind of trepidation about that for whatever reason, so I ended up in nursing school by default."
Through what she calls a "disguised blessing," Pasley says by her second year in nursing school at Roanoke Memorial Hospital School of Professional Nursing in Virginia, she was "on fire. I could see exactly what I wanted to do," she says. "I finished my degree and worked as an obstetrics nurse, then an ER nurse." Her passion for helping others and improving lives drove her to attend graduate school at Virginia Commonwealth University, where she studied nursing. But after graduation, as a clinical specialist and trainer, Pasley realized improving care was more arduous than she initially expected.
"I saw a few bad outcomes over a short period of time and became disheartened," she says, referring to times when she was unable to influence change. "I needed support from my leaders that I wasn't getting at the time. I reluctantly applied for my first manager role and left being a clinical specialist." After an emotional transition from the patient-facing job she loved, Pasley found a path to make a bigger impact. Twenty years later, the executive has spent time in executive-level positions at numerous for-profit and faith-based hospitals in Oklahoma, California, and Ohio. This past August, she came to Texas to lead Christus' patient care and nursing programs.