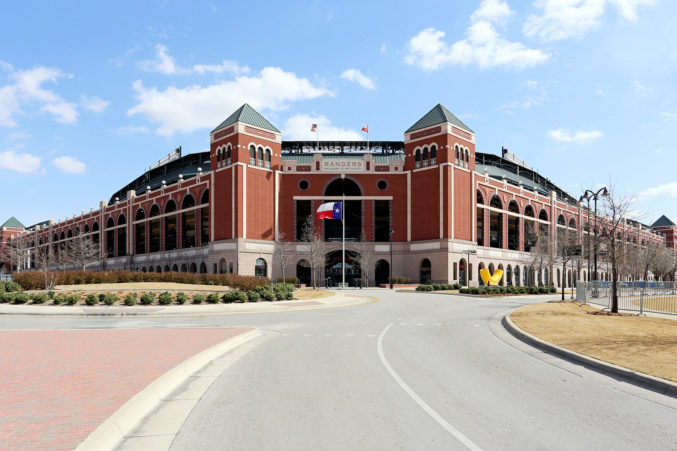 Meet the Texas Rangers' General Counsel
Katie Pothier has yet to hit her one-year mark with the team, but she is already knocking it out of the park.
The Texas Rangers are known for seeking out top-notch talent from far-flung, exotic locales, from places like Japan and South Korea to Venezuela and the Dominican Republic. Even so, it may have surprised a few baseball fans last fall when Rangers owners announced the hiring of the newest addition to the front office, Executive Vice President and General Counsel Katie Pothier—who originally hails from central New Jersey. But for those who might not at first blush regard the home of Bruce Springsteen as a breeding ground of legal talent for professional sports teams, think again. Dallas Cowboys General Counsel Jason Cohen was also born and raised in New Jersey and, like Pothier, earned his law degree from Rutgers. Pothier received both her undergraduate degree in history and her J.D. from the 250-year-old school.
So how did a nice girl from Kendall Park, New Jersey, wind up helming the legal affairs for the defending American League West champions? It began with a team in the National League West. While working in San Diego, Pothier learned that the Padres' general counsel was promoted to president and reached out about the newly vacant position. Pothier says the opening, "Found me, rather than me finding it. I was already doing work for the Padres as outside counsel when the opportunity came about to work for them in-house." Joining the franchise in 2002, Pothier impressed the Padres' front office executives from the start, shepherding the Padres' myriad legal issues as the organization transitioned to San Diego's Petco Park in 2004, and later to a new ownership group.
Like most in-house positions, being general counsel to the Padres was a balancing act, with Pothier juggling advising the team on labor and employment issues, litigation, governmental relations, human resources, corporate governance, and of course all legal dimensions of the Padres' business and international operations. With a move to a new stadium and a new ownership transition adding to her responsibilities, Pothier's already-crowded plate was overflowing. Despite this, she stood out like an MVP. Sandy Alderson, the Padres' CEO during most of Pothier's tenure in San Diego and current GM of the New York Mets, cites her "very strong work ethic, paired with a high intellect and a passion for her work. I thought of her as a potential CEO candidate down the road." Tamara Furman, former executive director of HR for the Padres, is equally effusive in her praise. "Katie is wicked smart, and the combination of intellect, enthusiasm, and personality sets her apart," she notes. "She was very instrumental in the transition from one management team to a new one, and adept at dealing with all of the personas involved."
After leaving the Padres in 2010, Pothier returned to private practice and joined Wilson Turner Kosmo LLP, San Diego's largest certified women-owned law firm. There she represented a variety of companies, ranging from local businesses to Fortune 50 clients, in complex and class-action litigation. Firm partner Robin Wofford says Pothier brought the same winning traits to her work in private practice. "Katie's very thoughtful and strategic in analyzing risk. Even in huge class actions, she's always had that kind of vision and leadership that builds trust in people, whether she was dealing with a single person or the managers of 75 retail stores," she says.
But even in major league litigation, the lure of big league baseball remained. Pothier stayed in touch with colleagues in professional baseball, and was eventually contacted by someone aware of the Rangers' interest, who reached out to gauge her interest. Ray Davis, Texas Rangers co-chairman and managing partner, says that with the Rangers franchise "in a period of remarkable growth and transformation, which includes partnerships to build a new ballpark and the Texas Live! development in Arlington, a new baseball academy in the Dominican Republic, and numerous other projects," it became "important to expand our in-house legal department and operation." According to Davis, Pothier's years with the San Diego Padres, as well as her other legal experience, made her "a perfect fit to lead these efforts."
Pothier has hit the ground running in Arlington, thanks to her understanding of baseball operations and experience with the kind of day-to-day legal and business issues that confront major league teams. And her time in private practice informs her in-house work as well, giving Pothier "a greater sense of the client's perspective, and the sense of urgency, as well. Plus, I have a greater appreciation for what my outside counsel do." But while there are certainly similarities to her work with the Padres, Pothier is quick to point out the differences. "It's all so new and exciting to lead the legal team from the very beginning on the design and construction of a new stadium. There are a multitude of issues—everything from financing and construction to employment and staffing concerns, and of course, fulfilling our obligations to the people of Arlington," she says.
And while she is quick to acknowledge the tougher aspects of helping the Rangers navigate their legal challenges—analogizing that at times her job is like "drinking from a firehose"—Pothier clearly relishes the opportunity. The best part of being GC, she observes, is "working with this team, this organization. The front office and ownership are first class. They not only want to win but to be good corporate citizens as well." Although she is cognizant of being one of the relatively few women in a male-dominated field, Pothier shies away from accepting credit for shattering glass ceilings. "I feel as though I've been extremely fortunate," she says. "If you work hard and do good work, that's what resonates. What I've encountered have been opportunities rather than obstacles." Pothier also observes that women are well-represented within the upper echelons of the Rangers organization, including the CFO and senior vice president of ticket sales and service.
Pothier has wasted no time getting acclimated to the the Dallas-Fort Worth area, and enjoys exploring local attractions like the Dallas Arboretum with her husband and two school-age children. Southern hospitality, she's found, "is a real thing," and she's already been presented with a pair of cowboy boots. Among the first to welcome her was her Dallas Cowboys counterpart, Jason Cohen, who was repaying a past kindness. "While I was interning for the Raiders in 2003, in between my first and second year of law school, I reached out to Katie about my aspiration of working in professional sports," Cohen says. After first connecting with Pothier, Cohen says, "She was so gracious and encouraging. We stayed in touch over the years, and when I saw that the Rangers had hired her, I reached out to her again to offer any help I could with the transition." Since then, Cohen says, the two have compared notes on everything from outside counsel to the finer points of construction law and mixed- use development. As Cohen points out, "We may have different collective bargaining agreements, but we have a lot of other issues in common."
Indeed, the Texas Rangers have borrowed from the Cowboys' playbook, moving forward with the Texas Live! mixed-use district in Arlington. A joint venture with the Cordish Cos., the $1.25 billion project will not only feature the new stadium, complete with a retractable roof, but also a mixed-use district boasting dining and entertainment venues, as well as a hotel and convention facility. Among those already committed to the development are restaurateur Guy Fieri, Lockhart Smokehouse, Revolver Brewing, and the Professional Bull Riders. The development is projected to bring $100 million per year in economic output to Arlington and Tarrant County.
As Pothier acknowledges, the Rangers' legal department may be "a small office, but it's a high-profile one." With a perennial contender on the field, a new ballpark in the works, and a massive dining and entertainment district on the horizon, the Rangers needed an experienced legal hand to guide them—and it looks like they found one in Pothier. Davis says that she's already "proven to be very valuable in so many facets of this organization on both the business and baseball side."   
---
John G. Browning is an attorney, award-winning journalist, and book author.