About 40 years ago, Ming, Eddie, and Steven Wang were sharing a two-bedroom, one-bathroom apartment with another family in Queens, New York. Ming and Eddie had just immigrated from Taiwan, and were enrolled in the Fashion Institute of Technology trying to make a living while raising their son. Steven recalls his mother not being able to find a job, then discovering through a friend that she could make money knitting. After discovering a hidden talent for designing knitwear, and leveraging her husband's charisma and charm to win over customers, the two started a business. Ming and Eddie knit and worked as a team selling products door-to-door. A few years later, after the other family moved out of the apartment the Wangs shared, the spare room became the Wangs' first workshop and the birthplace of their new company, Ming Wang.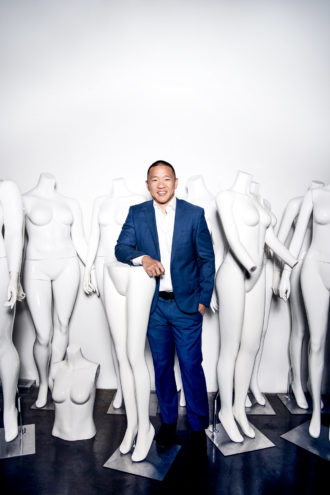 Fast-forward to today, and Steven Wang, CEO of the company for about 16 years, attributes his parents' passion and dedication to the craft as reasons why Ming Wang is successful. The couple is still active in the company. "My mom is mostly involved with design, while my dad helps with resources and working with our manufacturers," Steven says. With its North American headquarters and distribution center located in Grapevine, the company generated $24 million last fiscal year, and is expected to surpass $25 million by the end of 2017. Over the last three years, Ming Wang has seen 20 percent growth year-over-year and now employs nearly 50 people.
In 2012, the company acquired a 15-year license for the products of Misook, which was Ming Wangs' top competitor in the early 2000s. According to Steven, when Ming Wang first acquired the license by its owner, New York-based Authentic Brands Inc., Misook only generated $6 million per year. Under Ming Wang's leadership, the brand's revenue has more than doubled.
"We know [women's knitwear] is what we are and who we want to be in the industry."

Steven Wang, Ming Wang
While its upscale line is manufactured at workshops in South Korea and Taiwan, final rounds of inspection are done in North Texas before garments are shipped off to retailers like Neiman Marcus, Nordstrom, Von Maur, and Dillard's. The company's attention to detail— like "how the clothing has to fit on every body type (sizes range from XXS to 3X)"—has kept the brand stable in an ever-changing fashion market, Steven explains as he walks through Ming Wang's 50,000-square-foot warehouse. "We're catering to a base where a woman knows her personality, is comfortable in her own skin, is established, and outwardly [herself]," Steven says.
When asked why the Wangs decided to target such a specific market, Steven says they wanted to fill a gap they identified in the fashion industry no one was catering to. Core customers, he adds, are well-established women between the ages of 45 and 55.
"There [are] two ways that you can see business: You can get in the popular line that's doing well–but it's really long and you may … not make it to the front. Or you can form your own line," he says. "That's always been our mentality. We really believe in the product, and we're very passionate. We embrace it, and we know [women's knitwear] is what we are and who we want to be in the industry." And, like their customers, the Wangs are successfully, unapologetically themselves. 
Get the D CEO Newsletter
Stay up to speed on DFW's fast-moving business community with weekly news reports, interviews, and insights.