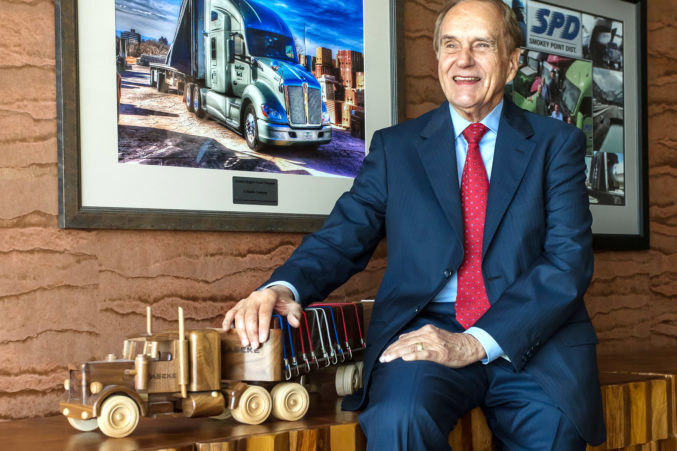 The Accidental Trucker
How Don Daseke's company became North America's top owner and consolidator of flatbed and specialized transportation.
Just back from Joplin, Missouri, president and CEO Don Daseke recalls visiting the latest addition to his namesake firm, Daseke Inc. "The R&R Trucking acquisition closed Sept. 1, and I was there to welcome employees to the Daseke family," he says.
Daseke's "family" of specialty-industrial trucking companies is growing fast. Addison-based Daseke Inc., which went public on Nasdaq in February, made four acquisitions in 2017 alone. The latest, R&R Trucking, is a leading transporter of defense and commercial arms, ammunitions, and explosives. Another buy earlier in the year was cross-border hauler Big Freight, based in Manitoba, Canada. Meantime, the Schilli Cos. from Remington, Indiana, bolstered Daseke's presence in the Midwest.
Daseke (pronounced dass-kee) Inc. has become the largest owner and consolidator of flatbed and specialized transportation in North America. Its major clients include Boeing, Caterpillar, GE, Nucor, and Georgia Pacific.
"We are diversified by industry, customer, and geography," says Daseke, 78. From 2009 to 2016, the company's revenue rocketed from $30 million to $652 million. Daseke Inc. now boasts 3,500 employees, a combined fleet of 3,800 tractors, 8,200 flat-bed trailers, and more than 1 million square feet of warehouse space.
Daseke began his career as an auditor but became a serial entrepreneur, with a number of successful firms under his belt. "I'm an accidental trucker," he says.
In 2008, Daseke was approached by a friend from the Young Presidents Organization who had a specialty trucking company for sale. "I traveled to Seattle to visit the firm," Daseke recalls. "I liked the management team's passion for the business." Thus, Smokey Point Distributing became the founding firm of Daseke Inc.
"I have always had the philosophy of investing in people," he says. "People make the difference in companies." His top business challenge, however, is attracting and retaining the best drivers, Daseke says. So he decided to offer stock ownership in Daseke Inc. to its employees, becoming the first public trucking company to do so.
The "specialty" hauling business is different—and more rugged—compared to trucks that, say, move consumer goods at Target and Walmart. Daseke drivers haul wind turbine blades, huge machines, building materials, and "anything that's big, heavy, cumbersome, and long," he says. Drivers are away from home for days and weeks at a time. With flatbed trucks, drivers sometimes have to climb on top of the equipment, chain loads down, and throw 100-pound tarps over their cargo in all kinds of weather.
Right now, Daseke Inc. holds less than a 1 percent share of North America's $133 billion flatbed and specialized freight market. Other companies are largely family owned, and typically located in small towns. As a result, Daseke says, "The consolidation opportunity is exciting for years to come."