No doubt about it, 2016 was another bang-up year for the commercial real estate industry in Dallas-Fort Worth. The depth and breadth of activity was breathtaking, with all sectors seeming to be chugging full-steam ahead. Of course, that made sifting through all the nominations for D CEO's fifth annual Commercial Real Estate Awards program a real challenge. But it was also a pleasure, as we were reminded again how much great work gets done in the industry here, every year. On the following pages we hope you'll enjoy reading about our winners in 16 categories, from Community Impact and Best Commercial Property Sale to the Best Retail Deal and Executive of the Year.
The Star
Community Impact Deal of the Year
The name couldn't be more perfect. Like the celestial spheres that produce their own light and energy and attract others into their orbit, The Star has become the lynchpin of Frisco's so-called "$5 billion mile." The $1.5 billion development, which opened last fall, is not only the new headquarters and practice facility for the NFL's Dallas Cowboys. It also features office space (a 400,000-square-foot building is already 80 percent leased), a 300-room Omni hotel, plenty of retail and restaurant space, and the 300,000-square-foot Baylor Scott & White Sports Therapy and Research center, as well as a 12,000-seat indoor stadium shared by the Cowboys, the city of Frisco, and its school district's varsity football programs. Other big developments are rising nearby, including the 242-acre Frisco Station project.
Finalists: Chewy.com; Music Factory
Merriman Anderson/Architects Inc., Led by Jerry Merriman
EXCELLENCE IN ARCHITECTURE/INTERIOR DESIGN
A keen respect for design and historic preservation are evident at Merriman Anderson/Architects, which celebrated its 30th anniversary last year. Led by Jerry Merriman, who has worked globally and in 40 states and 300 municipalities, the firm has been a key player in renovating and restoring more than a dozen historic buildings in downtown Dallas over the last decade. In 2016, it worked on the $225 million renovation of the old Statler Hilton, the retail/office conversion of the historic Dallas High School, and the $280 million renovation of The Drever (formerly the First National Bank tower), shown above. The firm also discovered and restored an important work of modern art at the Statler, and presented a plan at The Drever that included a public art program.
Finalists: Corgan, led by Bob Morris; HKS, led by Dan Noble
The Campus at Legacy West
BEST COMMERCIAL PROPERTY SALE
There was no shortage of "big-deal"contenders in this category, but the $353 million Campus at Legacy West sale distinguished itself for its complexity and impact. Previously known as the J.C. Penney Co. Inc. headquarters office, the property involved totaled 1.8 million square feet, plus more than 45 acres of developable land surrounding the building in the red-hot Legacy submarket. For the multifaceted, high-profile deal, CBRE helped negotiate a 1.2 million-square-foot leaseback component with the department-store chain, which was looking to reduce its longterm debt load. Meanwhile, the building's remaining, 680,000 square feet will be modernized and repositioned by the developer, Sam Ware's Dreien Opportunity Partners, for additional tenants. The revamped space will include a fitness center, doctor and dentist offices, a day-care facility, a coffee shop, and a pharmacy.
Finalists: 35-Eagle; Restoration Hardware Distribution Facility; State Farm CityLine Campus; Verizon (Irving Campus)
Jeffrey Ellerman
CBRE
BROKER OF THE YEAR
Having a bang-up year is nothing new for Jeffrey Ellerman, who specializes in tenant representation, headquarters relocations, and financial/strategic consulting at CBRE. During his career, after all, he's successfully negotiated transactions valued at more than $10 billion. But, Ellerman may have outdone himself in 2016, when he was instrumental in the $353 million sale/leaseback of the J.C. Penney Co. Inc. headquarters in Plano, the 1.1-million-square-foot JPMorgan Chase development at Legacy West, and the 520,000-square-foot purchase of the Apex at Las Colinas building. He also had a hand in The Dallas Morning News' headquarters lease at the old Statler Hilton and Caliber Home Loans' deal at Point West in Irving. Says Ellerman: "They were all large, complicated transactions that took all of our experience, creativity, and skill to complete."
Finalists: Jennifer Pierson, Pierson Retail Advisors; Jeff Staubach, JLL; Chris Taylor, Cushman & Wakefield; Mary Stoner Yost, Colliers International; Jeremy Zidell, The Retail Connection.
Charles Schwab
Best Land Sale
Charles Schwab, one of the nation's largest financial services providers, invested $100 million to develop a regional corporate campus at the junction of State Highway 114 and State Highway 170 in Westlake. Originally intended for 1,200 employees, the 70-acre campus project at Circle T Ranch has since expanded to accommodate up to 5,000 workers with the most modern features, including flexible interior designs and graffiti art walls. The 500,000-square-foot Schwab development will serve as the anchor tenant of a 130-acre, 2-million-square-foot mixed-use project at Circle T that's being developed by Hillwood and The Howard Hughes Corp. Construction on the Schwab campus, which benefited from a $6 million grant from the Texas Enterprise Fund, is scheduled to begin this year and should be completed in 2019. 
Finalists: DCT Miller Road; Stryker Communications
CentrePort Business Park
Best New Industrial Project5
Hillwood is developing Class A industrial properties called Buildings 1-9 at the 1,300-acre CentrePort Business Park, just south of Dallas/Fort Worth International Airport and east of State Highway 360. The industrial facilities total 2.47 million square feet and offer such features as skylights for natural light, 32-feet to 36-feet clear heights, and ample trailer and auto parking. The location in CentrePort—which boasts more than 150 company-tenants, plus apartments, hotels, and retail—includes foreign trade tone and triple freeport tax exemption. CentrePort itself offers tenants immediate access to three major highways, as well as dedicated bus service and Trinity Railway service. Four buildings have been developed by Hillwood so far, and three more were scheduled to be completed in the second and third quarters. 
Finalists: Bed Bath and Beyond; I-20 Commerce Center; Pinnacle Park Portfolio
Costco
Best Retail Deal
This 151,000-square-foot, warehouse-style Costco store on Coit Road just south of Interstate 635 was one of the biggest retail transactions in Dallas last year. The 13-plus-acre site, which had been off the property tax rolls for about two decades, had been owned by the Texas Department of Transportation. Once TXDot decided to sell it off, Seattle-based Costco and brokers with The Retail Connection successfully negotiated a complicated public-private-partnership deal that included a $3 million grant from the city of Dallas. In return, Costco has promised to create 225 jobs at the store paying at least $13 an hour. While the retailer did not publicly disclose a sales estimate for its first Dallas location, the average Costco facility has annual sales in excess of $160 million.   
Finalists: Alamo Drafthouse; Rebees at Victory Park; Sprouts Farmers Market
Project Carlsbad
Best Industrial Lease
This 1.44-million-square-foot warehouse lease was a standout even in Dallas-Fort Worth's white-hot industrial market, where standing out isn't always easy. "Project Carlsbad" was a build-to-suit for toy manufacturer Lego Systems, one of the top clients of developer/logistics firm DHL. Located near Interstate 35W and Loop 820 in Fort Worth, the development was extremely complex, requiring construction of a public road, relocation of a subterranean natural-gas line, and approval for tax-exempt status as a foreign trade zone. To further complicate things, the huge warehouse, which cost a reported $50 million-plus, was built in eight months during one of the heaviest rain seasons experienced in North Texas in years. The project was sold later by DHL, but the toymaker remains in the building on a longterm lease.
Finalists: NFI Industries; The Container Store
Frisco Station
Best New Mixed-Use Project
Set on 242 acres along the Dallas North Tollway near Warren Parkway, wrapping around The Star project, Frisco Station is the biggest mixed-use development under construction along Frisco's so-called "$5 billion mile." A project of Hillwood, Rudman Partnership, and VanTrust Real Estate, Frisco Station is projected to include more than 5 million square feet of office space, up to 2,400 urban living residential homes, and more than 200,000 square feet of retail, entertainment, and food concepts. It also will include a medical and wellness campus and a regional hub for fitness as well as parks and hiking and biking trails and gathering spaces. When built out, it's estimated that more than 15,000 people will have daytime employment at Frisco Station, which is a smoke-free development.   
Finalists: City Lights Phase II; The Union Dallas; Waterside
Ross Perot Jr.
Hillwood
Developer of the Year
Under founder and chairman Ross Perot Jr., perennial development powerhouse Hillwood may have outdone itself in 2016. Chief among its accomplishments was helping snag Charles Schwab's new, $100 million corporate campus for Circle T Ranch in Westlake. In October, Hillwood also broke ground with the Rudman Partnership and VanTrust Real Estate on Frisco Station, a 242-acre mixed-use project in Frisco. In addition, Hillwood logged 3.3 million square feet of new industrial development in DFW and completed a 1.1-million-square-foot warehouse lease at Southfield Park 35 in DeSoto. As if all that weren't enough, the Perot family, partnering with Hillwood Urban, launched development of a 350,000-square-foot office building on Turtle Creek Boulevard, across the street from the newly constructed Perot family offices and Hillwood's global headquarters.
Finalists: Bill Cawley, Cawley Partners; Michael Dardick, Granite Properties
Family Medical Center of Excellence — Las Colinas
Best New Healthcare Project
The first phase of the biggest new healthcare development in Las Colinas in more than a decade—it will total 155,000 square feet when completed—broke ground last year at the corner of Gateway and State Highway 161 in Irving. The 95,000-square-foot first-phase facility is anchored by a lease from Healthcare Associates of Texas, a 26-year-old primary-care group providing patients with a "total continuum" of family medicine and ancillaries under one roof. A 60,000-square-foot second phase will house an ambulatory surgery center plus medical offices. KDC is the project developer, and Rubicon Representation put together the real estate transaction. The development is just minutes away from Dallas/Fort Worth International Airport and within walking distance of the DART Beltline Station, which offers transportation to downtown Dallas.
Amerisource Bergen
Best Office Lease
Pharmaceutical-services giant AmerisourceBergen snagged a 300,000-square-foot built-to-suit office lease at the Billingsley Co.'s Offices of Austin Ranch development in Carrollton, south of State Highway 121. The corporate campus, which will serve as AmerisourceBergen Specialty Group's new regional headquarters, will be the largest built-to-suit office campus in the 1,700-acre masterplanned development. The company said it would relocate 1,200 employees to the project initially, making it one of the largest employers in Carrollton, and eventually house as many as 3,000 there. AmerisourceBergen currently has an office off the Dallas North Tollway in Frisco. JLL represented the company in its deal at the Austin Ranch campus, which is scheduled to open in 2018. Austin Ranch boasts a number of amenities including restaurants, lakes, and trails.
Finalists: Environmental Protection Agency; Sunoco; WeWork Dallas
Ran Holman
Cushman & Wakefield
Commercial Real Estate Executive of the Year
Every top executive knows few challenges are tougher than successfully integrating organizations after a merger. That was the task facing Ran Holman after he took the reins at Cushman & Wakefield in Dallas-Fort Worth. C&W had just been acquired by DTZ, which in turn had recently snapped up Cassidy Turley. In addition to combining the entities' systems, platforms, and operational strategies, Holman was charged with retaining top producers and persuading the new owner to invest in consolidated, state-of-the-art office space at Dallas' McKinney & Olive building. Last year's greatest challenge, Holman says, was "how to foster and define the new culture." C&W rep Randy Cooper says Holman figured it out: "He has created a collaborative culture built on trust and respect, and leads by example."   
Finalists: Doug Chestnut, StreetLights Residential; Steven Lieberman and Alan Shor, The Retail Connection
JPMorgan Chase & Co. Corporate Campus
Best New Office Project
Global financial services giant JPMorgan Chase & Co. decided to consolidate its North Texas operations into a new, regional operations campus in Plano's Legacy West development. The $300 million-plus, 1-million-square-foot project (shown at right) will sit on 50 acres at the corner of State Highway 121 and the Dallas North Tollway, a stone's throw from Liberty Mutual's new regional headquarters and Toyota's new North American headquarters. Construction of the campus began in May of 2016, and employees are expected to start moving in during the second half of 2017. Developed by KDC and designed by HKS, the development will include several mid-rise buildings and parking garages, open areas, water features, training and conference space, a health and wellness center, a food court, back-up childcare, and state-of-the-art technology capabilities.
Finalists: Connection Park; Tollway Center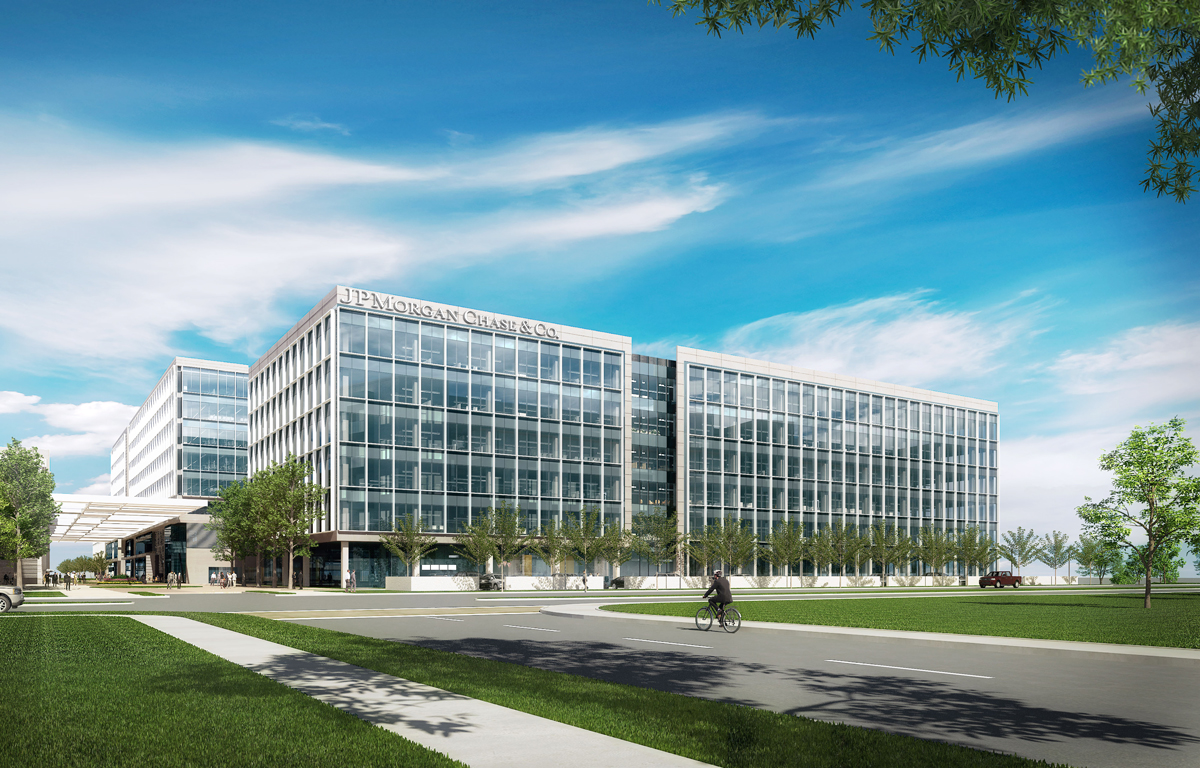 Red Bird
Best Redevelopment or Renovation
Opened in 1975 as Red Bird Mall, Southwest Center Mall at the corner of U.S. Highway 67 and Interstate 20 is the only major mall in Dallas' southern sector. After struggling for years, the mall was acquired by Dallas entrepreneur Peter Brodsky, who subsequently picked up additional parcels associated with Dillard's, Macy's, and J.C. Penney. Working with Corinth Properties, Brodsky unveiled plans to redevelop the 80-plus-acre property into a mixed-use project including retail, restaurants, offices, medical, hotel, and urban residential space. There will also be entrepreneurial space and parks in the redevelopment, which will be known again as Red Bird Mall. The revitalization effort is a key part of Dallas Mayor Mike Rawlings' GrowSouth initiative and will benefit from a tax increment financing district. 
Finalists: The Drever; Lakeside Campus; Butler Bros. Building; Dallas High School
John Crawford
Downtown Dallas Inc.
Pioneer Award
John Crawford, vice chairman of Downtown Dallas Inc., served as president and CEO of the nonprofit group for nine years. During his tenure, crime in the downtown area decreased, investment rose by more than $5 billion, and the CBD residential population increased by nearly 185 percent. He is most proud, Crawford says, of "turning the Titanic in terms of the perception of downtown Dallas, from negative to positive." Prior to joining the organization, Crawford was an executive with four Fortune 500 firms, worked with Henry S. Miller Co., and served on the development teams for two iconic Dallas office projects: Bank of America Plaza and CityPlace. He's also a past chairman of numerous groups including the Greater Dallas Planning Council and the Cotton Bowl Parade.   
Get the D CEO Newsletter
Stay up to speed on DFW's fast-moving business community with weekly news reports, interviews, and insights.