Nathan Sheets was at a crossroads. It was June 2010 and he had just lost his marketing job—one that had been his passion for 12 years. Now, suddenly, he had to come up with a new way to provide for his family. He wondered, could he make a go of the little honey company he owned? The side business was more of a hobby than anything else. His honey was carried by some local grocery stores, but annual sales were only a fraction of the $100,000 he figured he'd need to support his wife and four children. The company had one employee, a beekeeper who bottled the honey and delivered it to the stores. Sheets tracked receivables and payables, but he wasn't putting much effort into anything else. The job loss changed things.
His wife, Patty, encouraged him to aim high and try to sell his honey to Walmart. Having nothing to lose, he went to a store in Plano and talked with an assistant manager. She told him about a local vendor program and Sheets filled out the paperwork. Before long, and much to his surprise, he got a call from one of the retail giant's corporate buyers. She told him Walmart wanted to try the honey in some of its Texas stores. Within weeks, Sheets received his first purchase order—for $107,000 worth of honey.
"What we were hoping for in an entire year, God did in one order," says Sheets, a devout Christian. "It totally changed the direction of things."
Six years of exponential growth later, his Nature Nate's honey company is generating tens of millions in sales. New products and other growth strategies could propel annual revenue into the hundreds of millions. "I keep thinking it's going to slow down," says Sheets. "But in the first half of this year, we did everything we did last year. It's just amazing."
BORN ENTREPRENEUR
Like many self-made businessmen, Sheets, 46, displayed entrepreneurial tendencies at an early age. He and his brother Jeff, who's three years older, had a little mistletoe enterprise when they were kids. Nathan would scamper up trees and cut down the plant, and he and his brother would put the pieces in plastic baggies and sell them around the neighborhood for $2. On one particularly lucrative day they raked in a hundred bucks.
Their dad was an Air Force pilot who had served in Korea and Vietnam. Their mom, winner of a Miss Sherman beauty pageant in the 1950s, looked after the boys and their two sisters. The military family moved every two years or so, from the East Coast to the West Coast and several points between. The one constant for Sheets was summer visits to Texas and fishing trips with his grandfather on Lake Texoma, where he'd pilfer coffee candies hidden in the glove box of the boat and where he developed a passion for fishing that persists to this day.
One time, when the family was living out east, Sheets' mom took him and his siblings to see oceanographer Jacques Cousteau, who had sailed his explorer ship up the Potomac River. Amid the crowd and festivities, she realized her youngest son was missing. "Do you see your brother?!" she asked Jeff, in a panic. He pointed to the stage. "Isn't that Nathan?" Years later, the episode still stands out. "He was standing next to Jacques Cousteau, who had his arm around him while he was doing interviews with the media," Jeff recalls. "It's a great story of who Nathan is. He's a fun guy, always up for an adventure." And just like his honey, he's also raw and unfiltered. "People love him because he's so straightforward and honest."
Jeff, who now runs EchoLight Studios, a faith-based film company in Franklin, Tenn., was one of the first employees at Fossil, the big Richardson-based watch and jewelry maker. He left to start a pen and pencil business with his dad called Calladium Corp., and Nathan joined them to handle marketing and sales. One day, their mom came across a "mood" postcard. Much like mood rings of the 1970s, it changed colors based on the temperature of the person handling it. The brothers thought it would be cool to apply the liquid-crystal technology to the pencils and pens. The family got several patents, and the business took off.
After he and Jeff "came to loggerheads," Nathan says, he took a break from the company and went to college, graduating in 1994. He worked for a Dallas advertising and commercial design firm for a while before his brother asked him to rejoin the fold. Wanting to keep peace in the family by not reporting directly to his brother, he and Jeff decided to create an in-house ad agency that would handle work for Calladium Corp. and other clients. They called it Holmes and Dean (the brothers' middle names), and Nathan ran it.
When Calladium Corp. was sold in 1996, Jeff moved to Tennessee to continue running things under the new ownership. Nathan stayed in Texas and married Patty, whom he had met at Prestonwood Baptist Church. His new wife told him they needed to find a hobby—something they could do together. She was thinking gardening or hunting for antiques. One evening, Nathan was watching late-night TV when a commercial came on touting the wonders of the internet. A woman in a beekeeper's suit said, "You can learn about anything on the World Wide Web." It gave Nathan an idea. The next day, he brought home a beehive and told Patty, "Honey, I found our hobby!"   
THE SECRET LIFE OF BEES
In each colony, there are thousands of worker bees (all female), several hundred drones (all male), and a single queen bee. The workers build the honeycomb and keep it clean and protected, hunt and gather food, and take care of larva. The drones don't do much. They have a single purpose: to mate with the queen. The act takes place mid-air, with the queen doing the deed with a dozen or so drones in a single flight. It's sexual suicide for the drones, as the explosive force of it all causes them to fall to their deaths.
Worker bees that find food when they're out and about return to the hive and do a little dance to communicate the location of the food source to the others. They drink nectar from flowers, using some for energy and the rest to process honey. Come winter, the females force any remaining drones to leave the hive; no need to have those laze-abouts eating away at the food supply. The queen lays as many as 1,500 eggs a day, and by spring, the whole process begins again.
Sheets was fascinated by the complexity of it all. Seeking to learn as much as he could about bees, he began spending time with Fred Richardson, a retired contractor who sold him the beehive. Richardson, who launched North Dallas Honey Co. in 1972, had about 100 beehives in Dallas and Plano. When Richardson's health began to fail, Sheets began making 4 a.m. runs to the grocery stores to get the honey on the shelves. Soon, he was bottling the honey, too. "After about a year, my wife asked me why I was doing it," Sheets says. He told her: "I don't know. I'm just helping the guy."
One day, over lunch at Furr's Cafeteria, Richardson asked Sheets to buy the company; his kids weren't interested, he said, and he had taken a shine to Sheets. He even offered to finance the acquisition. Others counseled Sheets against it, but he bought the business in September 1997. "I had no vision and no intentionality other than the kinship I felt with him and the stewardship I felt for this 25-year-old honey company," Sheets says. Six months later, Richardson died.
Mating with the queen is sexual suicide for the drones, as the explosive force of it all causes them to fall to their deaths.
Sheets continued to run Holmes and Dean while he and his wife bottled and filled orders for the honey. The early mornings and late nights "were a butt-kicking," he says, but he felt compelled to keep things going. After a mission trip to Venezuela, Sheets also took on pro bono work for the group that sponsored it. The leaders of the organization, now known as E3 Partners, asked him to join the staff. There was a caveat: everyone at E3 has to raise his or her own salary. "I told them I'd pray about it, with zero intention, really, of joining," Sheets says. "I had this little ad agency and this little honey company. But my wife and I began praying about it and on Dec. 31, 1997, I laid off the few people I had at Holmes and Dean and started raising money to join the mission agency." By March 1998, he was on board full-time.
After returning from a mission trip to Haiti, he and a colleague, Jim Wyatt, were looking at photos of an E3 evangelist using large poster boards to tell Haitians the story of Jesus. Sheets was fiddling with a Rubic's cube at the time and said, "Wouldn't it be cool if we could take the pictures on the poster boards and put them on this cube?" The next morning, Wyatt, a former engineer with Texas Instruments, showed Sheets a cube he had worked on the night before. It was covered in Post-it notes. The two men took their concept and showed it to Curtis Hail, CEO of E3 Partners. He looked at them and said, "That's it!"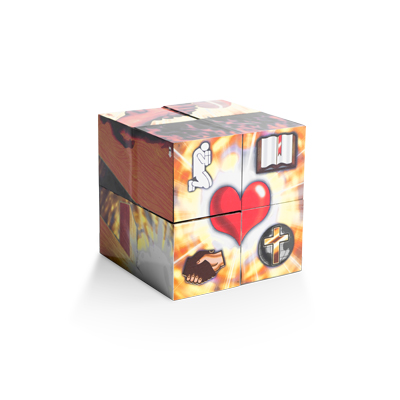 "EvangeCube" made its debut in 1999, with a campaign that touted its ability to "unfold the answers to life's greatest puzzle." (More than 6 million cubes have since been produced.) Sheets worked on brand strategies for the cube and went on mission trips all over the globe, visiting about 80 countries. He also launched an in-house agency to help fund ministry work. He set up a meeting with longtime E3 supporter Norm Miller, chairman of Interstate Batteries, to try to win the company's advertising business. A few weeks later, Miller gave Sheets a call. He spoke about how he had funded mission work all over the globe, but never "went for broke" in his own community. "If I were to do that, what would I do?" Miller asked. Sheets said he'd do an advertising campaign, probably one that used a celebrity. Miller said, "Nathan, we need to make Jesus as famous as Tony Romo."
The campaign Sheets came up with—executed in partnership with E3's Adam Leydig and supported by a multimillion-dollar gift from Miller—featured billboards of various celebrities sitting in the dark, with a spotlight shining them and the words, "IAmSecond.com." Visitors to the site could watch the celebrity's video testimonial and get connected to a local church. Author Anne Rice, Dallas Cowboys player Jason Witten, and actor Stephen Baldwin were among the early participants in the campaign. It launched in December 2008 with 30 billboards. Within weeks, the site had attracted visitors from around the world. "Soon, everyone was doing their own expressions of it, with YouTube videos," Sheets says. "We didn't try to control it or copyright it, we just wanted to fan the flames."
Along with having its desired effect, the campaign's phenomenal success brought E3—and Sheets—a lot of attention. He started to "believe his own press" and pride began taking over, he says, which caused him to lose his job. He declined to provide more specifics.
A NEW CHAPTER
Miller of Interstate Batteries remains one of Sheets' strongest supporters. "Nathan is genuine and sincere, and he approaches his honey business in the same way. He is smart and always upbeat, and he doesn't put on any fronts."
Those traits helped Sheets win new customers. A year after securing the contract from Walmart, Costco agreed to do a temporary test in its nine Dallas-Fort Worth stores. The honey beat Costco's own signature brand, and was expanded throughout state.
With an eye on getting into markets beyond Texas, Sheets decided to rebrand North Dallas Honey Co. He knew from his fundraising experience that people like to give to people, not causes. He figured the same principle would apply in business, too. Sheets' wife suggested that he use his nickname from college, "Nature Nate." (He was an ardent outdoorsman and initially wanted to be a wildlife biologist.)  He designed a new four-color label and met with a buyer from Tom Thumb to get his reaction. "He reached over and put his hand on my shoulder and said, 'Son, you can do anything you want except change the color of that label." The honey had sported a construction-cone orange label for decades. "It was the best advice I ever got," Sheets  says. "It has become our signature."
The name change happened in 2012. It was right around then that Nature Nate's began benefiting from three trends. First, consumers were becoming more health-conscious and interested in "clean," locally sourced foods. Second, honey began getting a lot of positive press for its health benefits, which range, supporters say, from preventing cancer and heart disease to reducing or eliminating allergy symptoms. At the same time, media stories began breaking about a mass die-off of bees. (Historically, beekeepers expected to lose about 15 percent of their bees each year. All of a sudden, they were losing between 40 and 50 percent. The reason? Researchers blame the blood-sucking varroa mite, pesticides, and poor nutrition, as fields of meadows get replaced by crops and manicured lawns.) It all created a growing demand for honey, and demand has just continued to grow.
Nature Nate's got into hot water with the Federal Drug Administration in 2013, following a 2012 audit. The company was told to stop making various health claims, which the FDA said characterized its honey as a drug. It made the changes required, but neglected to do so on its Spanish-language website, and was censured.
Sheets says his company doesn't make honey—bees make honey. He just bottles it up and keeps it raw and unfiltered. Most other distributors filter out all of the pollens and heat the honey to the point where enzymes are killed. Nature Nate's does rigorous testing, relying on researchers from Texas A&M University to check for source location, pollen count, corn syrup or rice syrup adulteration, pesticides, herbicides, and antibiotics in every barrel it buys.
Sheets says he doesn't make honey—bees make honey. He just keeps it raw and unfiltered. Most other distributors filter out all of the pollens and kill the enzymes.
After having luck with Walmart and Costco, Sheets got a meeting with a national buyer from Kroger, Jeff Stirk. Impressed, he took Nature Nate's from 88 to 1,000 stores. Sheets' enthusiasm was infectious, Stirk says. "He was very knowledgeable and had a unique product—like something you'd find at a farmer's market," he says. "It screamed healthy, natural, and local."
Stirk also tried a few other brands, but Nature Nate's took off. Sheets began to work with beekeepers across the country, so he could provide locally sourced products on a national basis. "We kept expanding it, and it kept doing well," Stirk says. "There are very few products out there that have success with grassroots marketing that Nathan has been able to achieve."
Even as the price of the honey climbed, Nature Nate's continued to rack up sales. "It was on fire," Stirk says, growing 25 to 30 percent annually. It continues to see double-digit growth and has become one of the top brands in its category. Says Stirk: "Based on how he treats people, you want to help him, and you hope he succeeds." 
ON A MISSION
Today, Nature Nate's honey is sold nationally in Sam's Club and Walmart, in five divisions of Costco, and thousands of Kroger, Target, Tom Thumb, Safeway, and other stores. Beyond the gains in pure number, it's also doing increased volume at those stores. Even more exciting, Sheets says, are new Nature Nate's products that are in development.
Like a number of his successful strategies, the idea for one originated with his wife, who noticed that Sheets would always put honey and strawberry jam on his pancakes. Patty told him he should make a honey syrup. He ran to the grocery store and spent the next week in the kitchen, making a fruit compote to blend with the honey. The newly perfected strawberry, blueberry, and raspberry honey syrups are now being sold in Sprouts and other stores.
One of its more promising new products is a line of single-serve packets, which Walmart has picked up nationally and are used by Babe's Chicken and Bubba's Cooks Country restaurants. Nature Nate's honey is also used in Revolver's popular Blood & Honey beer and in four new signature cocktails at P.F. Chang's.
Sheets won't go on the record about the many other honey-based products in the works, or about a deal that could put his honey in a national restaurant chain.
He expects to produce 20 million pounds of honey this year. He recently expanded his operations in far north McKinney, a packaging facility he bought from his buddy Jeff Blackard (see sidebar on page 37). He also acquired Florida's Tropical Blossom Honey and built a large new plant in Valdosta, Georgia.
In June, Sheets opened a retail store in Florida. Exports are growing as well, with the honey now being sold in Canada and Japan. Looking ahead, Nature Nate's stands to benefit from a growing disdain for high-fructose corn syrup, with honey emerging as a viable replacement for products that use the cheap, highly processed sweetener as a base.
The company's rapid growth and promise of future success has attracted all kinds of private equity "vultures," Sheets says—like bees to a honeycomb. But he has zero interest in selling. Zero. That's because he's not in it for the profits, he says. "Do I want to make money? Absolutely! I want to make as much as we can, live on as little as we can, give away as much as we can, and be able to make a difference in other people's lives," he says.
Along with significant gifts, Sheets has helped out hundreds of people in smaller ways, from covering the cost of dental work to buying air-conditioning units. He also created Bonton Honey Co. and trained seven beekeepers from Bonton, an impoverished South Dallas neighborhood. His goal is to give back in a very personal way.
Sheets' mentor, Miller of Interstate Batteries, once told him: "I could have sold Interstate Batteries, but I recognize my greatest opportunity to be influential for God is by being chairman of this company. I am able to go out and speak to people because of my position." That lesson has stuck with Sheets. "I can't bifurcate my family life and business life and spiritual life," he says.
Sheets recently pulled out a five-year business plan he created when he decided to make a go of the honey company. By 2015, he hoped the venture would generate $1.4 million in annual revenue. "We did that the first few days of last month," he says, shaking his head. Divine intervention, he's convinced, has been the driver. "Money is not the scoreboard," he says. "Faith, family, and fun—that's what it's all about. Lord willing, we will keep being successful."
Get the D CEO Newsletter
Stay up to speed on DFW's fast-moving business community with weekly news reports, interviews, and insights.