How Greyhound Is Attracting Millennial Customers
The 102-year-old company is undergoing a multiyear transformation, from nonstop service to Wi-Fi.
Greyhound Lines Inc. may be an old dog at 102 years old, but the iconic bus line is moving swiftly to bash old-time misperceptions, including that it's slow and stops in every small town.
From Greyhound Express, its nonstop service, to Wi-Fi and leather seats, the company is undergoing a multiyear transformation. It recently launched a new ad campaign to attract millennial riders as part of a disciplined plan to change the way America sees and experiences the historic brand.
"What we are finding is there are still misperceptions of the brand from the past, and we are trying to address that more directly," says Andy Kaplinsky, chief commercial officer.
Profits on the Rise, Buses Get Upgrades
Greyhound expects to see some margin improvement in fiscal 2017, which ends March 31. If that happens, it will put the brakes on three years of declining profit. Last year, the company earned $54 million in operating profit on revenue of $914 million. It attributes the anticipated rise in profit to its ongoing transformation. Some of its most vigorous growth is coming from Texas, where revenue on routes in Dallas, Houston, Austin, and San Antonio are forecasted to rise significantly in fiscal 2017, compared to a year ago.
Greyhound restructured its routes in 2004 and 2005 to focus more on big cities and less on rural communities. In 2010, it launched Greyhound Express—direct service between major cities. Comfort level and amenities also have gotten a remake. About seven years ago, the company removed a row of seats, switched to leather seating, added electrical plugs, free Wi-Fi, and online ticket puchasing. Greyhound also began upgrading its fleet in 2007, first with new buses and then refurbished ones after the Great Recession hit. This year, it's preparing to buy new buses once again, says Dave Leach, president and CEO.
The affable Leach is navigating Greyhound's transformation. He is a rare breed of CEO who can rightly claim to know the business from the ground up. More than 20 years ago, while in college, Leach worked as a part-time baggage handler for Greyhound Canada. He has also been a Greyhound ticket agent, customer service supervisor, dispatcher, terminal manager, district manager, vice president of passenger service, president of Greyhound Canada, and chief operating officer of Greyhound. He became CEO in 2007.
It's that history that makes Leach encourage employees at all levels to effect change. "You can load a bus differently. You can stack luggage differently. You can greet a customer differently," he says. "It's those very basic actions and activities that are the culture. You have a caring culture or you don't."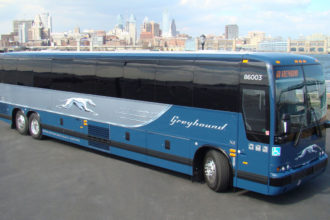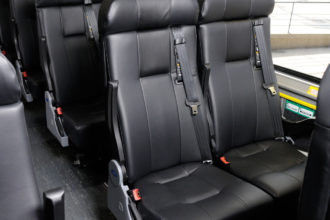 Several years ago, before Greyhound began making changes, Leach and other C-suite executives went on a cross-country roadshow to meet with all employees. It took over a year, and it was the beginning of the bus line's ongoing transformation.
"We had to sell a vision of the future that people could believe in," Leach says. "Then you have to deliver pieces [of the vision] that are tangible." Once the executives thoroughly explained the revamp, employees felt empowered to engage with them over the company's vision, Leach says.
Kaplinsky, who has been with Greyhound 12 years, says there was some early resistance.
"There was a lot of skepticism toward what we were trying to do," he says. "We took some chances; we made some changes, and we have some proof points now. There's this palpable excitement that Greyhound can be that old iconic brand but can be a new modern company."
The company is wrapping up a $40 million, 18-month IT upgrade that will allow it to be more nimble with technology improvements going forward.
A New Era of Competition
Greyhound has competed for about 10 years with New Jersey-based Megabus, known for its cheap fares, and, in the last two years, to a lesser extent, with Vonlane, a luxury bus line that serves major Texas cities.
"We have been working hard over the past several years to put out prices that are very attractive to our market and very competitive to Megabus," says Kaplinsky. "Our new pricing engine … will give us even more power to price as we need to."
The executives don't consider Vonlane, which markets to business travelers, a major competitor as there's currently little crossover in clientele, they say. Still, Greyhound is watching things closely. "If [Vonlane is] successful, we are rapid adopters," says Leach. "If we feel like there is a play for us, we will play."
But first Greyhound will launch a board of millennial employees to do some reverse mentoring to the C-suite, an idea it got from another iconic brand: Coca-Cola. Greyhound hopes to attract more millennial riders, including urban dwellers who have given up their cars.
"We are introducing new riders and we are building loyal riders in the marketplace, and that is very exciting for us," Leach says. "We are stewards of an iconic brand. We want Greyhound to survive 100 more years and 100 after that."