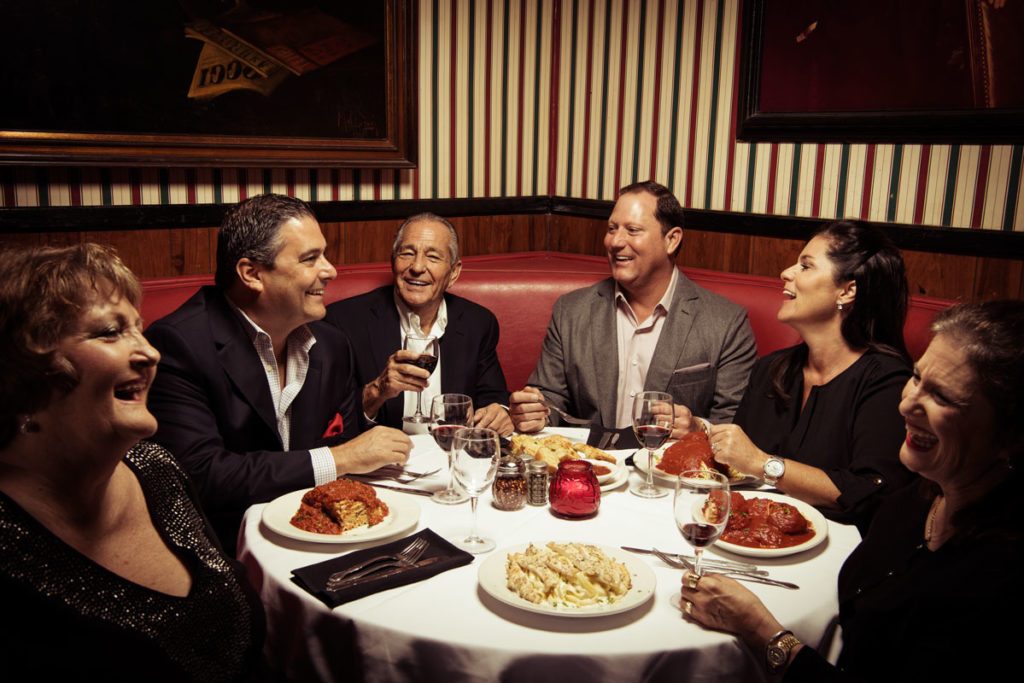 How David Campisi Keeps Growing the Family Business
Expanding the iconic Dallas restaurant company truly is a family affair for the Campisi's CEO.
David Campisi treats diners who walk through the doors of his restaurants as though they're guests in his own home. And in a way, they are. If walls could talk, those in the original Campisi's Egyptian Restaurant in Dallas would tell nearly 70 years of stories about four generations of Campisis, the famous guests who dined there, and the family's Sicilian recipes that remain unchanged. The iconic, dimly lit eatery on Mockingbird Lane is the spot where "Little David," as his family calls him, earned his first dollar. It's where he knocked back beers with his cousins after a long night's shift. And it's where he learned how to make the restaurant's signature rectangular pizzas that were first crafted by his grandparents back in the 1940s.
Since taking the company's helm 23 years ago, Campisi, 48, has found a way to replicate the feel of the Dallas institution in nine additional locations in North Texas, plus one in Lubbock, which began serving customers in September. He also set up licensing partnerships to create limited-menu versions of the restaurant at Southern Methodist University and Love Field Airport.
This could be a dicey time for expansion, though. Earlier this year, industry analysts and trade publications forecast a restaurant recession, based on a decrease in same-store sales. On top of that, recreating the homey atmosphere of the original Egyptian Lounge—it's called that because the Campisis took over an existing piano bar with the Egyptian name 65 years ago—could prove to be challenging. "It's got a heart and a soul in it," says Justin B. Craig, co-director of the Center for Family Enterprises at the Kellogg School of Management in Illinois, about the first location of most family-owned businesses. "It's hard to create that culture in multiple venues."
Campisi, who calls himself the "chief pizza officer," declined to disclose the company's annual revenue, saying only that the chain now has more than 400 employees. Although the Egyptian is still Campisi's cash cow, its nine other North Texas locations all are profitable, he adds. It's too soon to tell whether the Lubbock restaurant will be as well, but during its opening week it set a revenue record for Campisi's best seven-day period. Campisi will be heavily focused on the Lubbock store in the near future, but he's also cooking up his next steps. "Our company is in a position where I can see us opening up another 10 full-service restaurants, easy," he says. Likely additions involve North Texas, potentially Oklahoma, and maybe even Mexico. "I'd like to double" our footprint, he says.
GROWING UP CAMPISI
As a youngster, David Campisi lived in a three-bedroom home he shared with his grandparents, mother, sister, and a housekeeper. Back then, he and his younger sister, Elizabeth (or "Sissy") would fight and cry over who got to take a ride in the car to "the joint," the family's nickname for the restaurant. Even as a 5-year-old, he knew he wasn't just a kid filling water glasses and buttering garlic toast in the kitchen. He was a leader.
"I was a boss since I was born," Campisi says, adding that all the children helped out at one time or another. "I was the 'capo del capo'" (Italian for the boss's boss).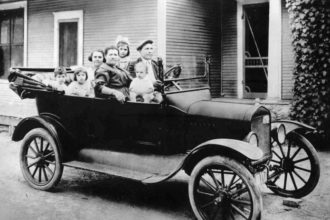 Along with unwavering confidence, Campisi displays a gift for connecting with anyone who walks through the restaurant's door. "What school is that from?" he asks, pointing to a crest on the blazer of a high school student waiting in line. "I went to Bishop Lynch." His ability to chat up people of any age is something he learned from his grandfather, the late Joseph Campisi. Joe, along with his brother Sam, served as the second generation of leadership. David was the living shadow of his grandfather, following him into the kitchen, the bank, and even to Glen Lakes Country Club, where the elder restaurateur would gamble and engage in colorful conversations with his cronies.
If "Little David" didn't learn by example, gramps was sure to offer a swift and stern lesson. Once, when David was 5 years old, PGA golfer Lee Trevino was dining at Campisi's. His grandfather told him to introduce himself to their famed guest, but "Little David" shied away. "He yelled at me," Campisi says, remembering his grandfather's public display of disappointment. "I was embarrassed. From that point on, I was never afraid to stick my hand out."
Handshakes and hellos were sticking points for Joe Campisi, and much of the restaurant's success is often credited to the culture of hospitality he built. No matter whether the Campisis were speaking to a janitor, a cook, or baseball slugger Joe DiMaggio—the famed New York Yankee often visited the locale—they were to treat each person with an equal amount of respect.
Another hard line for grandpa Campisi was quality control. David remembers his grandfather overseeing the cooks who made the pizza. "In the kitchen, there were no shortcuts," he says. "If there was too much cheese, we threw the pizza away."
Indeed, every person associated with the business was expected to meet Joe Campisi's standards. "I used to ride on the truck that used to go the Egyptian when I was 14," says Carl LaBarba Sr., vice president of FreshPoint, a Campisi's vendor since the restaurant first opened. "Before you ever unloaded the produce, he looked at everything. He was very meticulous … and if it wasn't good, it didn't go in."
Grandpa Joe was tough. Friendly, family members say, but tough. David and his mother, Marie Antoinette, inherited that toughness, says Jimmy Evans, the Egyptian's current general manager. "Bottom line is, they own the place. They say what they want, and it should be done."
In 1990, 20 years after his brother Sam's death, Joe Campisi died at age 72. But the standards he instilled live on today, David says—and they're the foundation of the expansion model.
They're also part of the reason customers keep coming back. Retired Appellate Court Judge Ron Chapman has been dining at Campisi's for more than 60 years. "It's the consistency and quality," he says. "It's very rare you get something you didn't ask for."
Beyond a hefty plate of hot Italian—and American—favorites, longtime guests knew they could count on the Egyptian to see a familiar face. Chances are they knew Joe and Sam; grandpa Joe's kids Carlo ("Corky"), Marie Antoinette, Jo Ann, and Regina—they shared leadership responsibilities once the elder Campisis passed—or the current pizza chief, "Little David." And if none of the family members were to be found, diners would likely run into one of the company's longtime employees like Evans, who has worked at the eatery for more than 35 years.
"It's a love-hate relationship," Evans says about working with what feels like his own family. "You hate someone for five minutes, then you love them for the next month. Everyone probably knows too much about each other."
JOURNEY TO DALLAS
Campisi's dates back to 1946, when "Papa Carlo," Sam and Joe's father, served pizzas at a bar he owned off Knox Street and McKinney Avenue called Idle Hour. The recipes for those pizzas followed him to The Egyptian Lounge, which he bought in 1950, leaving most of its original décor intact. The elder Campisi, who had already successfully run his own grocery store, was looking for a legacy opportunity.
"It's a pure gamble and kind of crazy. But to expand like I did, you have to be kind of nuts."

David Campisi
"My grandfather Carlo bought The Egyptian Lounge with the intention to get Sam and Joe started in business after the war," says Rita Cicconi, David Campisi's aunt. "Joe and Sam were the ones that worked [Campisi's] and made it what it was."
Back then, pizza was popular in New York, but had yet to really catch on in Dallas. The savory pies were developed with help from the whole family, who jumped in to create the signature recipe. Most of the restaurant's other Italian recipes were brought over from Sicily, from which Papa Carlo and his wife, Antonina Cammarata, emigrated in 1907.
The couple, who spoke very little English, came to the United States by boat, first arriving in New Orleans to be with Cammarata's brother, Jasper. "It had to be like going from one extreme to another," Cicconi says. "From picking fresh tomatoes to the swamps of New Orleans."
They moved to Thibodaux, Louisiana, where Papa worked in sawmills, and had their first child, Annie, in 1908. They then moved to Lufkin, Texas, where they had Rosalie in 1914 and Catherine in 1916. After moving to Dallas that year, they welcomed Joseph (in 1917), Sam (1920), and Frances (1928).
In the early days of Campisi's, Dallas was a much different town, especially for Italian immigrants. "Dallas in '46 was a very tight community, period," LaBarbra says. "If you were Italian, you definitely knew each other."
Many of the Italian immigrants worked in the food industry. Because several families passed their businesses down to their children, Campisi's restaurants still works with some of its original partners, like FreshPoint—which was founded in 1917 as American Produce and Vegetable—and the company's seafood supplier, which it's had for about 50 years.
"Our vendors we use today are some of the same from 70 years ago," says Campisi's President Kenny Penn Jr., David's cousin, who's known as "Bubsy" among the family. "We're still loyal to each other, with our grandfathers having done business together."
EGYPTIAN FAME
The Egyptian was one of the few independently run restaurants in Dallas during its early years, the Campisis say. Therefore, it wasn't uncommon to see local celebrities or those passing through Dallas sitting at one of the tables.
"Evel Knievel, Burt Reynolds … a bunch of movie stars, football players, sports stars," says Corky Campisi, who goes on to list other esteemed guests they've had over the years, including Ella Fitzgerald and Sonny and Cher. "Morgan Fairchild used to come here all the time. She's a Dallas girl, you know." Former Dallas Cowboy Randy White was such a fan they named a dish after him—a toasted ravioli with provolone cheese baked on top.
"The Cowboys used to come in the '70s after the ball game," said John Boyle, 81, who's been eating at Campisi's for about 50 years. "Tony Dorsett stood in front of me in the bathroom line once."
It helped that the restaurant was one of the first in the state to get a liquor license after the sale of liquor by the drink became legal in 1971. A mural at the Egyptian pays homage to the day the restaurant first began selling drinks.
One of the most interesting regulars that diners often ask about is Jack Ruby, the Dallas nightclub owner who, in 1963, fatally shot Lee Harvey Oswald two days after President John F. Kennedy was assassinated. Ruby, a business friend of Joe Campisi, had been upset that Jackie Kennedy was widowed, and believed he should do something about it, Corky Campisi told D Magazine in 2000. He ate at the restaurant the night before he killed Oswald, drawing interest from the House Select Committee on Assassinations, which questioned Joe Campisi about Ruby in 1978.
Joe was also questioned about his rumored ties to the Italian mob. Some suggested that the dark, candlelit restaurant—where all business was cash-only until 1996—was a place where bookies took bets and those involved in organized crime liked to gather. "They had uncle Joe wiretapped," says Cicconi, who has read Joe Campisi's public depositions. "They were watching the cars that came in. But they never could pin anything on him, because he didn't do anything."
Joe Campisi socialized with Dallas mobster Joe Civello, Carlos Marcello (known as the mob boss of New Orleans), and his brothers Vincent and Joe Marcello, according to the depositions. David Campisi attended the weddings of the children of Joe and Vincent Marcello. But none of the Campisis' involvement with the family had anything to do with crime or the mob, he says.
"It's all a bunch a bullshit, to be honest," he says about the rumors. But in some ways, he adds, the mob rumors help: "Mysteries just add to that nostalgia and iconic nature of our brand."
GROWING THE BUSINESS
If a couple of mobster tales help bring in a few extra dollars, Campisi welcomes it. Up to this point, the family has never allocated any resources to advertising, he says over his morning Americano. Their success has been driven solely by word of mouth, the charity donations they make, and catering, which has accounted for a big part of the company's revenue since it started in 1992.
But Campisi may start investing in advertising soon, as he experiments with opening new stores in places that are unfamiliar with his family's brand. Fort Worth was the company's first mini-test, although residents were somewhat familiar with Campisi's before it opened its Camp Bowie location.
Lubbock serves as the real test of traction. "It's kind of the test-tube baby, to see where our next venture will take us," says Penn, who traveled with Campisi for the opening. "It will be a challenge, a different ball game, but we think we have a plan."
"I always feel like I'm one bad day away from being broke," Campisi says, adding that the Lubbock store has required the largest investment yet. "It's a pure gamble and kind of crazy. But to expand like I did, you have to be kind of nuts."
Campisi chose Lubbock because he already had connections there, having earned his B.S. degree in hotel and restaurant management from Texas Tech. He's also in discussions with the school to set up an internship program. The market gave him the "fuzzy feeling" he looks for when he wants to expand, he says.
Campisi says he takes the expansion process personally, aiming to make each location as close to the original as possible. He uses the same menu, creates a tight culture with the staff, and even adorns the walls with iconic family photos. (Each location displays a photo of Campisi's late mother, who still watches over him, he says.) For the Lubbock opening, he spent six weeks in the city, attending employee training sessions, getting to know the staff, and making sure all systems were "go." "This is blood, sweat, and tears," he says. "Every time I open up a restaurant, I do the same thing I've done since 1974—wear every hat in the place. I'm still chopping lettuce, buttering toast, and shaking hands."
The polished owner, who wears crisp, pressed shirts paired with blazers and blue jeans or slacks, gets regular manicures, so his hands are always presentable when he serves food to guests. Campisi aims to pay attention to every detail, just like his grandfather did. The same thing goes for the opening in Lubbock.
"Napkins?" he asks Penn and cousin Scott Frey, vice president of operations, looking up over his reading glasses as he pores over Lubbock documents at Campisi's Elm Street location. "Check!" one of them yells out.
"Toilet paper?" "Check!"
Because he is a husband and father of two young children, David's six weeks in Lubbock were a bit of a sacrifice. But his wife, Niki, says seeing her husband do what he loves is worth it. And she knows her children—Melanie Marie (whose middle name pays homage to David's mother) and Joseph (named after David's grandfather)—are learning their father's values. "He is so passionate about feeding people and getting to know people," Niki says, adding that, as a Catholic, David always counts his blessings. "He just wants to leave things better than he found them."
Indeed, Campisi helps feed the poor at area soup kitchens and supports local churches, including St. Monica, St. Thomas Aquinas, and the Discalced Carmelite Monastery in Dallas. He volunteers for the Alcuin School, St. Jude's, and serves on the board of the Nancy Lieberman Foundation.
Campisi's is  an exception to the national norm of family-owned businesses. On average, 70 percent of family businesses fail when transitioned to the second generation, according to a 2011 study by the Family Firm Institute. Only 13 percent survive through the third generation, and just 3 percent get through the fourth.
"As you grow the challenges are different," Kellogg's Justin Craig says. "If you've got 11 sites, then they're all going to have to be the same … but it's difficult to replicate that model. So you need nonfamily members that also feel part of the family so that your culture is what differentiates you."
Yet here stands David, the fourth-generation survivor and expansion man. "He's got the drive in his blood–it's in him now," says Corky Campisi. He'll be successful "as long as he's got that drive and initiative."
With the support of more than 10 relatives involved in the business, several longtime employees, and countless regular customers, the restaurateur says he has all the energy he needs to keep serving up the secret sauce. "I'm not ever retiring," he says. "I'm going to do this until you put me in the grave."