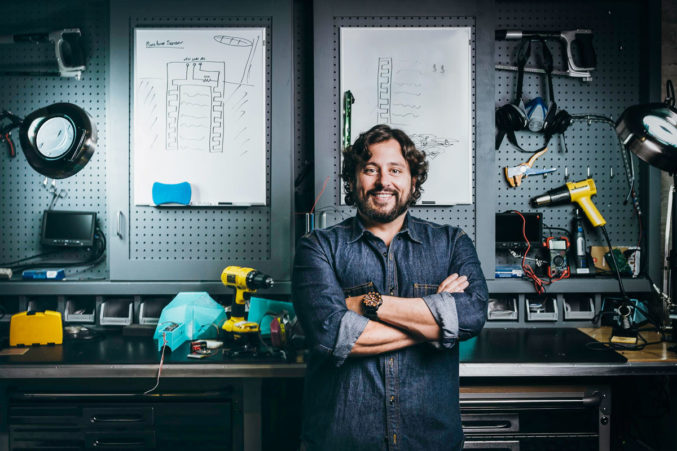 How Ben Lamm is Shaking Up Big Business
The serial entrepreneur hopes to disrupt the way major corporations interact with their customers.
When Ben Lamm was a junior at Baylor University, he walked into the office of one of his professors and, without hesitation, told him the two were going to be business partners. It was a bold move for a student who hadn't had much conversation with the veteran professor. "He came in, slapped his briefcase on my desk, sat down in the chair next to me and propped his legs on my desk and said, 'I'm your new partner,'" recalls the professor, Jim Moshinskie, a mentor who did indeed become an employee at Lamm's first company. "I didn't even know his name."
Lamm's blunt approach has served him well in business, too. During the past decade or so, Lamm, 34, has sold three of his businesses—two to public companies. He's now knee-deep in landing major corporate clients for his fourth startup, Dallas-based Conversable.
"I'm always thinking and doing something," says Lamm, who focuses on vision and strategy and hires specialized employees for execution. "For me it's really about winning."
And that's exactly what he's been doing. Lamm sold his first company, Simply Interactive, an e-learning software business he started in college, to Agile Interactive of Ohio in 2010. He then sold his Austin-based creative studio Chaotic Moon, which employed 200 people, to global profession services company Accenture. His most recent exit was in May, when his Austin game development company Team Chaos captured the interest of San Francisco-based Zynga. Financial terms of the deals were not released.
Earlier this year, Lamm moved to Dallas and founded Conversable with former Chaotic Moon and Team Chaos leader Andrew Busey. The startup provides brands with automated software that can help users process orders, get product information, and find stores via social media channels like Twitter and Facebook.
Some observers think "chatbots"—the term the tech industry uses for such software—are just a fad. Others, like Lamm, believe they will change the way business is done. So, after a decade in Austin, he decided to head to North Texas, the land of the Fortune 500s.
"There are more companies and more opportunities—especially in enterprise—in Dallas than any city in America," Lamm says, adding that travel and acquiring talent is also easier in Dallas.
Already, the move has paid off. Conversable has inked deals with corporate clients like Wingstop, Pizza Hut, TGI Fridays, and Whole Foods, and partnerships with EY, consulting firms Booze Allen Hamilton and Credera, tech services company Mindtree, and Olo, a software company based in New York. The revenue-positive Conversable currently has 20 employees.
Lamm still travels back and forth between Dallas and Austin, leveraging business ties in both cities. He'll need all the support he can get to win over even a piece of the emerging chatbot market, which includes heavy hitters like Google, Facebook, Amazon, and Microsoft.
But Moshinskie says Lamm will do just fine. "Ben has never worried about competition," the professor says, adding that his former student does a lot of research to stay on top of his field. "If you're good at what you're doing, the world will beat a path to your door."