From D CEO May 2016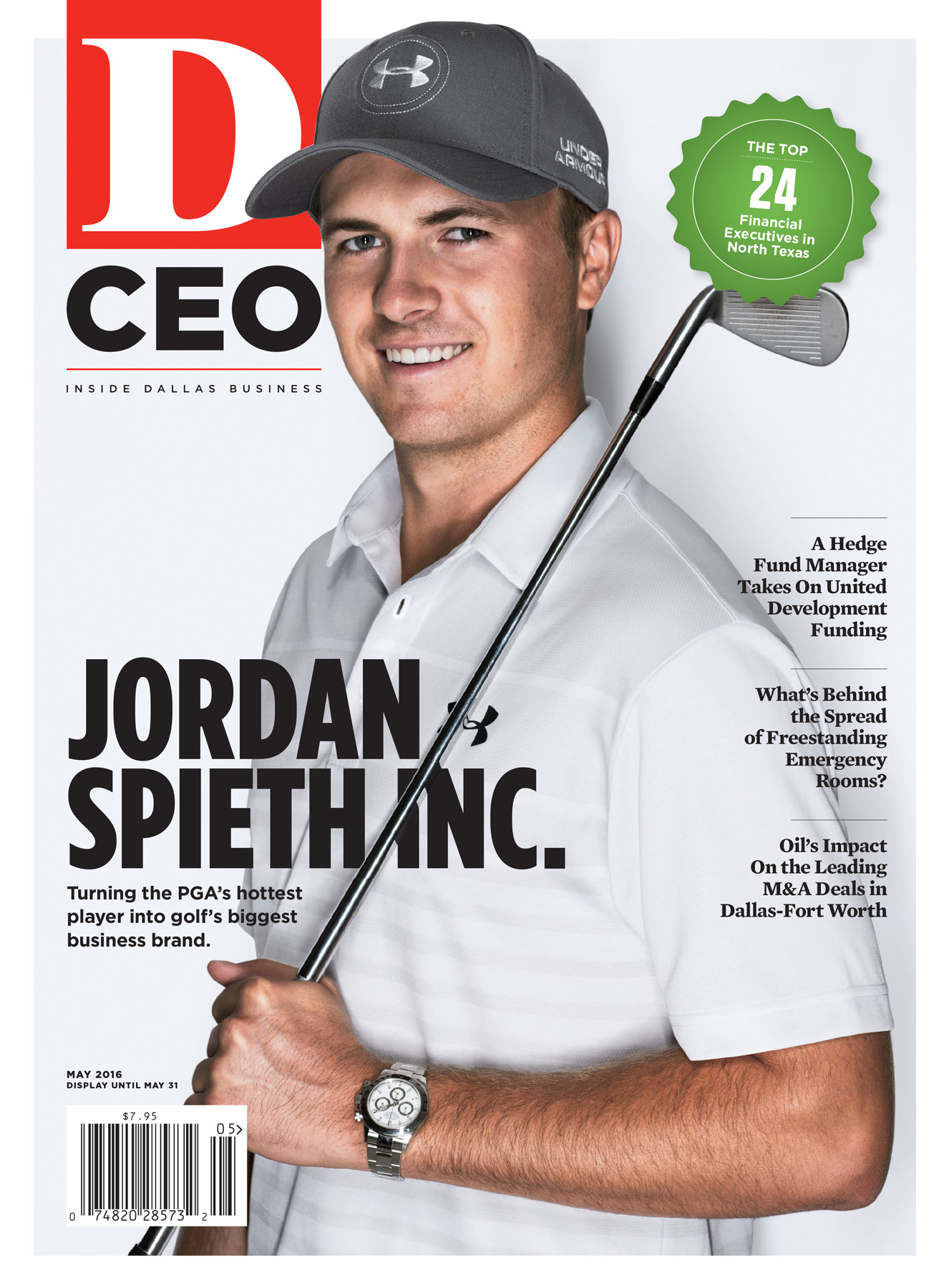 Subscribe
The sales pitch took place in a nearly empty ballroom at Fort Worth's Colonial Country Club one sunny afternoon in July 2013. Jordan Spieth, a local PGA Tour rookie, had just finished participating in an RBC Wealth Management "Shot for College" clinic as a last-minute replacement for Hunter Mahan, another PGA golfer from Dallas. 
Attending the clinic was a select group of RBC clients who'd come hoping to see Mahan, a multiple World Golf Championship winner and Ryder Cup veteran. As he prepared to leave, Spieth's eager sports-business agent, Jay Danzi, approached an RBC representative and rattled off his 30-second sales pitch. "Here's my card," Danzi concluded. "Let me know if Jordan can do anything for you or your clients. He would be happy to help."
What a difference three years makes. After Spieth notched Masters and U.S. Open victories in 2015 and earned an Official World Golf No. 1 ranking, seemingly all of corporate America began approaching the golfer through Danzi for a quick business pitch of their own, hoping the Dallas native will represent their products to consumers worldwide.
Spieth, who's now 22, fetched his own well-worn car that July day at Colonial. But these days, he promotes an $8,000 Rolex watch, tweets out photos of traveling on corporate jets, and got into a friendly Twitter war with fellow golfing whiz Rory McIlroy over who sports the biggest private aircraft at PGA Tour events.
Super Bowls, NBA playoffs, presenting at nationally televised country music award shows, and rounds of golf with corporate titans at the most exclusive country clubs have all become part of his off-course routine. Says Spieth: "Whether it's Justin Timberlake, Dirk Nowitzki, or Tony Romo, the opportunity to meet, connect with and compare stories with stars, athletes, and/or business executives is something I never thought I would have the chance to do only a few years ago."
Recently, the young phenom ended the 13-year reign of former No. 1-ranked Tiger Woods as the world's top-earning professional golfer, raking in an estimated $53 million in 2015 in both on and off-course income, as reported by Golf Digest magazine. (The publication estimated Woods' total 2015 earnings at $48.5 million.) Comparing Spieth to Woods—and, to a certain extent, 26-year-old McIlroy of Northern Ireland—is not that far-fetched. All three burst onto the golfing scene as child prodigies, charismatic figures who injected new energy into the game in their own ways. Spieth's way, in addition to his brilliant play, includes a G-rated personality and a polite, modest bearing.
Although Spieth's $23 million in professional prize money last year is public knowledge, his endorsements deals are not publicly disclosed. That has led some closest to Spieth to claim the Golf Digest off-course earnings figure ($30 million) might be too high for a single year. But others contend it may be too low. "Some of the list is fairly close, some is not even in the ballpark," Spieth's father, Shawn Spieth, says coyly. "I'll never say which." After winning his first Masters in 1997, in contrast, Woods earned about $2.4 million on the golf course and $19.5 million in off-course deals. After winning his first major championship in 2011, McIlroy snapped up $8 million on the links and $6 million off the course.
In a North Texas business region known for its robust economy, including a thriving startup scene, the building of the Jordan Spieth brand has been accelerating as fast as one of the golfer's 300-yard drives.
"We had certain plans and principles we wanted to accomplish when we started," says the elder Spieth, a longtime Dallas entrepreneur who is intimately involved in his son's business affairs. "It's a lot like building a brand as an entrepreneur. But in this case, we had as a product a person who we knew was solid, and we knew what we wanted to build around him. You have a potential, and you have to integrate the partners and figure out the personnel and tally it all up for the brand-building."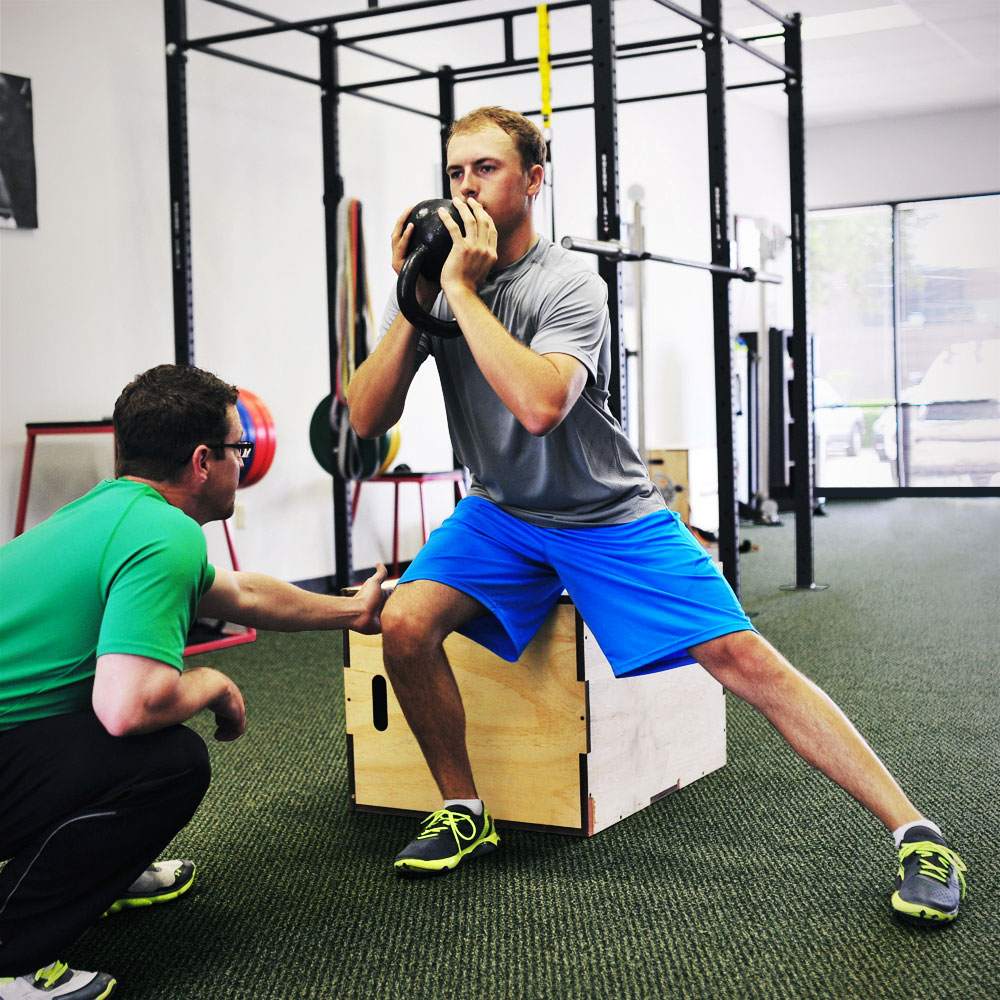 Danzi, a Fort Worth sports agent with Lagardere Unlimited (a unit of Paris-based Lagardere Group, which represents a number of pro golfers), said nourishing the Spieth brand is a singular focus of his: "I'm the brand steward, the brand manager. It's something I worry about every day."
Spieth, who has never lived outside Texas, has centered his business brain trust in this area, aligning most notably with one of Dallas' biggest corporate citizens, communications giant AT&T. "To have it take shape [like this] is spectacular, but also with it comes a responsibility," Spieth said of his career while appearing in Shanghai, China, at a World Golf Championship event before the start of the 2016 golf season. "When you're known and your face is part of the sport, as this year has now made it so for [me], there's a responsibility to carry that torch on and off the course."
Spieth, who attended Jesuit Dallas and spent a year at The University of Texas, has turned local connections, local financial talent, and a growing local foundation into the makings of a golf marketing superpower not seen since Woods hit pro golf in 1996. "He had the potential, and he followed up the potential with performance," says Matt Delzell, managing director of The Marketing Arm, a Dallas PR agency that does not work for Spieth. "[Michael] Jordan, Tiger, LeBron [James] all did the same thing. Jordan is certainly on the right path, but it is so hard, so rare, and so impressive. He's doing a really good job of getting everything local. The fact he wants to do it here, to be a superstar in his own city, for a Dallas native like me, [that] is really cool."
The big three Spieth corporate partners are apparel provider Under Armour, bag sponsor AT&T Communications, and his newest corporate heavyweight, Coca-Cola. Coke, which recently made Spieth its first golf endorser since the 1980s, will showcase the golfer as a major part of its Olympics marketing campaign this summer in Rio de Janeiro, Brazil.
The "big three" of Team Spieth, as they're known, are agent Danzi; Spieth's father; and Spieth himself, who's said to give the final yes or no on all endorsement deals. "I'm very involved. We're all involved together," Jordan Spieth says of the team's business approach. "Jay is the expert. He's gone through hundreds of [contract negotiations]. But every one is different, and so Jay learns a lot from me, too, and what I want and how we want to structure things. What can we do with our partners? I'm involved in every detail. 
"I'm learning every day different aspects of what it takes to build my brand and, while I rely heavily on my team, the overall decisions are mine," Spieth adds. "I know how many days and how many appearances we have. I know what we're going to try and do together, the different activations, and I'm very informed with the contracts. Since day one, my team has kept our approach to business decisions the same. Everything needs to make sense to our brand strategy."
———–
Talent and Drive
Spieth first arrived on the professional golf stage in late 2012, with both great fanfare and some uncertainty. He'd won two national United States Golf Association junior amateur titles (in 2009 and 2011), and helped The University of Texas win a national college title. But he'd also failed in his first try at qualifying for his PGA Tour card. He had no status to play on any golf tour when he turned pro midway through his sophomore year of college at age 19.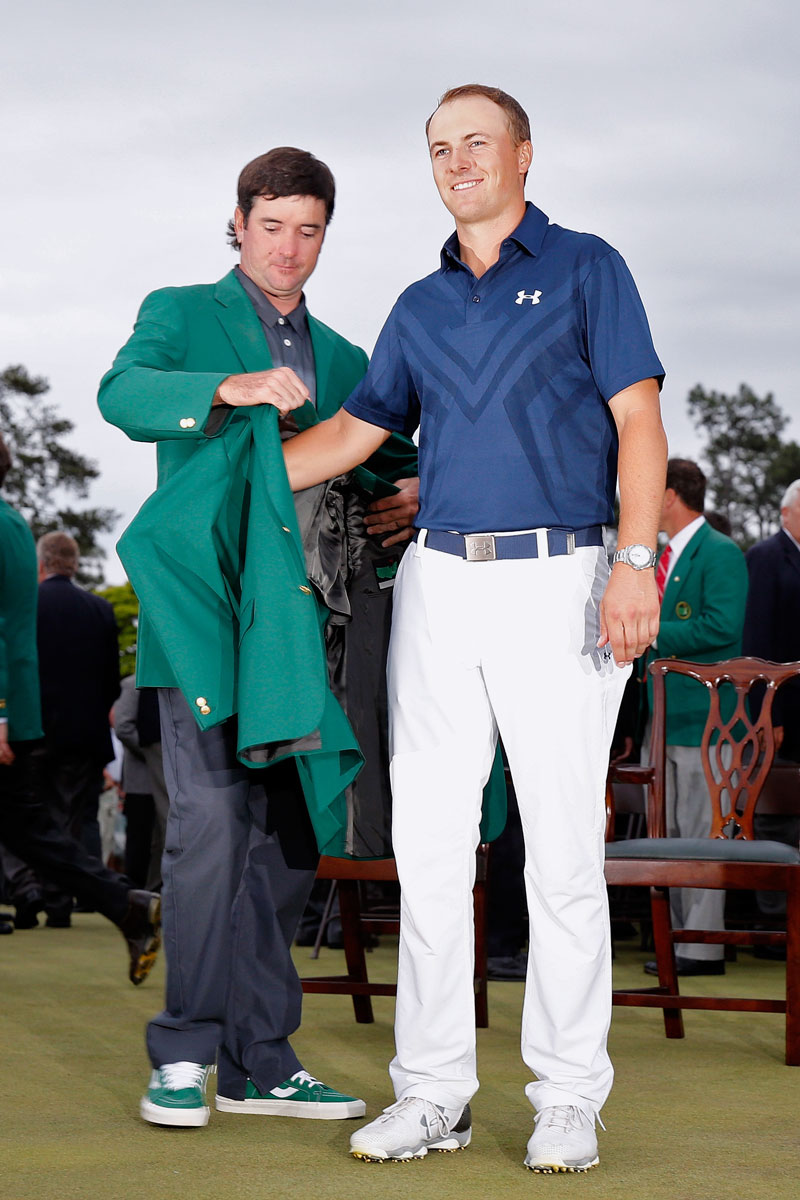 That mattered little, though, to Under Armour, which approached Spieth about being his exclusive, head-to-toe apparel provider. Baltimore-based Under Armour was best known as a workout-clothing provider. But its CEO, Kevin Plank, a former football player at the University of Maryland, saw in Spieth a chance to make the company's mark in the lucrative golf apparel world, much like Under Armour rival Nike did in signing Woods before Nike had a dedicated golf division.
"It's pretty singular in a way in that Kevin placed a big bet on Jordan with a clear head-to-toe apparel package, but they had a strategy and came to us with it," Shawn Spieth recalls.
"We signed a 19-year-old kid who we thought was a great fit for the Under Armour brand for one simple reason," Plank explained in an earnings call with Wall Street analysts. "He had the talent and the drive to be a game-changer."
Although details of the initial deal signed in January 2013 are confidential, someone who saw the first contract says this was an "aggressive play" for a young, unproven pro golfer. "They wanted a clean look for Jordan and their brand, and they were willing to pay for it," this person says. "They paid a really hefty price, but it turned out to be worth it."
Six months after the Under Armour contract was signed, Spieth, still 19, became the youngest PGA Tour winner in 82 years, with a playoff victory in the John Deere Classic in Illinois. In January 2015, Team Spieth and Under Armour ripped up their initial contact and agreed on a new, 10-year deal. Four months later, Spieth, then 21, became the second-youngest Masters champion of all time, behind Woods. He followed that up with a victory in the U.S. Open and attained the coveted Official World Golf No. 1 ranking.
In the cases of both Spieth and Under Armour, and Woods and Nike, "their timing was really, really good," Shawn Spieth says. "Under Armour had Cam [Newton] before the Super Bowl, they had Steph [Curry] before the [NBA] MVP, and they had Jordan when he started. You don't pick right all the time, but [Plank] is a former athlete and can peer into an athlete's soul."
———–
Local Connections
Next, Spieth's team used its local connections to hook up with AT&T. "It was a Dallas company connected with a Dallas athlete. It made natural sense and it was something we wanted to do," says Shawn Spieth. "They are one of the largest-spending companies on golf. We had a lot of family and Jesuit connections on the C-level to make it happen."
That connection was John Stankey, CEO of AT&T Entertainment Group and a company veteran. Stankey's son, Brian, had attended Jesuit with Jordan and Jordan's brother, Steven, and had also attended The University of Texas. "We had a great relationship with the Stankeys and other AT&T executives from before I turned pro, just from high school, from the Jesuit connection," Jordan Spieth says. "It was a matter of time if they wanted to take a chance and get back into golf and get back into a logo."
Ironically, the last golfer who'd had the AT&T logo on his bag was Woods. The Woods-AT&T relationship ended badly in 2010 in the wake of a scandal over the golfer's admitted extramarital affairs. 
With John Stankey making the initial introduction to CEO Randall Stephenson and other executives, Spieth began to carry an AT&T logo bag in the fall of 2014. A long-term extension of the multiple-year deal was announced in Las Colinas at the May 2015 Byron Nelson PGA Tour event, whose title sponsor was AT&T. "He is a great young man. He is fabulous for the company," Stankey says of Spieth. "I hope it's a longtime association. He is so exciting to watch." (Spieth has committed to play in the 2016 AT&T Byron Nelson, set for May 16-22 at the TPC Four Seasons Resort & Club Dallas at Las Colinas in Irving.)
"I'm learning every day different aspects of what it takes to build my brand."

Jordan Spieth
Like any successful corporation riding a cresting wave, AT&T has been quick to capitalize on its association with Spieth, running multiple TV commercials featuring the Dallas golfer, along with full-page ads in print publications. In the fall of 2015, the company even constructed a huge outdoor mural near its corporate headquarters in downtown Dallas, with 24,152 golf balls forming a profile of the young golfer.
"Our relationship with Jordan Spieth reaches audiences across the spectrum, young and old," says Ryan Luckey, AT&T's assistant vice president of corporate sponsorships. "He's an all-around great guy and fans can see that he's a genuine person, all which helps us to connect with consumers and businesspeople."
———–
Giving Back
With the building of Jordan Spieth Inc. well underway, Danzi and the two Spieths turned to another North Texas partner in 2014 to grow their golfing wealth and, at the same time, to give back to those less fortunate. Dallas money manager RGT Wealth Advisors, which was instrumental in setting up the Troy Aikman Foundation in 1992, was tapped to help establish the Jordan Spieth Family Foundation.
RGT, founded in 1985 by Dallas' Mark Griege and Rex Robinson, declined to comment on the relationship. But the elder Spieth says the firm has been helpful in a number of ways: "They help oversee our investments, pay the bills, and help with the foundation. It's really a full-service firm."
One beneficiary of the Spieth foundation has been Northern Texas PGA, one of 41 sections that makes up The PGA of America. "It doesn't surprise me he has his foundation," Mark Harrison, the North Texas group's executive director, says of Spieth. "Many peers certainly hesitate to start that [so young], but he supports a lot of things here. 
"For someone so young, he's got a carefree sense of who he is," says Harrison, whose group has received tens of thousands of dollars from the foundation for its junior golf outreach program. "He realizes that golf is bigger than him. The way he gives back at his age is so special, so unique. He doesn't think he is special."
According to the foundation's Form 990 filing with the IRS, the Jordan Spieth Family Foundation shares the same address as RGT in Dallas. In 2014, the foundation listed income of $279,877. In 2015, its income was $461,212.
Although Danzi associate Laura Moses is the primary contact for NTPGA requests, Harrison says everything is filtered through the foundation's eponym: "Every letter we get [about] a request from the foundation is hand-signed by Jordan."
Another foundation recipient has been the Texas Golf Association. "We don't disclose exact amounts received without permission, but Jordan and his foundation have been very generous with us," says Rob Addington, the TGA's executive director.
———–
Coke Comes Calling
Spieth took his brand-building to a new level in January, when he announced a multi-year sponsorship deal with Coca-Cola. "AT&T is a top 10 company in the U.S.—an iconic business brand," Shawn Spieth says. "Coca-Cola is a top 10 company in the world, an iconic consumer brand. They will make him part of the Olympic Group, a member of Coca-Cola's '6-pack of Olympians.' … He views this as part of [his] career-long relationships."
Coke officials say they had not been associated commercially with a PGA golfer for nearly 40 years. But when they watched Spieth win the Tour Championship last fall in their hometown of Atlanta, where Coke was the lead sponsor, they were captivated by his charm and presence and had to do a deal.
"He is playing with the big boys now," says Delzell of The Marketing Arm. "The fact that they haven't been with golfers in several decades says something about Jordan. They are a global iconic brand. When you're with Coke, you have stepped it up in the sponsorship world. You have stepped up the pressure as well, but Jordan seems to thrive on that."
———–
Gruff Barrier
Even multimillion-dollar brand builders need a corporate wingman at times, and that's just what the Spieth team found in 40-year-old Danzi, an all-conference basketball player and golfer at Dartmouth. Danzi was reared in upstate New York and had worked with some of the biggest sports agencies in the U.S. before coming to Fort Worth to set up shop with Spieth as his main client.
Says Shawn Spieth: Danzi "had time to dedicate to Jordan full-time. Plus, he had experience with a No. 1 player"—golfer Vijay Singh, while Danzi was with Wasserman, a sports marketing agency based in Los Angeles. 
"My experience with Vijay Singh and Annika Sorenstam, as well as many other top players, has certainly helped me understand the demands on players' time while trying to build an effective brand," Danzi says.
At times, Danzi acts as a gruff barrier to media or anyone else looking for access to Spieth. But he's also on a constant lookout for the best branding and sponsorship opportunities for his primary client. Says Shawn Spieth: "It's been a home-run hire."
———–
Ultimate Goal
Although Spieth's on-course prize money will vary from year to year—he'd won $1.57 million during the current season, through March—his endorsements and other off-course deals will likely continue to grow. A "$10 million bonus [for winning the 2015 FedEx Cup] put him over the top for prize money, but a sponsorship is different," Shawn Spieth says. "Most contracts we sign have bonuses and incentives, which roll up and roll down and can adjust the final total. It does make you shake your head some of the time with the money. We don't feel like we have to maximize every dollar. There is no set figure for a nest egg to stop earning. He has the right approach to wealth."
Jordan's father said the next step might be adding a financial services company to the Spieth corporate empire, but there's little rush. Delzell suggested Jordan could become an investor in companies he's already associated with, or might affiliate with in the future. Both agree time is on the young man's side.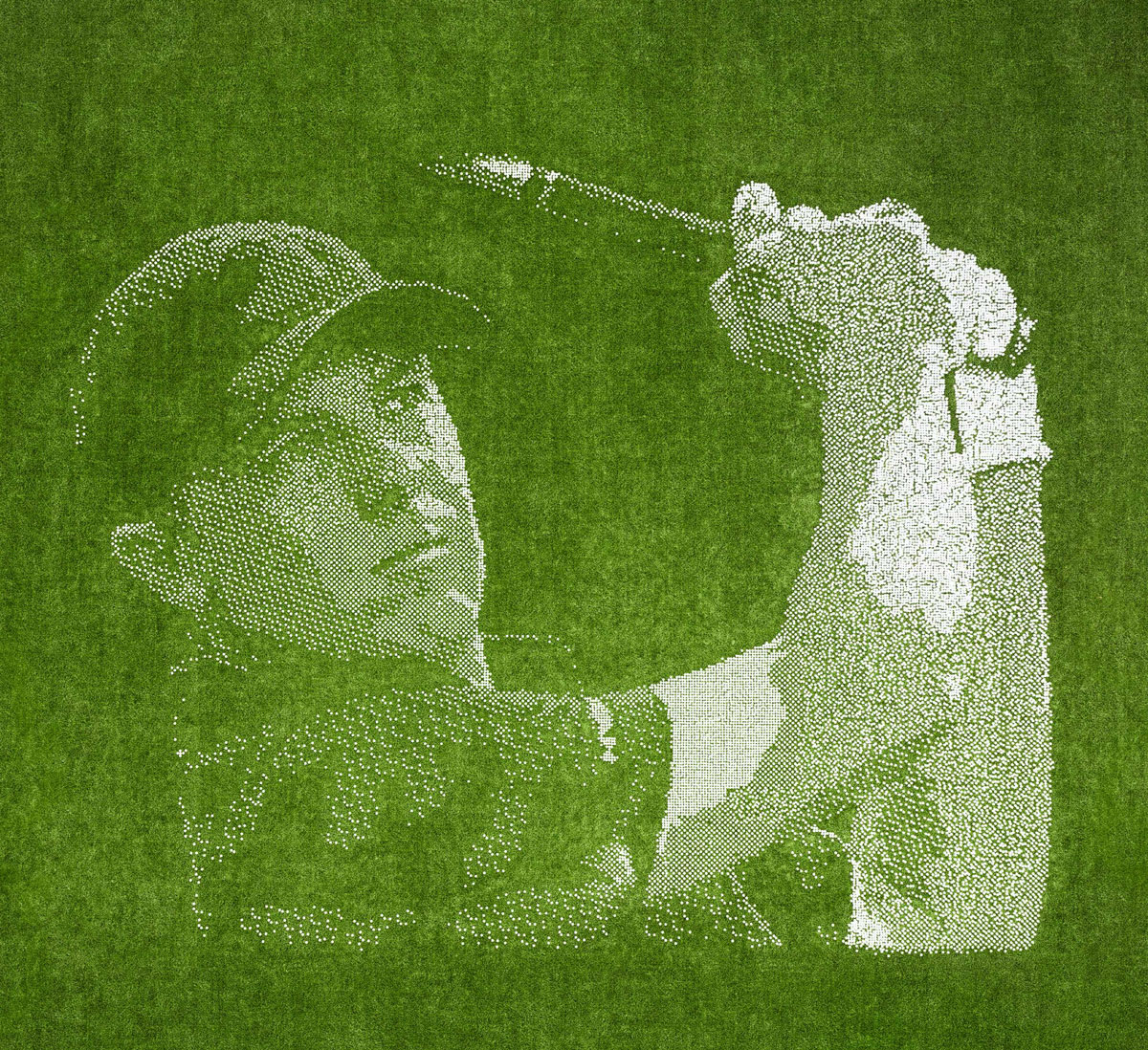 Every great businessman and brand-builder knows the next move for future success is to expect and to prepare for the unexpected. As for the two elements that have slowed Woods' once-unstoppable rise on and off the course—scandal and injury—Team Spieth is prepared there as well.
Shawn Spieth says that, as a parent, one prays that your child doesn't wind up in the wrong place at the wrong time, or does something untoward. But he doesn't spend time dwelling on it. Says Delzell: "I think Jordan probably looked at Tiger and said, 'I want some of that on the corporate level.' But he also looks at him now and sees what he's not able to do because of what happened in his life."
Injuries, on the other hand, can hamper any golfer. "Do we consider a career-ending injury?" Shawn Spieth asks. "We don't spend a lot of time at that, because that can take up all of your time and money. But we do have supplemental insurance. We are prepared."
For the future, the idea is for Spieth to continue to stay near his home base. Late last year, he purchased a Mark Molthan-designed mansion in Preston Hollow from fellow PGA pro Mahan for $7.8 million. According to D Home magazine, the Mediterranean-style residence includes a sunken courtyard area and a basement boasting a basketball half-court, a gym, and a golf-simulator room.
 Meantime, Spieth's goals are ambitious in a game that's rewarded Tiger Woods, for example, with estimated lifetime earnings of $1.4 billion, so far. Asked whose PGA career he most admires, Spieth says, "Mr. [Arnold] Palmer is certainly one I look up to. He truly transcended golf, and his brand continues to be relevant 40-plus years after his last PGA Tour victory." Adds Danzi: "Our ultimate goal is for the brand and the foundation to transcend the sport." 
That's a long way, indeed, from the hopeful sales pitch the agent made that July day in Fort Worth just three years ago.
Get the D CEO Newsletter
Stay up to speed on DFW's fast-moving business community with weekly news reports, interviews, and insights.