From D CEO May 2016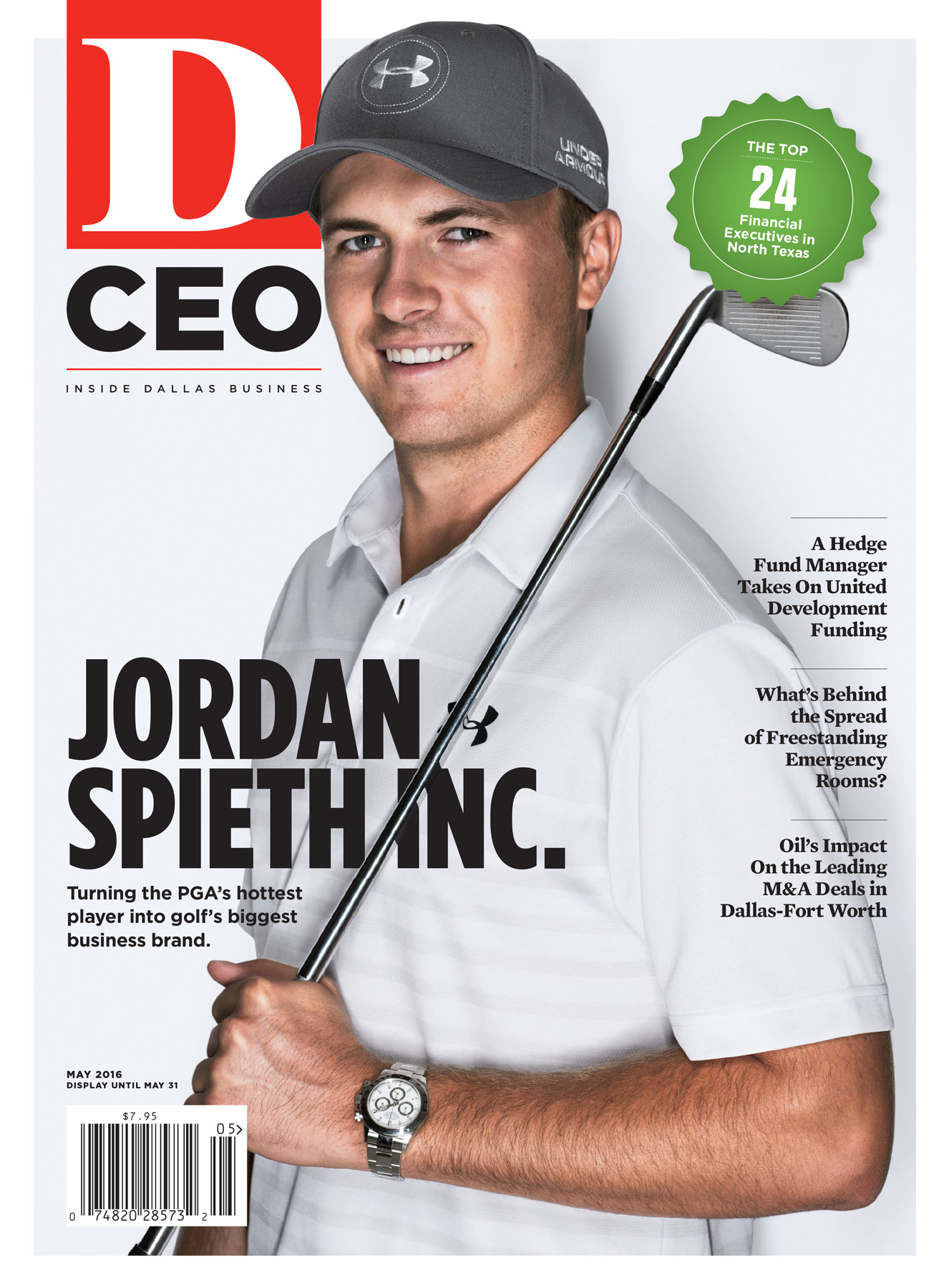 Subscribe
Visualize this 10-mile trip through the heart of Dallas. Start at the PhysiciansER facility on Oak Lawn Avenue between Lemmon Avenue and Blackburn Street. Now, head northwest on Lemmon and start eyeing the shopping centers after you cross under the Dallas North Tollway. The Highland Park Emergency Room will be on your right, tucked under three stories of apartments. Keep north and take a right on Inwood Road, and drag it until you reach Lovers Lane. There, you'll find the Park Cities location of Advance ER. Drive due east on Lovers, crossing back under the tollway and over U.S. Highway 75. A block past Greenville Avenue, take note of the ER on Lovers Lane. Your final stop is on Skillman Avenue. Head south on that East Dallas artery until you reach Oram Street, where you'll be welcomed by Excellence ER's Lakewood facility. 
That's five freestanding emergency rooms within 10 miles. In most affluent corners of North Texas, these centers have become as ubiquitous as Starbucks. They've sprouted near households whose families are insured through private insurance plans and sold as a boon to a community in need of emergency services. (A Texas Tribune study found that these neighborhoods have incomes 49 percent higher than the state's average). In 2010, there were about 20 freestanding ERs in Texas. Now, just six years later, there are north of 215, galvanized by a 2009 state law that allowed them to become licensed emergency rooms. 
But the fact is, the ER is the most expensive place to receive care. And one of the industry's oldest challenges is how to steer patients to more affordable care sites when their condition affords them that chance. A 2010 study in Health Affairs pegged the nation's cost savings at a whopping $4.4 billion annually if patients who could actually did seek care in a different setting. In this time of high deductibles and health savings accounts, every unnecessary dollar spent is more likely to be passed down to the consumer and to his or her employer, which can drive up premiums on private group plans. 
"If you have a deductible in your plan, there are a lot of surprises for consumers around freestanding ERs," says Jamie Dudensing, the executive director of the Texas Association of Health Plans, a trade group representing the state's insurance companies. "But there's a reason why there are so many of them. They are convenient." 
Urgent care facilities are set up to treat light-acuity conditions, like strep throat or a urinary tract infection or the common cold. They're cheaper and usually in-network with insurance plans. Freestanding ERs can stabilize patients suffering from more severe ailments, like a stroke or heart attack, and have imaging services available. There are no trauma or catheterization services available, however. But when the urgent care center isn't accepting patients after 7 p.m. or so, the freestanding ER, which often resembles a doc-in-a-box, is. When your primary care physician hangs up his lab coat for the night, the emergency doctor at the end of your block is still wearing his. When you feel you have an emergency, they've been in your line of sight: Billboards, pamphlets, Google ads. The waits are typically shorter than at a hospital's ER, the practitioners more available, the amenities nicer. But you pay for what you get. Facility fees cover overhead for 24-hour registered nurses and licensed emergency physicians, imaging, and similar services. They run from $800 to $1,500 per visit. 
Yes, it says 'ER' in the title, but at that moment in time, they're all the same to me.

Ann Andrews, a patient
"I paid the $300 up-front fee which I thought was it, and then I came home to find out it was this astronomical bill," says Ann Andrews, a 27-year-old who sought care for strep throat at a freestanding ER. "I was in and out, I want to say, in less than 30 minutes. Three months later, I get a bill from their billing department that's almost $1,400." 
Andrews is insured through Cigna. One Saturday, she felt the beginning of strep throat—an unwelcome ailment that she says always arrives in the fall. She tried to wait until Monday, but she woke up on Sunday at 7 a.m. to find her throat swelling shut. Her fever hit 103 degrees. She says her breathing was so labored that her boyfriend had to drive her. Andrews looked up the hours at an urgent care clinic in the M Streets near her home. It was closed. The next hit on Google: PhysiciansER on Oak Lawn.
"Yes, it says 'ER' in the title," she says, "but at that moment in time, they're all the same to me." 
Andrews' ailment could've been treated at an urgent care facility or at a doctor's office. Neither were open. Suffering severe symptoms, she sought aid. And what was open? The community ER. 
"At 10 p.m. at night, regardless of whatever level of acuity that patient may have, there are no options other than an emergency room," says Brad Shields, executive director of the National Association of Freestanding Emergency Centers. "Does someone with the sniffles need the emergency room? No, but for someone with a medical concern at 2 in the morning, there is no other option." 
The Texas Legislature passed a law in the last session requiring these centers to post notices that they are emergency rooms and will charge as such. An earlier version of the legislation mandated that the centers notify the patient when the cost exceeded $1,000, but that didn't make it in the final bill.
Centers that aren't affiliated with a hospital are not recognized federally, meaning they can't bill Medicare and Medicaid. To some, this explains why they dot well-to-do areas instead of lower-income neighborhoods. The ERs say they're bound by law to evaluate everyone who walks through the door, regardless of ability to pay. 
Lewisville's Adeptus Health, the country's largest independent freestanding ER operator, has more than doubled its revenue since 2013. According to a Securities and Exchange Commission filing, an average patient charge is $1,500. They're in 22 North Texas cities, including Allen and Frisco. (Adeptus Health officials declined to comment for this story.) 
And that's what bugs people like Dr. Chris Crow. The independent physician has made decrying these his stump speech, expressing his disdain on panels in front of Dallas' business elite. To him, freestanding ERs fragment care and spike costs. Soon, the trend will hit employers when it comes time to renegotiate group deals, requiring them to increase premiums if their employees have been using the facilities inappropriately.  
"Every time someone goes to get a UTI (a urinary tract infection) looked at at a 24-hour emergency room and they pay $2,000 to $3,000 and it could've been taken care of in a doctor's office for $100, how much does that save?" he asks. "It's pretty simple math." 
The market will determine whether this proliferation continues. Marianne Fazen, director of the DFW Business Group on Health, says it's something that employers are monitoring, but that it's more of an issue of consumer education. According to the nonprofit Episcopal Health Foundation, that education is lacking. Its study found a lack of confidence in about a third of all Texans as to what the terms premium, deductible, co-payment, provider network, and covered services mean. This affected more the uninsured and residents who live under the federal poverty level, but the fact remains: consumers are not totally familiar with what their insurance really gets them. To improve that, Fazen says that employers are putting more of the onus on the consumer. They're contracting with insurance plans for benefits that pay less or none at all for out-of-network care sites, which include many independent emergency rooms, and they're increasing co-pays and deductibles. A 2015 congressional briefing by the Medicare Payment Advisory Commission found that it takes some independent ERs just 20 patients a day to turn a profit. 
Lamonte Thomas, president of Cigna's North Texas and Oklahoma region, says these facilities account for about 3 percent of his system's total healthcare costs. Blue Cross Blue Shield of Texas has published pamphlets to broaden understanding charges at the freestanding facilities. 
"This is the only place where you purchase something and you have no idea what it costs other than your percentage," Thomas says. "We need to get to where we have educated consumers and resources there to understand and help them through this process, so they can understand cost and quality and how their dollar is being spent."
Get the D CEO Newsletter
Stay up to speed on DFW's fast-moving business community with weekly news reports, interviews, and insights.