From D CEO May 2016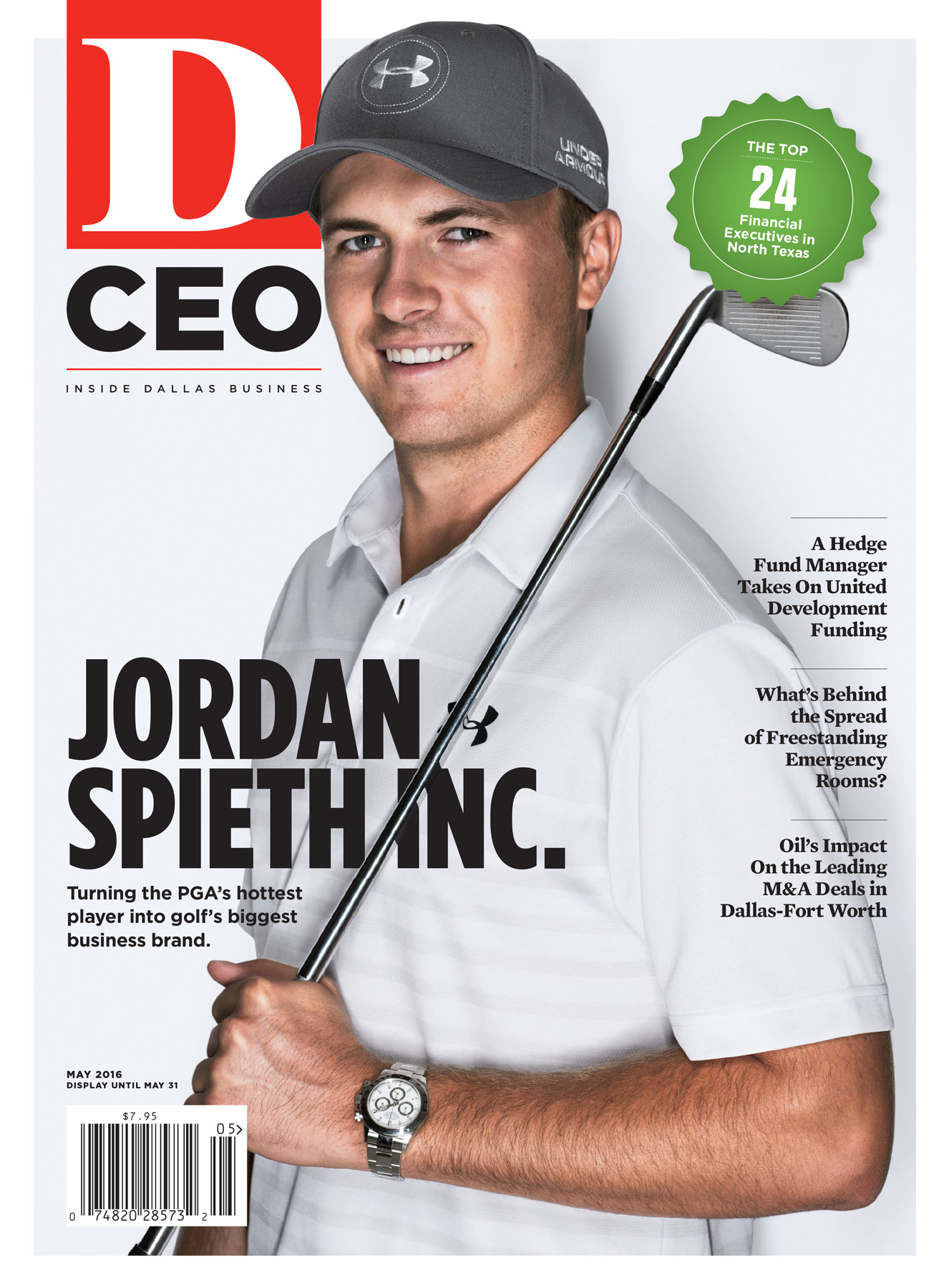 Subscribe
Keeping an open mind when it comes to new ways of doing things has helped catapult this year's top financial executives to the pinnacle of their profession.
Despite their by-the-numbers training, the 2016 winners have looked at problems and challenges from different angles and come up with innovative solutions. Then they've sold those solutions to management, all while getting the necessary buy-in from their teams to implement new strategies.
The result: high-profile wins for these executives—and their companies.
To select Dallas-Fort Worth's top financial executives for 2016, D CEO and our partners in this annual program—the Association for Corporate Growth, the Dallas CPA Society, and Financial Executives International—were helped immeasurably by a judging panel of industry experts.
The judges this year were: John Casey, John Casey & Associates; David N. Fuller, VALUE Inc.; Robert Kibby, Munsch Hardt Kopf & Harr; Lisa Ong, Dallas Society of CPAs; Bill Schneider, AT&T; and Robert M. Walker, MorganStanley. We appreciate their time and hard work.
Outstanding CFO, Large Private Company
William Davenport
Topgolf International
As Topgolf International Inc. tripled in size over the last two years or so, CFO William Davenport has had to up his game. The company, which now has 24 venues in the United States and the United Kingdom, hired 6,000 new associates, putting a strain on internal resources. But Davenport was up for the challenge, springing into action by tripling the size of Topgolf's finance group, building a legal department from scratch, and developing a procurement group to help support the rapid growth.
Along with Topgolf's banking partners, he also finalized the company's first corporate debt facility.
Looking forward, Davenport expects to tackle a new challenge: maintaining the company's culture through the growth. "So far, so good," he says. "But it will get even harder as we get bigger."
Finalists: Michelle Frymire, Service King Collision Repair Centers; Judd Nystrom, At Home Goup Inc.
Outstanding CFO, Midsize Private Company
Glenn Neblett
Impact Selector Inc.
[inline_image id="1″ align="r" crop="tall"]Over the last 18 months, CFO Glenn Neblett has helped steer his company through a perfect storm of changes. Impact Selector International makes and leases a line of mechanical impact tools for wireline operations (cabling technology used by oil and gas well operators).
Less than a year after closing a management buyout of Impact Selector in December 2014, the company acquired UK-based Wireline Engineering. The acquisition boosted the company's size by 50 percent and took it into new regions. Neblett also played a major role in helping to open two new international facilities, in Dubai and Kuala Lumpur.
One of his biggest challenges has been managing through the ups and downs in the energy industry. "This has required me to work with our management team and capital partners to ensure [we have] the right cost structure in place and sufficient liquidity to support its operations," he says. "I have had to make significant changes to the organization to react to industry shifts, while maintaining our ability to innovate new products and service our customers."
Outstanding CFO, Large Public Company
Frank Bilban
Encore Wire Corp.
[inline_image id="2″ align="r" crop="tall"]When Frank Bilban joined Encore Wire Corp. in 2000, the manufacturer of electrical building wire was a completely different animal. Since then, the McKinney-based public company has grown from 250 employees and $280 million in sales to 1,300 employees and $1.1 billion in sales.
Even against a backdrop of plummeting commodity prices last year, Encore Wire held its margins and logged record earnings per share, fueled by continuing success in the aluminum wire manufacturing business. The segment, which the company entered in 2012, went so well that Encore Wire sold $100 million in aluminum wire in just the second year.
It all made for a busy accounting and finance department, which stayed the exact same size throughout the growth period, says Bilban, vice president and chief financial officer.
"We just had to mechanize with better systems and get more efficient," he says. "We've done that, and we've continued to evolve and rise to the challenge."
Finalists: Mark Flaherty, Sally Beauty Holdings Inc.; Stanley Reynolds, 7-Eleven Inc.
Outstanding CFO, Midsize Public Company
Mike Mravle
Wingstop
[inline_image id="3″ align="r" crop="tall"]Wingstop was in the midst of an IPO and facing stringent reporting deadlines when Michael Mravle joined the company as CFO in 2014. He jumped right in, expanding the staff with the strict timelines hanging over his head while he was still learning the company's ins and outs.
Mravle also was tasked with recapitalizing the business, which resulted in a significant one-time dividend to shareholders.
"I was brought on relatively late in the IPO process, and this did not allow for much orientation or planning," he says. "We overcame this as a team through a lot of hard work, the hiring of a few key personnel, and keeping the team focused on key priorities."
Since Mravle's arrival, Garland-based Wingstop, which has more than 800 restaurant locations globally, has continued to deliver on an aggressive growth plan and has exceeded expectations as a public company.
Finalist: Jim Brata, Dawson Geophysical Co.
Outstanding CFO, Nonprofit Organization
Beth Bull
Communities Foundation of Texas
[inline_image id="4″ align="r" crop="tall"]As a former Texas Instruments finance executive, Beth Bull's "second act" as senior vice president and CFO of the nonprofit Communities Foundation of Texas has been as complicated—and rewarding—as she could have imagined. Last year, Bull, who was one of only two mathematics majors at her university and the first female vice president in Texas Instrument's finance department, spearheaded an asset integration project that more than doubled the organization's assets under oversight, bringing them up to $800 million.
A change in the trustee structure resulted in the influx of a mix of assets that included liquid investments and about $100 million in Texas and Florida real estate. In addition to managing the assets, Bull was tasked with establishing policies, procedures, and delegations for the new structure.
"We had scoped out some of the potential issues in advance, as well as potential solutions, but some things surprised us," Bull says. "The final key was communication and flexibility."
Under Bull's guidance, the assets were successfully incorporated, reallocated, and reorganized, and are now part of CFT's ongoing operations.
Finalist: Jim Chamberlain, Dallas Area Habitat For Humanity
Outstanding CAO, Controller, or Treasurer, Private Company
Bruce Cope
Hunt Consolidated Inc.
[inline_image id="5″ align="r" crop="tall"]With the energy industry riding a wave of ups and downs over the last two years, Bruce Cope has had to take on a new role of managing people through change. Cope, senior vice president and chief accounting officer at Hunt Consolidated, says his job is not just about the numbers—it's also about navigating the suddenly choppy waters in the energy market.
"Our business has gone through an industry boom and bust over the last 24 months," he says. "This forces us to manage rapid growth early and, more recently, a slowdown in activity. Keeping people from getting overwhelmed or burned out early in the cycle and encouraged through the down cycle has been a challenge."
But it's not one that Cope has had any problem meeting. Since joining Hunt Oil in 1993, Cope has been promoted through the ranks, even working as Hunt's primary liaison with the government of Yemen on financial and accounting matters. He is now responsible for the worldwide accounting of the Hunt family of companies.
Outstanding CAO, Controller, or Treasurer, Public Company
Roy Rumbough
Lennox International
[inline_image id="6″ align="r" crop="tall"]As vice president, corporate controller, and chief accounting officer of Lennox International, Roy Rumbough took a page from the company's manufacturing operations and applied it to the corporate playbook.
The lean principles allowed Lennox to eliminate unnecessary activities and move work out of closing week. The result was a huge reduction in the company's close cycle, allowing Lennox to file quarterly reports about two weeks ahead of U.S. Securities and Exchange Commission deadlines.
Rumbough also spent part of last year grappling with a $50 million impairment charge related to the refrigerated display case business that the company purchased four years ago.
"For the chief accounting officer to propose an impairment charge, he or she better have all the facts and be prepared for pushback," he says. "It takes courage on the part of the CAO to propose and record this charge, which we did in 2015."
Finalist: Mary Henderson, Trinity Industries Inc.
 
Most Innovative Finance Team
Mark Dendle
ECOM Agroindustrial Corp.
[inline_image id="7″ align="r" crop="tall"]Implementing change at a 160-year-old, privately held company is never easy. But Mark Dendle found a way to bring innovation to systems that had been in place for more than a century at ECOM Agroindustrial Corp., a global trading and processing company.
His most recent success came last year in Mexico, where ECOM has roots dating back to the 1940s. "Unfortunately, the teams had become entrenched in some habits that needed changing," Dendle says.
After two major consulting firms failed to make headway, CFO Dendle was asked to take charge. Within six months, the back office was heading in a new direction, while achieving cost efficiencies of 30 percent to 50 percent per department. Dendle recently has been focused on transforming the back office globally through "reskilling" the staff, implementing process-engineering initiatives, leveraging technology, and creating a culture of discipline across more than 40 countries. He also has helped bring the company's financial close from four months to 18 days, and has spearheaded the diversification and growth of ECOM's capital and funding.
Finalist: Mike McDonald, ThermiGen LLC
Outstanding Public Service
Dave Rader
Former CFO and EVP, Frito-Lay
[inline_image id="8″ align="r" crop="tall"]When former Frito-Lay executive Dave Rader retired a few years ago, he knew his business skills could be put to good use in the nonprofit sector. So instead of spending his days hitting balls on the golf course, Rader became an active volunteer.
He serves on the board of the United Way of Metropolitan Dallas and as chairman of its investment committee and vice chair of the organization's Forever Campaign, which is committed to raising $100 million. In just three years, Rader has helped the organization reach the $30 million mark on that goal.
Public service is in his blood. "My parents raised me that way, and I just grew up thinking that was part of what you did," Rader says. "People like me with a business background have a different skill set that can really have a big impact on these organizations, and I'm happfy to do it." Rader also serves on the board of the Family Place and in leadership roles at St. Andrew United Methodist Church. And, he still tries to carve out at least a little time for golf.
Outstanding Internal Auditor
Sunil Sajnani
Santander Consumer USA
[inline_image id="9″ align="r" crop="tall"]Sunil Sajnani spent much of last year overhauling Santander Consumer USA's internal audit function, all while successfully closing out legal issues brought by federal and state regulators. Sajnani, who serves as chief internal audit officer of the consumer finance company, says having the right team in place is the key to high performance in a stressful role at a publicly traded company.
Being close as a team—but not too close—has proven to be the formula for success within his department. "The team has to jell together at a personal level to be able to effectively deliver professionally," he says. "I do not mean visiting each other's homes for dinner over the weekends, but the ability to work well with each other with a high level of mutual respect and understanding."
Sajnani says his biggest challenge—and achievement—is successfully managing competing priorities put forth by his team, company, and regulators.
Finalist: Katherine Findlay, Southwest Airlines
Outstanding FP&A, Private Company
Anne Marie Kiesling
Overhead Door Corp.
[inline_image id="10″ align="r" crop="tall"]If someone tells Anne Marie Kiesling that something can't be done, she's going to prove them wrong. During her time as a senior financial analyst at Overhead Door Corp., Kiesling, who now serves as director of financial planning and analysis, was responsible for building a model that was driven by key performance indicators that were difficult to harmonize. The result was an output that included a full income statement, balance sheet, cash flow, inventory plan, and call-center staffing model.
"I was told it could not be built, which drove me even harder to prove that it indeed could be done," says Kiesling, whose model was eventually implemented company-wide and became a key component of improving the profitability of the company's largest division. 
Finalists: Fred Grote, Hunt Consolidated Inc.; Darcy Schedler, Harris & Dickey LLC
Outstanding FP&A, Public Company
Kimarie Ankenbrand
JLL
[inline_image id="11″ align="r" crop="tall"]When Kimarie Ankenbrand took a job in Deloitte's audit department right out of college, she never imagined she would parlay that experience into a commercial real estate career. Now a vice president at JLL, her numbers knowledge came into play big-time last year, when a key client found itself in a battle for a headquarters building.
The client had announced its impending move just weeks ahead of an IPO announcement, when the building owner abruptly decided to lease the entire building to another tenant. The client chose another building, but its parent was not willing to guarantee the lease. Thanks in part to Ankenbrand's strategy, the deal got done. "It's so important to have someone that can talk the financial lingo," Ankenbrand says. "My background has been very impactful with clients who find themselves making these kinds of decisions. We haven't traditionally had that strategy role—it has become a new model for us."
Finalist: Peter Jackson, Lennox International
Get the D CEO Newsletter
Stay up to speed on DFW's fast-moving business community with weekly news reports, interviews, and insights.