From D CEO June 2016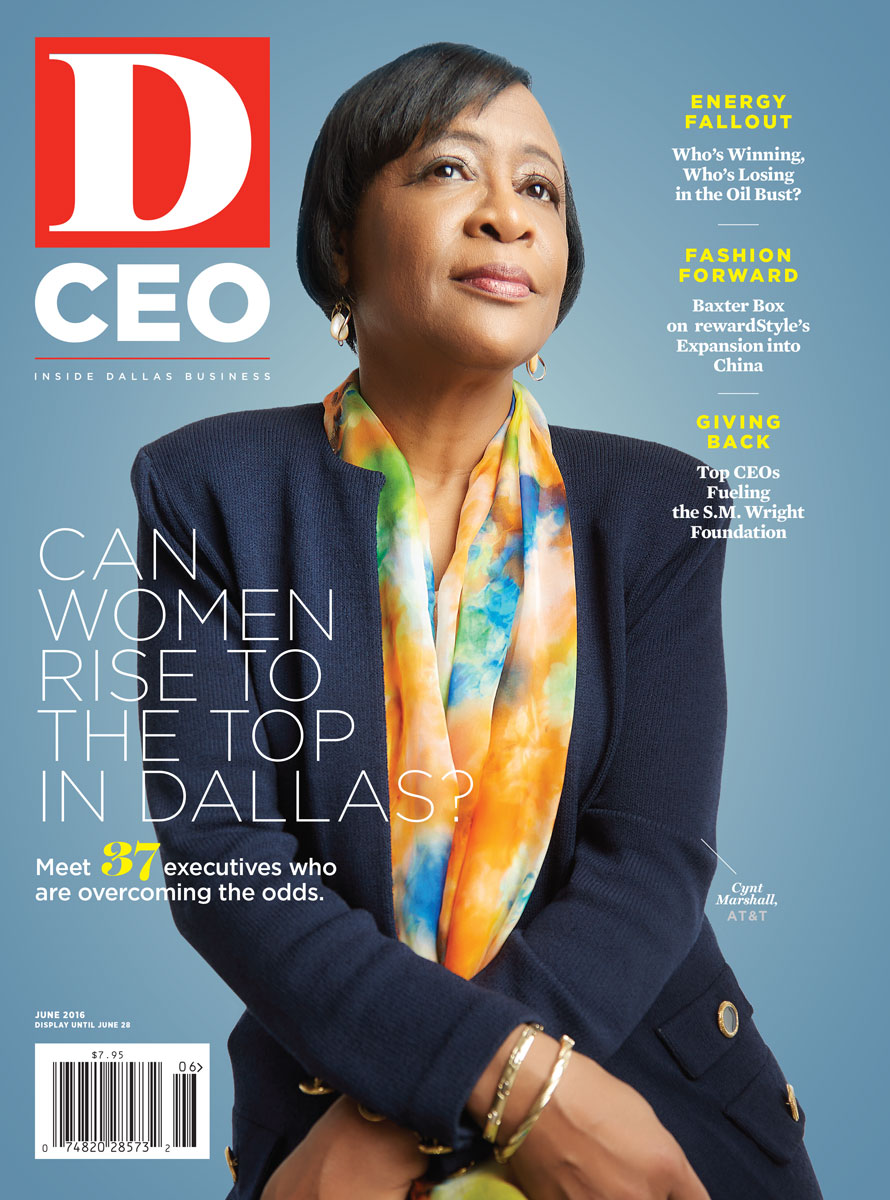 Subscribe
Even longtime North Texas residents may not know much about the Rev. S.M. Wright beyond the four-mile stretch of freeway in South Dallas that bears his name. The minister, who died in 1994, not only played a key role in the local civil rights struggle in the 1960s, he also helped the region avoid much of the race-related violence that plagued other American cities at the time. A born networker, Wright favored negotiation over confrontation in advancing the cause of his fellow African-Americans. His charisma and collegial style allowed him to circulate as easily in the boardrooms of North Dallas as he did among his parishioners at the People's Missionary Baptist Church, where he was pastor from 1957 until cancer claimed his life nearly four decades later.
Although Wright no longer walks this Earth, the relationships he forged in the North Dallas business community continue to yield dividends for people living south of Interstate 30. His friendships with late greats like developer John Stemmons and supermarket magnate Charles Cullum have helped Wright's oldest son, the Rev. S.M. Wright II, advance his father's work on behalf of South Dallas—albeit in ways the elder Wright might never have imagined.
Working with his younger brother, the Rev. Calvin Wright, S.M. II runs a charitable nonprofit that helps needy people in Dallas-Fort Worth become self-sufficient. Named after their father, the Dallas-based S.M. Wright Foundation provides assistance not just with basic sustenance like food and clothing, but also with economic-related issues, from starting a business to investing for retirement.
[inline_image id="1″ align="" crop="full"]Since the Wright family launched the foundation four years after the patriarch's death, the organization arguably has become the primary conduit through which North Texas businesspeople seek to help South Dallas residents pull themselves up by their bootstraps. That's important, because there continues to be a wide gap between North and South Dallas in terms of income and education levels (see chart on page 45).
Prominent Dallas executives like Allie Beth Allman, Larry North, and Daniel and David Pidgeon not only write checks to the foundation, they also volunteer their time and get their employees, friends, and families involved.
Business leaders appreciate S.M. II's low-key, inclusive style, which favors one-to-one relationships with supporters over splashy fundraising events, all while keeping the foundation running on a shoestring with the help of thousands of volunteers. "His instincts are quite often contrary to what would be considered normal," says Cullum Clark, a grandson of Tom Thumb co-founder Charles Cullum and board chair of the foundation. "But S.M. is a total original. He does it his way. And people seem to respond to that."


"Look, Son, That's H.L. Hunt"
In addition to his duties at People's Missionary, S.M. II's father helped organize local black leadership as president of the Interdenominational Ministers' Alliance of Metropolitan Dallas, according to the Texas State Historical Association. His roughly 30 years at the helm of the ministers' alliance gave him a platform to work for civil rights in Dallas in everything from education and employment to restaurants, hotels, and swimming pools. And, following the 1968 assassination of Dr. Martin Luther King Jr., his was an important voice in helping avoid riots and other civil disturbances, the historical association says.
S.M. II, who was born in 1974, and Calvin, born two years later, were brought into the whirl of activity of their father's life when the boys became old enough to travel with him. "Los Angeles, Austin, every month something was going on," S.M. II says. "We were going to conventions and churches. I can remember sitting at the table [and asking], 'Where are we going next?'"
In the process, the boys met the icons of Dallas business that their father had come to know. "Growing up, I'm seeing Trammell Crow, John Stemmons. 'Look, son, that's H.L. Hunt over there.' I met Stanley Marcus, with his cane," S.M. II says. "It was amazing."
The children also joined in their father's church services. Calvin began playing drums at age 3, and S.M. II took up singing at age 4. They soon were part of the musical ensemble on Sundays, and both boys would become licensed as Baptist ministers while still in their teens.


"They Didn't Stop"
The boys first knew something was wrong with their father when their mother, Debra, was driving them to school one morning. S.M. II was a junior at Lincoln High School at the time. "My mother was crying," he recalls. "She didn't say anything. But she was holding things in."
He did not learn what the problem was until the early '90s, when he was enrolled at Dallas Baptist University. At the family dinner table one night, their father broke the news: prostate cancer he'd thought to be in remission had returned, and it was unclear how long he had left. "We were all crying," S.M. II says. "It was very emotional." 
In his remaining time, the elder Wright arranged for S.M. II to succeed him as pastor, with Calvin serving as co-pastor. Wright's passing, in November of 1994, generated telegrams of sympathy and support from the state governor's mansion, the White House, and the Bahamas. More than 1,000 people attended his funeral. But after the hubbub subsided, S.M. II, then 19, and his brother, 17, had to confront a grim reality.
"I'm trying to grieve over my father. Now I have to deal with all the critics who are [wondering if] we up to the challenge of being pastor," S.M. II remembers. "They felt we were too young."
Attendance at People's dwindled. Before long, S.M. II was preaching at Sunday sermons to perhaps 70 people in a church that could seat 700. The Wright family's finances took a hit as well. "We had to make sacrifices, cut back on things," Calvin says. "People forget you when you're in these situations. They don't call, they don't make an effort to lift you up."
But, although some folks may have forgotten about the teens and their mother, many of their father's friends did not. Two months after S.M. Wright died, Stemmons invited S.M. II to lunch to check on how things were going. Trammell Crow also reached out, as did Ray Hunt. "Daddy had so many relationships with so many friends," S.M. II says. "They kept in contact. They didn't stop."


Helping Out
One Christmas in the '90s, S.M. II, Calvin, and their mother were reminiscing about the man they all missed. "We decided, 'Why don't we try to do something to help someone else out?,'" Calvin remembers. Debra's first call was to Dallas attorney George Bramblett Jr., a family friend who agreed to provide free legal help in forming what would become the S.M. Wright Foundation. Next, she called Stemmons and Charles Cullum. "We got the initial help with my family's and my dad's friends to get it started," S.M. II says.
After renovating a room in the church, the Wrights in 1999 launched a food program, which initially fed about 100 families a week. And, as has happened ever since, the Wrights gradually began adding additional programs and events to meet the changing needs of South Dallas residents. 
A discussion about how many individuals go hungry at Thanksgiving, for instance, morphed into what is now the Annual Thanksgiving Day Feast, which has provided hot meals, groceries, and clothing to thousands of needy families.
Demand for the Thanksgiving event proved so strong that the Wrights started a similar December program around Christmas. When the Wrights needed clothes to hand out for the two events, Dallas Realtor Allie Beth Allman and her husband of 51-plus years, Pierce, launched a clothing drive.
The first Christmas in the Park in 1998 drew 500 people. By 2005, a whopping 10,000 people turned out for the event at the church, and the line stretched five miles down Malcolm X Boulevard. The next year—the first time the foundation held what's now called Christmas in the Park at Fair Park's Automobile Building—the organization served twice as many people. And the 2015 event served close to 44,000. "It's just been exciting," Pierce Allman says. "This is where the rubber meets the road."


Education and Economic Skills
By the beginning of this decade, the foundation was providing services covering the most basic needs of South Dallas residents. Among them: supplying free beds for the countless children who slept on bare floors because their parents couldn't afford anything more. Philanthropist Nancy Rogers and her husband Richard Rogers, co-founder of Mary Kay, personally donated $100,000 for the Beds for Kids program.
[inline_image id="2″ align="" crop="full"]But what was missing, the Wrights realized, was ongoing help with jobs, training, and managing money. They responded with several programs, including free after-school tutoring for kids who, based on recommendations from local schools, might benefit from a little extra help. "Some tutoring programs take kids away from South Dallas," says Ann Rogers, a retired English teacher who works in the program. "Students often need it closer to their homes. This enables us to tutor them in their own environment."
In June 2015, Michael Grisham, a North Texas accountant who doubles as the foundation's volunteer CFO, began teaching classes on the basics of forming a business, including raising money. And, through a partnership with Edward Jones Investments, the foundation now offers classes on building a nest egg for retirement.
The Wrights' focus on improving the economic circumstances of the people they serve appeals to North Dallas business leaders. "We liked the philosophy of not just giving someone a fish to eat, but teaching them how to fish," says Jeff Rachor, CEO of Berkshire Hathaway Automotive, the Dallas-based auto dealership arm of Warren Buffett's business empire. "We were also impressed with the caliber of other local civic leaders that rallied around the foundation and devoted their time and resources."
Like many business executives who get involved with the foundation, Rachor's entré was through Christmas in the Park. Rachor and his 21-year-old son, Colby, have served as ticket takers for that event, essentially assisting security in ensuring all families that receive toys have gone through the foundation's vetting process.


Small Budget, Big Return
As with the Christmas event, the foundation vets everyone who asks for help to make sure they really need it. "They verify people are looking for a job, not going from one organization to another, getting free food or money without contributing to make themselves better," says Darren Blanton, managing director of Colt Ventures, a Dallas family investment concern.
Blanton, who has been involved with the foundation since 2000 in capacities such as donating money and serving on its board, says the Wrights are some of the best at helping the most people for the least money. "It's one of the most efficient and effective charities in Dallas," he says. "It runs on a low budget and gets a high return."
"It's very meaningful for us to do something that's only 15 minutes from where we live and work."

Ray Washburne, Highland Park Village
The foundation has an annual budget of $850,000 in cash, along with in-kind donations of products and services worth between $500,000 to $800,000 annually, according to S.M. II. It used those donations, along with a total of six employees, to serve roughly 100,000 people last year.
A big reason the foundation consumes so little to serve so many is because so many people give their time to help. Roughly 1,800 volunteers worked at the 2015 Christmas event alone. In 2013, the foundation had a total of approximately 13,000 volunteers, according to its tax return for that year.
In many cases, those volunteers are wealthy parents who bring their children to work at Christmas in the Park. "It makes my kids appreciate the situation they're in and what they have," says Doug Deason, who runs a family investment office and handles most of his clan's charitable giving. 
Many people in South Dallas donate their time, too. For years, Sussette Cole would work as many as 20 hours per week gratis at the foundation, in addition to holding down a full-time job at night for Delta Air Lines. Since retiring from Delta in 2008, Cole has come aboard full-time to run the foundation's Beds for Kids program. But, despite all the work she puts in for the foundation, Cole prefers to shine the spotlight on donors. "I personally want to thank them," she says. "They know who they are."


Business Outreach
As he often does, S.M. II disregards many notions when it comes to fundraising that other charities regard as nearly sacred. Rather than holding elaborately planned black-tie dinners to raise awareness and money, he relies on an informal network of individual and family donors, a group that has grown over time through one-on-one referrals.
The Christmas event gets the foundation on donors' radar screens. The problem is, awareness sometimes drops off the rest of the year. Beyond that, S.M. II and Calvin have the on-going duties of being church pastors, such as officiating weddings.
So now, three of the foundation's most prominent supporters are trying to take some of the fundraising legwork off S.M. II's hands. Along with his wife, Heather, Ray Washburne, president and managing director of Highland Park Village, is doing outreach on the foundation's behalf to wealthy residents of neighborhoods like the Park Cities. "It's very meaningful for us to do something that's only 15 minutes from where we live and work," Washburne says. And John Willding, a Dallas-based partner at Barnes & Thornburg LLP, is seeking to enlist more corporate support, such as through the philanthropic arms of big companies.
Large businesses, however, often want a buffet of options allowing them to choose how much support to provide in exchange for certain benefits, such as getting their names on signs, Willding notes. As a result, he says, "our thought is to have a packet when approaching foundations that provides a list of accomplishments and the people involved." Earlier this year, Willding and the Washburnes also were kicking around the possibility of launching a luncheon fundraiser. "They've learned to run on such a low budget. They don't have a lot of overhead," Larry North, who runs a small fitness-related business empire in Dallas, says of the foundation. "I am hoping that, almost 20 years into this, we have established the proof of concept. Hopefully, we will be taking this to a new level."
As far as S.M. II is concerned, going to a "new level" with the likes of fundraising luncheons would be just fine. "We support fundraisers," he says. "Any fundraisers for our program are greatly appreciated, because the need in our community is so great." 

Get the D CEO Newsletter
Stay up to speed on DFW's fast-moving business community with weekly news reports, interviews, and insights.