From D CEO June 2016
Subscribe
Without empowerment and opportunity, diversity is a piece of fine art hanging on a decaying wall. It's one thing to get through the door, but it's another thing to be heard and have the freedom to ascend into a company's management. And without that experience, employees are not likely to get into the C-suite or the boardroom. The impact of this is considerable. A study by the Peterson Institute for International Economics of nearly 22,000 companies across the globe found that those that had strong diversity spread over all its management levels were more profitable. Even companies that had hired women for just 30 percent of their managerial roles saw an average 6 percent boost of their net margins. 
"It all starts at the top," says Matrice Ellis-Kirk, a managing partner at recruitment firm RSR Partners, who specializes in director recruitment. "If you give me a female high-potential leader and you give me three companies, nine out of 10 times, she is going to go where she sees the opportunity for her advancement as manifested in the other women board members." Businesses must not only hire diverse talent, but empower them and provide them room to  advance. And so companies are tackling unconscious biases. They're using data to figure out where women meet the glass ceiling and implementing ways to help them break it. They're launching mentorship programs and exposing employees to other jobs, which helps expand operational knowledge. They're instituting comprehensive, sympathetic flexible scheduling programs for new parents. But the fact remains: Women occupy 12 percent of board seats at U.S. companies and account for 15 percent of executive positions, that Peterson study found. And this disparity exists despite the fact that those who identify as women make up 50.8 percent of the population and 52 percent of all professional-level jobs (that's according to Catalyst Inc.). "You have more women in leadership roles, you have more women breaking the glass ceiling," Kirk says. "But I don't think any of this is going to happen if this conversation goes away."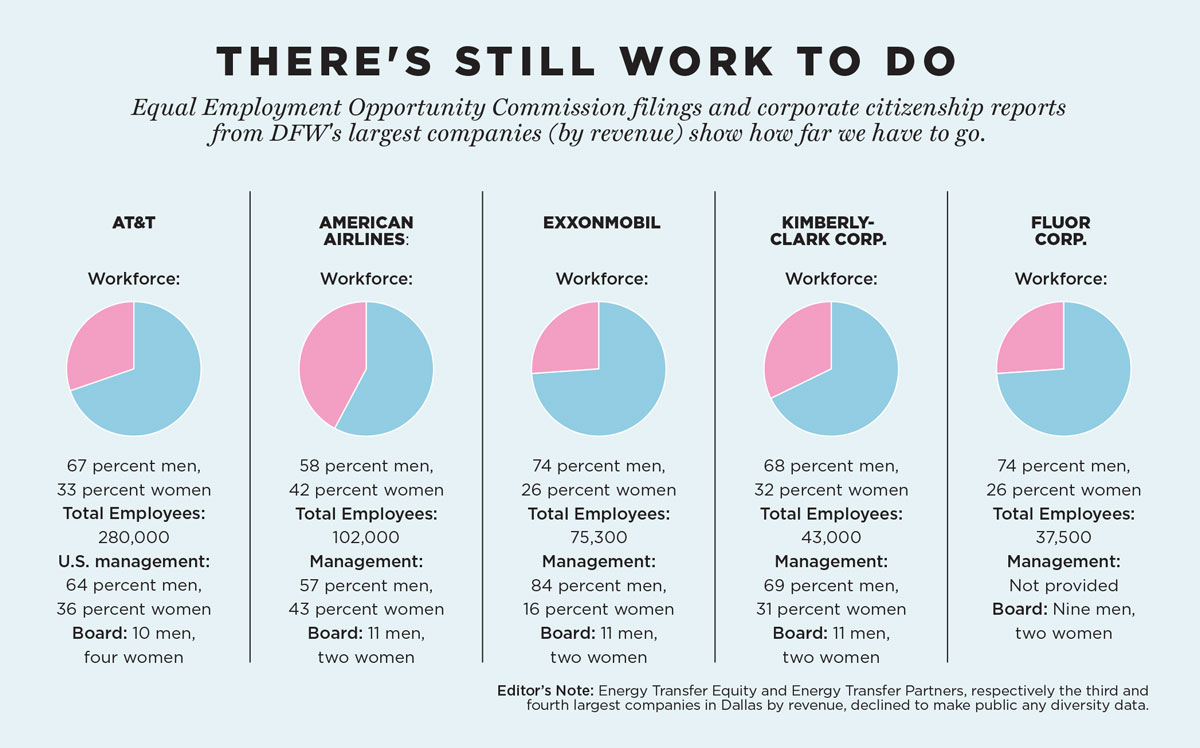 Get the D CEO Newsletter
Stay up to speed on DFW's fast-moving business community with weekly news reports, interviews, and insights.