I remember the first time I heard about the idea to build a deck park over Woodall Rodgers Freeway. "These Texans are crazy," I thought to myself. It was 2002, and I had been in the area for just a couple of years, reporting on commercial real estate. I had moved here from Missouri, the "Show-Me" State, where people seemed to put the question of "why?" on everything. I quickly learned that Texas was more of a "why not?" state. And the concept of building a park out of thin air was a quintessential example of that big-thinking spirit.
I wasn't alone in my initial scoffing. But a determined cadre led by John Zogg of Crescent Real Estate was persistent in pushing the idea forward. In 2004, the movement gained traction when The Real Estate Council gambled $1 million in seed money to explore the deck park concept. A year later, Jody and Sheila Grant added $1 million to the pot, and Texas Capital Bank (at the time led by Jody Grant) threw in another $1 million. Supporters went on to raise $110 million—during the Great Recession, no less—including $20 million in bonds from the city of Dallas, $20 million in highway funds from the state, $16.7 million in federal stimulus funds, and, of course the $10 million donated by oil magnate Kelcy Warren to secure naming rights for his son, Klyde.
The park, an engineering and construction feat, opened in the fall of 2012. And in that moment, commercial properties overlooking what used to be the concrete hole of Woodall Rodgers Freeway went from having the worst view to having the best view. The societal impact was quickly felt, too. Suburbanites left their enclaves to make a pilgrimage to the urban park. Conventioneers headed north from the Omni Dallas to check it out. And workers in downtown and Uptown left their office towers to line up outside the park's food trucks. 
The biggest surprise, though, has been the velocity and magnitude of the park's impact on commercial real estate. Since late 2012, triple-net lease rates at Trammell Crow Center in the Arts District have climbed from $19 per square foot to $25 per square foot—a 32 percent jump. Rents at 2100 Ross have gone from $13 to $19—a 46 percent increase. On the north side of the park, lease rates at 2000 McKinney have climbed 56 percent, from $25 to $37 per square foot. And rents at 2100 McKinney have appreciated an incredible 64 percent, from $22 to $36 per square foot.
"I don't think anyone could have predicted the impact this 5-acre park would have," says Phil Puckett, executive vice president of CBRE, who pulled the lease-rate data together. "Having worked in the downtown and Uptown markets for 25 years, I have never seen anything like it. Klyde Warren Park has become the epicenter."
Its impact is especially impressive when the size of the park is considered. At 5.4 acres, Klyde Warren pales in comparison to Chicago's Millennium Park (24.5 acres) or New York City's massive Central Park (843 acres). "Dallas didn't realize how much it needed this park," says Randy Cooper, vice chairman of DTZ. "It replaced concrete with green space, created a better pedestrian environment, and achieved its goal of creating a bridge between Uptown and downtown. People making investments want to be as close to the park as possible."
Dallas developers, an always-enthusiastic bunch, have snapped up every square inch of land within close proximity. KDC and Invesco are building a 12-story project at McKinney Avenue and Harwood Street. Crescent is developing a 530,000-square-foot tower at McKinney and Olive Street. And Lincoln Property Co. just bought a tract from the Meyerson Symphony Center for a 23-story project called 1900 Pearl. 
The biggie, though, is Park District, a 916,000-square-foot mixed-use complex Trammell Crow and MetLife are developing on 3 acres between Pearl and Olive streets. The project includes a 19-story office tower and a 32-story residential tower, along with a plaza designed by The Office of James Burnett, the landscape architecture firm that designed Klyde Warren Park. 
According to new data from JLL, developers in Uptown and the Arts District are asking for—and getting—rents as high as $52 per square foot, an astounding number for the Dallas market.
Billingsley Co., Spire Realty Group, and Hillwood all stand at the ready with new projects. The only real unknown at this point is the Miyama family, owners of a low-rise office building and motor bank that fronts the park at St. Paul Street in Uptown. Countless developers have courted the Miyamas, but they're likely to do something on their own. And they're not in a big hurry. The Japanese family has a 400-year history of farming land in and around Tokyo. "Our culture is one of patience," Sawako Miyama told me in an interview when the park opened in 2012. "We won't be rushed."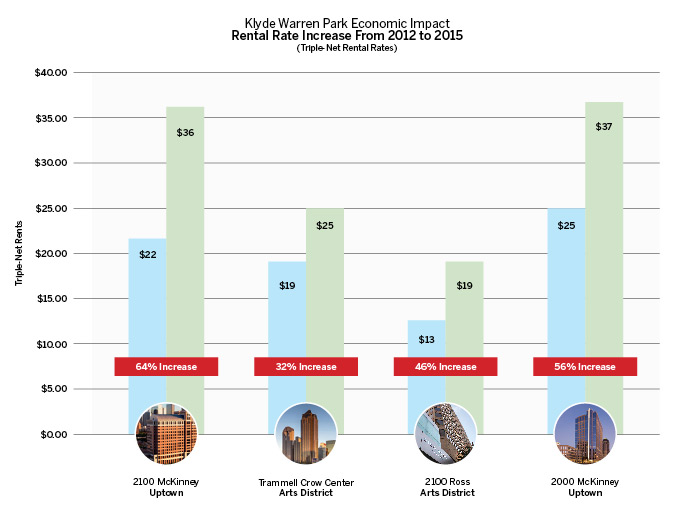 Multifamily Boom
Klyde Warren Park also has lured millennials and baby boomers seeking the live-work-play lifestyle. Apartment developers have responded with a vengeance. (Visit www.dfwcranereport.com and click on the interactive map of multifamily projects underway or announced in Uptown and downtown Dallas. The number of developments is staggering.)
Even with all of the new construction, rent growth continues to defy expectations. For the Dallas metro, it came in at 6.4 percent as of June 2015, according to Axiometrics Inc. Ocupancy stands at 95.5 percent. 
"Every month, we expect metrics in these markets to moderate," says Stephanie McCleskey, vice president of research for Axiometrics. "And every month, they continue to surprise us. In the Dallas metro especially, where a lot of supply is being delivered, these numbers are outstanding."
The ripple effect has extended beyond Uptown and the Arts District to include downtown Dallas, where a flurry of redevelopment projects are underway. Nearly all of the old downtown buildings in the core, including some that have sat vacant for decades, are being transformed into residential and hotel space. Investors are pouring millions into the projects. (The Statler Hilton redo, for example, is valued at $175 million. The Olympic at 1401 Elm Street is valued at $220 million.)
Klyde Warren Park's mission was always about closing the chasm between Uptown and downtown, says John Crawford, CEO of Downtown Dallas Inc. "I don't know that any of us, early on, were thinking about property values and what would happen when the free market took over," he says. "The park has far exceeded expectations in terms of its impact on the entire downtown area." 
And don't be surprised if its success is duplicated again in the future, Crawford says. "If we are successful in getting a bullet train station, there's a good chance we could recreate Klyde Warren Park all over again over Interstate 30," he says. "I'm not sure that would have occurred if we had not built the park over Woodall Rodgers Freeway."
Beyond the economic impact, the urban park has pushed a unique characteristic of the region to the fore, Crawford says. He calls it the city's "x factor." Dallas is well-known for tackling the impossible, he says: "Klyde Warren Park is another example that shows if we really want to do something, we can get it done."  
Get the D CEO Newsletter
Stay up to speed on DFW's fast-moving business community with weekly news reports, interviews, and insights.