An old joke has it that "making predictions is hard, especially about the future." This is the challenge facing business leaders confronted with conflicting economic and geopolitical signals. On the one hand, the U.S. economy appears to be strong, steadily adding jobs and nearing full employment. 
The economy appeared to be doing so well that the Federal Reserve prepared to raise interest rates for the first time in nearly a decade. However, the same trends that spooked the Fed into changing its mind must also be of concern to business leaders.
The growth of emerging economies appears to be stalling out, with Brazil and China leading the way down. The collapse of the oil market is a cause for ongoing economic misery in countries (and states like Texas) that are heavily dependent on oil exports. Adding more fuel to this uncertainty cocktail are Russia's military adventures and the refugee crisis in the Middle East and Europe. As we compiled the responses to the ninth annual SMU Cox CEO Sentiment Survey, we were interested in seeing how area business leaders read the tea leaves of this uncertain landscape.
Nearly 200 business leaders from the Dallas-Fort Worth area answered our call. Specifically, we asked respondents to share their outlook for the economy, their organizations, and the challenges and opportunities they'll face over the coming year. Participants represented a wide range of industries and sizes, including private and public organizations, as well as nonprofits. We were keen to see if business leaders think the good times will continue, or if we are nearing the end of the road.


Industries of Survey Respondents
Construction  (9.1%)
Manufacturing (9.1%)
Financial Services  (8.5%)
Professional Services  (9.7%)
Wholesale Trade  (4.5%)
Retail Trade  (2.8%)
Real Estate  (6.3%)
Energy  (4.0%)
Travel and Transportation  (2.8%)
Healthcare  (4.0%)
Communications  (2.8%)
Restaurant and Hospitality  (1.7%)
Agriculture  (1.1%)
Other  (18.2%)


Economic Outlook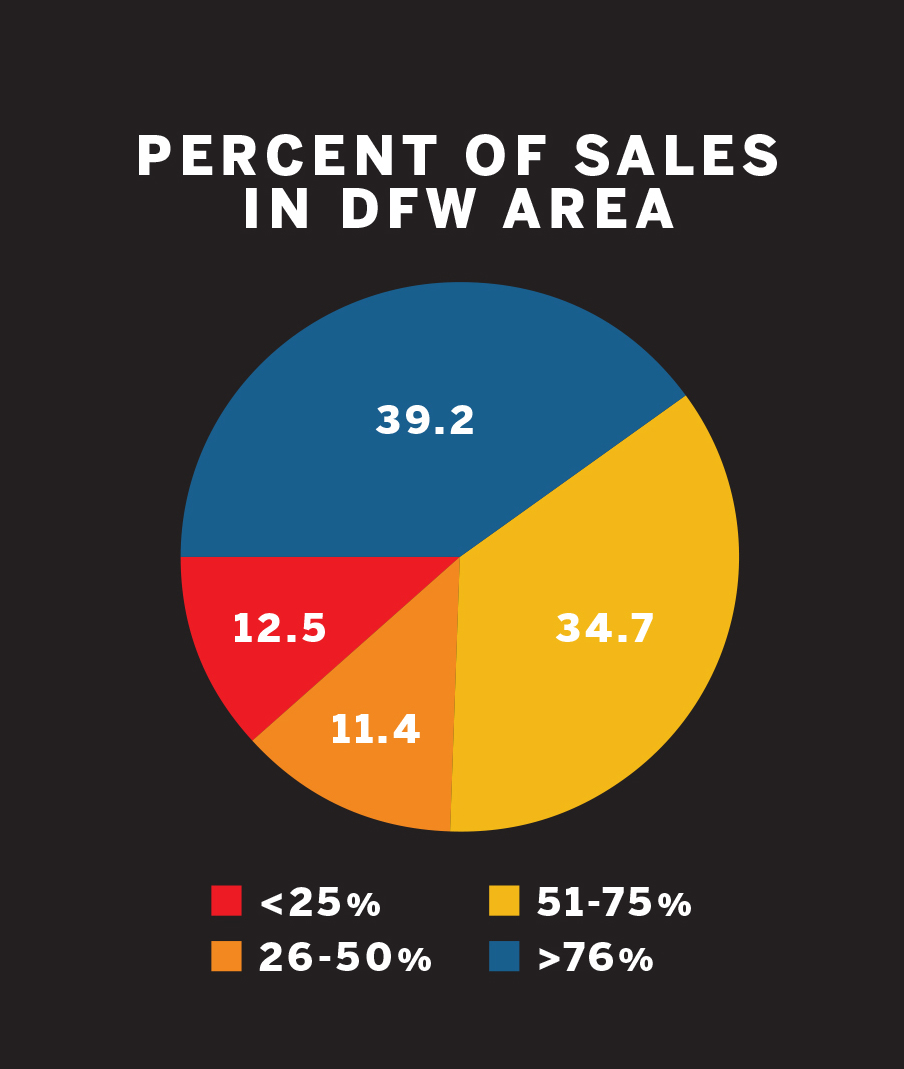 In our previous surveys, respondents have always held more negative views about the world economy than the United States or the DFW area. Last year, 38 percent of respondents expected the world economy to decline, and only 17 percent expected improvement. This year, negative expectations for the world economy have ballooned to the highest level we have ever recorded. A massive 60 percent of respondents now believe the world economy will decline in the coming year, while only 10 percent anticipate improvement. This negative trend extends into their outlook for the U.S. economy, with 29 percent predicting an improvement (compared to 45 percent last year) and 23 percent expecting a decline (compared to 14 percent last year). Consequently, the plurality of respondents (48 percent) expects the U.S. economy to remain steady (versus 38 percent last year). Predictions for the DFW region show an optimistic outlook relative to the world or the U.S., but also more concern relative to last year. Fifty-three percent envision an improvement in the local economy (down from 78 percent last year), while 39 percent believe it will remain stable (up from 19 percent), and a tiny 5 percent foresee a decline. 


Performance Against Last Year
Our 2014 survey showed a record level of optimism for the DFW economy, so we were curious to see if that translated into better business performance. When asked how their organizations performed relative to goals last year, 39 percent of CEOs reported that they met their overall goals, and 32 percent exceeded them. When asked about specific components of their business performance, 36 percent said they met revenue expectations, while 34 percent surpassed them. Overall costs were below expectations for 15 percent of respondents and consistent with expectations for 64 percent. The net result to the bottom line were profits that exceeded expectations for 36 percent of respondents, while 34 percent met their profit goals for last year.


Company Outlook for 2016
Expectations for 2016 were only slightly lower than last year. Revenue is predicted to increase in 75 percent of responding CEOs' companies (down from 82 percent last year), remain the same in 9 percent, and decline in 15 percent. Sixty-three percent of respondents expected to see their costs rise, while 25 percent expected them to remain the same. Profit predictions are slightly lower than last year but still positive, with 65 percent of respondents expecting an increase (versus 73 percent last year) and only 18 percent foreseeing profit declines over the next 12 months. For next year, 58 percent believe productivity will increase, while only 5 percent expect a decline. Expectations for changes in capital expenditures were back to the 2013 levels, with 38 percent declaring that they will increase purchases next year and 42 percent keeping them steady.
In terms of expectations for their human capital, 40 percent of respondents believed that staffing levels would remain steady, while an even higher 44 percent expected to increase employment. Employee salaries, which were expected to increase in 82 percent of companies in 2015, are still expected to increase in 74 percent this year. Recognizing the need to invest in their people, CEOs reported that their training budgets would remain almost the same (46 percent) or increase (43 percent) over the next 12 months. The level of organizational change will be on the same order as last year, with 26 percent indicating it will be significant, and 39 percent labeling it as moderate. 


Top Challenges for 2016
When asked about the top business challenges they will face in the coming 12 months, labor availability topped the list, cited by 22 percent of respondents as one of their top three concerns. Regulatory and legal issues were next on the list, cited by 18 percent as a top three concern. The current economic climate was noted by 14 percent, and changing customer needs and expectations recorded a close 12 percent.
We asked respondents to rate how important a number of issues were to their organization's success. No. 1 was talent availability, which 86 percent rated as important or extremely important. Innovation was second, with 81 percent rating it as important or extremely important. Third was corporate tax reform with 58 percent, followed by corporate responsibility at 45 percent and immigration reform with 33 percent. These were trailed closely by diversity and inclusion, with 33 percent rating it as important or extremely important to the success of their organizations.


DFW as a Business Home
When questioned about which market represented their best growth potential, 34 percent indicated the DFW market was first, Texas was second with 29 percent, and other U.S. regions were third with 24 percent. The North Texas market is significant because 40 percent of the companies responding receive more than 75 percent of their sales from here. Thirty-six percent rated the quality of the DFW workforce as "high," while 56 percent believe it is "adequate." Thirty-nine percent of the CEOs believed the best thing local governments could do for the business climate would be to improve public education. A smaller 32 percent think it could be improved through increased financial incentives such as tax abatements, fee rebates, and expedited permits. 


The Bottom Line
After analyzing this year's survey results, it is clear that uncertainties in the news are concerning to business leaders. They see a rapidly declining global economic situation, but seem to feel relatively insulated here at home. CEOs expect a very good year and plan to continue to invest in their most valuable asset: human capital. Let's hope they're right, and the dark clouds we see gathering on the horizon do not represent a looming economic storm.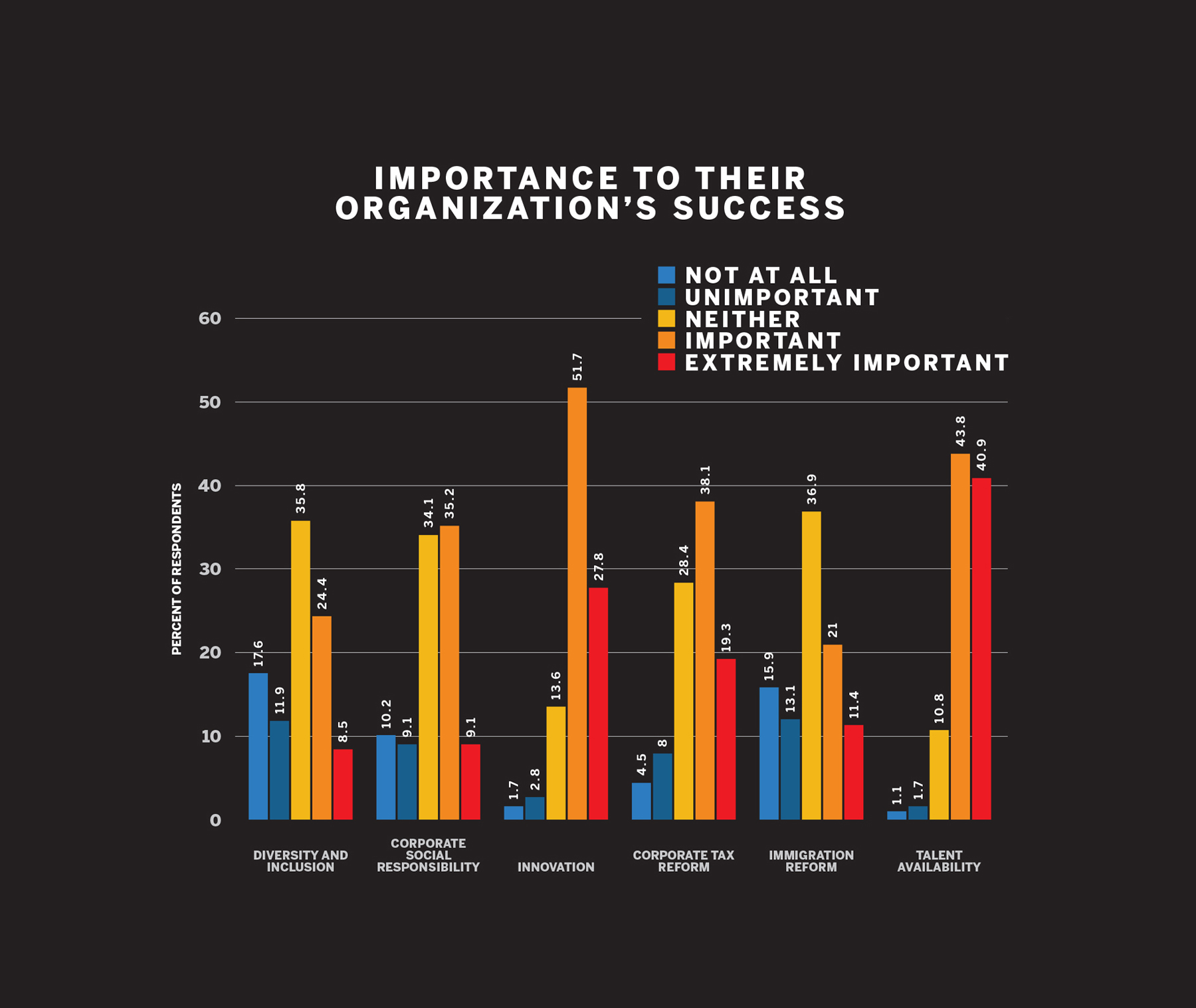 Get the D CEO Newsletter
Stay up to speed on DFW's fast-moving business community with weekly news reports, interviews, and insights.