It started with a couple of sweat stains. Kevin Lavelle spotted them under the arms of a harried male congressional staffer late to a meeting in Washington, D.C., where Lavelle was interning in the summer of 2005 for a political group. A "performance" dress shirt, mimicking the moisture-wicking capabilities of athletic clothing, ought to exist, he remembers thinking. He played with the idea, sampled a few prototypes and, seven years later, held a sample of his brainstorm in his hands.
Mizzen+Main, spearheaded by Lavelle, co-founder Web Smith, and creative director Steven DeWitt, started with a single simple product: a white button-up dress shirt in two textures, waffled and plain. Initially self-funded, the brand caught the attention of a few investors including Marcus Luttrell, the retired U.S. Navy SEAL whose heroics in Afghanistan inspired the movie Lone Survivor. Luttrell spotted and loved the company's comfortable, trim-fitting dress shirt. 
By this summer, Mizzen+Main will have celebrated a number of milestones since its 2012 launch. Among them: the success of a Super Bowl-week pop-up shop at Saks Fifth Avenue's flagship store in Manhattan; the debut of an online boutique; the opening of its first brick-and-mortar shop in Columbus, Ohio, where Smith is based; the hiring of Matthew Singer, Neiman Marcus' former men's fashion director; and initial plans for a denim collection.
2014 revenue should hit seven figures, Mizzen+Main principals say.
Lavelle attributes this progress to fearless networking and a tenacious commitment to the brand's future. Mizzen+Main—the name refers to the first two masts of a three-masted warship—isn't the only company offering products that aim to make corporate attire more comfortable. Shirts already in the marketplace feature lightweight cottons, fabrics with anti-wrinkle treatments, and non-iron maintenance. What Mizzen+Main sells is a stretchy, anti-wrinkle performance fabric that soaks up moisture, dries quickly, and can be thrown in the washing machine and worn without ironing. The shirts use several fabric blends including nylon, Lycra, micropoly, and cotton.  
"A similar parallel is in the world of golf," Lavelle says. "Ten years ago, the only thing you wore on the golf course was a cotton polo. … Now, if you go on the golf course, from Congressional outside of D.C. to right here at the Dallas Country Club, everyone wears performance fabric polos. You're insane if you don't. It feels better."
Mizzen+Main product currently is sold in five boutiques across the country, including Warehaus in Dallas' West Village. It was scheduled to be in 15 boutiques with the launch of the spring collection, which was set to include new styles like pastel ginghams, new Oxfords and t-shirts, and new "crosshatches" in colors ranging from yellow and green to pink, light blue, and purple.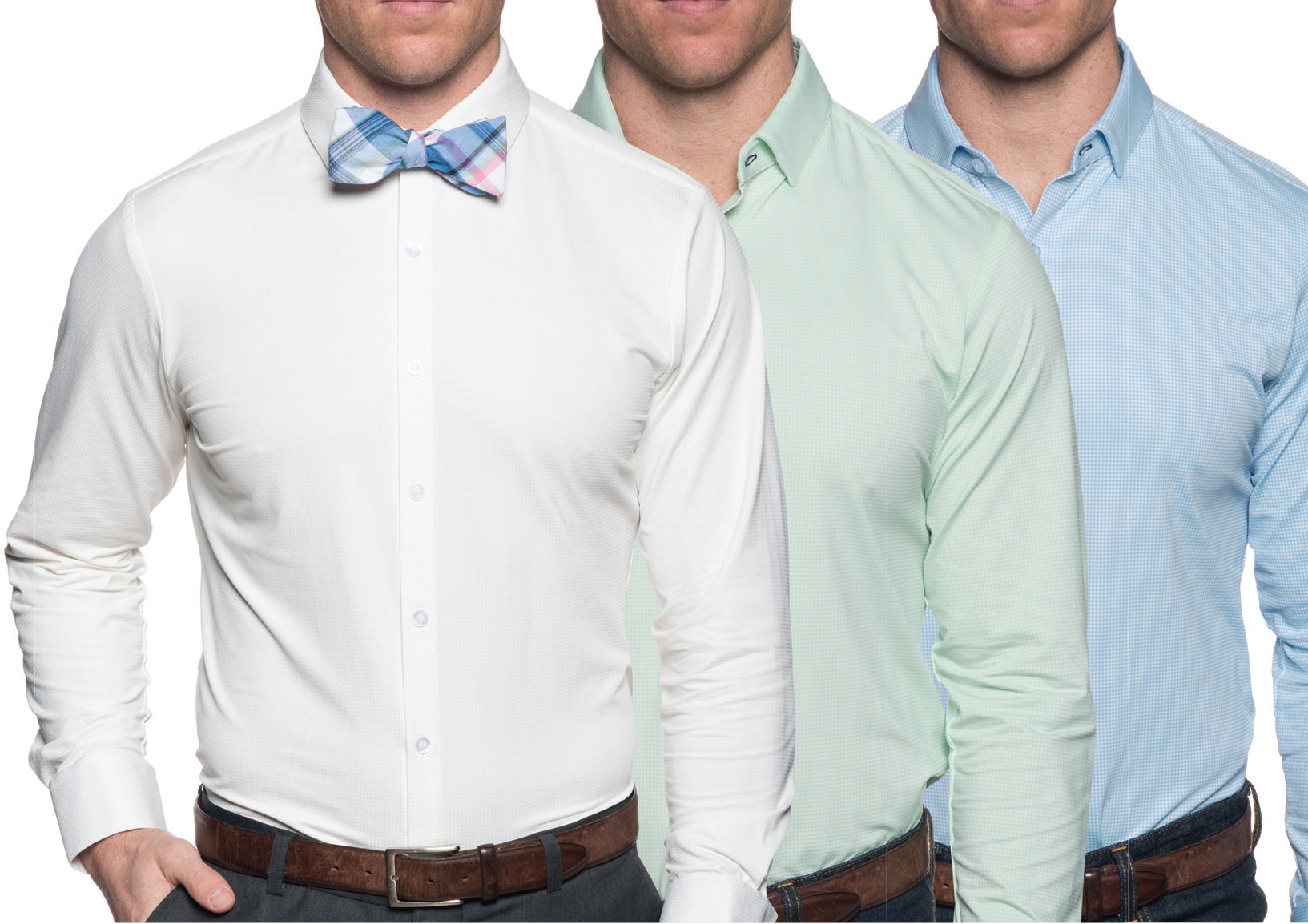 But something bigger's in the pipeline, too. After the successful pop-up shop inside the New York Saks in early February, Mizzen+Main shirts have been reordered for a more permanent trial run in select Saks locations. The deal wasn't easy, though; it took eight months for the company to get a meeting with Tom Ott, Saks' senior vice president for men's merchandise. "We didn't grow up in design schools or on the fashion track," says Smith, who's also the company's chief technology officer. "So when we wanted to get into Saks, we just went to the VP of menswear. It's almost our naiveté that allows us to ask the right questions and maybe introduce ourselves to people that we should probably not know."

Smith and Lavelle agree that courage helps, too. "I'd always rather ask and be told 'no' and find another way or do something different than to believe it just doesn't work," Lavelle says.

He takes the same persistent approach to grabbing media attention. And it has paid off, with mentions of Mizzen+Main in publications including The New York Times and Fast Company. Smith, who provides marketing expertise to professional athletes, also has helped get the shirts onto the backs of ESPN broadcasters. Says Lavelle: "We've worked with two PR agencies, and I've let them go because I can do more in a week than they have done in months." 

Mizzen+Main's most recent venture is the launch of a stretchy, travel-friendly, wrinkle-free blazer, which debuted on crowd-funding platform Kickstarter. The team's financial goal was $15,000; it met that inside four hours, raising a total of more than $54,000. "That gives us a base to say, 'We can really go make this product and know there's a market for it to push forward,'" Lavelle says. The blazer is a precursor to performance suiting, which he hopes will happen by year's end. With the help of Singer, the new fashion director, plans are afoot to release a denim collection this year as well. 

Despite such growth—2014 revenue should hit seven figures, they say—the Mizzen+Main principals vow not to lose sight of the brand's integrity. The products are manufactured in the United States—the fabrics on both coasts, the shirts in Pennsylvania—and they intend to keep it that way. The company also plans to give back to the military veterans' community, hiring former service members for jobs and internships. 

"We're expanding so quickly," Lavelle says. "We've finally hit our stride and we can start to run instead of just building a foundation." 

Fortunately, Mizzen+Main shirts are built to withstand a little action.
Get the D CEO Newsletter
Stay up to speed on DFW's fast-moving business community with weekly news reports, interviews, and insights.