Connie Sigel regularly shops trade events in Paris, New York, and Los Angeles to fill Elements, her chic lifestyle boutique on Lovers Lane in Dallas. But she is thrilled that visiting one of the biggest, most diverse wholesale venues requires only a few minutes' drive from her Highland Park home. The Dallas Market Center presents wide and deep assortments—typically from budget to designer prices—of fashion, home, and outdoor furnishings and gifts, including the largest array of Christmas and seasonal décor, fake flowers, and residential lighting in the United States.
"It's a great resource," Sigel says. "People don't realize that Dallas is such a major hub for all things that go on retail-wise, whether it's apparel, fine jewelry, home and gift, packaging, furniture. I've been to other markets in Chicago, New York, and L.A., and as far as having everything under one roof, it far exceeds them."
Established by Trammell Crow in 1957 as a permanent spot for furniture manufacturers to present their wares to retailers, the Dallas Market Center has evolved into one of the world's largest hubs for wholesale transactions. Indeed, it bills itself as "the most complete wholesale marketplace in the world." 
Each year, some 75,000 unique retailers from every state and 75 countries stroll through its doors to stock their shelves for the coming months. Reviewing sample lines by thousands of vendors, they place orders for the items they think their customers will buy—from $5 bangles and fine diamonds to cocktail napkins and leather sofas.
With 50 markets a year, that adds up to 375,000 annual visitors, according to a 2012 study by an independent research consultant. Each of the largest "Total Home and Gift" markets in January and June—when most showrooms in the complex are open for business—teem with about 10,000 workers and 40,000 buyers.
All those retailers coming from as far as China—plus visiting vendors—help generate a direct economic impact of $406 million, according to the study. Calculating that the average turnover of a dollar spent in Texas is three times, that suggests $1.2 billion flowing through the local economy.
"We're more than equivalent to one [Texas-OU] football game per month," says Bill Winsor, president and chief executive officer of Market Center Management Co., which runs the enterprise.
The 5 million-square-foot complex off Stemmons Freeway consists of four main buildings: the World Trade Center, the Trade Mart, the International Trade Plaza, and Market Hall. The looming campus shelters a quiet, giant economic engine of 1,500 permanent showrooms, plus vast spaces for vendors to exhibit in temporary booths. It also hosts 60 annual consumer events, like boat and gun shows, in Market Hall, a warehouse-like structure that opened in 1960.
MCMC estimated in 2007 that $8.5 billion changes hands annually via the complex, a figure Winsor no longer quotes because it's so hard to pin down. "We can measure the impact of the dollar coming into town, but not the sales," he explains. "We just can't get them to give those numbers to us."
Sales representatives and manufacturers are loathe to disclose their bookings, on which they typically reap 10 percent to 20 percent commissions. But for reference, a big, healthy fashion showroom displaying a few dozen labels can ring up $20 million-plus in wholesale business annually, according to an experienced rep.
Most showrooms at Dallas Market Center are owned and operated by independent reps. These entrepreneurs exhibit multiple labels and typically use their spaces as year-round headquarters. Longtime fashion tenant Lori Veith Sales, for instance, displays more than 40 lines of women's clothing, jewelry, and accessories, such as Ralph Lauren scarves.
Others are corporate showrooms that display only their own products, such as Feizy Rugs. They may open only during scheduled markets.
As for the property itself, Crow Family Holdings owns MCMC and jointly owns the land and buildings with CNL Lifestyle Properties. Like its tenants, MCMC won't divulge its annual revenue, either.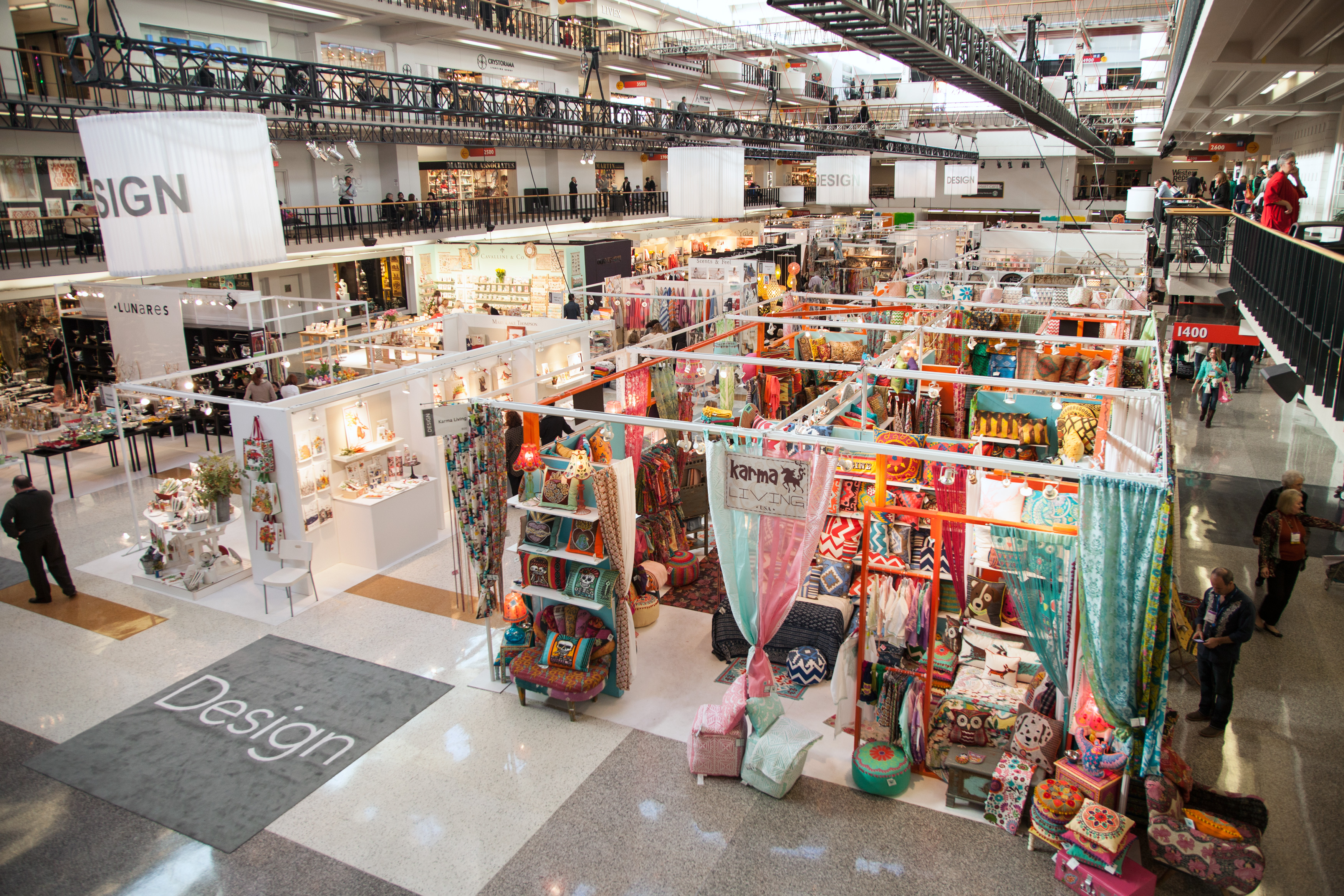 In many ways the wholesale
center is like a gigantic shopping mall accessible only to registered retailers. The biggest difference is that the buyers usually place orders instead of taking merchandise along with them. 
And MCMC is more than a landlord. It coordinates advertising and marketing to attract both tenants and buyers, creates displays and on-site parties and programs, and administers services and amenities from eateries to ATMs. Its fortune is tied closely to its tenants, which are swiftly impacted by vicissitudes in the economy, weather, social trends, and tastes. It's also been impacted by the internet, as retailers increasingly order goods online or via email.
Competition for both tenants and retailers is intense. Dallas Market Center is dominant in this region—which traditionally comprises Texas, Oklahoma, Louisiana, and Arkansas, plus neighboring states—but it also goes head-to-head with trade shows from Los Angeles to New York. Dallas' own Fashion Industry Gallery, a much smaller venue specializing in forward fashions and accessories that opened downtown in 2004, has siphoned hundreds of lines from Dallas Market Center.
To keep his showrooms occupied by tenants and attracting buyers, Winsor says he's "constantly evaluating every sector of the business" for risks and opportunities. "Our business is about as chicken and egg as you can get," he says. "We basically have to marry the buyer and seller almost out of the box. If you have one without the other, you can imagine your success, and the label that gets put on you becomes indelible."
Home goods and gifts occupy most of the center's square footage, but in the past couple of years the categories leasing up the fastest have been shoes, casual outdoor furniture, juvenile products, baby gifts, and "fast fashion." That's industry parlance for trendy, inexpensive apparel akin to what's offered at H&M and Forever 21.
"It's a critical part of our business model to look at industries that aren't being served well and what we have to do to deliver the buyers together with the vendors, to make this their destination," Winsor says.
Outdoor furniture and accoutrements for outdoor living, such as fire pits, are a perfect example. That industry had been concentrated at the Merchandise Mart in Chicago, which has been emptying out in recent years. Winsor and his team pounced, building up the Dallas Market Center's roster of garden merchandise.
Winsor's fashion business, which is situated on six upper floors of the megalithic 15-story World Trade Center, has outperformed the industry in recent years, he says.
"It has done extremely well, and I think that's largely attributable to our economy," he says. "We didn't get the recession that other parts of the U.S. got, and so we were able to move through that. It's not that we were unaffected, but we didn't see the complete stall of our industries or business."
The market center has been building "fast fashion" ever since the 2008 recession heightened price consciousness among consumers. Many of the 150 fast-fashion vendors fly in just for the center's five annual apparel market weeks. They display racks of clothes in booths of a massive show called Temporaries on 12, which sprawls across most of the 220,000-square-foot 12th floor of the World Trade Center.
"It's the cornerstone of our fashion business, and it's the hottest-growing segment we have," Winsor says. "Contemporary [which is higher priced] is right along there with it, but the fast fashion is the kindling that is making the industry grow."
Shoes also have provided new opportunity. "We are the fasting-growing shoe show in America right now," Winsor says. "We have over 40,000 square feet [of shoe showrooms] from nothing. We did that in 18 months, and we see it growing more."
The fashion business isn't without its challenges, of course. The number of independent specialty stores, a bedrock of the clientele shopping the market center, declined dramatically with the oil bust of the 1980s and the rise of Walmart.
Brad Hughes operates the largest cluster of apparel and accessory galleries at Dallas Market Center, focusing on high-end labels like Lafayette 148. He says business picked up when tenants of the International Apparel Mart relocated to modern digs at the World Trade Center in 2004, but traffic declined again with the last recession. However, he says, his business is still profitable.
"We've noticed there are less bodies in the marketplace between 2010 and 2013, but the people who are left are really, really good," Hughes says. "The people who are not there anymore weren't part of the profitability equation anyway. The A-list is still going strong. At least two or three times a year the best stores in the U.S. that shop Dallas will always be there."
Like most other reps, Hughes doesn't rely exclusively on walk-in customers. He exhibits certain lines at competing trade events in Las Vegas and New York. Many reps also travel the territory in RVs or cars, hauling their samples to retailers that didn't come to market.
"You have to be in front of the buyer wherever he or she is," asserts Michael Singer, Hughes' business partner. "If you leave it to one location, you're missing out on doing business."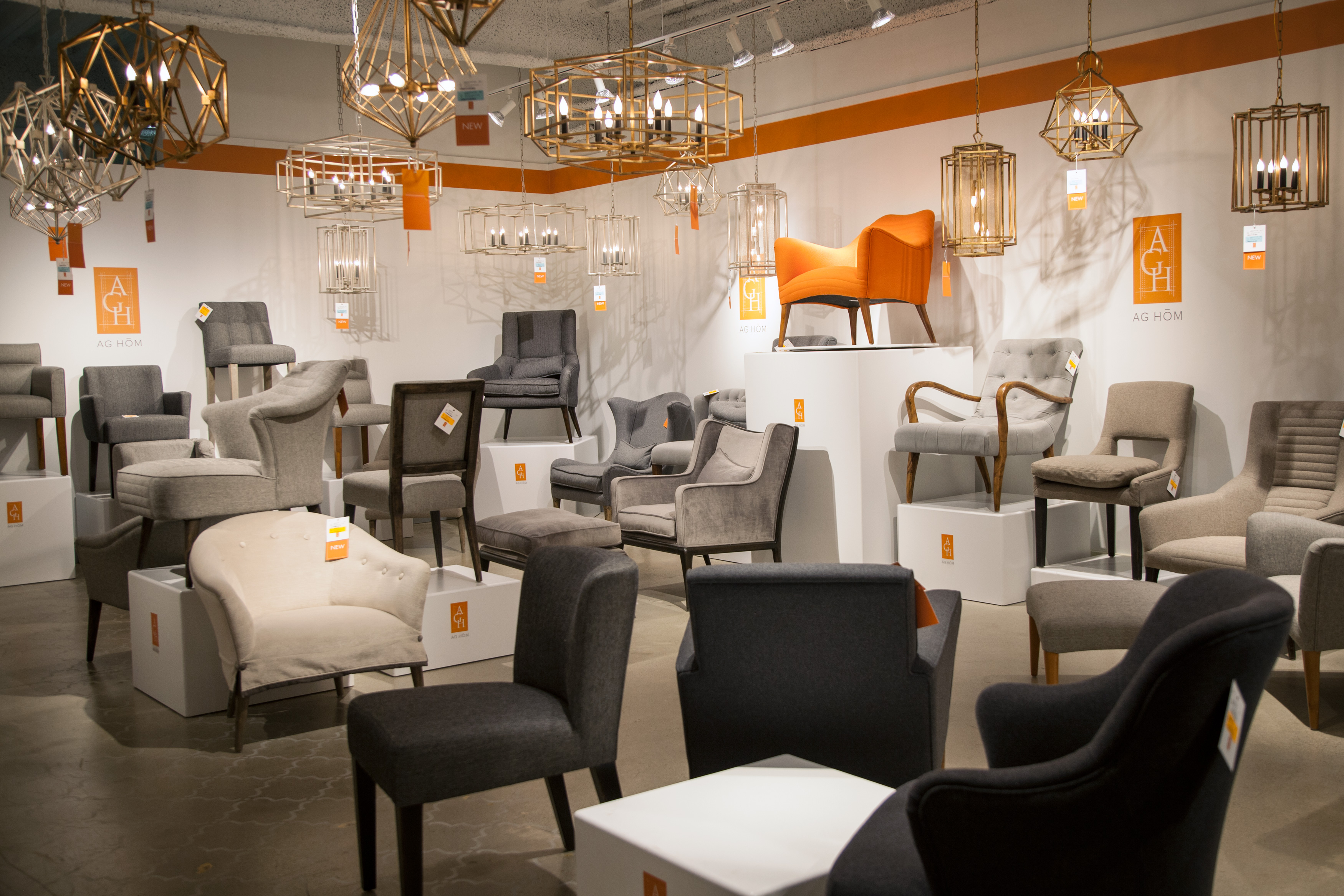 Winsor has a knack for identifying new industries to target. He's been exercising it since 1993, when he joined the Dallas Market Center after running the InfoMart. Both properties were owned at the time by Crow Family Holdings.

Those vast displays of lighting, Christmas decorations, and fake flowers that are the biggest in the country? His ideas. "When I first came to the market center it was so overly dependent on furniture," he recalls. "It was the biggest part of the business, and my fear was as you looked at that industry and where it was going—the consolidation—it was frightening to have most of your core business tied up in an industry that was stressed. That's when we did lighting and floral. We looked at core industries that we could become a home for that would offset any downturn in other industries."

Winsor, who always gives credit to "the people in the trenches," makes it sound easy. But when he sent executives to pitch the market center to an association of floral vendors meeting in Hong Kong, they were turned down.

Winsor was fixing the roof ridge at his ranch east of Austin [see accompanying story] while waiting word on the group's decision from his chief operating officer, Cindy Morris. When his cell phone rang, he dropped it in haste, and it tumbled into the gutter. Winsor slid after it and caught the overseas call, only to learn that the association was leaning toward AmericasMart in Atlanta.

"I said, 'Pick the four biggest companies and sit down with them individually and ask them under what conditions would you come to Dallas?' They called me so excited another 12 hours later and had signed up four of the biggest companies. … We leased in the range of 200,000 square feet in about five weeks."

The lighting industry was already established in Dallas in 1988, and Winsor intensified its presence after he joined, making it the nation's headquarters. It currently features about 150 lines in 110 showrooms exhibiting in 500,000 square feet on two floors of the Trade Mart.

"It's the largest decorative lighting show in North America," confirms Rick Seidman, president and co-owner of Quoizel Lighting in Goose Creek, S.C. His company has had a corporate showroom at Dallas Market Center for 25 years, exhibiting there exclusively since 2009.

"Over the years we've had markets in New York, Las Vegas, High Point, [N.C.], and San Francisco, and I say with full forcefulness that the DMC is just the best market center to do business with by far," Seidman says. "The reason is they try to work with their constituents to understand their customer base and how to draw more customers, how to make the experience of the market center better."

Furniture and lighting took a major hit during the Great Recession, when housing starts ground to a halt. More than a third of Quoizel's customers closed down. Seidman and about 15 competitors who sit on a market center lighting board decided to reallocate marketing funds to help finance buyer trips to Dallas instead of throwing parties during the shows.

"It worked," Seidman says. "We wound up heading off a lot of people saying, 'I don't have money to go to market.' We subsidized it."

The lighting business, which exhibits collectively for only one week in January and one week in June during the massive home and gift show, has been improving with the housing market.

"We have strong attendance from Canada—this is the Canadian lighting market—and international people largely from South America," Seidman says. "We are starting to see people from other regions of the world, partly because the DMC has pushed for that. We signed a distributor for the European market as a result of meeting them at market."
Every member of the management team mans an information booth during major markets, including Winsor.
Gifts and home are also enjoying a resurgence, especially at the high end. Leon Goetz, who owns one of the largest showrooms of high-end gifts and tabletop goods, says 2013 was his best year ever, and he's had a showroom at the Dallas Market Center for 30 years. Though he's been affected by the contraction in independent boutiques, which represent 90 percent of his clientele, the stores that continue to buy his pricey candles and bath products are doing well.
"It's less people buying more," he says. Indeed, he just added 6,000 square feet to his showroom, which now totals 20,000 square feet.
"My vendors are requesting more space, so that tells you they want a presence here," Goetz says. "While things are this good I have to make the most of it."
Like Goetz, Winsor knows that all merchandise categories cycle up and down, and the key is to be aware of which way they are heading. "We do offsite retreats where we step back and analyze the health of every one of our industries and where we need to put more investment and where can we look for growth," Winsor explains. "It's an interesting process because it's pretty dynamic. It's changing."
MCMC also works on other marts around the world. It's been consulting since 2002 with ShanghaiMart, Asia's largest permanent trade mart, coordinating a 2014 trip to Dallas for a group of Chinese lighting buyers. But a three-year effort to establish a Nashville Medical Trade Center in Tennessee was unsuccessful, and MCMC abandoned the $250 million project in 2012.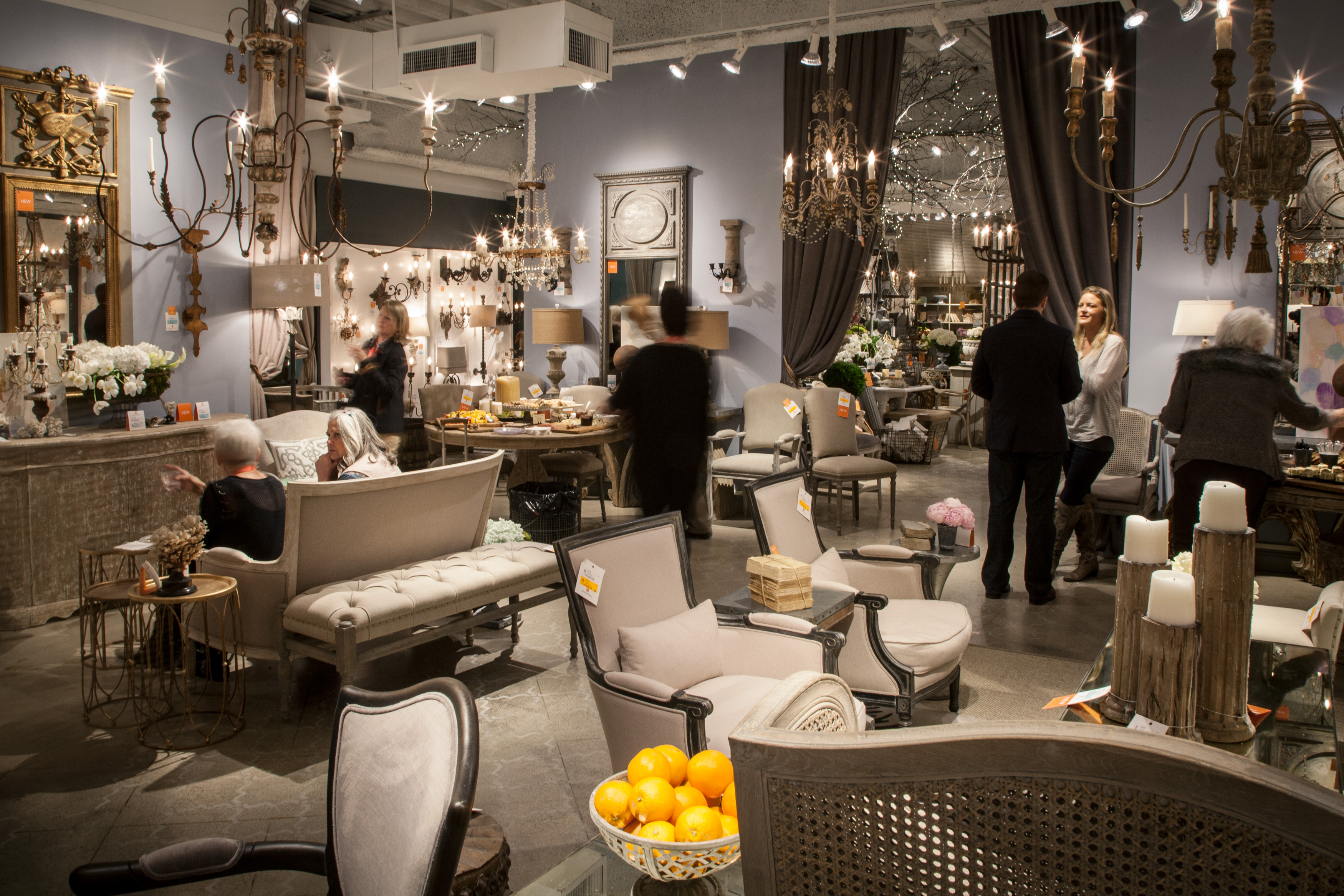 Winsor gets high marks from salespeople who rent showrooms at the market center. "I think the world of him," says Susanne Taylor, a tenant since 1982 who specializes in women's active wear and intimate apparel. "He is such a gentleman and such a good business partner. I've never run into any issues in the building that I couldn't reach him directly. Another reason I respect Bill is that he never hesitates to lend the market resources to nonprofits."
"He's fantastic," Goetz says of Winsor. "He's really turned it around. The best thing he does is he really listens to the tenants and doesn't sit in some sort of ivory tower."
Tenants aren't the only ones who can easily bend Winsor's ear. Once a quarter he invites all 244 market center employees to a meeting where they may ask him anything they'd like. He also uses the forum as an awards ceremony that recognizes a top performing employee—as voted by the staff—with a trophy and a check. "Part of this culture is it's like being a surfer where you have one wave after another. We have one market after another, so we never have closure," he says. "Let's recognize people for the last quarter, and now let's focus on what's next."
After reading a book titled One Foot Out the Door: How to Combat the Psychological Recession That's Alienating Employees and Hurting American Business, Winsor held a roundtable with new staffers to learn what changes they'd like to see. They all spoke up and requested small courtesies, such as devoting one work day a year to volunteering, being permitted to bank online during lunch hour, and selecting paint colors for their workspaces. "I can't think of one we didn't implement," he says.
At Winsor's insistence, every member of the market center management team spends some time manning one of the center's many information booths during major markets. Including him. "You're sitting there with buyers, and they don't know who you are apart from that you're wearing a badge, and they are telling you things that you probably would not otherwise hear, and it's very constructive," Winsor says. "We're all on the front line during market so we can hear first-hand where the good, the bad, and the ugly are."
The most important elements of the market center's corporate culture are communication and mutual respect, he says. It's not surprising, considering that Winsor's bachelor's degree is in communications, and he's had marketing responsibilities for most of his career. Winsor has worked for MCMC since 1981, when he became general manager of the Infomart after running corporate marketing and merchandising for five product groups at Texas Instruments.
The open floor plan of the executive offices, where Winsor's desk is in front of a conference room, embodies his philosophy. He's proud that the company has 46 staffers who have worked there for over 20 years.
Something is working, because in November the Dallas Morning News named Dallas Market Center one of the Top 100 Best Places to Work in Dallas-Fort Worth for the third consecutive year. "That," says Winsor with characteristic humility, "is a real testament to our employees." 
Get the D CEO Newsletter
Stay up to speed on DFW's fast-moving business community with weekly news reports, interviews, and insights.