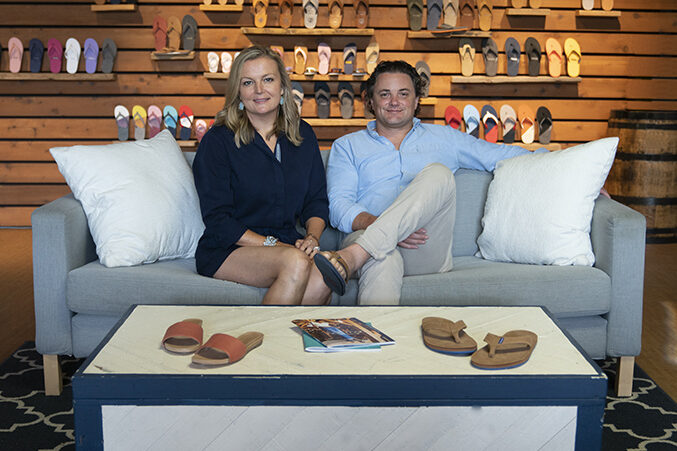 Hari Mari Gains a Foothold
Dallas entrepreneurs' socially responsible line of flip-flops takes off.
Hari Mari might be a footwear company, but at the heart of the business, owners Jeremy and Lila Stewart wanted, well, heart. 
While living in Jakarta, Indonesia, the couple worked with impoverished and malnourished children. Settling back in Dallas in 2009 and pregnant with their first child, the entrepreneurs chose pediatric cancer as the beneficiary of their next venutre. They partnered with longtime friend John Veatch and came up with Hari Mari ("Hari" for sun in Indonesian and "Mari" for sea in Latin), a premium sandal line that allowed them to give back while filling what they perceived as a void in the growing flip-flop market.
"We wanted to see something with some color, with some character," Jeremy Stewart says. "Beyond that, we just thought we could create a more comfortable flip-flop."
Made with fully recyclable materials, Hari Mari sandals have a patent-pending memory foam toe post (the piece between the toes), arch support, and cupped heels to avoid slippage. In just two years, the brand has grown from a single retailer—St. Bernard Sports in Dallas—to more than 200 accounts in 36 states. 
The flip-flops cost $60 and the new full-grain leather collection rings up at $80 a pair. A rubber line is in the works for a $40 price point next year. "We made our flip-flops with quality materials," Jeremy Stewart says. "We're finding that people are willing to pay that for those qualities."
One percent of all sales are donated through a partnering hospital to families dealing with pediatric cancer and struggling to pay their bills. Hari Mari also offers consumers the opportunity to upcycle their sandals through a partnership with Soles4Souls. Flip-flops of all brands are accepted for recycling or, if wearable, sent off to people in need. Those who recycle a pair of Hari Maris receive a 15 percent discount on their next purchase. 
Before launching their footwear company, Jeremy Stewart worked in advertising; Lila Stewart was a sales executive with AEG Live. 
"After living in Jakarta, we definitely knew we weren't going to be able to jump back into corporate America and not make a difference after what we had just experienced," she says. "Being exposed to children with no access to healthcare, to families in poverty, and also being in a country where there's little recycling, created a desire in us to want to be responsible as well."