If you hadn't seen John Harkey Jr. for, say, the last 10 or 15 years, you might be surprised to see that he hasn't changed physically at all. The shoulders are still broad but fixed upon a thin, almost gangly foundation. He's not thin like Steven Tyler or Ichabod Crane—more like Johnny Depp thin, with Ronald Reagan hair.
He's dressed on this day in an open-collared, heavily starched white shirt tailored to his athletic shoulders. His strongly defined facial features and immaculately styled black hair are somehow reminiscent of the gray-flannel late 1950s and early '60s.
That button-down time in our history probably would have suited Harkey just fine. Forrest Gump is his favorite movie, and Forrest came of age about the time the future CEO and owner of Dallas-based Consolidated Restaurant Operations Inc. was born in Brownwood to Lucy and John Harkey Sr.
His upbringing there helped make him what he is today: one of the most successful restaurant executives in North Texas. Restaurant brands that make up CRO now include El Chico, III Forks Steakhouse, Cool River Cafe, Silver Fox Steakhouse, Good Eats Grill, Luckys Cafe, the smash hit Cantina Laredo, and the latest entry, Black Oak Grill. With a total of 5,500 employees, the company operates nearly 90 full-service and 27 franchise restaurants in 18 U.S. states, London, Dubai, Abu Dhabi, Cairo, and Riyadh.
Describing what it's like to work with Harkey, Black-eyed Pea and Good Eats founder Gene Street says: "If you were in a boat going down a dangerous river with ferocious Indians, poisonous snakes, shifty tradesmen, and other dangers, you want to be in the boat with John Harkey, because he is a survivor. Now, you might get wet and get a few bruises, but you will get to the other side."
When John Jr. was growing up in Brownwood, Harkey Sr. drove his young son and only child hard, but neither has any regrets. "No, I never let up on him," the elder Harkey recalls. He'd even tell young John to sweep the floor in a large warehouse, "then put down the red dust and oil and go over it again."
Not that everything was drudgery. The son says his fondest memories today are of his childhood in the Central Texas community. "We rode horses, went water-skiing, played golf, ping-pong, jumped on the trampoline," he remembers. "It was before the advent of social media, and we were able to try a diverse number of things."
Harkey became expert in a number of those things, as his old friend and business partner Street attests. "He is the best bowler, golfer, tennis player, skeet shooter, sailor," Street says of Harkey. "He climbs mountains and races motorcycles. He never gets tired and always looks the same. If I didn't really like John, I think I would hate him."
Early on, Harkey also showed an aptitude for business. As a high school student, he made decent money putting in water-sprinkler systems. So he convinced his dad to go in with him on buying a two-story house. Recalls John Sr.: "It had a garage apartment, and John quickly converted it into three rental units. I never had to dole money out to John. He was always an entrepreneur."
But first came a foray into the law. After earning a J.D. degree from The University of Texas at Austin, Harkey became managing partner of the Cracken & Harkey firm in Dallas. The lawyers practiced ferocious civil litigation and built a national reputation. This despite John Cracken's candid assessment: "John had no real interest in the practice of law."
John Jr. once told his dad, "I got this law degree for you. Now I am going to get the one I wanted." So it was off to Stanford University, where, in 1987, Harkey earned an MBA.
His business acumen came fully into play in the late 1990s. That's when Harkey, Cracken, Street, and the late Steve Hartnett, founder of the Fox and Hound restaurants, formed CRO, snapping up two public restaurant companies, including El Chico, plus a handful of private ones.
These were both exhilarating and disheartening times. After the dot-com bubble burst, several of the largest egos ever to share a boardroom yielded to Harkey. It was he who would shepherd the company through a dizzying period of growth, acquisitions, and sales.
The team included Cracken, the litigator lawyer and master of negotiations, Street—a genius as a store-level operator who brought legitimacy to this whale-eating minnow of a company—and Hartnett, the visionary who seemed to know just which concepts would gain traction with the public. It was left to Harkey, the micro-manager, to determine what would and wouldn't work for different stores in different markets.
As industry growth slowed, however, Hartnett left, and both Street and Cracken lobbied Harkey to sell. They argued that the industry was nearing the end of a seller's market. "Gene and I knew that it made sense to monetize our investment," Cracken says. "But Harkey was unwilling to leave the management team he had built and to which he was loyal. So he bought us out."
Harkey called on his fellow Stanford grad, hedge-fund mogul Jim Dondero, to partner on buying the shares. The individual stakes have been estimated at eight figures. Street and Cracken were gone by 2007—just about the time CEO Harkey was eyeing grander things abroad.
Harkey quickly saw that he was to pay a price for his loyalty, managing CRO through the Great Recession. It's his perseverance, Harkey might say, that allowed him to navigate the company through rough economic waters and into national and international prominence.
Others might say the slim kid from Brownwood is able to serve on the boards of five public companies, help run a century-old family cattle operation, and literally climb mountains (Washington state's Mount Rainier) because of his attention to detail and his grace under pressure.
If pinned, though, Harkey might admit that his biggest success in business to date stemmed from something else: his ability to say "No." Twice.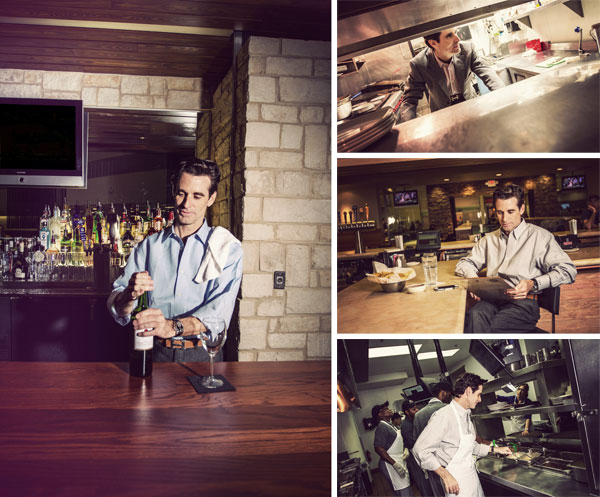 The first time was in 2007,
when Harkey was pushing his director of franchise sales to run with CRO's flagship brands of Cantina Laredo and El Chico into markets like Oklahoma, Missouri, and Louisiana, Harkey recalls. It was what Harkey calls a "no-growth period in the industry," and the franchise salesman came back instead with a proposal to look at markets in the Middle East. Harkey shut him down in a huff. The persistent salesman then asked the CEO what it would take for him to at least meet with an Egyptian suitor. "It would take a substantial nonrefundable deposit," Harkey grunted.
The next day, $180,000 was wired into the CRO accounts, just so that talks could go forward.
And, go forward they did. For months and months, with Harkey diligently "sitting down with families who took prayer breaks four or five times a day." Finally, the time came to sign the agreements.
As Harkey tells it, "Over there, [the closing] is a very elaborate exhibition, with media in attendance." The final documents were pushed his way—along with some unanticipated changes. As Harkey recalls it, "There were over 100 sticky tabs marking changes in the contract." That is when he said "No" for the second time.
"I told them [that if this was the deal], I was going to go see the pyramids, then going to England, and then going home," Harkey says. "I said, 'The only thing I'll change is the date.' And that's all we changed."
As the business plan grew in its international scope, however, many changes would come in both the menu and the operations. In the Mideast, the company was obliged to re-engineer many of its recipes. Different spices were used to appease new palates, and lamb chops and sea bass would often substitute for beef, bacon, and pork.
In Europe, importation limitations forced the company to source locally. In all the countries, there would be fees of some sort to be paid—country development fees, franchise fees, licensing fees. As of this writing, there are plans to build nearly 80 more international locations. Of course, no one deal or solution is ever the same.
But Cracken, Harkey's longtime business and law partner, says he's never seen the CEO waver: "He can bear a remarkable amount of pressure and is unflappable under stress."
The on-the-go Harkey rarely, if ever, relaxes, and he neither drinks nor smokes. "If football is on the TV, he is also texting, reading, double-tasking," Cracken says. "He does not access the more relaxed parts in himself."
Harkey tackles volunteer tasks with the same fervor. As an executive committee member of the Circle 10 Council of the Boy Scouts of America, he volunteered to manage the food-service operations for a Jamboree, organizing the feeding of about 40,000 Boy Scouts.
Perhaps the closest this CEO ever gets to unwinding is at the family ranch in the Mason/Llano area. He and his father bought out other family members and improved and expanded the 5,000 acres into more than just Black Angus cattle ranching. Today African animals like zebra, kudu, and even a giraffe roam on the ranch near the San Saba River. "And," says John Sr., "we built a 4,200-foot airstrip so that John can land his jet there."
Even on "vacation," Harkey will plan an itinerary of goals. There might be a triathlon in the morning followed by some wing-shooting or mountain climbing or skiing later in the day. He has a litany of things to accomplish. "Maybe a half dozen things a day," Cracken says. "He checks those boxes off" as enjoyable experiences.
Even Harkey will admit to his worst attribute: "I try to do too many things and spread myself a little too thin."
But no one has ever accused him of not thinking big. The latest ventures at CRO are among the company's most ambitious. Tens of millions of dollars went into building the Cantina Laredo and III Forks (with its $80 average individual check) restaurants in Chicago. The 120-seat El Chico in Dubai is linked within 40 multifamily towers nestled in the largest single-phase residential development in the world.
The Cantina Laredo chain, which has grown from two stores in 2002 to almost 40 today, is finding plush new homes in airport terminals throughout the country. Cool River restaurants, with average individual checks of $63, are following suit. Joint ventures in glowing multistoried buildings and the aforementioned airports abound for many of the CRO brands. At the same time, a 228-seat Cantina Laredo is perfectly nuzzled into London's theatre district in St. Martin's Courtyard.
Street, who left the company with "zero remorse," says that for John Harkey Jr., life is business. "I know that he's had the same girlfriend for 10 or 12 years," Street says. "But she has her business, too, and that's good, because John is all business." 

Get the D CEO Newsletter
Stay up to speed on DFW's fast-moving business community with weekly news reports, interviews, and insights.