Real estate is fundamental to every business. Whether it's a startup operating out of a spare bedroom or a global corporation with a multi-building headquarters campus, companies need space from which to operate. In North Texas, commercial real estate, in and of itself, is also a major contributor to the local economy. Some of the most successful development, brokerage, architecture, design, and construction firms in the world are based in Dallas-Fort Worth. As part of its ongoing coverage of the industry, D CEO is recognizing the area's top projects of 2012, and the dealmakers who put them together, with its inaugural Commercial Real Estate Awards. Editors evaluated more than 250 nominations and selected finalists in 12 categories, from Best Land Sale to Real Estate Executive of the Year. The number and caliber of the submissions are a testament to the strength of the North Texas commercial real estate market—and the talent of its industry professionals. The winners are featured on the following pages.
Be sure to visit RealPoints, D Magazine Partners' commercial real estate news site, for in-depth profiles and photo slideshows of all 41 finalists.
BROKER OF THE YEAR
Randy Cooper
Cassidy Turley
Cassidy Turley's Randy Cooper had a career-defining year in 2012, capped by representing State Farm in leases for more than 2.5 million square feet of office space in Irving and Richardson—in four different transactions with three different landlords. Most notable was a record-breaking lease for 1.5 million square feet that kicks off a masterplanned project KDC is planning near the intersection of State Highway 190 and U.S. 75. Throughout it all, Cooper somehow managed to keep these big deals under the radar—no small feat in Dallas. And he did the megadeals while also helping Cassidy Turley establish a new tenant representation group within the firm and attending to the needs of many other clients.
When it comes to office transactions, bigger is definitely not easier, Cooper says. A s deals grow in size, they also grow in complexity—and impact. "Every 5 cents in rental rate can mean millions of dollars," he says. "Every little detail gets magnified."
Cooper began his real estate career in San Antonio, and moved to Dallas in 1990. He joined Cassidy Turley, where he serves as vice chairman of brokerage services, in 2011. He says a key strategy throughout his 25-year career has been to put himself in his client's shoes. "Having empathy for the client and understanding the motivations and challenges of the organization, as well as the individuals involved on a project, is critical," he says. "Being empathetic is also the fun part of this job. Real estate is really about people."
FINALISTS
Jack Frakwe, CBRE
Steve Lieberman, The Retail Connection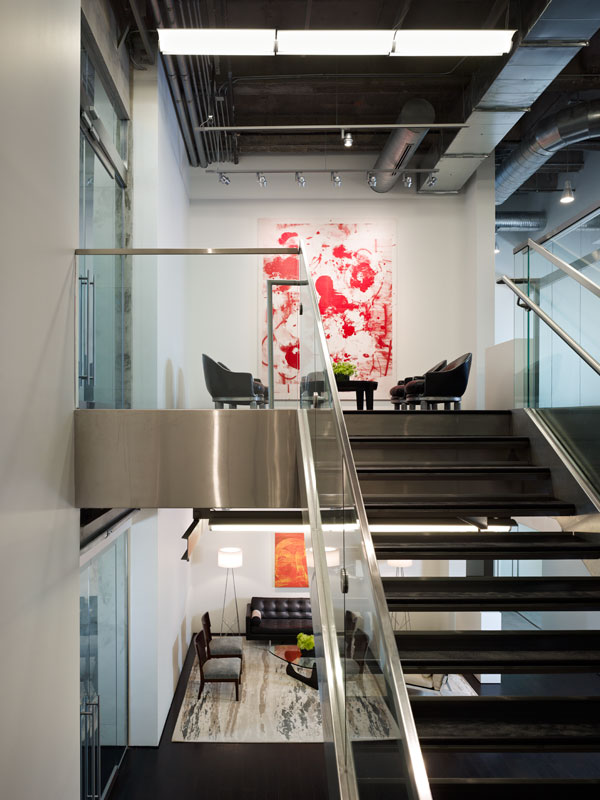 EXCELLENCE IN INTERIOR DESIGN
Andre & Jo Staffelbach
Staffelbach
Led by the husband-and-wife team of Jo and Andre Staffelbach— he's a member of the prestigious International Interior Design Hall of Fame— Staffelbach has programmed and planned more than 68 million square feet of interior space in its 46-year history. You can't argue with that track record. The fi rm is known for a timeless style that transcends trends, and designs that can sustain both advances in technology and fl uctuating employee counts. Its guiding philosophies: Space matters, process matters, and details are everything.
Staffelbach's projects for 2012 showcase its range. They include a Dallas regional office for Red Bull—a "creative loft" that features custom furniture and artwork, an open bar for employees and clients, and seating zones to encourage collaboration and information meetings. For Carlson Capital, Staffelbach transformed a mostly closed office environment to a more open design, complete with a new staircase that links two floors. It also opened up the ceilings on the top floor, taking advantage of the space's 17-foot heights.
Says Jo Staffelbach: "Our mission is to create environments that exceptional people are excited by and proud of, and therefore committed to and productive within."
FINALISTS
Judy Pesek, Gensler
Gus Hinojosa, Hinojosa Architecture & Design
EXCELLENCE IN ARCHITECTURE
Bob Morris
Corgan
Corgan has played a significant role in the planning and growth of Dallas for more than 75 years. Its 2012 projects are a testimony to the breadth and depth of its influence. They include the Dallas City Performance Hall, the new Parkland Hospital, Love Field Airport's terminal modernization, and renovations at Dallas/Fort Worth International Airport. The firm also completed work on the new W.H. Adamson High School and office projects for Maxim IP and Encana. It's working with Traxxas on a new 29-acre campus in McKinney, and designed both Two Arts Plaza in the Arts District and the Fairfi eld Residences in the West End. Known as the top datacenter architecture firm in the country, Corgan also designed high-profile projects for CyrusOne, Stream, and T5.
When asked about the firm's guiding philosophies, President and CEO Bob Morris says Corgan's mission statement says it all: "We come to work each day to create places where our clients thrive, honor our promises and obligations, and build relationships that make us stronger."
Get the D CEO Newsletter
Stay up to speed on DFW's fast-moving business community with weekly news reports, interviews, and insights.