It was bound to happen eventually. I hadn't realized it when Charlie Morrison's assistant told me that he'd meet me at the Corner Bakery on MacArthur Boulevard in Irving, but I had been there before. Randy DeWitt of Front Burner Restaurants had selected the same spot for sharing a morning meal with me about two-and-a-half years ago. And so began this feature's first restaurantrepeat performance.
Morrison picked the place because it's along the route between his home in Keller and Wingstop's corporate headquarters in Richardson. That, and because he's a good company man. (Corner Bakery, like Wingstop, is owned by Roark Capital Group, an Atlanta-based private equity firm.)
 When he arrives, just before 8 a.m., Morrison apologizes for his casual Friday attire: jeans and an untucked button-down shirt.
"You can't dress like this every day?" I ask.
"No," he says.
"Aren't you the boss? Can't you change the dress code?" I say in jest. He smiles and notes that he could, but that he's had a number of items higher on his priority list since joining the company last June, after four years of leading Pizza Inn and 20 years in the restaurant industry.
We step to the counter and order. Morrison gets scrambled eggs and bacon, with sides of toast and breakfast potatoes. I opt for the same steel-cut oatmeal —topped with currants, almonds, cranberries, walnuts, and brown sugar—that I had enjoyed when I interviewed DeWitt.
We take our seats in the busy (but far from crowded) dining space, and I ask why he made the jump from selling pizza to selling chicken wings. The answer is simple: the opportunity to run a bigger, growing company with an emerging concept—as opposed to an older company in a highly competitive, entrenched market like pizza—was too good to pass up.
"There's so much potential for making chicken wings, what I call a center-of-the-plate item— an entrée item rather than an appetizer," he says.
With about 550 restaurants, after adding 57 in 2012, the company has increasingly been looking at international markets. I'd always thought of the sort of sauce-soaked chicken wings that we pile on party platters during game days as a quintessentially American idea, but Morrison is quick to tell me how wrong I am.
"It used to be in the U.S. we would eat every part of the bird except for the wing, especially the tip of the wing. And a lot of the wings would be shipped as a byproduct overseas, usually into Asia and other markets, where dark meat, and the wing, was an item in higher demand," he says.
The company's first international foray was into Mexico, where it signed a 100-store development deal, and has 14 restaurants open already. The market was considered a natural fit because Hispanics are Wingstop's "core demographic" stateside. But inroads into Russia, the Middle East, and Southeast Asia are also in the works.
When our food arrives, Morrison requests jam for his toast, while I remove most of the giant clump of brown sugar that sits atop my oatmeal.
He says his primary focus at the office is to bring more "discipline and structure" to the organization, with an ambitious goal of hitting $1 billion in annual revenue. Accomplishing that would involve doubling the nearly $500 million Wingstop generates now, and growing the store count into the thousands. Morrison has been pleased with the support that Roark has offered for his efforts so far.
"I'm going to bet you that any CEO of a Roark company will tell you the same thing: They're hands-off in that they put their CEOs into a position of taking the reins, driving the strategy, and defining what the growth plan is," he says.
Meeting Morrison less than a week after this year's Super Bowl, I was curious to ask him about a news story that got a lot of play in the days before the big game: is our country facing a chicken wing shortage crisis? He grinned and commented on how overblown the media had made it out to be.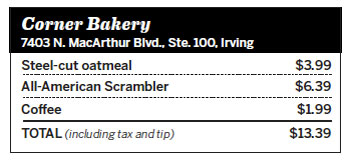 "It depends on who you are in the industry and where you're positioned," he says. "For us, going into the Super Bowl, we had all our chicken wings set and put away six months ago. … We'll do as much volume [on game day] as we do in some normal weeks."
In other words, wings are a limited resource, but a big player in the market can prepare in advance and not have any trouble.
We finish, and Morrison notes that he'll have to head back into the traffic, which had been particularly bad that morning.
Would he ever think of moving away from the home he and his wife have spent years remodeling on 3 acres in Keller, to lessen the pain of the commute? Not a chance.
"It's too beautiful," he says. "It's right in the middle of the city, yet it's really peaceful. Big, giant oak trees everywhere. It's a great place." 

Get the D CEO Newsletter
Stay up to speed on DFW's fast-moving business community with weekly news reports, interviews, and insights.