The second-floor courtroom in Fort Worth's Depression-era Eldon B. Mahon U.S. Courthouse made a suitable backdrop for the high-dollar auction sale of the Texas Rangers.
Marble floors, rich oak paneling, and Art Deco-detailing gave the place a sumptuous feel. And the 21-foot ceiling was just tall enough to contain the egos of all the pricy lawyers in attendance, not to mention the men who were prepared to write the half-a-billion-dollar-or-more check it would take to buy the MLB team.
Mark Cuban, owner of the NBA's Dallas Mavericks, swapped greetings with reporters as he and Houston businessman Jim Crane, his bidding partner, took their seats at one of the courtroom tables. "Going over some last-minute figures?" one reporter asked Cuban, who was a bit tardy. Cuban shot a look as if the guy were crazy, waving off the idea that he might be worried about something so trifling.
The August 4, 2010, auction turned out to be a grinding affair, punctuated by long pauses in the bidding. As a reporter covering the story for a national business news outlet, I used the intermissions to pad around and try to get some of the key players to comment on behind-the-scenes developments.
During one break, I approached a man who had stayed completely in the background, but who nonetheless was a central participant in the Rangers sale saga. Dressed nattily in a blue-gray pinstripe suit, white shirt, and violet tie, Ray C. Davis stood several inches taller than the Rangers' six-feet-two-inch Nolan Ryan, with whom he had arrived.
I introduced myself to the rangy Davis, who retired as a billionaire from Dallas-based Energy Transfer Partners, a publicly traded pipeline company where he'd served as co-CEO. He gave my hand a firm grip, said hello in a deep voice and then, before I could get my first question out, nodded and walked away.
The non-interview was not only disappointing from a professional standpoint; it was so brief I hadn't formed the slightest impression of Davis. Was he shy, or someone who loathes the media, or nothing of either?
My interest in Davis hardly abated when, 10 hours after the auction began, the group led by Ryan and attorney Chuck Greenberg won the American League club with a bid worth $593 million. Davis and another billionaire, Bob Simpson, co-founder and former CEO of XTO Energy Inc., reportedly provided the bulk of the purchase price and, once the sale closed, became co-chairmen of the team's board of directors.
News reports over the next few hours, including mine, ran with quotes from Cuban and Ryan and a memorable one from Greenberg, who conceded that while the auction price was "a little expensive … it's all part of the color and pageantry of the affair."
Nowhere, though, was there a quote from Davis, who'd picked up a big part of the sale tab and then slipped out of the courthouse without a word.
Owners of professional sports teams in most cities, but especially in Dallas, play a unique role in the fans' views of their beloved teams. Here, Cuban and Jerry Jones of the Dallas Cowboy get endlessly analyzed. For every "Top Ten Shortstops of All Time" list, there are five titled "Ten Worst Owners of All Time." Fans need someone to blame when teams sink in the standings, and ownership is a favorite place to start.
So, it's fair to ask, who is this billionaire pipeline businessman and co-owner of the Texas Rangers? And, why does he maintain such a low profile?

Active Investor
In the two years since the auction sale, the 70-year-old Davis has rarely broken his silence, though it's clear that he is far from a passive investor in the club. Refusing all interview requests, including three I've made myself over that span, Davis has positioned himself as the anti-Mark Cuban. He's not only invisible in terms of the team, but he declines to say much about his business dealings either. He is, simply put, the last investor on the planet you're going to see showing off his business savvy on TV's Shark Tank—where Cuban stars—or
anywhere else.
What we do know, though, is that Davis is still active at his investment company, Avatar Investments LP, which has offices on Sherry Lane in Dallas. So it was with great interest that I learned that he was to speak this spring to the Dallas-Fort Worth chapters of the Association of Certified Fraud Examiners at the group's annual conference.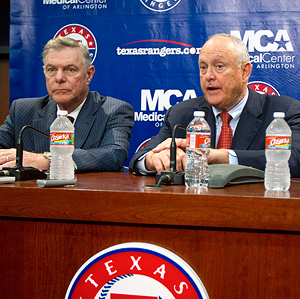 It was like hearing someone had spotted a woodpecker that was thought to have gone extinct.
The fraud examiners group, which was good enough to let me attend the private presentation, said Davis would be talking about "his experience on avoiding and finding investment swindles." That sounded promising, I thought as I drove to the meeting at Dallas's Cityplace Conference and Event Center.
But first, it turned out, Davis wanted to talk about baseball. "Anybody who feels tired after a nice lunch can go to sleep. That's just fine," the businessman deadpanned, warming up as the luncheon speaker at the late-May event. He was dressed in standard business attire: tie, gray suit, white shirt. "My wife said she falls asleep after 15 minutes of me talking. Here's a little about the business of baseball . . ."
Baseball is like a lot of other businesses, Davis told the group. "We're no better than the players on the field, and no better than the scouting and development and people in the office.
"There are no shortcuts in this business," he said. "People have tried to buy championships before without success. You win with people, you build from within, and you try to keep as much payroll flexibility as you possibly can."
Then, referring to issues facing the team in the current season, he declared, "This year is going to be extremely difficult.  . . . We have some real challenges coming up, trying to make the decisions we're going to have to make on all our free agents, seeing who we can sign, and what young players we have coming up who can fill the need."
Once Davis had finished his talk—later, he would also address non-Rangers business issues—I intercepted the normally reticent billionaire on his way off the stage, only to have my request for an interview rebuffed again. "I don't do interviews," he said tersely.
Persevering, I said it appeared that he had quite a lot to do with the team.
"It's a business. It's not an ego thing. It's a business," Davis allowed. He agreed with Bob Simpson's view, given at a news conference last year, that Ryan and General Manager Jon Daniels were running the team day-to-day, and that the co-chairmen were acting more as "wise counselors" with experience to offer.       
Only twice has Davis been seen in the public eye on Rangers business. He accompanied then-team CEO Chuck Greenberg to Little Rock, Ark., on a trip to woo free agent Cliff Lee in late 2010—a trip that failed to land the pitching ace. Four months later he appeared with Ryan and Simpson at a news conference announcing that Greenberg had resigned—a move widely reported as an ouster.
Get our weekly recap
Brings new meaning to the phrase Sunday Funday. No spam, ever.