Effortless. It's a word not used often enough when describing Dallas dining. Restaurants here can feel a bit tortured, either built franchise-ready and focused-grouped to death or trendy to the point of palate suffocation. (Please, enough with the fennel pollen.)
But Oak is a different cut of cloth. Think Chanel rather than Cavali. Tucked within the formal entrance to the Dallas Design District, it takes its name from the numerous oak trees that mix and mingle with the designer showrooms and art galleries that populate this burgeoning neighborhood. Much like its stylish neighbors and the well-dressed clientele that are already making Oak the hottest table in town, the restaurant's look is relaxed yet polished. Designed by Plan B Group—the firm behind Bolsa, Whiskey Cake, and Cedar Social's good looks—Oak's dining room feels like it would be at home in Northern California: rustic enough to be comfy yet still handsome with its distressed white oak hardwoods, tufted leather banquettes, grey flannel chairs, and a fluttering oak tree projected on the back wall, its leaves swaying slightly to the restaurant's sexy lounge music.
Likewise, chef Jason Maddy—most recently of Rosewood's Mansion on Turtle Creek—has fashioned a lunch menu that takes a deliciously uncommon approach to familiar favorites. Take for instance  the ubiquitous Caesar salad. Maddy tosses it with a mint pesto that gives it a brisk kick. Niçoise salad —which can be tasty but yawn-inducing—is alive with surprises including white anchovy filets, a soft boiled quail egg, and generous medallions of lightly seared yellow fin tuna. The salad eats more like a dinner entrée, and with its $20 price tag, it
should.
What's a good starter for the table? "The cream kale gratin," gushed our server. "It's kind of like an adult version of spinach-artichoke dip but so much better." He was spot on. With its creamy combo of kale, parmesan, red peppers, and onion, it had the table swooning. A tower of freshly baked foccacia made for decadent dipping.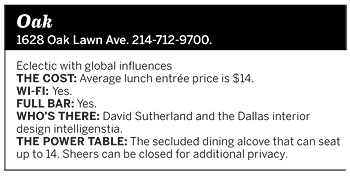 Sandwich and entrée highlights included an open-face lamb sandwich on raisin pecan toast drizzled with more of that wonderful mint pesto, and a hearty pasta bolognese showing nice restraint. The meat sauce—a blend of lamb, veal, and beef—was simply spiced and served with housemade pappardelle, creamy ricotta, and herbed gremolata. The dish was deceptively simple in execution yet deliciously satisfying. Ravioli with winter corn, hen of the woods mushrooms, spinach, and pumpkin seed oil was yet another pasta standout from chef Maddy.
Sure, it's a cliché. But save room for dessert. Pastry chef Sarah Green's creations are memorable including a sinful Gianduja chocolate panna cota with hazelnut blondie, candied orange, and Patron Citronge ice cream. Yes, tequila-flavored ice cream. It's yet another creative spin at Oak, where style and substance mix with —here's that word again—effortless aplomb. If only more Dallas restaurants were this confident. And delicious.
Get the D CEO Newsletter
Stay up to speed on DFW's fast-moving business community with weekly news reports, interviews, and insights.